This recipe first appeared on Savory Experiments, where I am a contributor.
This homemade strawberry ice cream is an easy no churn ice cream recipe! With great real strawberry flavor and a luscious, creamy texture, you won't be able to believe how simple this is to make!
Strawberry ice cream you can make without an ice cream maker?! This simple recipe is quick and easy to make, and yields a creamy, delicious ice cream made with sweetened condensed milk and real strawberries.
Try these other strawberry dessert recipes:
Guys. Homemade ice cream is way easier to make than you think it is. You don't need any fancy tools. You don't need tons of time to make this. You can have this ice cream literally any time you want!
Which, once you try it, will be all the time.
Made with just a few ingredients, and no special equipment, this delicious homemade ice cream is going to quickly become a family favorite!
This ice cream is an eggless recipe, meaning we won't be taking the time to make a custard base for the ice cream. Instead we will use sweetened condensed milk which will help to add the same creaminess, without all the work.
How to make Strawberry Ice Cream
This no church strawberry ice cream recipe is really simple to make!
Use your food processor or a blender to blitz the strawberries with a little bit of sugar into the desired texture.
In a large bowl, beat together the pureed strawberries, sweetened condensed milk and the vanilla with a hand mixer to get it light and fluffy.
In a second large mixing bowl, beat the heavy whipping cream until you get stiff peaks.
Gently fold the whipped cream into the strawberry mixture, being careful not to over-work it and remove all the air you have put it already.
Gently pour the mixture into a 9×5 loaf pan or other similarly sized freezer safe glass or metal container.
Place a piece of parchment paper on top of the ice cream, and then wrap the container in several layers of plastic wrap and aluminum foil.
Freeze for 8-12 hours.
Allow the ice cream to sit on the counter for 10 minutes or so before serving to help it be nice and scoopable.
Recipe Tip: You can change the texture of your ice cream by varying how much your strawberries are blended. Perfectly pureed strawberries will result in a really smooth ice cream. Large chunks of strawberry tend to freeze really hard, and can lead to ice crystals. You can leave some chunks, but you want them to be smaller crushed pieces.
Serving Tip: Allow the container to sit at room temperature for 10-15 minutes before serving. This will help you scoop the ice cream easier, and will help to thaw any ice crystals that might have formed.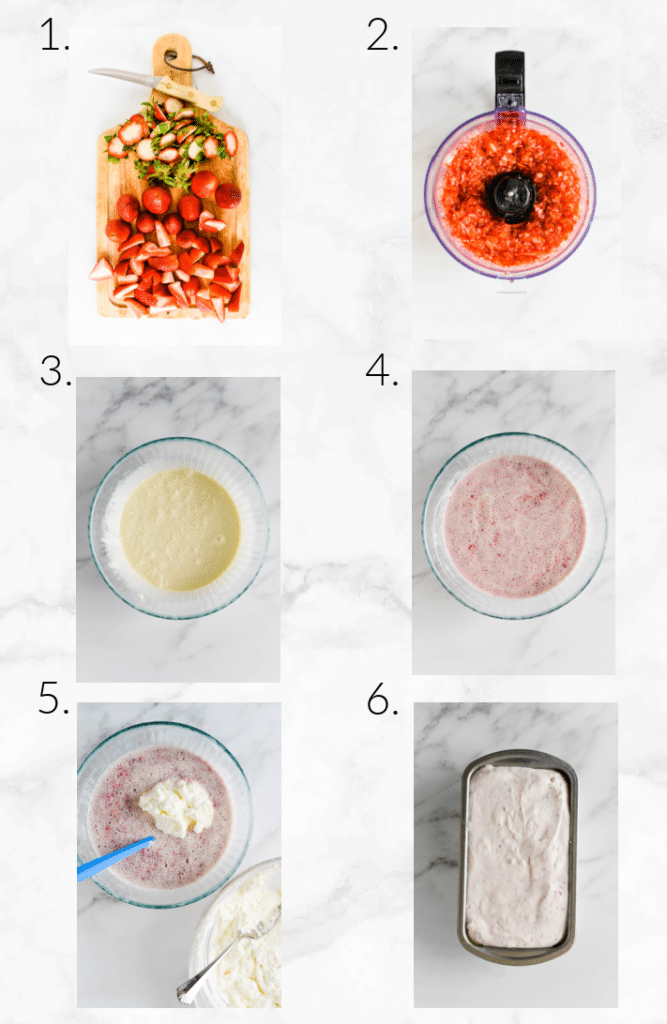 Add-ins and Toppings
You can use the same recipe but swap out the strawberry for blueberries or raspberries, too!
Try these mix-ins:
Chocolate chips
Chopped pecans or sliced almonds
Rainbow sprinkles
Unsweetened coconut flakes
Swirl in some strawberry jam for even more strawberry flavor
Optional: If you want your ice cream to have a more vibrant color, you can add in a few drops of red food coloring
Try topping this with fudge sauce!
How to store/Freezer Life
Store any un-eaten ice cream in the container you froze it in. Place a piece of parchment paper directly on top of the ice cream, and then wrap the container tightly with plastic wrap, and then again in foil. All these layers will help prevent ice crystals from forming.
The ice cream will store well for about 2 weeks.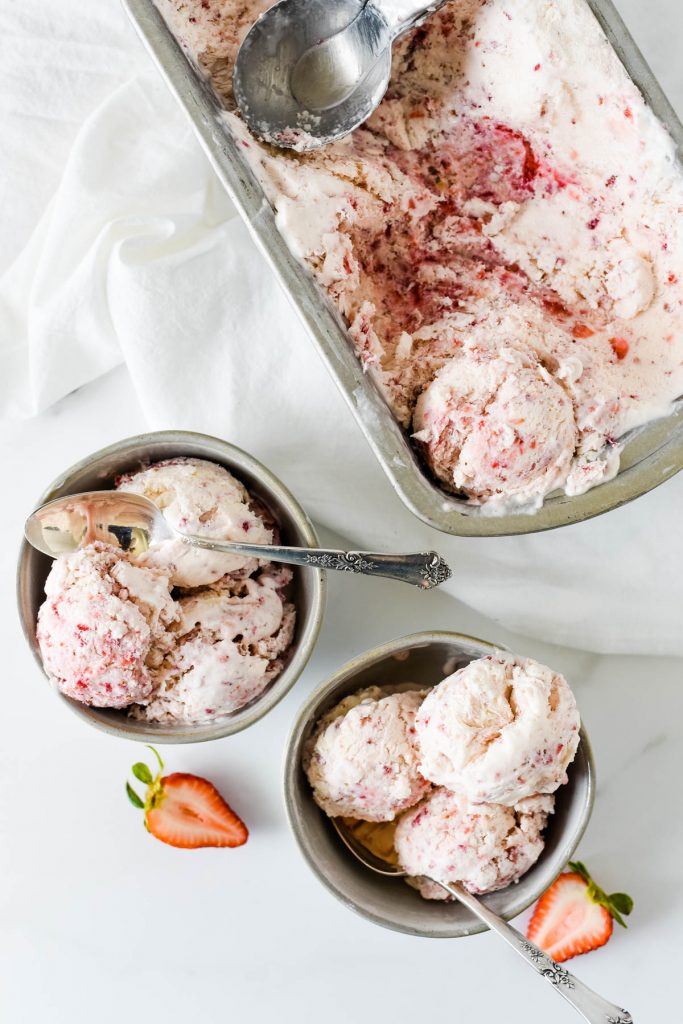 Fresh vs. Frozen strawberries
For the best tasting ice cream, you will want to use ripe strawberries. You know strawberries are ripe when you can smell them, and they are pink (and not white) when you cut them in half.
You can still make this recipe even when strawberries aren't in season, though! You can use frozen strawberries! Those are usually picked when they are perfectly in season, and so they will have great taste.
Just make sure you thaw them for about completely on the counter before pureeing. You don't want to add any extra liquid to the ice cream – extra liquid means ice crystals!
Frequently Asked Questions:
Can I use evaporated milk instead of sweetened condensed milk? No, it won't be as sweet! Evaporated milk is regular milk that has had 60% of its liquid evaporated. Sweetened condensed milk has been sweetened and has a caramel like flavor to it. You need this to sweeten and flavor the ice cream.
Can I make this healthier? Not really. You need a high fat whipping cream and the condensed milk to help form the creamy texture without the ice crystals. Using lower fat products will result in ice crystals. Just enjoy the delicious dessert!
Food tastes better when its shared! If you try this recipe, let me know! Leave a comment and rate below! Love and links are always appreciated! If you'd like to share this post, please link to this post directly for the recipe, please do not copy and paste or screenshot. Thanks so much for supporting me! xoxo
No Churn Strawberry Ice Cream Recipe
Total Time:
8 hours
15 minutes
This homemade strawberry ice cream is an easy no churn ice cream recipe! With great real strawberry flavor and a luscious, creamy texture, you won't be able to believe how simple this is to make!
Ingredients
2 lb fresh strawberries (or frozen
1 Tablespoon granulated sugar
13 oz can sweetened condensed milk
1 teaspoon vanilla extract
2 cups heavy whipping cream
Instructions
Wash the strawberries and remove the stems.
Roughly chop the strawberries and place them into the jar of a food processor or blender.
Add the granulated sugar to the strawberries and blitz until you have the desired consistency. You could take it totally smooth or leave some pieces of smaller sized strawberries.
Pour the strawberries into a large bowl and add the sweetened condensed milk and vanilla. Use a hand mixer to whip the ingredients together, about 1 minute and 30 seconds, until well combined and aerated.
In a second large bowl, whip the heavy whipping cream into stiff peaks, about 3 minutes. Do not over beat the whipped cream or you will end up with butter.
Using a rubber spatula, gently fold the whipped cream into the strawberry mixture, one big spoonful at a time. Be gentle to not overmix or to deflate all the air you have added to both the cream and the strawberries.
Pour the mixture into a freezer safe glass or metal container. A 9x5 loaf pan works perfectly here!
Place a piece of parchment paper on top of the ice cream mixture and gently press it down to smooth and create contact with the mixture.
Wrap the container completely in plastic wrap, and then again in aluminum foil.
Place in the freezer and freeze for 8-12 hours.

Notes
Allow to sit on the counter for 5-10 minutes before scooping.
Recommended Products
As an Amazon Associate and member of other affiliate programs, I earn from qualifying purchases.
Nutrition Information:
Yield:

8
Serving Size:

1
Amount Per Serving:
Calories:

445
Total Fat:

27g
Saturated Fat:

17g
Trans Fat:

1g
Unsaturated Fat:

8g
Cholesterol:

88mg
Sodium:

96mg
Carbohydrates:

46g
Fiber:

2g
Sugar:

43g
Protein:

7g
Nutrition information is an estimate and is provided for informational purposes only. For the most accurate information, please calculate using your specific brands and exact measurements.