A Fresh Strawberry Cake Recipe makes the perfect light summer dessert! This fresh fruit dessert features moist, flavorful vanilla cake studded with fresh strawberries. With a topping of freshly whipped cream, this simple strawberry cake is the star of any summer picnic or potluck!
This recipe was originally featured on July 29, 2011 but was updated with fresh pictures and tips on May 21, 2019.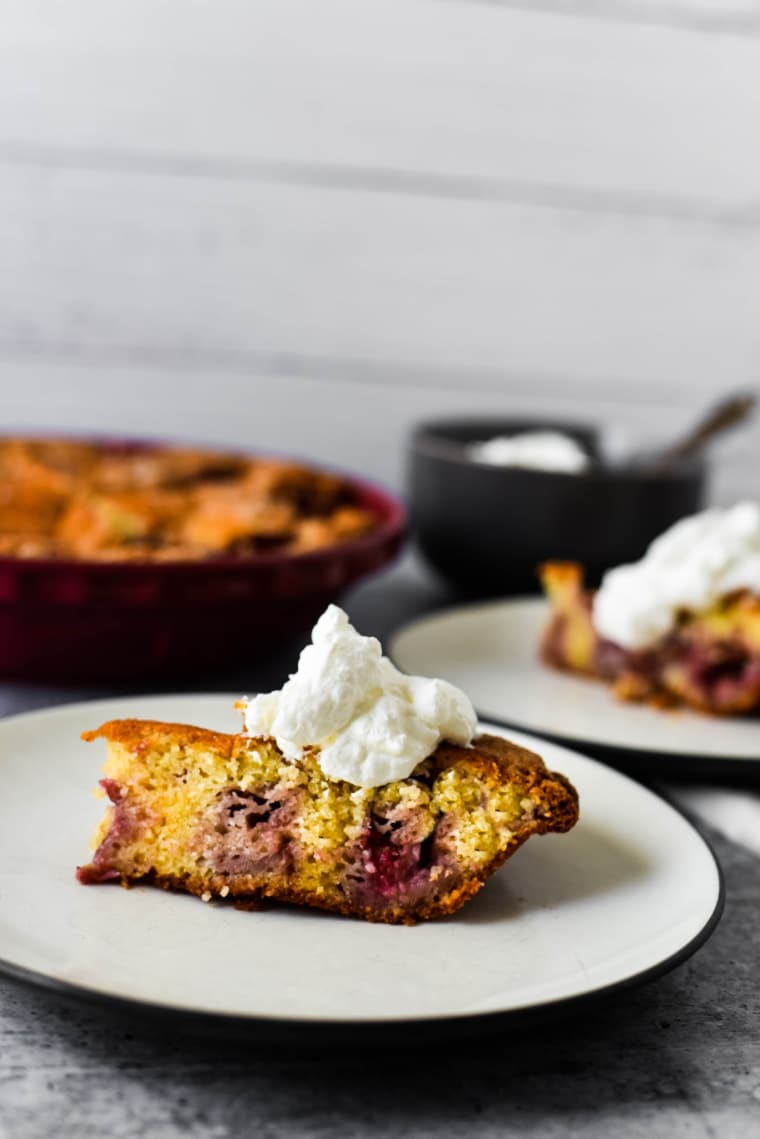 This fresh strawberry cake recipe is divine in every aspect. The cake itself is moist, flavorful, and light, with the strawberries and fresh whipped cream adding the perfect amount of summer to it. In a lot of ways, this simple strawberry cake reminds me of angel food cake (except not at all the same texture) – you can eat a ton of it and still feel the need to go back for more. It's straight out of heaven.
I love having this cake for dessert, but it also is great as a mid-morning snack with a cup of coffee or in the afternoon with a mug of tea!
How to make the fresh strawberry cake recipe:
I love a good cake that only requires a few ingredients and a few minutes. This recipe takes advantage of fresh, seasonal strawberries and places them in a simple but delicious batter.
Wash, hull, and quarter your strawberries, then set aside.
Mix a simple but rich batter and place in a greased deep dish pie plate.
Place your strawberries cut side down in a single layer and press the berries in as single of a layer as you can.
Bake for 10 minutes at 350 and then reduce the temperature to 325 for an additional 60 minutes.
When a toothpick inserted in the center comes out mostly clean, remove from the oven and allow to cool completely.
Serve with fresh whipped cream.
Love simple cake recipes? Try these:
Easy and Elegant Plum Torte – Moist, buttery, juicy, and unbelievable. This simple dessert is everything you want in a dessert – it is easy to make, and lovely to eat!
Simple Peach Cake – This cake won't last long! Bursting with fresh summer flavor and tender and moist, this cake is perfect by itself, with ice cream or with a dollop of fresh whipped cream.
Easy Plum Cake – This easy plum cake recipe is a lovely coffee cake type cake perfect for summer or fall. Slightly spiced with cardamom and orange zest, this cake is perfect with a cup of coffee or tea, is perfect to serve at picnics, and only gets better the day after you make it!
Can you freeze fresh strawberry cake?
This fresh strawberry cake recipe is very freezer friendly! To freeze, chill the cake, then wrap it with aluminum foil. Freeze for up to 6 months. To serve, thaw the cake overnight in the refrigerator.
How Kids can help you make this Simple Strawberry Cake Recipe
One of the best ways of getting kids interested in trying new foods is to have them help you make the meal! Here are some easy and age appropriate ways to get your kids in the kitchen with you to bake this cake:
Kids aged 1 to 3 can help you wash the strawberries and measure the ingredients.
Kids aged 4 to 6 can help do everything above plus help you grease the pie plate, hull and half the strawberries, crack and whisk the egg, mix the batter, and press the strawberries into the batter.
Kids aged 7 to 10+ can help you do everything above, cream the butter and sugar with an electric mixer, and whip the whipped cream.
*Please note that these recommendations are generalized, and to please use your personal discretion with your child's skill level. And always, always supervise! Read more about how to have your children help you in the kitchen.
There's is nothing I love more than seeing you guys make my recipes! Tag @gingeredwhiskand use the hashtag #gingeredwhisk on social media when you make my recipes so that I can share them and maybe even feature you. Follow along to get the latest updates:
And don't forget to subscribe to the email list to get all the extra tips, tricks and bonuses!
Want to save this for later? PIN THIS TO YOU DESSERTS BOARD on Pinterest!
Yield: 8 servings
Fresh Strawberry Cake Recipe
Our Fresh Strawberry Cake Recipe makes the perfect light summer dessert! This fresh fruit dessert features moist, flavorful vanilla cake studded with fresh strawberries. With a topping of freshly whipped cream, this strawberry cake is the star of any summer picnic or potluck!
Total Time
1 hour
15 minutes
Ingredients
For the Strawberry Cake:
6 tablespoons unsalted butter, at room temp, plus extra for pie plate
1 1/2 cups all-purpose flour
1 1/2 tsp baking powder
1/2 tsp salt
1 cup + 2 tbsp sugar
1 large egg
1/2 cup milk
1 tsp vanilla extract
1 pound strawberries, hulled and halved
For the Whipped Cream:
3 cups heavy whipping cream
3 tablespoons sugar
Instructions
To make the cake:
Preheat oven to 350 degrees F.
Butter a 10-inch pie pan or a 9-inch deep dish pie pan (a regular 9-inch pan won't work with all the batter, so if that's all you have, just leave a bit of the batter out at the end).
Whisk flour, baking powder and salt together in a small bowl.
In a large bowl and with an electric mixer, beat butter and 1 cup sugar together until pale and fluffy, about 3 minutes.
Mix in the egg, milk, and vanilla until just combined.
Add the dry mixture gradually, mixing until just smooth.
Pour the batter into the prepared pie plate, remembering to leave just a little bit of it out if your plate is a regular 9-inch size).
Arrange the strawberries, cut side down, on top of the batter, as closely as possible in a single layer. Squish them in there if you have to!
Bake the cake for 10 minutes, then reduce oven temp to 325 F. and bake the cake until a toothpick comes out clean, about 50-60 minutes more.
Remove pan from oven and allow the cake to cool in the pan on a wire rack.
Cut into wedges, plate, and serve with lightly sweetened whipped cream.
To make fresh whipped cream:
Place the bowl and beaters into the freezer for 15-20 minutes before you make the whipped cream. This will help the whipped cream to form faster.
In a large bowl, whip the cream and sugar with an electric mixer on high speed, until the cream is stiff and you can see the tread marks of the beaters in the cream.
Recommended Products
As an Amazon Associate and member of other affiliate programs, I earn from qualifying purchases.
Nutrition Information:
Yield:

8
Serving Size:

1 Slice
Amount Per Serving:
Calories:

569
Total Fat:

44g
Saturated Fat:

27g
Trans Fat:

1g
Unsaturated Fat:

14g
Cholesterol:

148mg
Sodium:

311mg
Carbohydrates:

39g
Fiber:

2g
Sugar:

16g
Protein:

7g
This Fresh Strawberry Cake Recipe is adapted from Smitten Kitchen and Martha Stewart.