These Strawberry Galettes are the perfect recipe to use your sourdough starter with fresh in season strawberries and garden fresh thyme!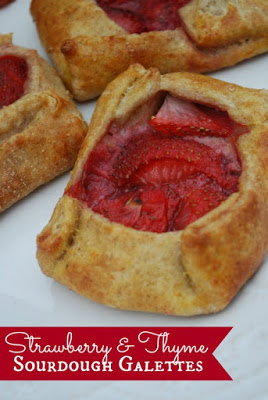 It is full on strawberry season! One of the things we look forward to most in the early summer is picking strawberries together as a family. We have done it every year since Ladybug was old enough to grasp the concept. We always gather as many as we possibly can (and may or may not eat just as many) and bring them home to enjoy! We stuff ourselves silly with strawberries for days, we eat them in and on everything we can, and freeze anything leftover for use the rest of the year. Fresh picked, fully ripe strawberries are nothing like what you buy at the supermarket. They are so sweet and juicy, red and ripe, and just amazing.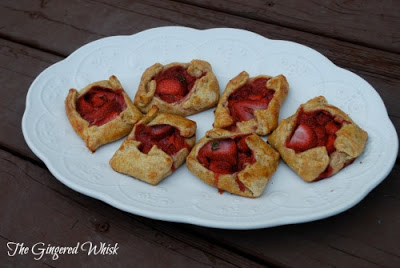 When I see a recipe that says "free-form and rustic" I get excited. I'm all for the gorgeous desserts that take 18 hours and utter perfect technique to create works of art. They are gorgeous, and they have their place.
But really, a simple, rustic dish is where its at! They bring up images of grandmothers who don't measure a thing, who create dishes by feel and taste alone. That is how I love to cook and bake.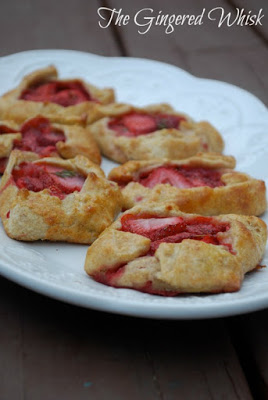 I have always wanted to make some little hand pies, and I thought this would be the perfect opportunity to combine one of the best pie crusts ever with fresh, sweet, juicy strawberries. Ladybug and I whipped these up one day while Munchkin was napping, and they made the best afternoon snack!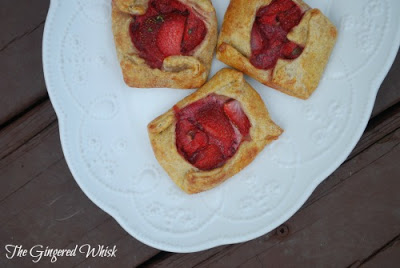 Strawberry Galettes with Sourdough Crust
These strawberry galettes turned out so lovely. The strawberries were so sweet and juicy that they hardly needed any sugar. I decided to skip the sugar altogether and just use a bit of honey. If the strawberries you use aren't fresh from the vine and juicy, please feel free to up the honey amount, or throw in a bit of sugar instead. The sourdough crust was nice and tender - not quite flakey, but not overly chewy, either. Perfect for making these cute little envelopes!
Galettes are a simpler version of a pie. If you want to try your hand at making a from scratch sourdough pie, you need to make Sweet Cherry Pie with Sourdough Crust!
Yield: 12-15 servings
Mini Strawberry and Thyme Sourdough Galettes
These Strawberry Galettes are the perfect recipe to use your sourdough starter with fresh in season strawberries and garden fresh thyme!
Prep Time 1 hour 15 minutes
Cook Time 12 minutes
Total Time 1 hour 27 minutes
Ingredients
Sourdough Pie Crust:
½ cup all purpose flour
½ cup whole wheat or spelt flour (you can also just use all all-purpose)
1 tsp salt
1 ½ tsp sugar
1 stick (½ cup) very cold unsalted butter, cubed
½ cup 100% hydration sourdough starter, fed and active
Filling:
3 Cups Strawberries
2 TBSP honey (more or less depending on how sweet your berries are)
1 TBSP chopped fresh time
½ cup ground almonds
1 egg, beaten, for egg wash
Instructions
In a large mixing bowl, whisk together the flours, salt and sugar.
Add in the butter, and use your fingers to rub and press the butter into the flour mixture. You want to mix until the mixture looks like course sand, with some small balls of butter still remaining.
Fold in the starter, until the mixture has combined.
Gather the dough into a ball, wrap in saran wrap, and place in the fridge for 30 minutes to chill.
Preheat the oven to 400F.
Generously flour the counter top.
Place the chilled dough on the counter and carefully roll out until ¼" thick.
Using a sharp paring knife, cut away the rough edges so you have a rectangle with perfect edges.
Use the knife to cut ~5" squares.
You can re-roll the scraps to cut more squares.
Place the squares on parchment paper lined baking sheets.
Wash, Core, and Slice the strawberries.
Place the berries in a bowl, add the honey and thyme and toss to combine.
Place about a TBSP of the ground almonds in the center of each square of dough and flatten slightly.
Divide the strawberry mixture evenly between all the squares of dough.
Using a pastry brush, brush the beaten egg on all the edges of all the squares.
Fold one side of the square up at a time, and continue brushing with egg wash (this helps to "glue" the edges together" and also makes a nice sheen on the top of the dough) until all four sides are folded up and brushed with egg wash.
Repeat with remaining egg wash.
Bake for 10-12 minutes, until golden brown.
Transfer to a wire rack to cool.
Enjoy!
Nutrition Information:
Yield:
12
Serving Size:
1
Amount Per Serving: Calories: 187Total Fat: 6gSaturated Fat: 1gTrans Fat: 0gUnsaturated Fat: 4gCholesterol: 34mgSodium: 237mgCarbohydrates: 30gFiber: 4gSugar: 7gProtein: 7g