These tener flaky scones boast copious amounts of fresh apples, applewood smoked bacon, sharp cheddar cheese and a hint of fresh rosemary to make a lovely addition to any tea, breakfast, or dinner table.
For the most part, I am pretty much "take-it-or-leave-it" about the majority of typically girly books and movies. I am not really a romance type of person – I don't mind it very now and then, but I don't generally seek it out in my books – with two exceptions – "You've Got Mail" and "Pride and Prejudice".
I love everything about Pride and Prejudice – the gorgeous flowery prose (seriously, why don't people talk like this anymore?!), the regency period, the gorgeous dresses and fancy balls. It's totally not typical of me at all, but when it comes to P&P, I'm a die hard fan. I also love fun adaptations and retellings of the story – for instance THIS BOOK is a really fun read! I am also a serious fan of the 2005 Pride and Prejudice movie with Kierra Knightley.
Jenni Ward/The Gingered Whisk is a participant in the Amazon Services LLC Associates Program, an affiliate advertising program designed to provide a means for sites to earn advertising fees by advertising and linking to Amazon.com.
I read the book "Pride and Prejudice and Zombies" and I liked it, but I didn't love it. But guys – the movie!! It is sooo much better!! This might be the one and only time that I say the movie was better than the book. Yeah, I said it. They do a fantastic job of keeping true to the language, style and heart of the original story, except that the Bennet sisters are bad-ass zombie killers. This movie was SO FUN and ridiculously silly – Mr. Darcy's fighting leathers squeak every time he walks, instead of doing embroidery together the sisters practice their fighting skills. But what really sold it for me was the character of Mr. Collins. Normally this character is a swarthy, overly needy and vain man but in this adaptation he is played by none other than Matt Smith – and suddenly Mr. Collins becomes slightly more endearing and hilariously nerdy goof.
These apple, bacon and cheddar scones are inspired by Pride and Prejudice – scones being an essential element of any good tea. The tender flaky scones combine apples, sharp cheddar and applewood smoked bacon (a nod to P&PZ – no spoilers here, but pigs play an important role in the movie!) with a hint of fresh rosemary for a lovely and savory addition to a tea table. You can serve this with a slice of real butter, or even a smear of jam.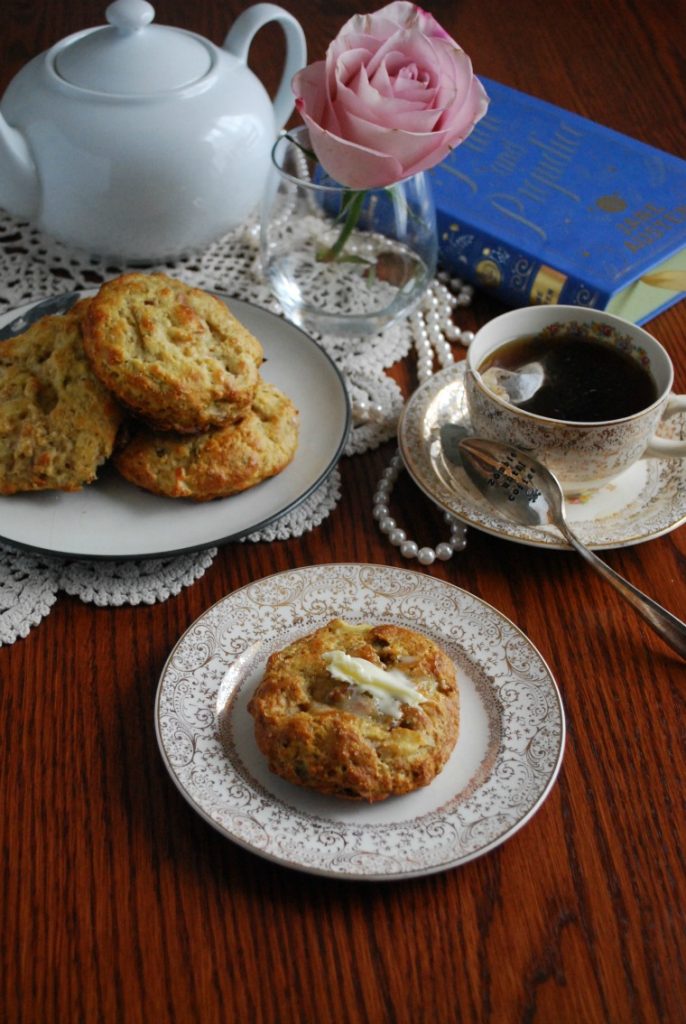 Whether you are a fan of Jane Austen, ridiculous movies, or zombies, or none of the above, these scones are completely delightful and the perfect addition any tea, breakfast, or afternoon snack. And they would be great served along side any stew or chili as well.
Yield: 6 Servings
Apple Cheddar Bacon Scones
These tener flaky scones boast copious amounts of fresh apples, applewood smoked bacon, sharp cheddar cheese and a hint of fresh rosemary to make a lovely addition to any tea, breakfast, or dinner table.
Ingredients
6 slices applewood smoked bacon
1 TBSP Baking Powder
1/4 cup sugar
1/2 tsp salt
1/2 tsp pepper
2 cups flour
6 TBSP Chilled Butter
1/2 cup shredded sharp white cheddar cheese
2 TBSP minced fresh rosemary
2/3 cup heavy cream
3 TBSP Melted Butter, for baking
3 TBSP Raw Turbinado Sugar, for baking
Instructions
Preheat oven to 375.
Line a rimmed baking sheet with foil.
Place the bacon strips on the foil in a single layer, spaced about 1" apart and bake for 10 minutes.
Place on a plate lined with a paper towel to drain/cool and then crumble.
In a large bowl, whisk together the baking powder, sugar, salt, pepper, and flour.
Using your fingers, rub the butter in until the flour looks like course sand, with pea sized bits of butter remaining.
Using a fork, stir in the shredded cheese, rosemary, and the crumbled bacon.
Slowly stir in the heavy cream until the dough is just barely moist - don't overwork it!
Place a piece of parchment paper on your counter and sprinkle with flour.
Pat the dough into a 1" thick circle and then use biscuit cutter to cut out your biscuits - use straight up and down motion with the cutter, don't twist it.
Place the biscuits on a tray lined with a silicone baking mat and brush with the melted butter and sprinkle the turbinado sugar on top.
Bake for 18-20 minutes.
Remove to a wire rack to cool, and Enjoy!
Nutrition Information:
Yield:

6
Serving Size:

1
Amount Per Serving:
Calories:

551
Total Fat:

35g
Saturated Fat:

20g
Trans Fat:

1g
Unsaturated Fat:

12g
Cholesterol:

97mg
Sodium:

843mg
Carbohydrates:

49g
Fiber:

1g
Sugar:

16g
Protein:

12g
Equipment Needed:
This post may contain affiliate links. As an Amazon Associate, I earn from qualifying purchases.
A rimmed baking sheet

(affiliate link)

is totally necessary for baking bacon in the oven – it will trap the grease in so it won't spill all over your oven.
A Silpat Mat makes baking biscuits, scones, and cookies so easy because they won't stick to the pan! I highly recommend having one (or two)!
Lining your counter with parchment paper before you knead your dough saves so much time and effort meaning dough off your counters – and helps you reduce the amount of flour you use, which helps your biscuits stay flakey and soft!