I've learned a secret to making the perfect focaccia, and its so easy its ridiculous! The secret? Make it in a cast iron skillet!! No, really! Not only does using a skillet help you to get a perfectly round and even circle, but it also helps to create a beautifully crispy crust! I might never make focaccia any other way — time after time this recipe just turns out so perfectly! And whats makes it best, is that it is ready to eat in an hour!
Need some easy bread ideas to serve with dinner? Try these: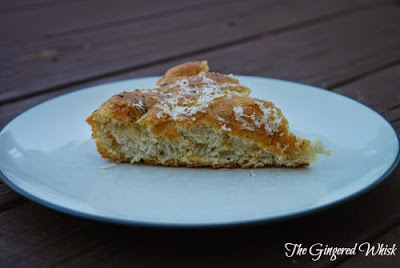 Quick Skillet Focaccia
Prep Time: 30 minutes
Cook Time: 20 minutes
Keywords: bread Italian
Ingredients (8 servings)
Dough
3/4 cup warm water
1/2 tsp sugar
1 1/2 tsp yeast
2 TBSP olive oil
2 cups flour
1/2 tsp salt
Topping
3 TBSP melted butter
1/2 tsp Italian Seasoning
1 TBSP grated parmesan cheese
Instructions
Preheat your oven to 220F.
In the bowl of an electric mixer, combine the warm water and sugar.
Sprinkle the yeast over the warm water and let sit until foamy, about 5 minutes.
Turn the mixer on low speed and add 1 cup of flour and salt.
Add the oil and mix well.
Gradually add the remaining cup of flour until the dough pulls away from the sides of the bowl (you may not use all the flour, so go slowly!)
Turn the oven off, but keep the door closed while you finish preparing the dough!
Place the dough onto a floured surface and knead a few times, until it is smooth and not sticky.
Place the dough into a greased 9″ or 10″ skillet and spread out with your fingers until the dough is evenly spread to all sides.
Cover with a kitchen towel and place in the TURNED OFF oven for 20 minutes.
Take the skillet out and preheat the oven to 400F.
Make small indentions in the dough with your fingertips.
In a small bowl, mix together the melted butter and spices.
Brush the dough with half the butter.
Bake for 20 minutes, or until golden brown.
Remove from oven, brush with the remaining butter, sprinkle with parmesan cheese, and Enjoy!