This 30 minute skillet meal is the perfect fall comfort food – filled with pasta, cheese sauce, and so many great flavors, its something the whole family will love!


As long as I can remember, I have been a bit of a snob when it comes to food. I can't help it though, I was raised in a family where nearly everyone cooked, and they did it well (except that one time my dad tried to make peanut soup and it was so terrible. But we won't talk about that, right?). Looking back I know we didn't have a whole lot of money, but the fact remained that dinner was important, and my brother and I grew up feeling like we ate like kings. I felt like every meal I ate should be as delicious and awesome as what my parents made at home.
Now that I am a mom, I am still really picky about the food that I eat, and what I feed my children as well. Because I want the best – I want it to be everything – delicious, nutritional, and neither overly complicated nor overly expensive.
For the most part we try really hard to eat a "clean" and "whole" diet. As a busy mom of two with a full schedule, and a husband that works a lot, its nearly impossible to stick to this. And, because, honestly, we also love to order pizza and eat at restaurants. Even though I work from home, I find that a 100% clean lifestyle is just completely unattainable. I mean, I LOVE cooking (obviously), but spending the entire day preparing, cooking, and cleaning up after meals AND snacks is not something I want to do. And packing a cooler of snacks to haul around with me everywhere? Yeah… that's not going to happen…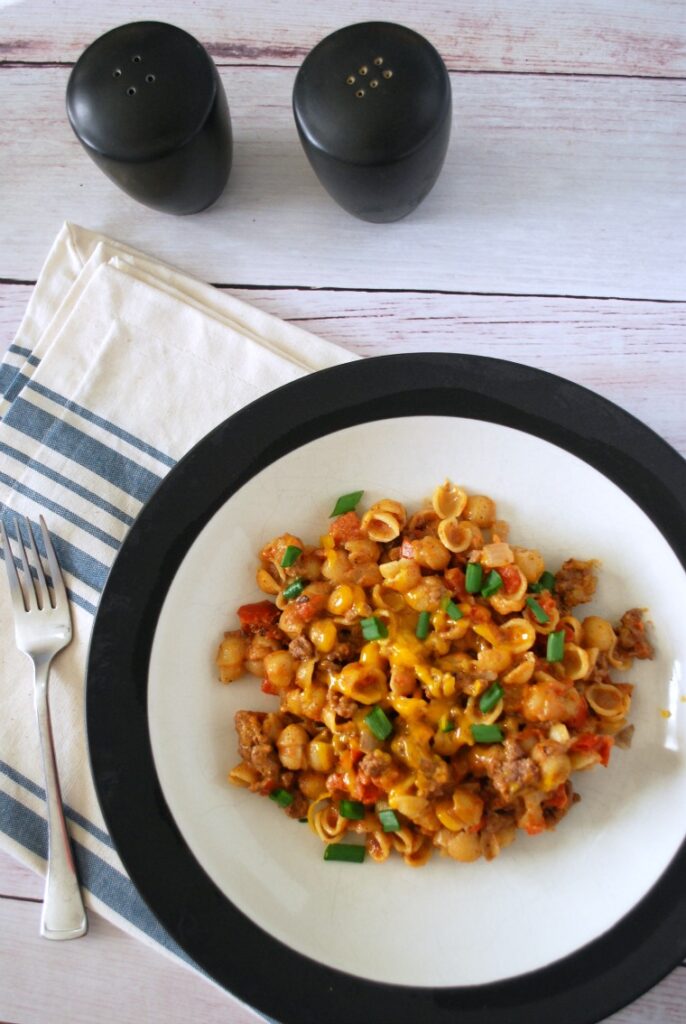 There are times where I turn to conventional foods for convenience, but that doesn't mean that I am not equally picky about what we buy. When we can, I prefer to buy organic, because I like knowing that there are no pesticides or no funky ingredients. I love that
Annie's Homegrown
offers so many great food that we already love that are kid friendly, certified organic, ethically sourced, and totally affordable! As a mom, I love that I can buy an easy and affordable macaroni and cheese that actually tastes great, is affordable, and contains organic cheese from grass fed cows. It makes me happy that there are great choices out there, that a company is dedicated to making organic attainable for every body! Because everyone deserves to have great food!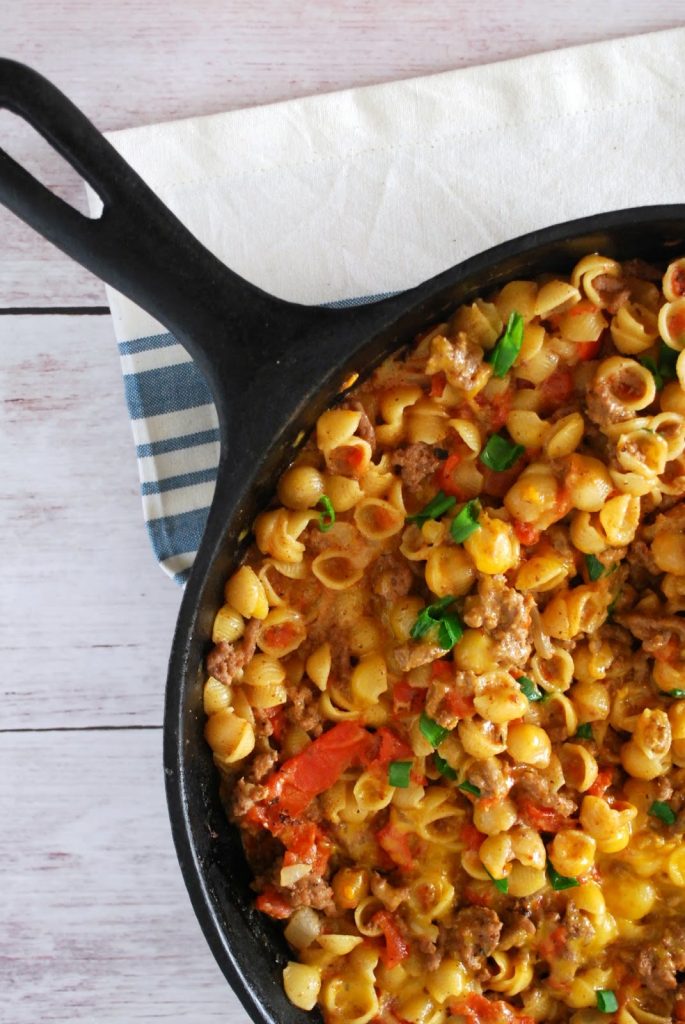 This easy skillet meal is fast becoming a favorite at our house. I am kind of ashamed to admit how many boxes of
Annie's Homegrown Mac and Cheese
we go through each week, but my girls love it! Plus the fact that I know its made with ethically sourced ingredients and that they will eat it, I am totally willing to give in to their "more mac please" demands. But because there are only so many times in a week you can eat plain macaroni and cheese, I have started doctoring the boxes up a little. Adding in some meat, veggies and spices is all it takes to turn this into a whole new meal that is fun and tasty, and yet still familiar enough that the kids will eat it.
In just 30 minutes, and with only one skillet, you can combine macaroni and cheese and the taste of an awesome cheeseburger into one awesome meal. Its so cheesy, has so much awesome flavor, and is so easy to make that its quickly becoming our family's favorite meal. Its definitely comfort food! And my husband and I love it just as much as our girls do!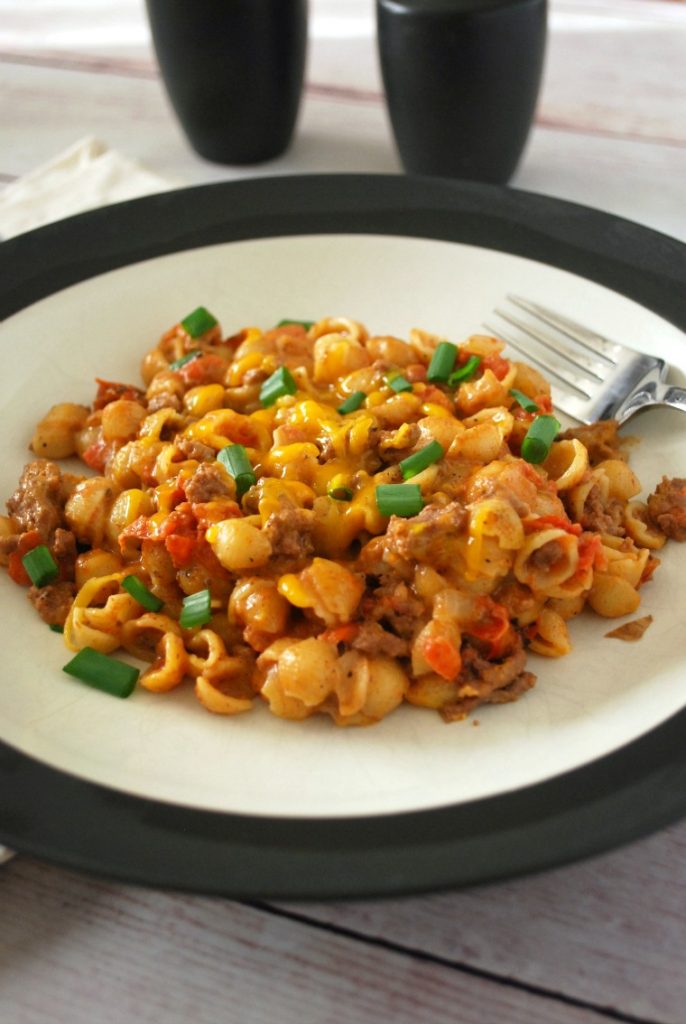 I love that
Annie's Homegrown
doesn't just make organic food – they make food that we already love organic! Watch this awesome video on how Annie's is working to make awesome organic food for everybody – plus find more awesome recipes!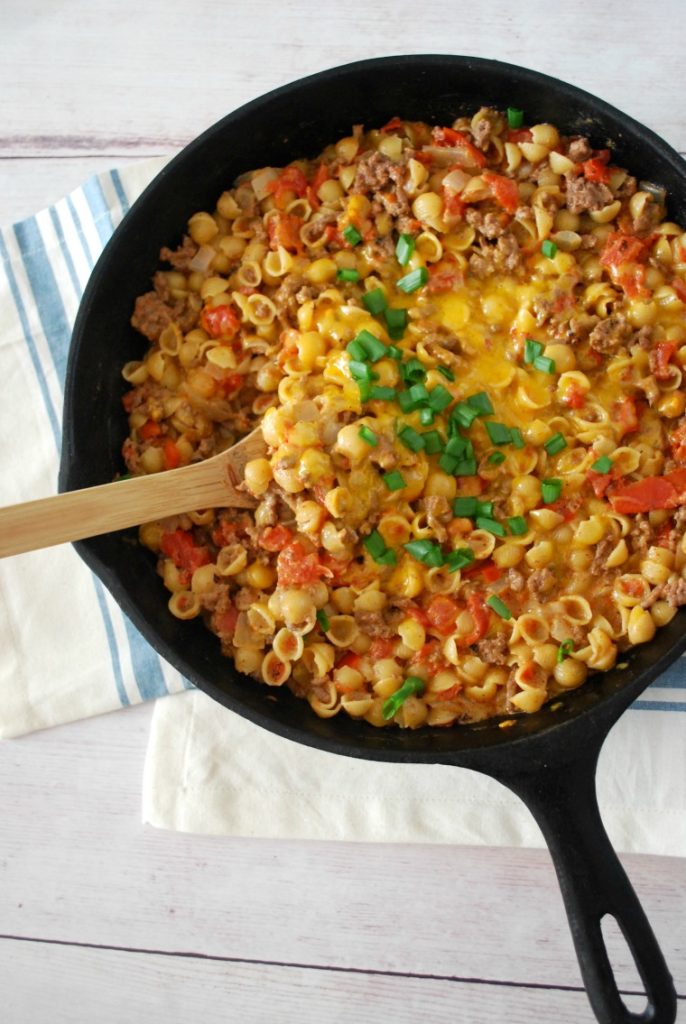 Is your family a fan of macaroni and cheese? Try these family friendly Mac recipes!
Chicken and Broccoli Mac & Cheese with Bacon

– THis skillet recipe is cheesy and creamy but still healthy. Studded with fresh broccoli, tender bites of chicken and bacon pieces, your family will be a fan of this!

One pot Stovetop Mac & Cheese

– Forget the box! This easy and cheesy macaroni and cheese recipe is easy to make and so delicious!

BBQ Pulled Pork Mac & Cheese

– Pure comfort food! Top cheesy and creamy homemade macaroni and cheese with perfect oven roasted pulled pork and barbeque sauce for a family favorite meal!

Best Homemade Baked Macaroni and Cheese – This best baked macaroni and cheese recipe is the ultimate comfort food – perfectly creamy and cheesy, and reheats well!
Yield: 4 serivngs
Cheeseburger Macaroni and Cheese
This 30 minute skillet meal is the perfect fall comfort food – filled with pasta, cheese sauce, and so many great flavors, its something the whole family will love!
Ingredients
1 lb ground beef
1 medium onion
2 cups milk
1 cup chicken broth
2 boxes of Annie's Homegrown Organic Shells and Cheese
1 tsp paprika
1 tsp garlic powder
1 can fire roasted tomatoes, drained
1/2 cup shredded cheddar cheese
3 green onions, sliced
Instructions
Heat a large 10 " skillet over medium heat.
Cook the onion and the ground beef until the meat is cooked through, stirring occasionally.
Drain the fat.
Add in the milk, broth, noodles, paprika, garlic powder and the drained tomatoes.
Bring to a boil, and then reduce to a simmer.
Cover and simmer for 9-12 minutes, or until the noodles are done.
Stir in the cheese pouches.
Top with cheddar cheese and green onions.
Serve and Enjoy!
Nutrition Information:
Yield:

4
Serving Size:

1
Amount Per Serving:
Calories:

728
Total Fat:

35g
Saturated Fat:

14g
Trans Fat:

1g
Unsaturated Fat:

17g
Cholesterol:

139mg
Sodium:

1307mg
Carbohydrates:

51g
Fiber:

4g
Sugar:

6g
Protein:

51g