Aren't crock pot (affiliate link) meals the best invention ever?! I love how super useful they are for making dinner so easy!
*This post contains affiliate links.*
What I don't like about them is that sometimes recipes for them are so labor intensive it doesn't really seem to help at all, and really isn't worth it. Have you ever made a crock pot (affiliate link) lasagna? I was under the impression that it would be so super awesome, but I think it took me just as long as normal – except at 6am. UGH.
To me, a crock pot (affiliate link) meal are for those nights when you have NO time to make a meal, but you still need to eat something (and something that doesn't come out of a drive-thru lane).
If you are in the market for a new crock pot (affiliate link), my favorite is this 6 quart Crock Pot – and yes, I have the red one! Its not super fancy, but I love it in its simplicity. All you really need are high, low, and off. This does come with an extra warm feature, which is nice. It also has a locking lid, which is totally necessary if you plan on traveling to potlucks and parties with your crock pot (affiliate link). And this particular model also comes with a mini-dip warmer, too! I love that the stone basin and the lid can both go in the dishwasher. I highly recommend this one if you are shopping for a new one!
Ok, so on to the recipes! Below you will find over 60 awesome recipes that take almost no work at all – these are for the days when all you have time to do is dump stuff in the crock pot (affiliate link) and ignore it until its time to dump it on a plate – or dump, heat, and eat.
No fussiness, no funky ingredients. Just pure EASY deliciousness the whole family can enjoy!
You are going to want to save this and share it with all your friends!
Crock Pot Chicken Recipes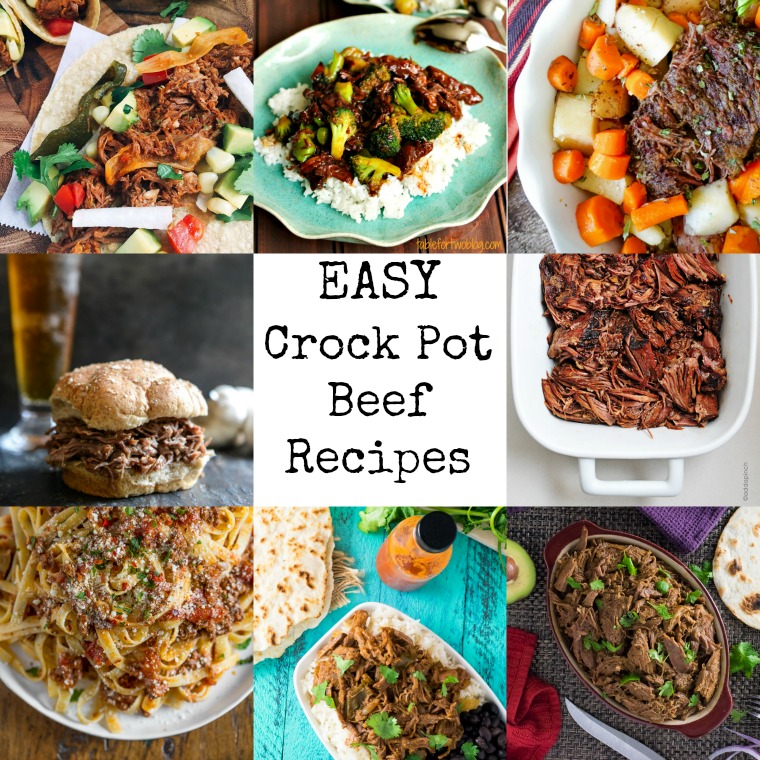 Crock Pot Beef Recipes
Crock Pot Pork Recipes
Crock Pot Meatless Meals
So, there you have it! The most comprehensive list of dump, heat and eat meals you could ever want – all with barely any prep work, real ingredients, and awesome flavor the whole family will love!
Make sure you save this, and share it with all your friends!
Did I miss one? Leave a comment below telling me your favorite super easy crock pot meal and I will make sure to add it to the list!
SaveSave