Harvest Bowl with Ground Bison
This Harvest Bowl with ground bison is the perfect fall meal to enjoy the labors of harvest. It features ingredients that are indigenous to America. This hearty yet flavorful bowl is filled with wild grains, roasted vegetables, ground bison and topped with a berry sauce known on "wojapi".
This weeknight meal is a delicious way to celebrate fall. Ready in under an hour, this meal is one your kids will love!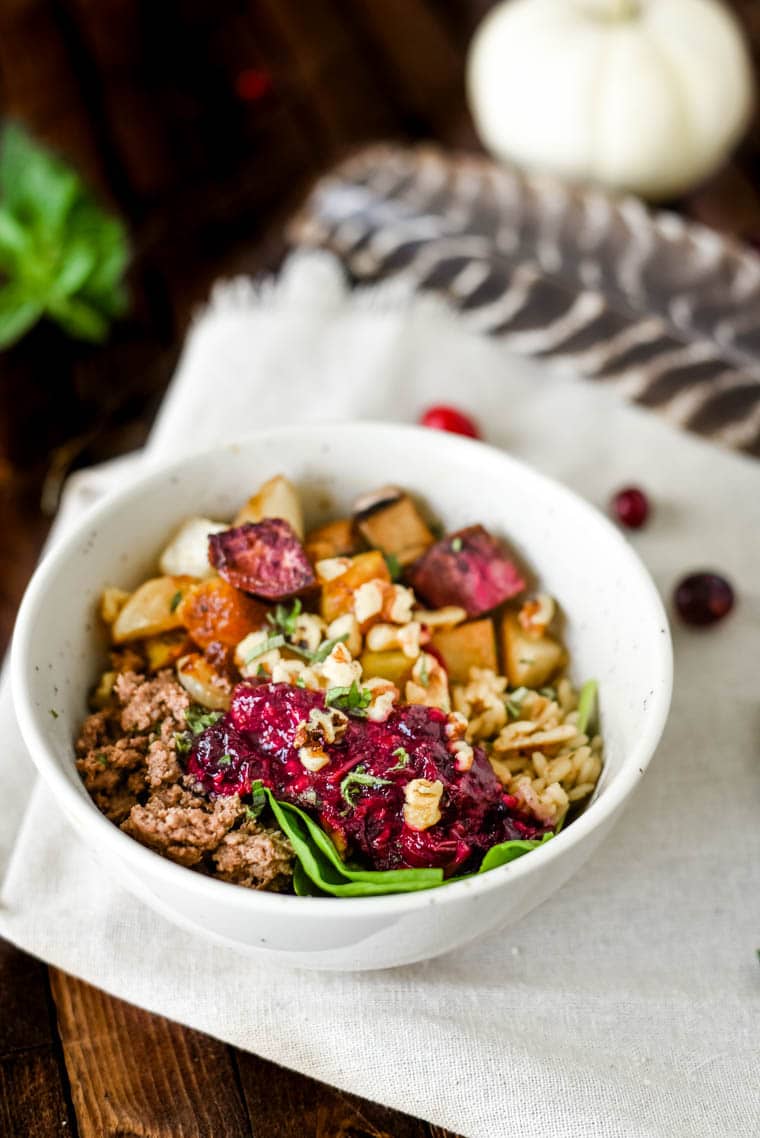 About Native American Cuisine
When you think about cultural food, its easy to think of ingredients and recipes that are representative of Chinese, Mexican or Indian cultures – but when you think of what Native Americans ate, I bet you can't name much beyond bison and corn. In actuality, their diets were varied and flavorful.
Native Americans had a rich knowledge of the plants and animals of the land. They knew how to care for the resources they had, were good stewards of the land and didn't waste what they took.
They did "sustainable local diets" before it was cool. The cuisine was driven by what the people of the time could find, hunt or grow themselves. Wild game such as venison, bison, fish, rabbit and fowl were hunted. Berries, nuts, mushrooms, herbs, and wild greens were foraged, as well as honey and maple syrup. Crops such as corn, pumpkins, beans, wild rice, potatoes and tomatoes were cultivated.
Wojapi is a traditional Native American sauce made by simmering berries together until thick.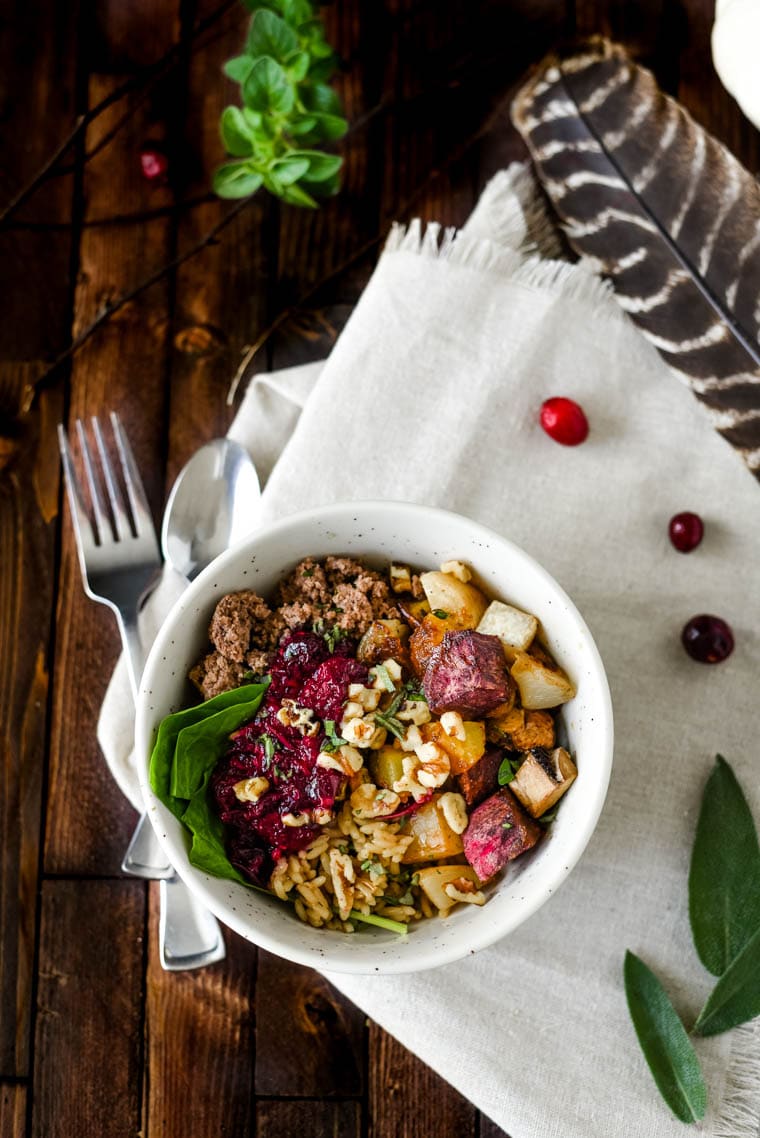 American Harvest Bison Bowl Recipe
I wanted this recipe to be easy for the average person to make, and for the ingredients to be readily available in any grocery store. Because there is no point in creating a recipe where you can't get any of the ingredients, right?
I combined wild rice with ground bison (which is so lean but so flavorful!) with seasonal roasted vegetables.
I added some spinach for some roughage (the only part of the recipe that isn't actually authentic/indigenous because I couldn't find any wood sorrel, watercress, clover or garlic mustard anywhere) and topped the whole thing off with an amazing sauce of fresh berries and toasted walnuts.
The result was an amazingly flavorful meal that is earthy and rustic yet refined in its appearance and taste.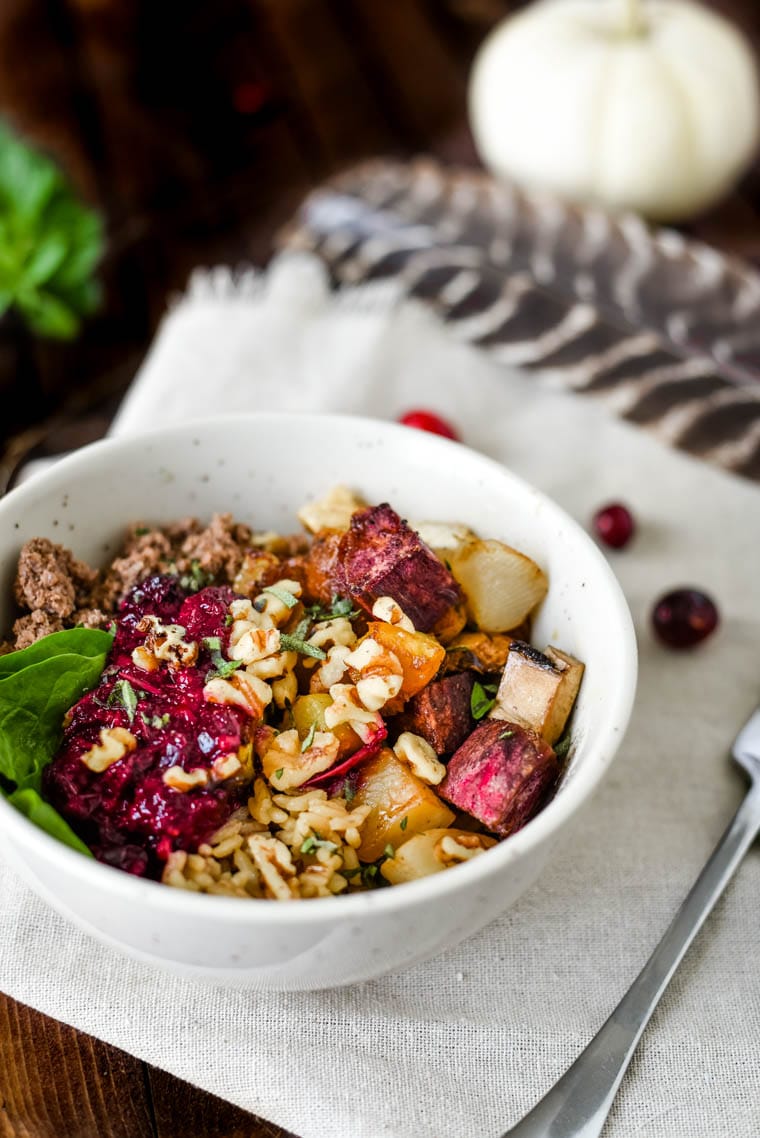 This recipe was made in part of my "Eat Like A Princess" series, where I create weeknight meals inspired by classic princesses and heroines in the hopes that kids are curious about trying new foods, flavors, and cuisines. This meal was inspired by Pocahontas.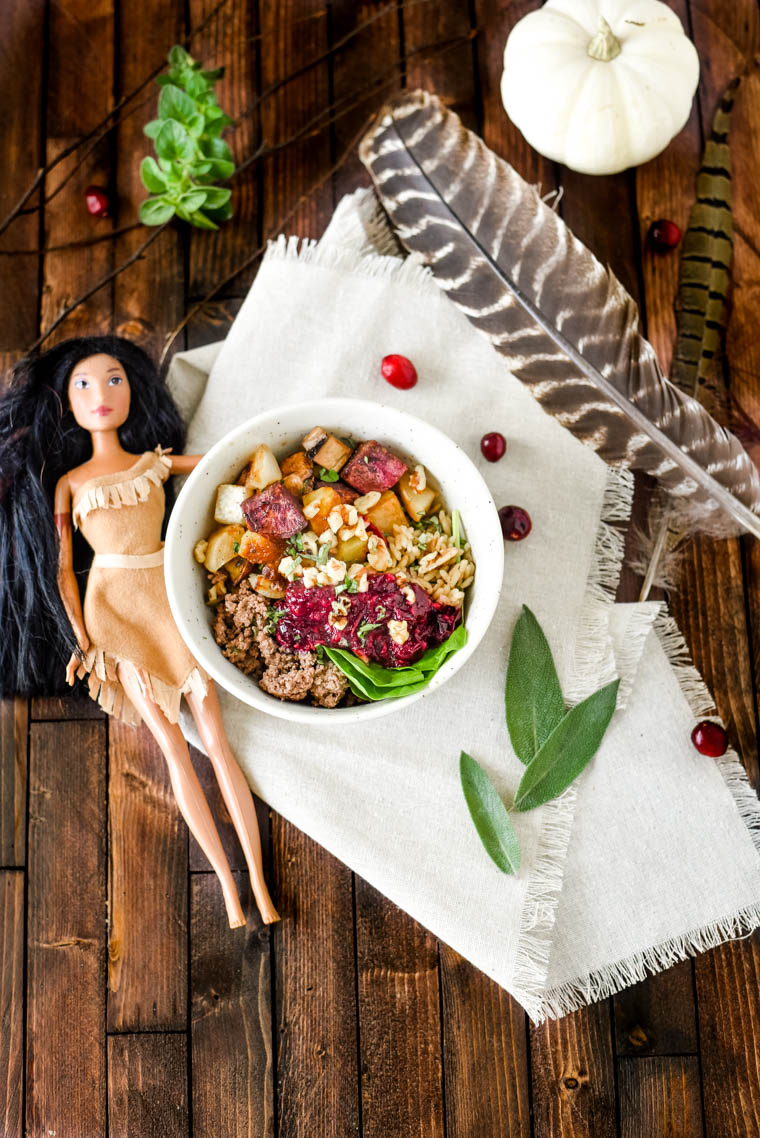 *Recipe Notes:
Jenni Ward/The Gingered Whisk is a participant in the Amazon Services LLC Associates Program, an affiliate advertising program designed to provide a means for sites to earn advertising fees by advertising and linking to Amazon.com.
Maple Vinegar

can be hard to find so feel free to replace it with a good quality balsamic vinegar.

Smoked Salt

is a great addition to this recipe! It gives it that kind of smokey flavor that would have been naturally occurring with food cooked over an open fire. Unless you generally cook dinner on a campfire, you are gonna want some of this!

Sunflower Oil

would have been a more traditional ingredient, but feel free to use another oil.
If you want to learn more about Native American cuisine and recipes, you need to check out the Souix Chef Cookbook by Chef Sean Sherman.
How to Prep Harvest Bowls Ahead
This dinner is perfect for making on even the busiest of nights. Here is how you can prep it ahead to make it work in your schedule:
All parts of the meal (the wojapi, the roasted veggies, the ground bison and the wild rice) can be cooked ahead and stored in the fridge until ready.

You can use microwave ready pouches of wild rice or wild rice/whole grain blends.

Use pre-washed spinach to cut down on prep time.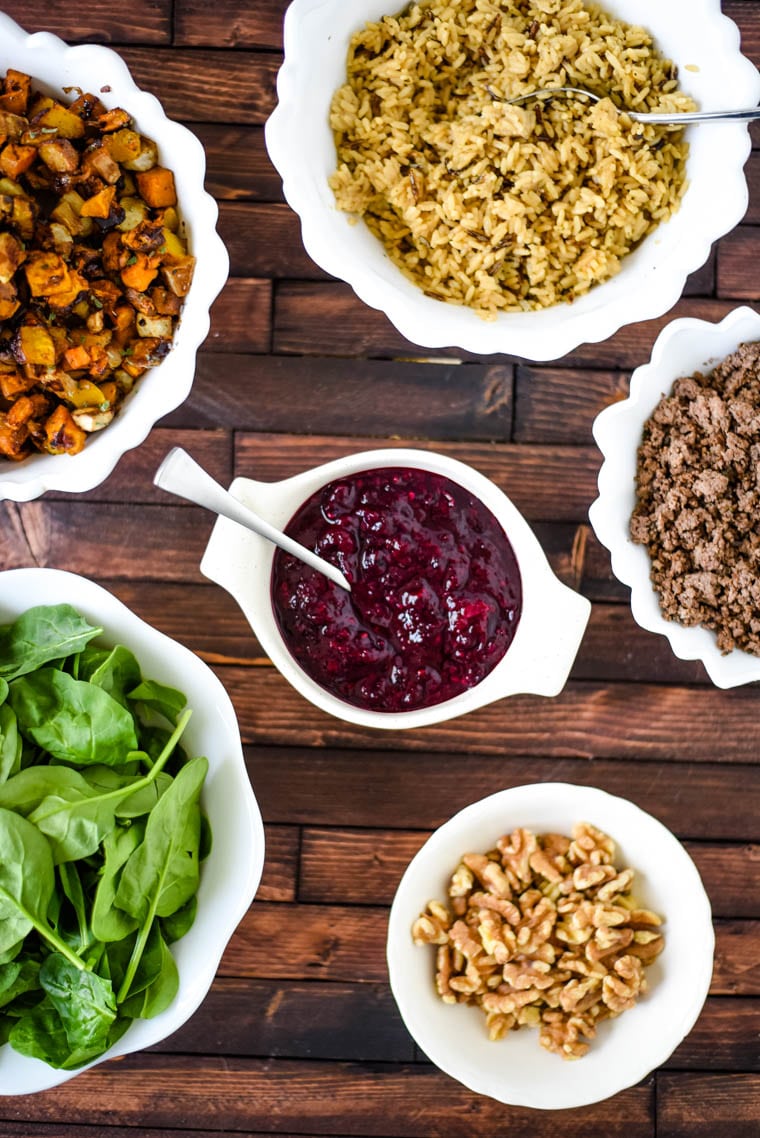 How to make Harvest Bowls Kid-Friendly
At first glance, this Harvest bowl might not seem very kid-friendly. With a wide range of ingredients, textures and flavors, it could seem overwhelming. But this meal is filled with mild and pleasant flavors and the different textures add fun variety and opportunity for good discussions.
Dinner Conversations with Kids about Harvest Bowls
Dinner time should be more than micromanaging each and every bite your kids take. Use this opportunity to talk about:
Talk about the textures in your bowl – how are the different components different and how are they the same? Use words like tender, soft, crisp, etc.

Talk about the smells of your bowl. What smells earthy, sweet, fruity?

Talk about the different flavors of your bowl. What is sweet, what is toasty, what is savory?

Ask questions about what their favorite part of the bowl is, what they would change next time or how they would make it better?
How to Serve Harvest Bowls with Ground Bison to your Family
Harvest Bowls are an easy meal to serve family style, allowing each family member to create their bowl as they want.
When kids are allowed to choose how much of each food they get, they love that responsibility and independence, which means they are more likely to eat more of what they pick.
Allow children to choose which components they want to serve together (ie touching), and which they would like in its own pile.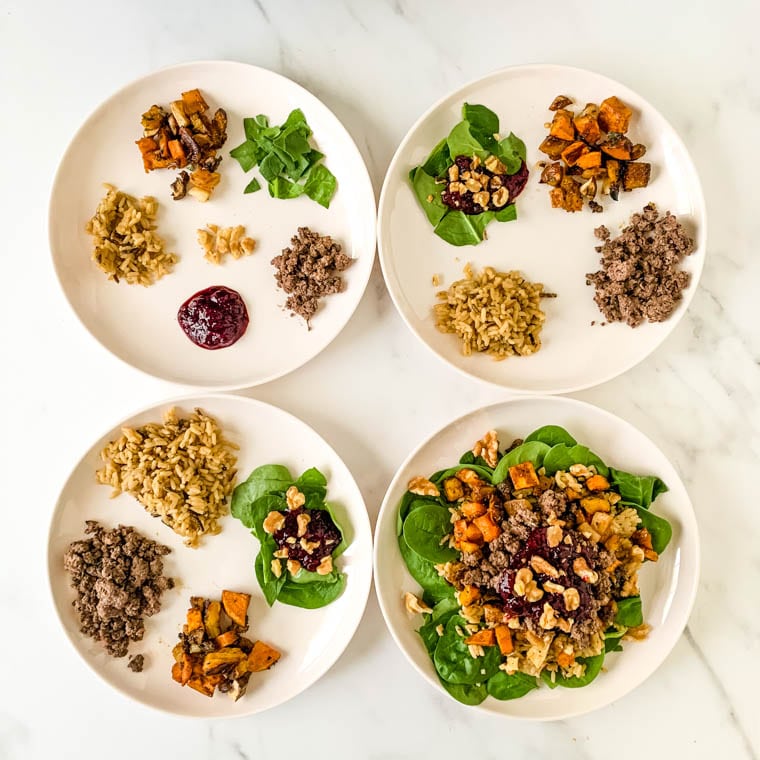 Kids in the Kitchen: How Your Kids Can Help You Cook
Getting your kids in the kitchen is an amazing way to help them be more interested in trying new foods and confident in their own abilities. This Harvest Bowl recipe is great because it helps them learn to layer different ingredients to make a meal. This it is a great recipe for kids to experiment and become more comfortable with new flavors – which means they are more likely to eat it!
Kids aged 1-3

can help you

wash the produce, measure ingredients, and mix together the sauce, as well as help plate dinner.

Kids aged 4-6

can do everything above, plus help you

stir together the wojapi sauce, prepare the rice, and dice the mushrooms.

Kids aged 7-10+

can help you do everything above, plus help you

dice the vegetables (with supervision) and help cook the ground bison.
*Please note that these recommendations are generalized, and to please use your personal discretion with your child's skill level. And always, always supervise! Read more about how to have your children help you in the kitchen.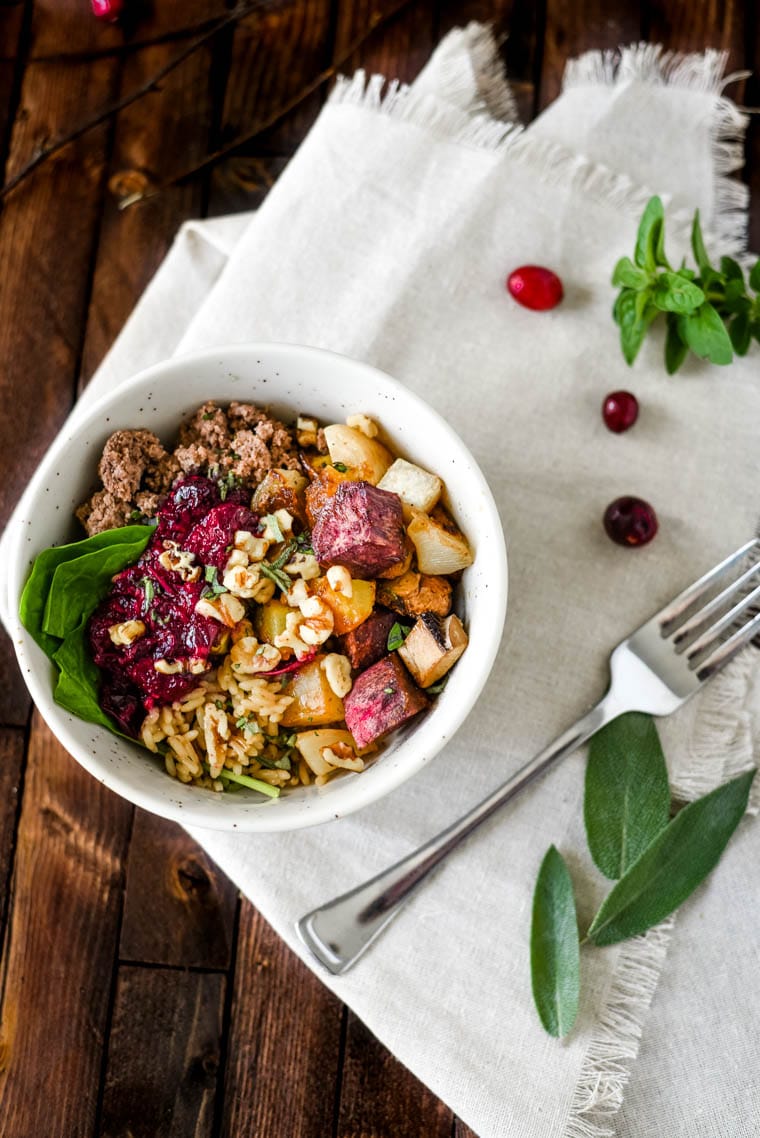 Other Kid-Friendly Bison Recipes:
Chocolate and Bison Chili – This Bison and Chocolate Chili Recipe is a fun and delicious way to add chocolate into your dinner recipes. Where this chili lacks in spiciness, it makes up for it with a rich and full bodied flavor, making this a great kid-friendly bison chili recipe.
There's nothing I love more than seeing you make my recipes! If you make this Harvest Bowl with ground bison, don't forget to leave a comment below and rate the recipe!
And if you are on Instagram, tag @gingeredwhisk and use the hashtag #gingeredwhisk on social media when you make my recipes so that I can share them and maybe even feature you. Follow along to get the latest updates:
Want to save this for later? PIN THIS TO YOUR EASY DINNER BOARD on Pinterest!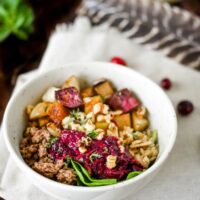 Autumn Harvest Bison Bowl
This Autumn Bison Bowl is the perfect fall meal to enjoy the labors of an American harvest. It features ingredients that are indigenous to America. This hearty yet flavorful bowl is filled with wild grains, roasted vegetables, and ground bison and topped with a berry sauce known on "wojape".
Print
Pin
Rate
Ingredients
Roasted Vegetables:
1

turnip

2

shallots

1

acorn or butternut squash

1

cup

mushrooms

1

sweet potato

1

TBSP

sunflower oil or olive oil

2

tsp

dried sage

2

TBSP

maple syrup

2

TBSP

maple vinegar

or good quality of balsamic vinegar

1

tsp

whole grain mustard
Ground Bison:
1

lb

ground bison

2

TBSP

sunflower oil

or olive oil

1

tsp

dried sage

2

tsp

dried oregano

pinch

of smoked salt
Wojape:
3

cups

of mixed berries - chokecherries

blueberries, raspberries, strawberries, blackberries, or cranberries.

½

cup

water

optional: 2 TBSP maple syrup or honey
Serving:
2

cups

cooked wild rice

2

cups

spinach

½

cup

toasted walnuts
Instructions
Roasted Vegetables:
Preheat oven to 425F

Peel and cut the turnip, shallots, squash and sweet potatoes into 1" pieces.

Toss with 2 TBSP oil and the 1 tsp chopped sage and oregano.

Roast in the oven for 20-30 minutes. (while the veggies are roasting start the wojape and then the wild rice, and then the ground bison).

In a small bowl, whisk together the maple syrup, maple vinegar (or balsamic vinegar) and mustard.

Add the mushrooms to the pan and toss the dressing over everything.

Roast an additional 7 minutes.
Wojape:
In a medium saucepan, combine 3 cups of the mixed berries with 1/2 cup of water.

Simmer until the berries break down and form a thick sauce.

Optional: You can choose to sweeten it with the honey or maple syrup if you wish, but I prefer it unsweetened (the berries make it sweet enough).
Ground Bison:
In a large cast iron skillet heat the 2 TBSP of oil.

Add the ground bison and season with the dried sage and oregano.

Cook until no longer pink and then season with smoked salt.
Serving:
In 4 separate bowls, layer the wild rice, roasted vegetables, ground bison, and fresh spinach.

Top with wojape and toasted walnuts.

Enjoy!
Notes
Sunflower oil may be replaced with olive oil
Maple Vinegar is hard to find, so feel free to replace it with a GOOD quality of balsamic vinegar
Cut down on cook time and dirty pots by using a microwave pouch of wild rice
Nutrition
Serving:
1
g
|
Calories:
806
kcal
|
Carbohydrates:
77
g
|
Protein:
39
g
|
Fat:
41
g
|
Saturated Fat:
10
g
|
Polyunsaturated Fat:
28
g
|
Cholesterol:
94
mg
|
Sodium:
222
mg
|
Fiber:
16
g
|
Sugar:
33
g