Inspired by Princess Pocahontas, this Autumn Bison Bowl is the perfect fall meal to enjoy the labors of an American harvest. It features ingredients that are indigenous to America. This hearty yet flavorful bowl is filled with wild grains, roasted vegetables, and ground bison and topped with a berry sauce known on "wojape".
The Pochahontas Story
The real Pocahontas.  She was brave, strong, beautiful, fiercely independent, courageous, and clever. "A lesson in extraordinary strength even against daunting odds."
In doing some research for this post, I realized that the story portrayed by Disney (while cute and fun) was not at ALL what really happened.  And actually, there are about 100 different versions of "What Really Happened", so I am not even sure what to tell you, haha. But I will give you some basic facts. Pocahontas (actually named Matoaka, which means "Flower between the two rivers") lived during the late 1590's along the coast of Virginia. She was the favorite daughter of the local chief. However, she was only about 10-12 when John Smith came to what would eventually be Virginia. So they were definitely never romantically involved. Because that would have been weird. (This article by the Smithsonian is a really good read if you want more information!).
At the age of 17, Pochanontas was kidnapped and help prisoner in Jamestown. She was eventually released, but only if she agreed to marry a widower named John Rolfe. Two years later, her husband took her to England where she spent a year campaigning for the colonies. On the return journey to Virginia in 1617, Pochahontas became ill and had to be removed from the ship in Gravesend, England, where she died at the age of 21 under the name of Rebecca Rolfe. Those are the facts, but there is a ton of controversy about what parts of her she was forced to do and what parts she did of her own accord.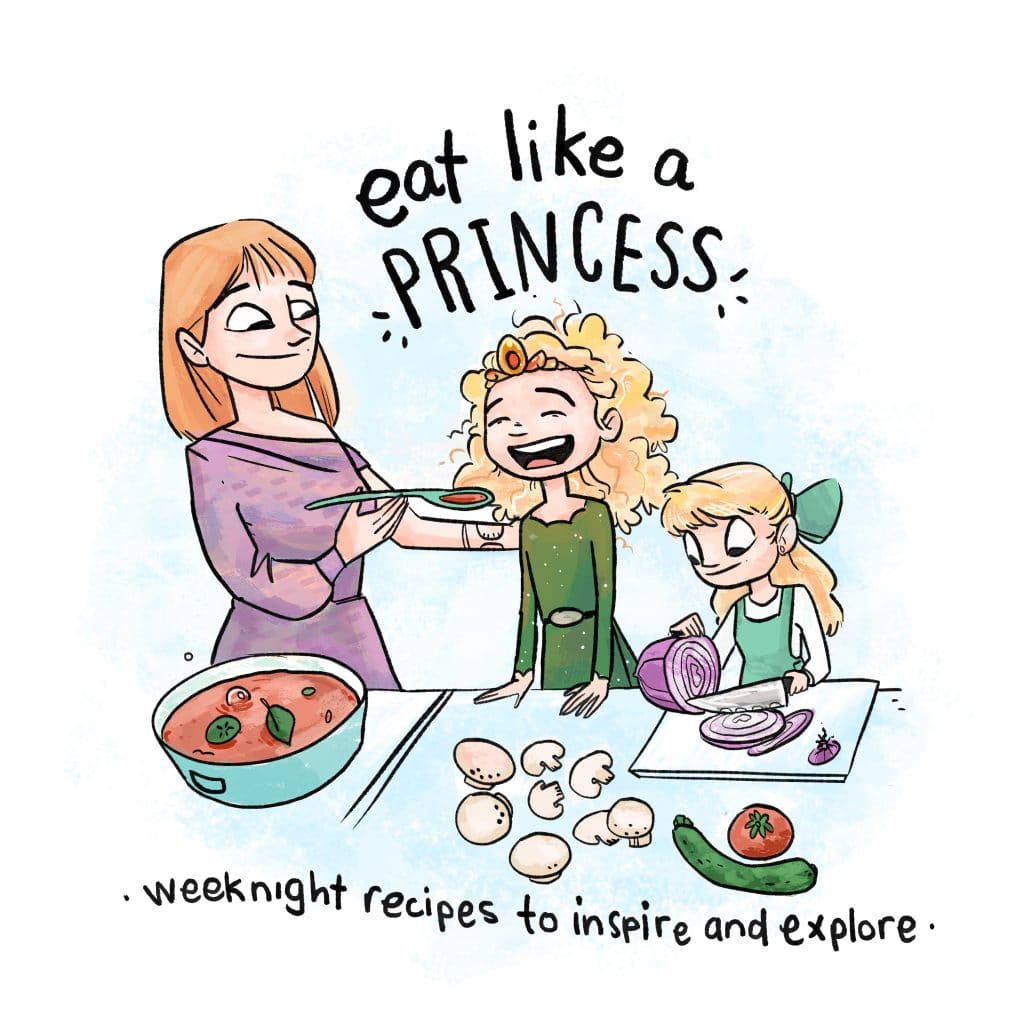 Welcome to the Eat Like A Princess Series!
I designed this series as a fun way to teach my daughters about new cultures through the classic Princesses in hopes that they will become more open to trying new foods, to understand other cultures better, and to enjoy exploring the world around them. All while still:
containing real food
be super easy
take about 30 minutes (or as close to it as we can).
You can see other recipes in this series here.
About Native American Cuisine
When you think about cultural food, its easy to think of ingredients and recipes that are representative of Chinese, Mexican or Indian cultures – but when you think of what Native Americans ate, I bet you can't name much beyond bison and corn. In actuality, their diets were varied and flavorful.
Native Americans had a rich knowledge of the plants and animals of the land. They knew how to care for the resources they had, were good stewards of the land and didn't waste what they took. They did "sustainable local diets" before it was cool. The cuisine was driven by what the people of the time could find, hunt or grow themselves. Wild game such as venison, bison, fish, rabbit and fowl were hunted. Berries, nuts, mushrooms, herbs, and wild greens were foraged, as well as honey and maple syrup. Crops such as corn, pumpkins, beans, wild rice, potatoes and tomatoes were cultivated.
Wojape is a traditional Native American sauce made by simmering berries together. You can sweeten it with a bit of honey or maple syrup if you would like it sweeter (it would be amazing drizzled on ice cream, yogurt, cake, you name it!) or keep it as is for a tangy and fun sauce for meat. It would also make a pretty fantastic salad dressing!
American Harvest Bison Bowl Recipe
I wanted this recipe to be easy for the average person to make, and for the ingredients to be readily available in any grocery store. Because there is no point in creating a recipe where you can't get any of the ingredients, right? I combined wild rice with ground bison (which is so lean but so flavorful!) with seasonal roasted vegetables. I added some spinach for some roughage (the only part of the recipe that isn't actually authentic/indigenous because I couldn't find any wood sorrel, watercress, clover or garlic mustard anywhere) and topped the whole thing off with an amazing sauce of fresh berries and toasted walnuts. The result was an amazingly flavorful meal that is earthy and rustic yet refined in its appearance and taste.
Notes:
Jenni Ward/The Gingered Whisk is a participant in the Amazon Services LLC Associates Program, an affiliate advertising program designed to provide a means for sites to earn advertising fees by advertising and linking to Amazon.com.
Maple Vinegar can be hard to find so feel free to replace it with a good quality balsamic vinegar.
Smoked Salt is a great addition to this recipe! It gives it that kind of smokey flavor that would have been naturally occurring with food cooked over an open fire. Unless you generally cook dinner on a campfire, you are gonna want some of this!
Sunflower Oil would have been a more traditional ingredient, but feel free to use another oil.
**Note: This recipe is not intended to be 100% authentic. Pocahontas was a real person, although the Disney version of her life is fairly fictional, and this recipe was created by me. This recipe is intended to be easy enough that children can help you prepare it and hopefully enjoy it, and that you can easily find the ingredients.  It is supposed to be a fun way to get kids interested in trying new foods, not an authentic recipe, although inspired by real Native American cuisine. It is my hope that it is interesting enough to pique their interest in new cultures and foods without being too intense or weird. 
Get your Kids in the Kitchen:
Children aged 0-3  can help pick out and wash the produce, wash the fresh herbs and take the leaves off the stems and wash the berries.
Children aged 4-7 can help you prepare the vegetables to roast, help make the wojape, and help mix the sauce for the roasted vegetables.
Children aged 8-12 can can help you cut the produce, and help cook the ground bison.
Read More About Native American Culture 
*This post contains affiliate links. See more about what that means on my disclosure page.
The Sioux Chef is a new and FANTASTIC cookbook that I have recently fallen in love with. Filled with recipes that only utilize ingredients indigenous to the United States, there are some truly creative and delicious recipes in here! Highly recommend this!
Buffalo Bird Girl is a gorgeously illustrated story of a little girl growing up around 1839. It is the perfect way to give a small glimpse into what it would have been like growing up in a Native American village at this time.
Print
Autumn Bison Bowl for Pocahontas – Eat Like A Princess
Author:

Jenni
Prep Time:

10 Minutes

Cook Time:

37 Minutes

Total Time:

47 minutes

Yield:

4

Servings

1

x
Category:

Main

Method:

Roast

Cuisine:

American