Wojapi sauce is a Native American recipe for simple berry sauce that is cooked down until thick. Served sweet or tart, this is a perfect addition to any sweet dessert or savory meal.
I love a good multi-use condiment! This wojapi sauce is a perfect example! You can use it for so many things – from a sweet topping dolloped onto cheesecakes or smeared on pancakes – to a savory use like paring it with grilled meats! You only need a few simple ingredients and a little bit of time ot make this amazing sauce that everyone will love!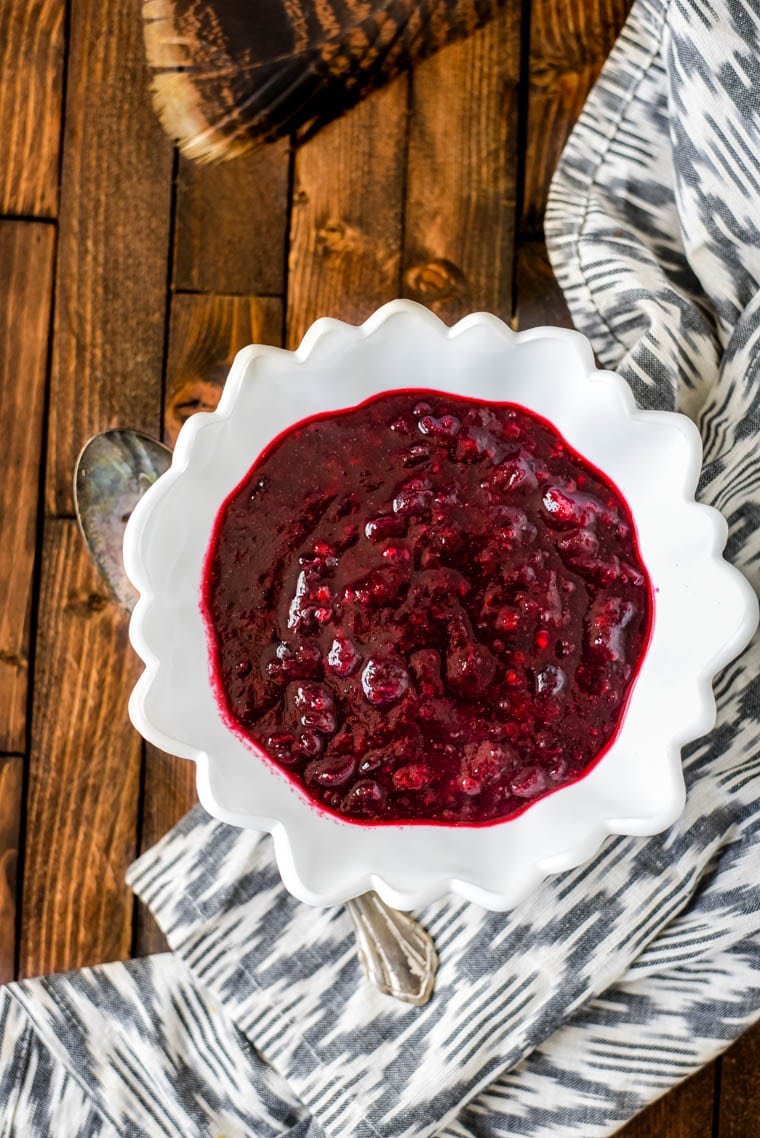 Wojapi Sauce
Wojapi sauce is a thick berry sauce (sometimes so thick it is thought of as a pudding!) that is part of Native American cuisine.
You can make it with different berries, depending on what kind of flavor you are going for or what you have on hand. Traditionally, it was made with one or a combination of:
Chokeberries

Blackberries

Blueberries

Strawberries

Raspberries

Cranberries
It is an easy sauce to make, easy to store, and easy to eat!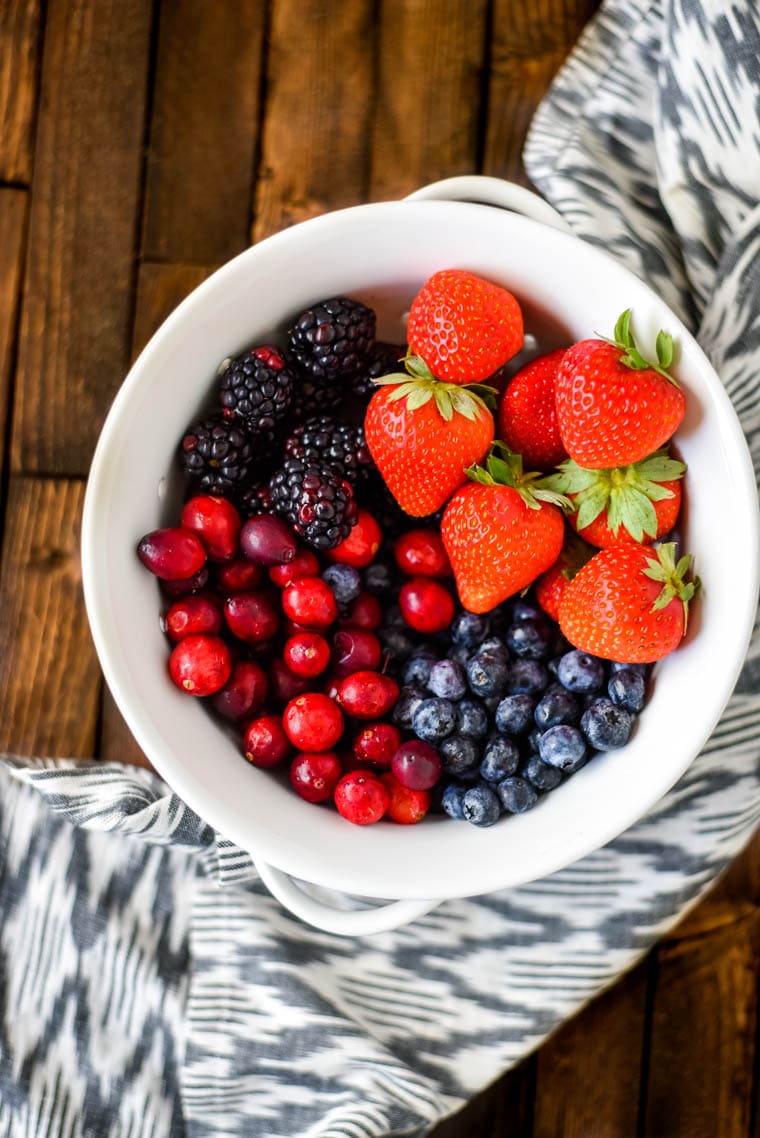 How to Make Wojapi Sauce
Wojapi is a really easy recipe to make!
Measure out 4 cups of berries. You can use all the same berry or a combination of them.

Place the berries in a saucepan with ½ cup of water and simmer, stirring occasionally, until the berries break down and form a thick sauce.

Taste the sauce and see if you need to sweeten it. Sweeten the sauce with either maple syrup or honey.
Can you use Frozen Berries to make wojapi?
Yes! You can use frozen berries or even freeze dried berries to make this sauce. Traditionally this sauce was made with dried berries that had been soaked in water to reconstitute them again, so either will work fine.
How to prep Wojapi Sauce Ahead
Wojapi sauce needs about 30 minutes to cook down so it is nice and thick. If you need to make this ahead of time, it stores well in an air-tight glass container in the fridge for up to 1 week.
You can serve it cold, or rewarm it on the stovetop or microwave.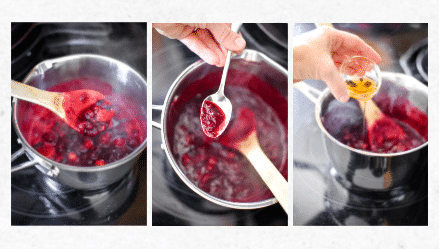 How to use Wojapi Sauce
This wojapi recipe is one of my favorites because there are so many great ways you can use it! Not only is it an amazing addition to this Harvest Bowl with ground bison recipe, with Sage Maple Roasted Fall Vegetables, but you can use it in other ways, too.
Use it:
Use it as a dip for fry bread or homemade cinnamon sugar donuts

Top grilled chicken, or an elk, bison, or beef steak with it

Top your pancakes and waffles with it

Drizzle it over no bake cheesecake

Top your oatmeal or

Nasaump porridge

with it

Replace your cranberry sauce with it at Thanksgiving
How to make Wojape Sauce Kid-Friendly
Wojapi sauce is a naturally kid-friendly food! It is a sweet sauce made of berries with multiple uses! Because the sweetness level can vary depending on the berries you use, and based on your own preferences, I would highly suggest asking the opinions of your kids when you make it.
Have them taste a spoonful. Do they like it a little more tart, or would they like it sweeter? Its ok to serve it more on the sweeter side at first and then gradually make it tarter the more often you make it, if you want.
Table Conversations with Kids about Wojapi Sauce
Dinner time should be more than micromanaging each and every bite your kids take. Use this opportunity to bring in a more analytical way of thinking about and trying food:
Talk about how all the ingredients used in this recipe are originally from here.

Talk about the textures of the sauce – do they like it warm or cold better? How does it feel in their mouth? Use words like smooth, velvety, thick, and soft. Can they feel parts of the berries?

Talk about the flavors of the sauce – Use words like rich, sweet, and tart.

Ask questions about what their favorite part of the wojapi sauce is – is there anything they would change about it for next time, or would they serve it differently?

Have they ever had anything that reminds them of wojapi sauce?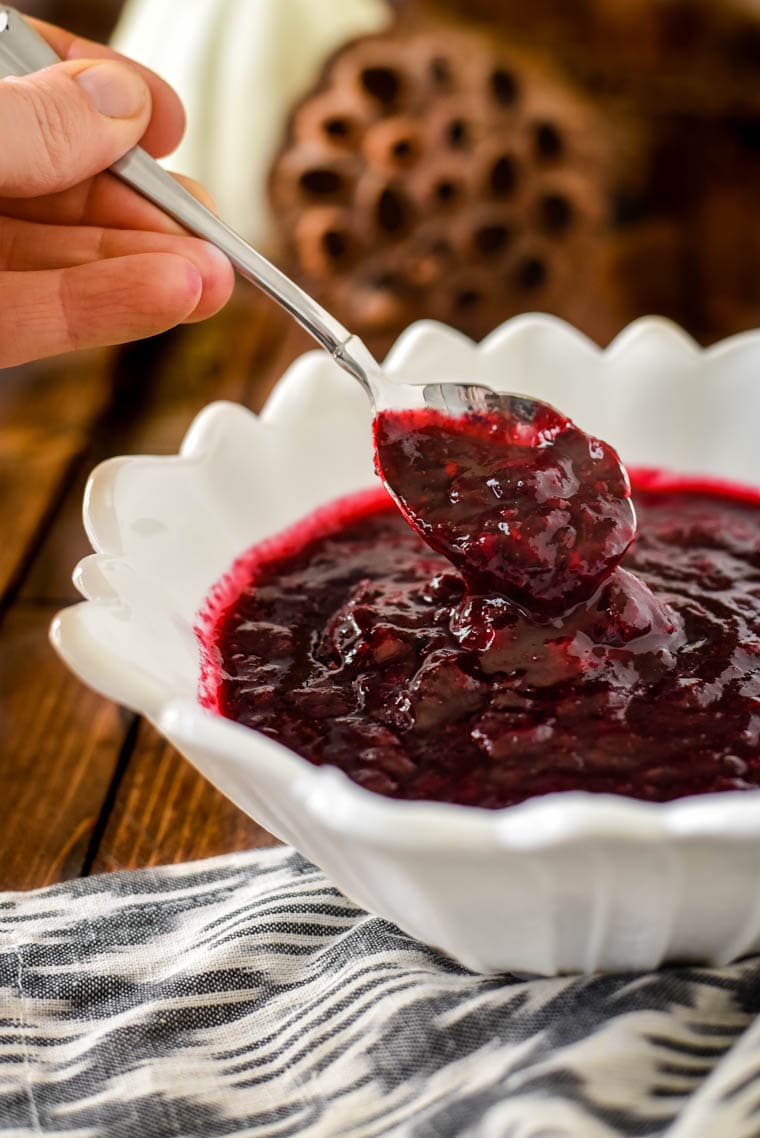 Kids in the Kitchen: How Your Kids Can Help You Cook
Getting your kids in the kitchen is an amazing way to help them be more interested in trying new foods and confident in their own abilities. This Wojapi recipe is great because it helps them learn about heat affects foods.. This recipe is perfect for beginner cooks because it is so easy! And it is a great recipe for kids to experiment and become more comfortable with new flavors – which means they are more likely to eat it!
Kids aged 1-3

can help you

wash and measure the berries.

Kids aged 4-6

can do everything above, plus help you

add in the maple syrup or honey.

Kids aged 7-10+

can help you do everything above, plus help you stir the berries while they cook.
*Please note that these recommendations are generalized, and to please use your personal discretion with your child's skill level. And always, always supervise! Read more about how to have your children help you in the kitchen.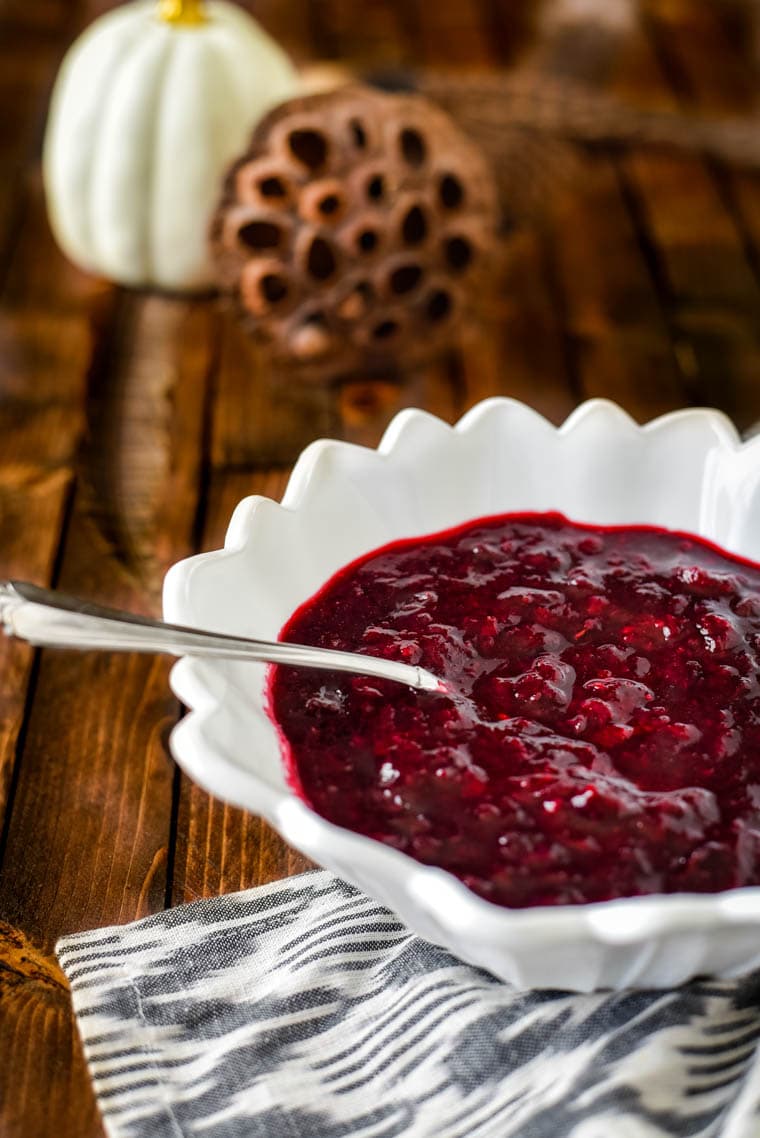 There's nothing I love more than seeing you make my recipes! If you make this recipe, don't forget to leave a comment below and rate the recipe!
And if you are on Instagram, tag @gingeredwhisk and use the hashtag #gingeredwhisk on social media when you make my recipes so that I can share them and maybe even feature you. Follow along to get the latest updates:
And don't forget to subscribe to the email list to get all the extra tips, tricks and bonuses!
Want to save this for later? PIN THIS on Pinterest!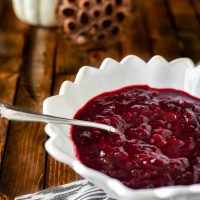 Wojapi Sauce Recipe
Wojapi sauce is a Native American recipe for simple berry sauce that is cooked down until thick. Served sweet or tart, this is a perfect addition to any sweet dessert or savory meal. This recipe is part of the "Eat Like A Princess - Pocahontas" Dinner Series.
Print
Pin
Rate
Ingredients
4

cups

mixed berries (all one kind or a mix of chokeberries

blueberries, raspberries, blackberries, strawberries, and/or cranberries

½

cup

water

2

TBSP

maple syrup or honey
Instructions
Wash the berries.

Place the berries in a medium saucepan, along with the 1/2 cup of water.

Simmer, stirring frequetly, until the berries have mostly broken down and formed a thick sauce. This could take 20-30 minutes depending on your berries.

Taste the sauce to see how much, if any, sweetener you need to add.

Serve warm, or allow to cool before using.
Notes
*Notes on Berries - you can use a combination of berries or all one kind.
*Notes on Sweetnening: You can use either maple syrup or honey to sweeten the wojapi. After cooking taste if it is sweet enough, and then add 1 TBSP at a time until it is as sweet as you want. I have listed 2 TBSP, but if you want to go sweeter, go for it!
*Notes on Storage - Once cool, you can store this in a glass air-tight container for up to 1 week in the fridge.
*Notes on Cooking - Warning - berries stain! If you use a wooden spoon or light colored tools, the berry juice will stain it red. Same goes for counter tops, fingers, kids shirts, you know... Be careful!
Nutrition
Serving:
1
g
|
Calories:
47
kcal
|
Carbohydrates:
11
g
|
Protein:
0.3
g
|
Fat:
0.4
g
|
Saturated Fat:
0.04
g
|
Polyunsaturated Fat:
0.2
g
|
Monounsaturated Fat:
0.1
g
|
Sodium:
2
mg
|
Potassium:
47
mg
|
Fiber:
2
g
|
Sugar:
8
g
|
Vitamin A:
32
IU
|
Vitamin C:
2
mg
|
Calcium:
11
mg
|
Iron:
0.1
mg
For a more step by step version, check out the how to make wojapi sauce story.