These slow cooker baby back ribs are tender, fall off the bone good! This easy slow cooker ribs recipe could not be easier to make, and you will seriously be impressed!
This easy slow cooker ribs recipe is rubbed down with a really good rub, then slow cooked with your favorite bbq sauce. Then you take this recipe and really kick it up a notch by reducing the drippings from the crock pot, glazing the ribs and then broiling them until they get that nice char that is so important (sans grill!)
They were really good, and considering that the 3.5 of us ate two entire rack of ribs, you can be sure we will be feasting on this again!
Fresh from the slow cooker
Tips for the best slow cooker ribs
Use these simple tips to make knock-your-socks off ribs that are finger licking good!
What Type of Ribs Should I Use?
Use baby back ribs, or spare ribs, or country style ribs! They will all work.
What size Slow Cooker Do I Need to Make Slow Cooker Ribs?
You need at least a 5 quart slow cooker.
We used our all time favorite BBQ sauce from KC – Arthur Bryant's!
How to cook ribs in a slow cooker
Its so easy!
Mix up the simple homemade spice rub.
Rub the spice rub all over the ribs.
Place the ribs in the slow cooker (you might have to cut the rib rack up to make it fit) and cook on low for 6-8 hours.
Slather the ribs in your favorite barbeque sauce.
Pull the ribs out of the oven and place them on a baking sheet.
Reduce the juices left on the pan to make a glaze on the stovetop.
Brush the ribs with the glaze.
Broil the ribs.
Flip the ribs, re-glaze, and then broil again.
You are now ready to eat!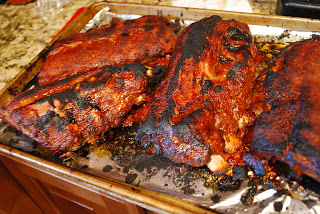 How to Serve Slow Cooker Barbecue Ribs
Serve these awesome slow cooker ribs with some Roasted Broccoli and homemade mashed potatoes for a complete meal your family will love!
How's THAT for portion control?!
Yield: 6 servings
Awesome Slow Cooker Ribs
These slow cooker baby back ribs are tender, fall off the bone good! These baby back ribs could not be easier to make, and you will seriously be impressed!
Total Time
8 hours
10 minutes
Ingredients
3 tbsp sweet paprika
2 tbsp brown sugar
1/4 tsp cayenne pepper
salt and pepper to taste
6 lb baby back ribs
3 cups barbecue sauce
Instructions
In a small bowl, mix together the paprika, brown sugar, cayenne pepper and salt and pepper.

Rub the seasoning mixture all over the ribs, on both sides, until everything is well coated.

Place the ribs inside the crock pot by standing them up against the wall of the pot, thicker side down and meaty side against the pot.

Pour bbq sauce over the ribs, cover and cook on low for 6-8 hours.

Very carefully remove the ribs from the crackpot and place them on a baking pan lined with foil, bone side up.

Strain all of the juices that remain in the crackpot into a small saucepan.

Bring to a boil and allow to simmer and reduce by 1/3, about 15 minutes.

Put your oven's broiler on to high heat, with the broiler pan out 10 inches below the heating element.

When the broiler is preheated, brush the ribs with the sauce and broil for 3-4 minutes.

Take the ribs out and very carefully turn them over (so the meat side is up) brush with sauce and broil for an additional 9 minutes, taking them out once or twice to brush with sauce again.

Serve with remaining sauce on the side.

Enjoy!
Nutrition Information:
Yield:

6
Serving Size:

1
Amount Per Serving:
Calories:

1518
Total Fat:

86g
Saturated Fat:

31g
Trans Fat:

1g
Unsaturated Fat:

51g
Cholesterol:

330mg
Sodium:

2499mg
Carbohydrates:

88g
Fiber:

3g
Sugar:

71g
Protein:

92g