Hello! I've been off the radar for a few days, I know, but I had a good excuse! My brother-in-law flew in from South Korea for a few days to visit, and we've been having some much needed family time! We drove up to Athens, OH for a day trip. It was a lot of fun, a cute little college town and total Bobcat country. The Bobcats are the mascot of Ohio University, in case you didn't know. I didn't know before, but picked it up fairly quickly as every single store we went into sold sweatshirts, hats, shot glasses (or "toothpick holders" as they called them), and everything else you could think of.
Fresh from the slow cooker
I tried to convince Joel that we needed to get the family outfitted – matching sweatshirts for us, Ladybug, and both the dogs! He just rolled his eyes at me.
We used our all time favorite BBQ sauce from KC – Arthur Bryant's!
Being from Kansas City, both my husband and his brother are BIG fans of barbecue. So I decided to surprise them both with some delicious ribs. However, having had to get rid of our sweet smoker/grill when we moved, I had to find an alternate way to cook them. I found this recipe on Mmm is for Mommy, and it is awesome!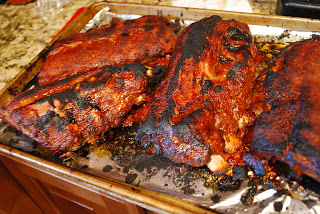 The ribs are rubbed down with a really good rub, then slow cooked with your favorite bbq sauce for about seven hours. Then you take this recipe and really kick make it awesome by reducing the drippings from the crock pot, glazing the ribs and then broiling them until they get that nice char that is so important (sans grill!) They were really good, and considering that the 3.5 of us ate two entire rack of ribs, you can be sure we will be feasting on this again!
How's THAT for portion control?!
Awesome Slow Cooker Ribs (Adapted from America's Test Kitchen Slow Cooker Revolution)
Print
Awesome Slow Cooker Ribs
Author:

Prep Time:

10 Minutes

Cook Time:

6-8 hours

Total Time:

-25454757.933333 minute

Yield:

6 servings
---
Ingredients
3 tbsp sweet paprika
2 tbsp brown sugar
1/4 tsp cayenne pepper
salt and pepper to taste
6 lb baby back ribs – leave the membrane on, it helps to hold them together
3 cups of your favorite bbq sauce
---
Instructions
In a small bowl, mix together the paprika, brown sugar, cayenne pepper and salt and pepper.
Rub the seasoning mixture all over the ribs, on both sides, until everything is well coated.
Place the ribs inside the crock pot by standing them up against the wall of the pot, thicker side down and meaty side against the pot.
Pour bbq sauce over the ribs, cover and cook on low for 6-8 hours.
Very carefully remove the ribs from the crackpot and place them on a baking pan lined with foil, bone side up.
Strain all of the juices that remain in the crackpot into a small saucepan.
Bring to a boil and allow to simmer and reduce by 1/3, about 15 minutes.
Put your oven's broiler on to high heat, with the broiler pan out 10 inches below the heating element.
When the broiler is preheated, brush the ribs with the sauce and broil for 3-4 minutes.
Take the ribs out and very carefully turn them over (so the meat side is up) brush with sauce and broil for an additional 9 minutes, taking them out once or twice to brush with sauce again.
Serve with remaining sauce on the side.
Enjoy!