Lemon Garlic Roasted Broccoli
Lemon garlic roasted broccoli makes a fantastic and easy side dish that your family will love! This easy vegetable side dish pairs great with any meal. Broccoli is roasted with garlic and then topped with lemon zest and freshly grated parmesan cheese. This side is so simple and easy, and the broccoli turns out perfectly with light and fresh flavors.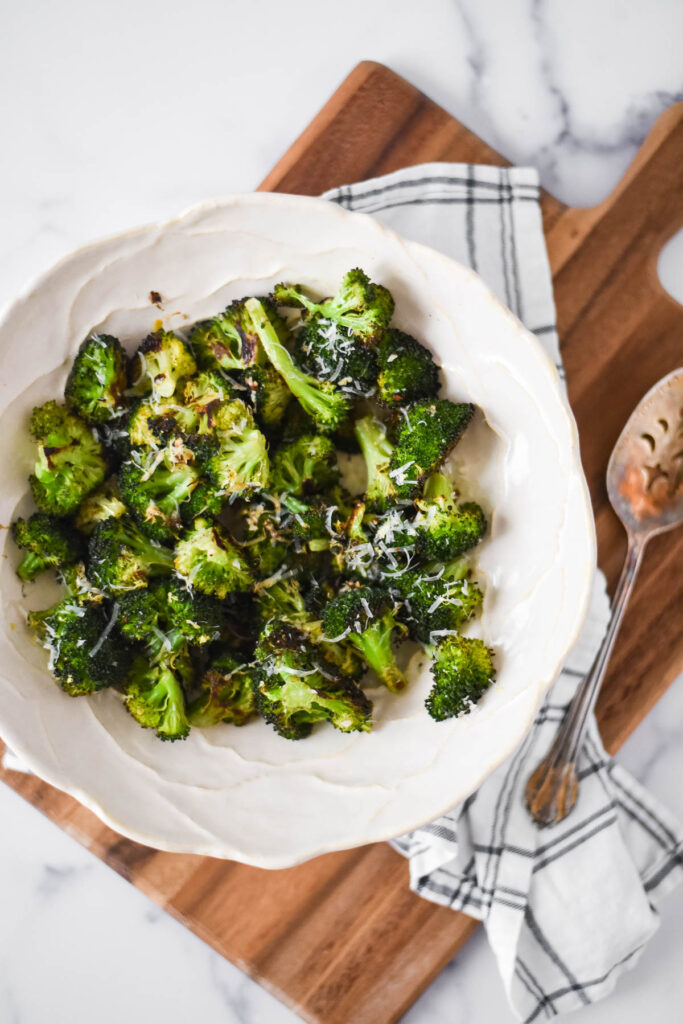 Whatever side dish you had planned for your dinner tonight, forget it. You want, no you NEED to make this easy roasted broccoli!
This is seriously the best way I have ever eaten broccoli, ever! And I like my broccoli. This easy and delicious side dish should really be labeled "The Best Broccoli of Your Life".
Roasting broccoli brings out this awesome flavor that otherwise is totally hidden. And when you add a little roasted garlic to the mix and top it with freshly grated lemon zest and real parmesan cheese, you have a stellar side dish made with actual real ingredients!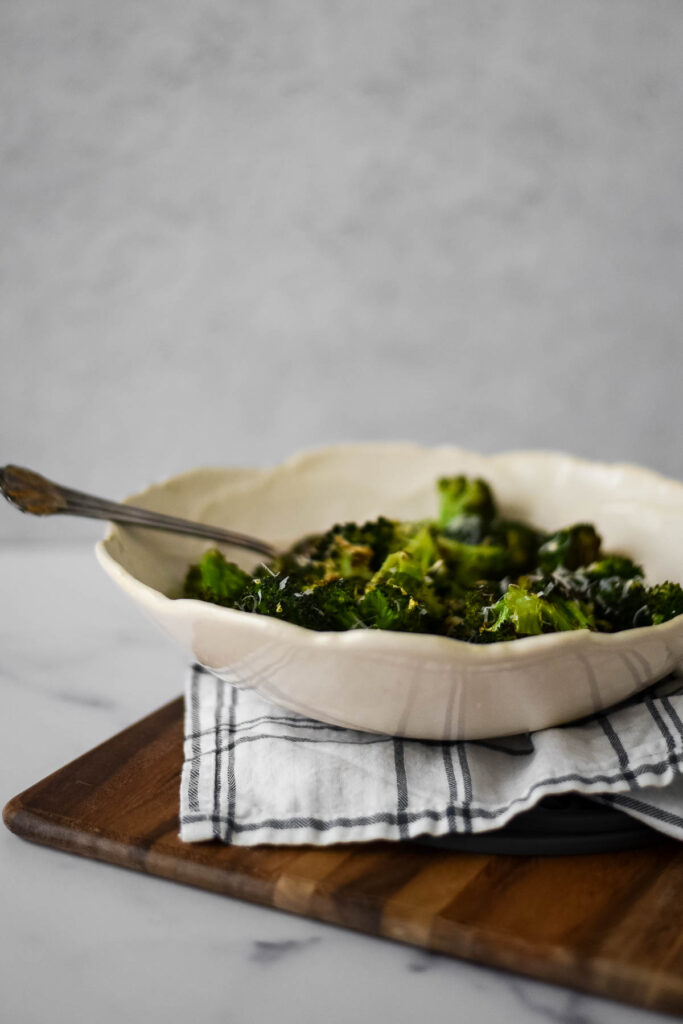 How to Get Kids to Eat Broccoli
This crispy oven roasted broccoli is a perfect kid friendly recipe! Roasting the broccoli in the oven changes the flavor to robust and complex, which makes it slightly crispy and sweeter, which kids love! Don't think its been burnt – the crispy black edges are what makes it crispy and fun!
Talk to your kids about broccoli! Instead of focusing on instant reactions and emotions, encourage your kids to investigate broccoli like a scientist! What texture does it have? What flavors can they detect? How does it compare with other broccoli recipes they have tried?
Check out my activity guide for more information on how to explore the sense of taste with kids!
This roasted broccoli is a perfect recipe to get your kids in the kitchen!
The best way to get your kids interested in actually eating the broccoli? Have them help you in the kitchen!
Here is how your kids can help!
Have your child help you wash and dry the broccoli
Older children can practice their knife skills by slicing the broccoli into smaller pieces.
Have children help you measure the olive oil and toss the broccoli florets to coat it and season with salt and pepper.
Kids can also help grate parmesan cheese and zest and juice the lemon.
For more information on having your kids help you in the kitchen, please read How to Cook and Bake with Your Kids.


Tips for Making the Best Oven Roasted Broccoli
You can make this roasted broccoli with more garlic or without any, depending on your garlic preference.
Cut the broccoli into smaller, thinner pieces to allow more of the broccoli to be covered in oil and exposed to the heat of the oven – this makes them sweeter and crispier.
Make sure the broccoli is DRY before you coat it with olive oil.
Toss the broccoli with the olive oil with your fingers, making sure that as much as the broccoli gets well covered with oil.
Don't use too much oil or your broccoli won't crisp, it will turn out soggy.
This recipe is easy to double or triple. Just remember to keep the broccoli in a single layer so it cooks evenly. Use two baking sheets if needed.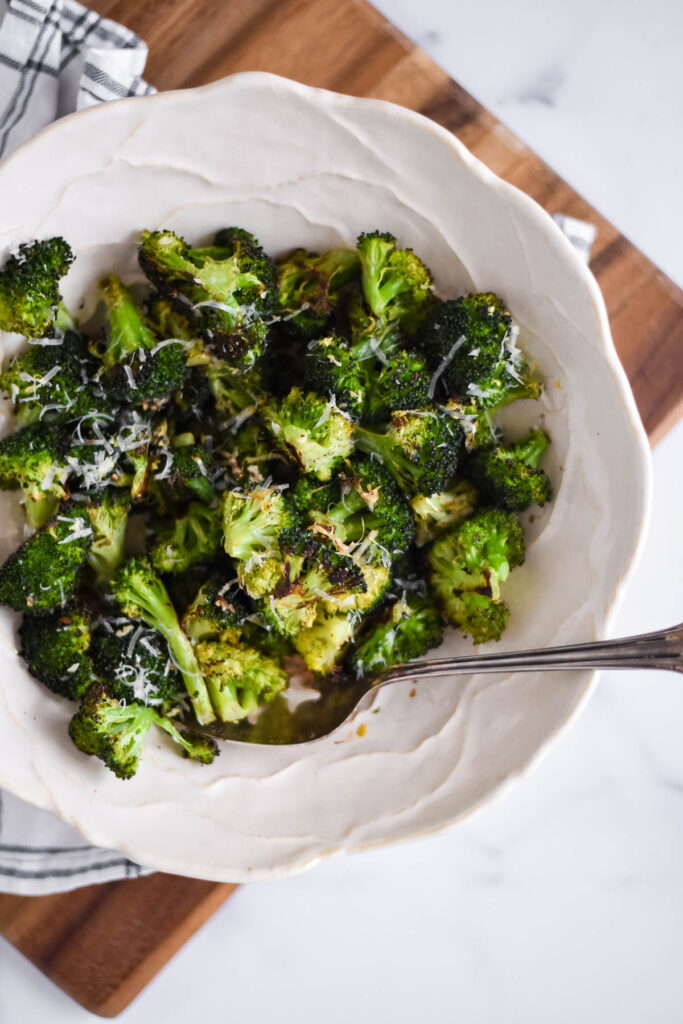 How to Prep Oven Roasted Broccoli Ahead
Oven roasted broccoli is so easy to make, and is really best fresh from the oven.
To prep ahead, wash and trim the broccoli, slice the garlic, grate the parmesan and zest/juice the lemon and store them in individual containers in the fridge until you are ready to roast the broccoli.
To use leftover oven roasted broccoli, chop up any leftovers and use in egg muffins, on pizzas, or breakfast tacos.
Can I Roast Frozen Broccoli ?
Yes, you can! It won't get as crispy because the water content is higher, but it will still taste good!
Try these other broccoli recipes:
Food tastes better when its shared! If you try this recipe, let me know! Leave a comment and rate below! Love and links are always appreciated! If you'd like to share this post, please link to this post directly for the recipe, please do not copy and paste or screenshot. Thanks so much for supporting me! xoxo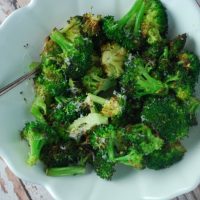 Lemon Garlic Roasted Broccoli
This oven roasted broccoli with garlic, Parmesan and Lemon makes a fantastic and easy side dish that your family will love! This easy vegetable side dish pairs great with any meal. Roasted broccoli is so simple and easy, and the broccoli turns out perfectly with light and fresh flavors.
Print
Pin
Rate
Ingredients
2

large heads of broccoli

2

Tbsp

Olive Oil

1

tsp

kosher salt

½

tsp

ground pepper

4

garlic cloves

sliced

⅓

cup

parmesan cheese

zest and juice from 1/2 lemon
Instructions
Preheat your oven to 425

Take 2 large bunches of broccoli and cut it into florets.

Wash them and dry them super thoroughly.

Put some tin foil on a lined cookie sheet.

Place your broccoli on the cookie sheet and drizzle a bit of olive oil on top, sprinkle with kosher salt and some black pepper to taste.

Slice 4 heads of garlic and place these on the cookie sheet, too.

Now toss it all together.

Roast in the oven for 20-25 minutes, until the broccoli is crisp tender and getting a bit brown on the tips.

Remove the pan from the oven and zest a lemon over the broccoli, followed by a squeeze of lemon juice.

Drizzle a little more olive oil on top, sprinkle on some parmesan cheese and toss.

Enjoy!
Nutrition
Serving:
1
g
|
Calories:
184
kcal
|
Carbohydrates:
21
g
|
Protein:
6
g
|
Fat:
10
g
|
Saturated Fat:
2
g
|
Polyunsaturated Fat:
7
g
|
Cholesterol:
7
mg
|
Sodium:
825
mg
|
Fiber:
5
g
|
Sugar:
9
g
Recipe Slightly adapted from (Amateur Gourmet, who adapted it from Ina Garten)
SaveSave
SaveSave