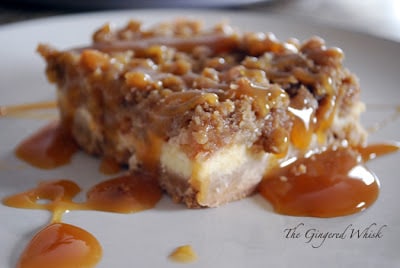 I am not going to lie to you here, but I won't exaggerate, either. These bars are probably the best thing I have eaten in a long time. They are…So. Amazing. There are five layers of awesomeness going on here – a brown sugar/butter crust, a thick and creamy cheesecake filling, cinnamon apples, a perfect strudel topping, and a drizzle of caramel. Oh. My.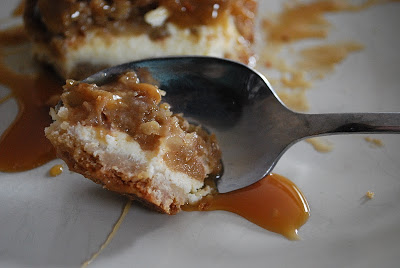 You need to make these. Like, now. And, if like me, you know you won't be able to trust yourself with a 9×13 pan of these, home, alone, all day…in that case, they split perfectly into two smaller pans. Take one to work, send one to the neighbor's house, or only make half.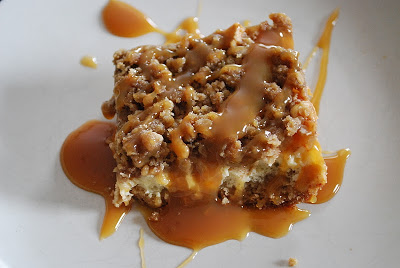 Caramel Apple Cheesecake Bars
Prep Time: 10 minutes
Cook Time: 1 hour
Ingredients (9×13 pan)
Crust:
2 cups flour
1/2 cup firmly packed brown sugar
2 sticks unsalted butter, softened
Cheesecake filling:
3-8 ounce packages cream cheese, softened (that's 24 ounces total)
3/4 cup sugar
3 large egs
1 1/2 tsp vanilla extract
Apples:
3 Granny Smith apples, peeled, cored, and finely chopped
1/2 tsp ground cinnamon
1/4 tsp ground nutmeg
2 tbsp sugar
Streusel Topping:
1 cup firmly packed brown sugar
1 cup flour
1/2 cup quick cooking oats
1 stick butter, softened
Caramel Topping
Instructions
Preheat oven to 350 degrees.
In a medium bowl, combine the flour and brown sugar.
Cut in the butter with a pastry blender, two forks, or your hands, until the mixture is crumbly.
Press evenly into the bottom of a greased 9×13 baking pan.
Bake for 15 minutes or until lightly browned.
In a large bowl, beat the cream cheese with the sugar until smooth.
One at a time, mix in the eggs and vanilla.
Pour over the warm crust.
In a medium bowl, mix together the chopped apple, sugar, cinnamon and nutmeg.
Pour over the cream cheese mixture.
In a medium bowl, mix together the brown sugar, flour, oats, and butter until evenly combined.
Sprinkle this over the apple mixture.
Bake the bars for 40-45 minutes, or until the filling is set.
Allow to cool and drizzle the caramel topping over.
Keep refrigerated, and enjoy!
Recipe from (The Girl Who Ate Everything)