Get your kids excited to try new recipes when they learn what a Princess might have enjoyed eating! This weeknight recipe for beef empanadas is so easy and delicious and inspired by Princess Elena of Avalor!
All of a sudden, and seemingly out of nowhere, princesses have become a BIG thing in our house. This comes as kind of a shock to Joel and I, since we have been lovingly pushing STEAM (Science, Technology, Engineering, Art and Math) down our kids throats from the moment they were born. We are scientists at heart, so its not our fault. But all the sudden, our youngest is obsessed.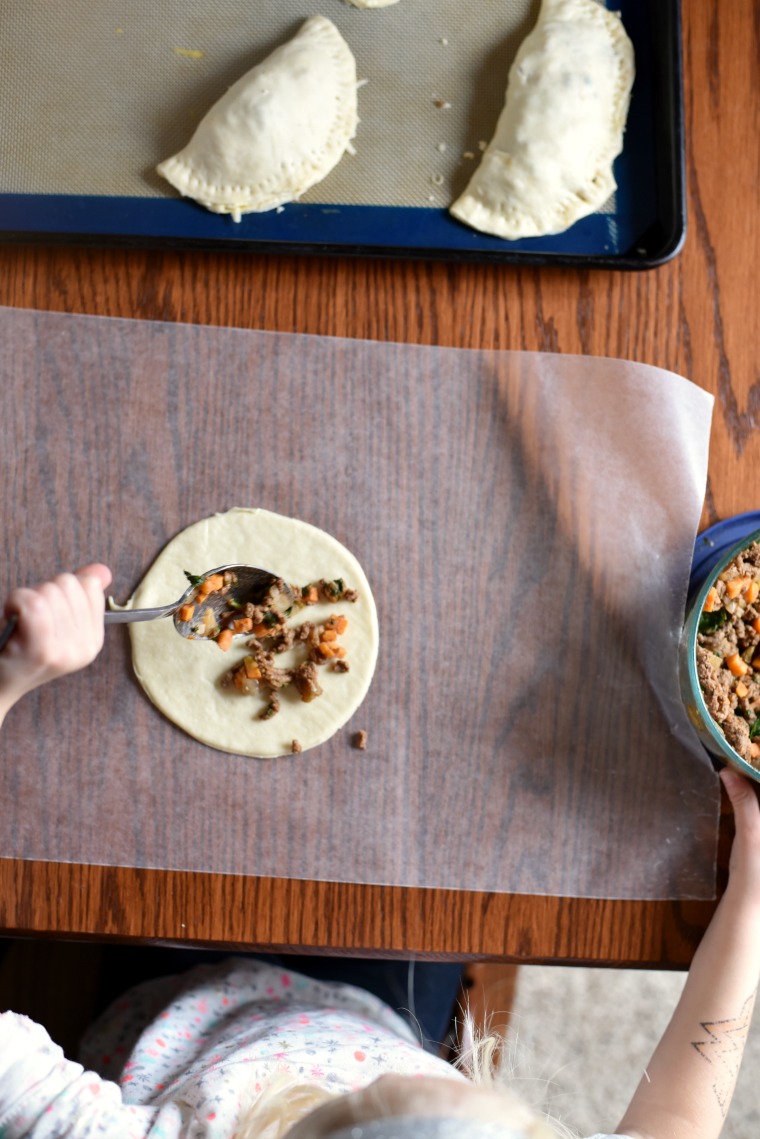 In an attempt to bridge the gap between strong, brave, and clever girls and the stereotypical damsel in distress princess, we have been talking about empowering characteristics of each of the Disney Princesses – they they are brave, smart, courageous and kind. Princess Elena is a great example of this, because she is super loyal to her friends and family, she is brave enough to stand up for what is right (and fight off the evil queen who took over her country), and she is also humble and willing to admit when she is wrong.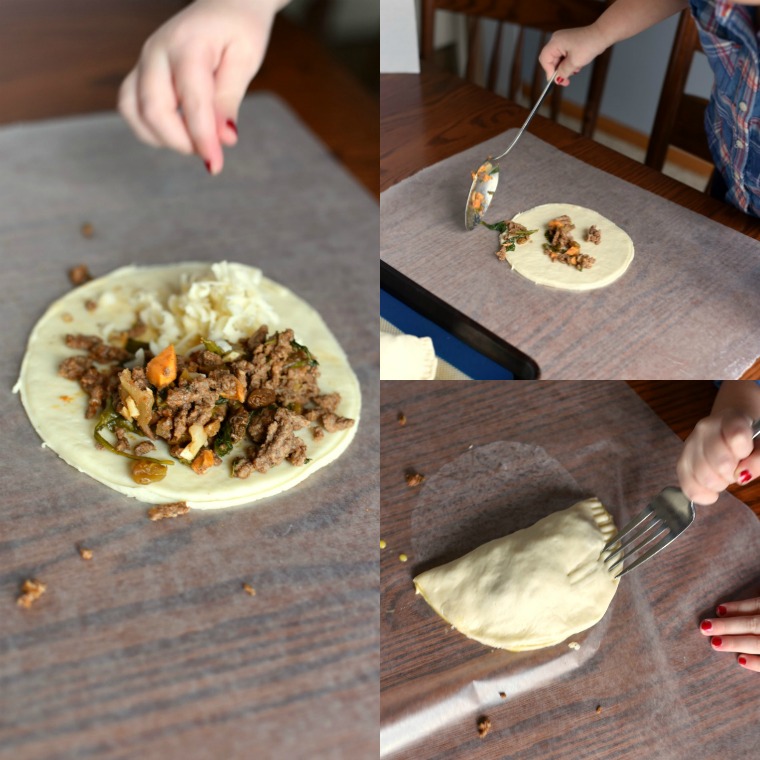 Because I love a good excuse to introduce new cultures, ingredients and flavors into my children's diet, I thought this would be an amazing opportunty to talk about the different cultures and foods that each of the Disney Princesses might have enjoyed eating!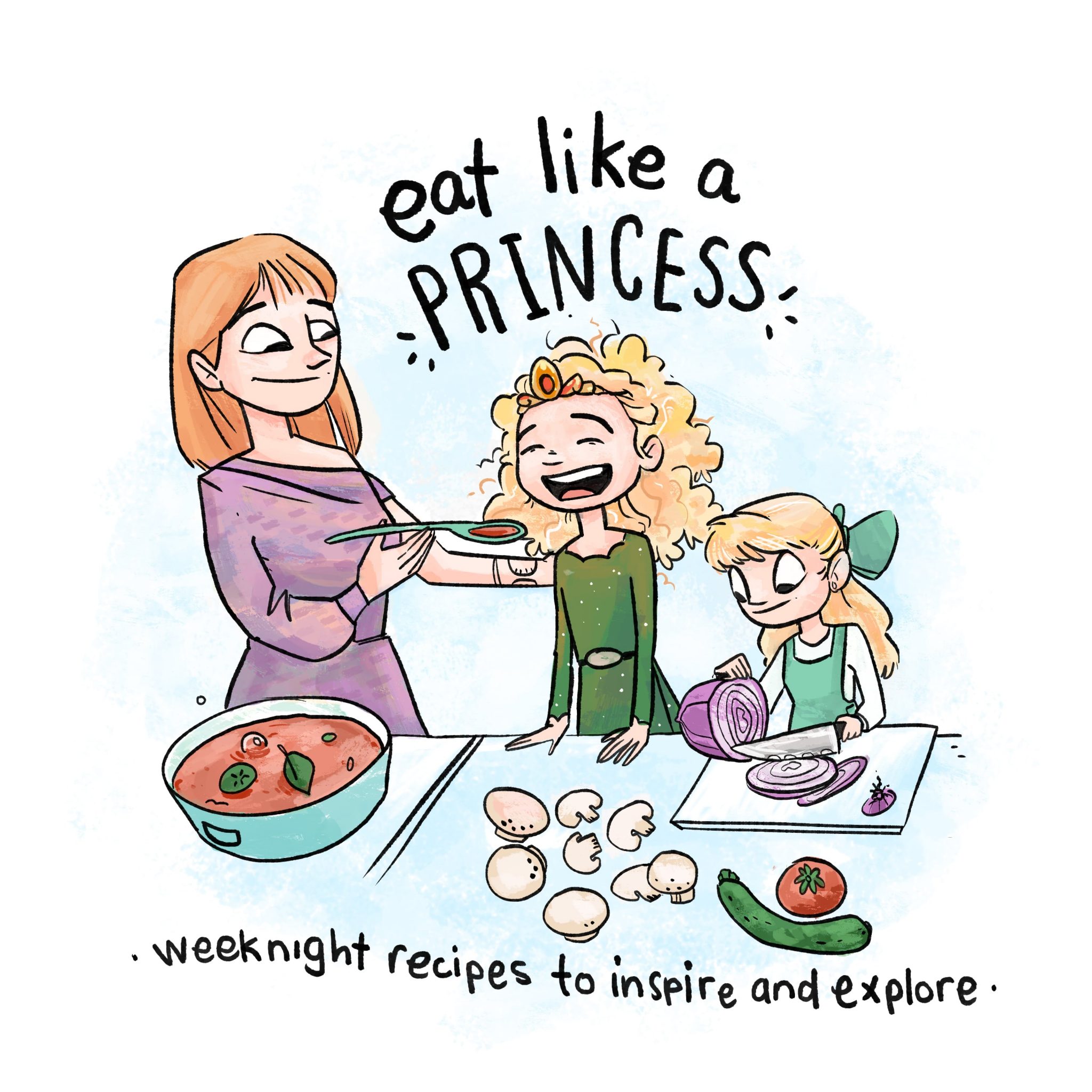 Welcome to the Eat Like A Princess Series!
I designed this series as a fun way to teach my daughters about new cultures through the Disney Princesses in hopes that they will become more open to trying new foods, to understand other cultures better, and to enjoy exploring the world around them. And still staying within the 30 minute weeknight dinner theme. You can see other recipes in this series here.
I decided to highlight the empanada as being inspired by Princess Elena of Avalor because you can easily find variations throughout Central America, it is simple enough that you can easily make it during a weeknight, its fun to eat, and there aren't any weird or overly spicy ingredients that kids might turn their noses up at.
How to make Beef Empanadas easy:
To simplify the process, I would make the filling without kids help, pre-shred the cheese, and (depending on the age of your children) pre-cut the circles. Then gather your family when it is time to assemble and let everyone assemble their own empanadas. Preparing some of the meal without the kids will cut down on the crazy chaotic stressful messes that could ensue, but this still leaves plenty of time for your kids to be involved in preparing their own food, which is key to trying new things!
I like to make the filling ahead of time to give it plenty of time to cool before you start assembling. Sometimes if the filling is too hot, it will make the dough too warm, which will become sticky and thin and hard to handle.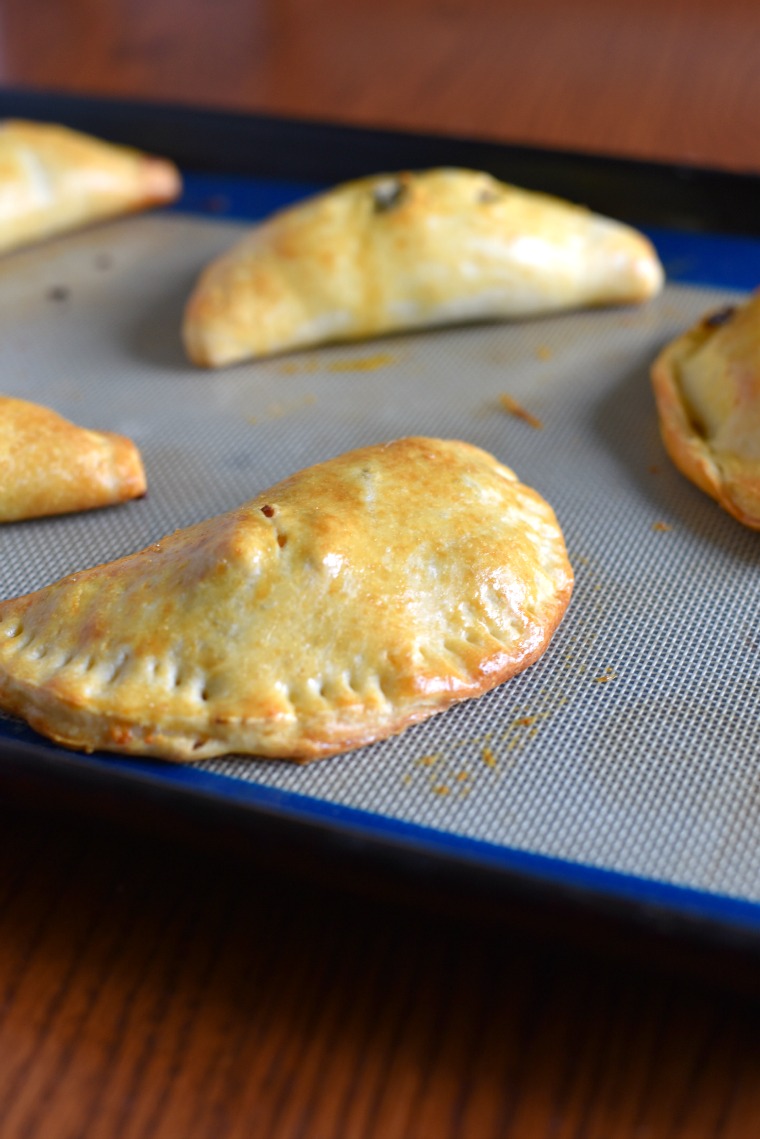 **Note: This recipe is not intended to be 100% authentic. Elena is a fictional princess who lives in a made-up land loosely based on latin culture. This recipe is intended to be easy enough that children can help you prepare it, as well as interesting enough to pique their interest in new cultures and foods. This recipe is Inspired by Princess Elena of Avalor.
Print
Beef Empanada Recipe for Princess Elena – Eat Like A Princess
Author:

Prep Time:

30 minutes

Cook Time:

10 minutes

Total Time:

40 minutes

Yield:

6 servings

Category:

Eat Like A Princess

Method:

Bake

Cuisine:

European
---
Description
These easy Beef Empanadas are a great weeknight meal! They are easy to make and taste great! PLUS they are a great way to teach children to enjoy new foods – because Empanadas are something Princess Elena would have LOVED eating!
---
Ingredients
2 TBSP Olive Oil
1 onion
1 lb ground beef
2 cloves garlic, minced
1 tsp mild chili powder
1 tsp salt
2 bay leaves
1/2 cup golden raisins
1 medium sweet potato, peeled and minced into small pieces
1/2 cup water
1 TBSP tomato paste
1/4 cup chopped cilantro
10 oz spinach
2 packages refrigerated pizza crust
1 egg
2 cups shredded Oaxaca cheese
---
Instructions
In a large skillet over medium-high heat, warm up the olive oil.
Sautee the onion until translucent.
Add in the ground beef and cook until no longer pink, stirring occasionally.
Drain off any excess fat.
Add in the garlic, mild chili powder, salt, bay leaves, golden raisins, sweet potato, water, and tomato paste and simmer for 10 minutes.
Stir in the spinach and cilantro and remove from heat.
Preheat the oven to 325F.
Unroll the pre-packed pizza dough crust and cut out 6″ circles from the dough.
In a small dish, whisk up an egg with 1 tsp of water.
Place some of the ground beef mixture into one half of a dough circle, and top with a sprinkle of shredded cheese.
Brush some of the egg wash onto the edge of half the circle of dough, and then fold over to create a pocket.
Use a fork to smooth the edges together.
Repeat with remaining dough circles.
Use a sharp knife to poke a few holes into the tops of the empanadas.
Brush the tops with the remaining egg whites.
---
Notes
You will probably have some leftover filling! Store leftover meat and empanadas in an air-tight container in the fridge for 1-2 days.
Get Further into the Story:
This post contains affiliate links. If you make a purchase using the links provided, I receive a small commission which helps me maintain this blog and continue to bring you more awesome weeknight family recipes. If you would like more information on this you can read more on my Disclosure Page. Thank you so much for supporting me and my blog!
Looking for more recipes where you can "Eat Like A Princess"? Click here! 
SaveSave