Kid-Friendly Easy Beef Empanada Recipe
These easy beef empanadas are a perfect weeknight recipe! They are so easy and delicious and inspired by Princess Elena of Avalor! Kids will love helping to make and eat this meal. Get your kids excited to try new recipes when they learn what a Princess might have enjoyed eating!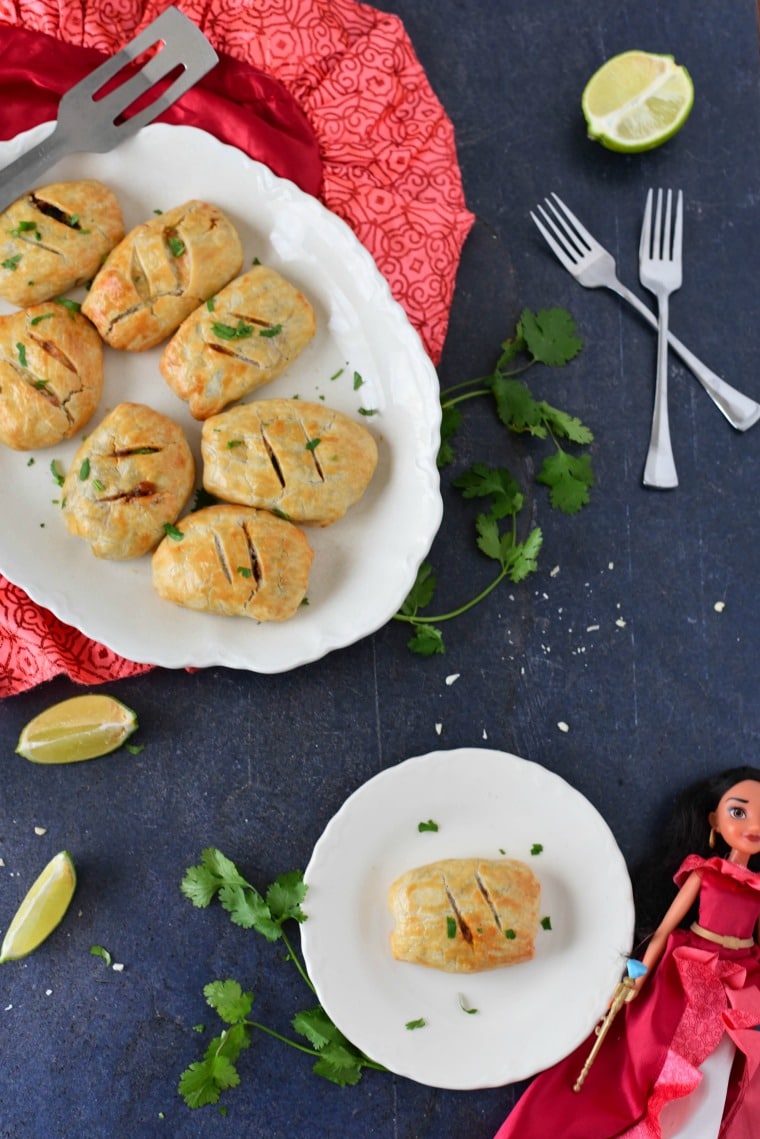 Beef Empanadas are a fun hand held meat pie. Tender and flavorful ground beef and vegetables are wrapped in a flaky crust! They are usually baked or fried, but either way they are cooked they are a delicious hand-held delicacy!
In this recipe I used refrigerated pizza crust, but you could easily use either pie crust or puff pastry to get even flakier results! I choose pizza crust because its a little more durable and easier to use with kids. Sometimes pie crust and puff pastry can be a little more finicky the more you play with it – and with small helpers in the kitchen, its important for things to be easy!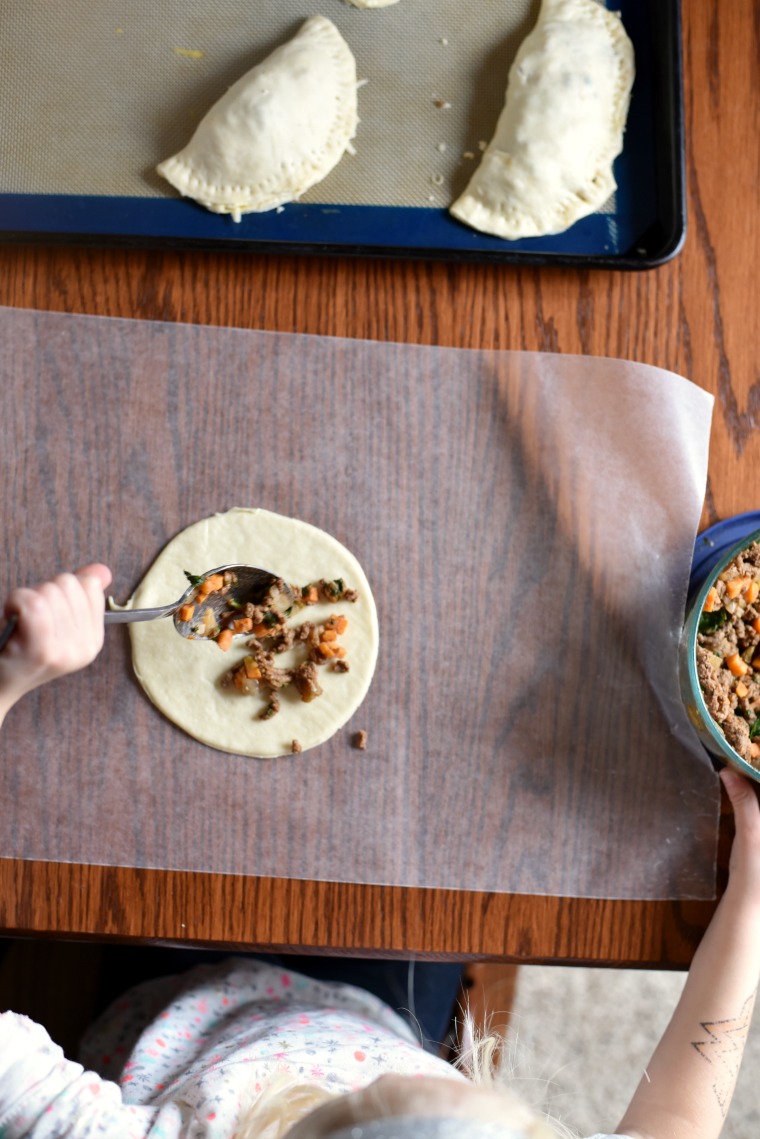 All of a sudden, and seemingly out of nowhere, princesses have become a BIG thing in our house. This comes as kind of a shock to Joel and I, since we have been lovingly pushing STEAM (Science, Technology, Engineering, Art and Math) down our kids throats from the moment they were born. We are scientists at heart, so its not our fault. But all the sudden, our youngest is obsessed.
In an attempt to bridge the gap between strong, brave, and clever girls and the stereotypical damsel in distress princess, we have been talking about empowering characteristics of each of the Disney Princesses – they they are brave, smart, courageous and kind.
Princess Elena is a great example of this, because she is super loyal to her friends and family, she is brave enough to stand up for what is right (and fight off the evil queen who took over her country), and she is also humble and willing to admit when she is wrong.
Because I love a good excuse to introduce new cultures, ingredients and flavors into my children's diet, I thought this would be an amazing opportunty to talk about the different cultures and foods that each of the Disney Princesses might have enjoyed eating!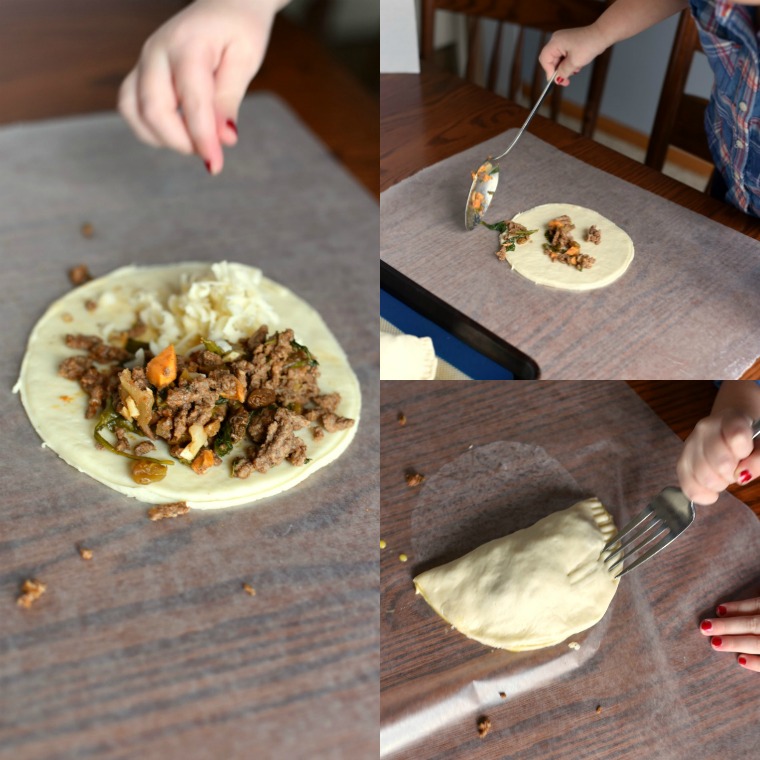 Welcome to the Eat Like A Princess Series!
I designed this series as a fun way to teach my daughters about new cultures through the Disney Princesses in hopes that they will become more open to trying new foods, to understand other cultures better, and to enjoy exploring the world around them. And still staying within the 30 minute weeknight dinner theme. You can see other recipes in this series here.
I decided to highlight the beef empanada as being inspired by Princess Elena of Avalor because you can easily find variations throughout Central America, it is simple enough that you can easily make it during a weeknight, its fun to eat, and there aren't any weird or overly spicy ingredients that kids might turn their noses up at.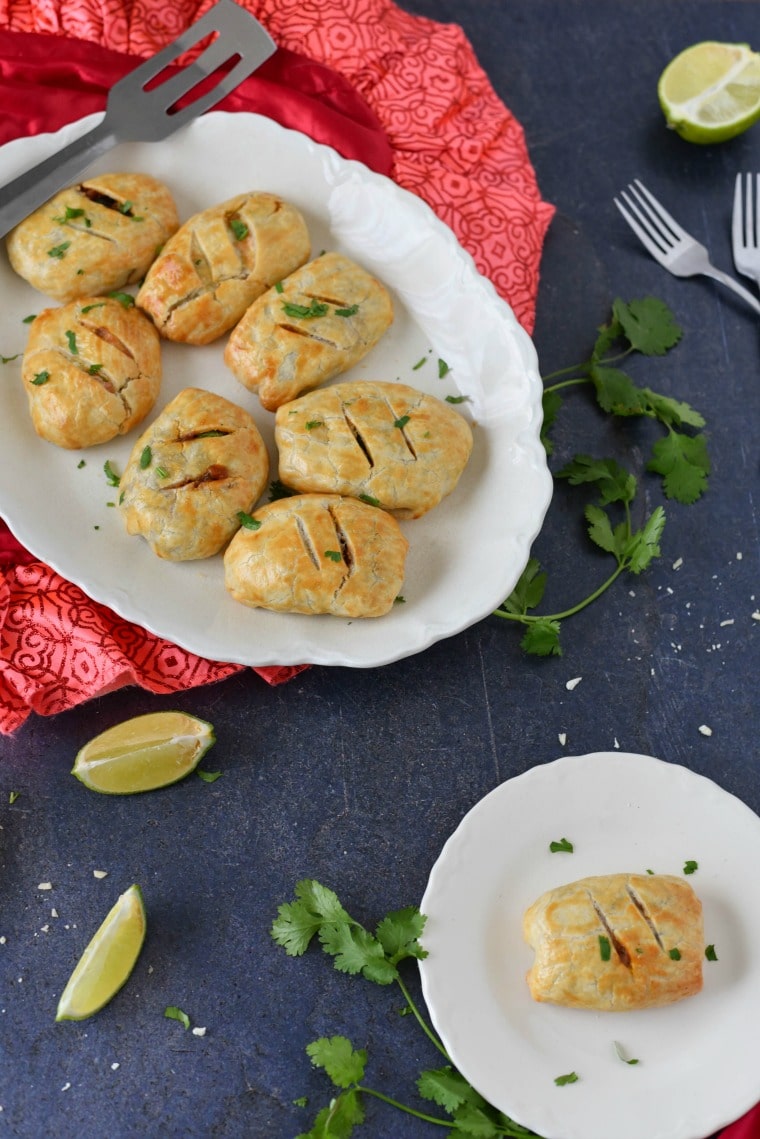 How to make this beef empanadas recipe easy:
To simplify the process, I would make the filling without kids help, pre-shred the cheese, and (depending on the age of your children) pre-cut the circles.
Then gather your family when it is time to assemble and let everyone assemble their own beef empanadas.
Preparing some of the meal without the kids will cut down on the crazy chaotic stressful messes that could ensue, but this still leaves plenty of time for your kids to be involved in preparing their own food, which is key to trying new things!
How to prep beef empanadas ahead of time:
The filling can be made up to 2 days ahead of time to give it plenty of time, if stored in an air-tight container in the refrigerator.. The filling also freezes really well!
Filled and unbaked empanadas can be frozen, too! So when you have time, go ahead and make a double or triple batch so you always have some in your stash of easy meals!
*Note: Sometimes if the filling is too hot, it will make the dough too warm, which will become sticky and thin and hard to handle. Make sure you allow time for your filling to cool before you starting filling your empanadas!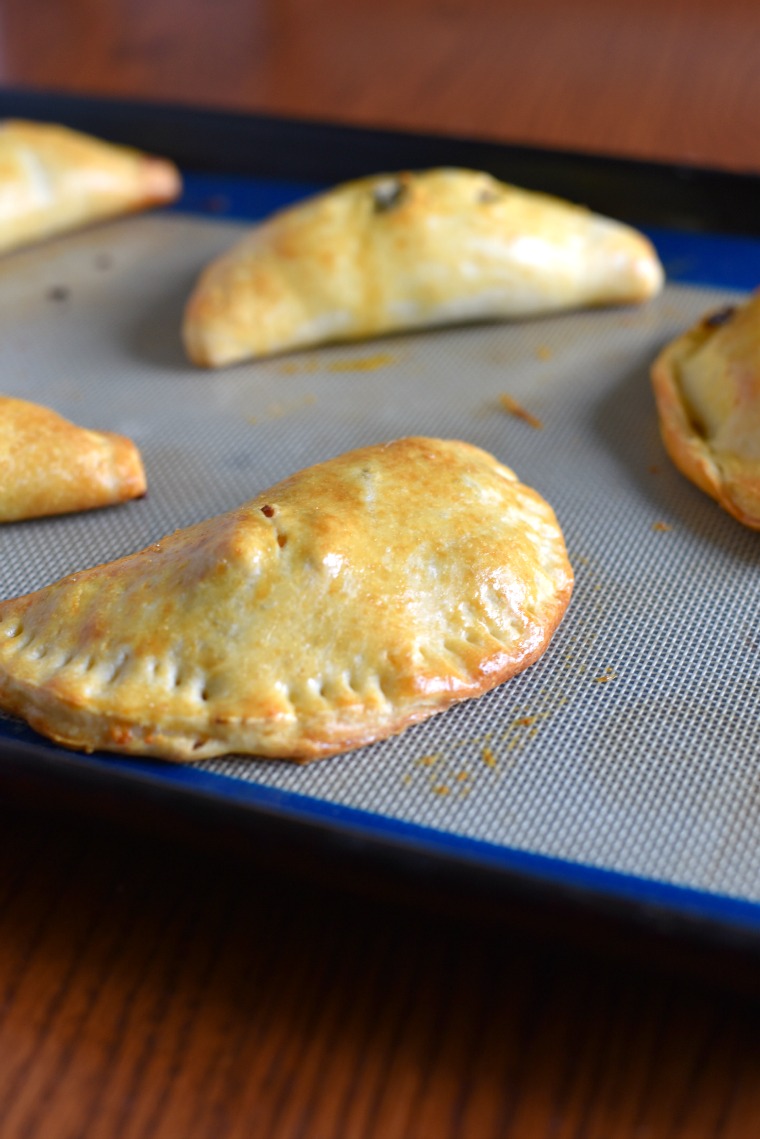 **Note: This recipe is not intended to be 100% authentic. Elena is a fictional princess who lives in a made-up land loosely based on Latin culture. This recipe is intended to be easy enough that children can help you prepare it, as well as interesting enough to pique their interest in new cultures and foods. This recipe is Inspired by Princess Elena of Avalor.
How to make beef empanada kid friendly:
This easy beef empanada recipe is totally a kid-friendly meal! With familiar flavors and ingredients, this is a friendly
Tips on Family Dinner Conversations:
Dinner time is more than cleaning your plate! Its also a perfect time to engage with your kids about what you are eating in an easy and stress-free way. Use these conversation starters to help open up a conversation about these Easy Beef Empanadas:
Talk about where Princess Elena was from and how this was a food she enjoyed eating.
Talk about the textures, flavors, and smells of the beef empanadas.
Ask questions about what their favorite part of the empanadas is, what they would like to change next time, and what would make it better for them (a dipping sauce? different vegetables?).
How to Serve Beef Empanadas:
These empanadas are a great meal to serve to kids of all ages! The filling is perfect to give to older babies and toddlers because everything is already cut into perfect bite sized pieces. Younger kids might like theirs cut into half, or cut into bites and eat them with forks. Older kids might enjoy picking up the entire empanada and eating it like a hand pie!
To round out the meal, serve these empanadas with:
Arroz Verde – fun green-colored rice that is easy and quick to make, and tastes great!
Some fresh fruit, like mangos or watermelon.
This would be great with a fun dipping sauce, too, like guacamole or a thinned out sour cream.
To make an all-out Latin American meal, make an easy Flan recipe for dessert, and a Brazilian Limeade to drink!
Make sure you check out all my resources for more tips and tricks on how to make Latin American cuisine weeknight and kid-friendly!
Kids in the Kitchen:
One of the best ways to get kids interested in eating new foods (besides making food inspired by their favorite characters, books, and movies…) is to get them involved! Here are some easy ways your kids can help you cook this easy beef empanada recipe:
Kids aged 1-3 can help you wash and dry the produce, measure out ingredients, and pick the cilantro leaves off the stems. They can also make their own empanada with some adult help.
Kids aged 4-6 can help you do everything above, plus crack the egg for the egg white mixture, shred the cheese, roll and cut circles out of the pie dough, and assemble the empanadas, and brush the egg white mixture on the assembled empanadas.
Kids aged 7-10+ can help you do everything above, plus help stir the filling mixture as it cooks, and cut the steam vents on the assembled empanadas.
*Please note that these recommendations are generalized, and to please use your personal discretion with your child's skill level. And always, always supervise! Read more about how to have your children help you in the kitchen.
Love and links are always appreciated! If you'd like to share this post, please link to this post directly for the recipe, please do not copy and paste or screenshot. Thanks so much for supporting me! xoxo
Beef Empanada Recipe
These easy Beef Empanadas are a great weeknight meal! They are easy to make and taste great!
Print
Pin
Rate
Ingredients
2

TBSP

Olive Oil

1

onion

1

lb

ground beef

2

cloves

garlic

minced

1

tsp

mild chili powder

1

tsp

salt

2

bay leaves

½

cup

golden raisins

1

medium sweet potato

peeled and minced into small pieces

½

cup

water

1

TBSP

tomato paste

¼

cup

chopped cilantro

10

oz

spinach

2

packages refrigerated pizza crust

1

egg

2

cups

shredded Oaxaca cheese
Instructions
In a large skillet over medium-high heat, warm up the olive oil.Sautee the onion until translucent.Add in the ground beef and cook until no longer pink, stirring occasionally.Drain off any excess fat.Add in the garlic, mild chili powder, salt, bay leaves, golden raisins, sweet potato, water, and tomato paste and simmer for 10 minutes.Stir in the spinach and cilantro and remove from heat.Preheat the oven to 325F.Unroll the pre-packed pizza dough crust and cut out 6″ circles from the dough.In a small dish, whisk up an egg with 1 tsp of water.Place some of the ground beef mixture into one half of a dough circle, and top with a sprinkle of shredded cheese.Brush some of the egg wash onto the edge of half the circle of dough, and then fold over to create a pocket.Use a fork to smooth the edges together.Repeat with remaining dough circles.Use a sharp knife to poke a few holes into the tops of the empanadas.Brush the tops with the remaining egg whites.Bake for 15 minutes.Enjoy!
Notes
You will probably have some leftover filling! Store leftover meat and empanadas in an air-tight container in the fridge for 1-2 days.
Nutrition
Serving:
1
g
|
Calories:
974
kcal
|
Carbohydrates:
102
g
|
Protein:
45
g
|
Fat:
43
g
|
Saturated Fat:
15
g
|
Polyunsaturated Fat:
23
g
|
Trans Fat:
1
g
|
Cholesterol:
139
mg
|
Sodium:
1585
mg
|
Fiber:
6
g
|
Sugar:
12
g
Looking for more recipes where you can "Eat Like A Princess"? Click here!