This easy Beef Pilau Recipe is a kid-friendly weeknight meal perfect for introducing the flavors of Kenya into your weekly meal rotation. With familiar ingredients and flavors, this quick dinner will quickly be a family favorite.
In my quest to create foodie kids, I am always on the search for new ways to inspire curiosity about the world of food! Watching The Lion King in the theater with my girls was the perfect excuse to introduce them more to the world of African cuisine!
Beef Pilau is an easy and comforting meal. Made with a colorful array of fresh ingredients your kids are already familiar with, warm and comforting spices, plenty of rice, and tender chunks of beef, this is a meal that will be welcomed at your dinner table!
This dish is a classic recipe straight from Kenya – hardly a party goes by without big helpings of this flavorful and comforting meal! And once you try it, you will understand why – its SO good!
Try these other recipes from Africa!
Easy Beef Pilau
This beef pilau is seriously like a warm hug – it would be a great warm meal to enjoy on a cold night (or any night of the year!). It is always served with a fresh and vibrant "salad" called kachumbari – which is kind of similar to a pico de gallo. Usually the kachumbari is served in slices, but I fine-diced all the ingredients to make it more bite-sized for kids.
I also replaced the typically spicy pepper for a sweet mini pepper, but feel free to leave the pepper out, too, if you want.
This Beef Pilau recipe takes a good 50 minutes to make (counting from when you first start chopping ingredients to when you sit down at the table), so make sure that you plan it for an evening when you don't need to rush to the next activity. You can prep parts ahead to make it quicker, but it still needs a good amount of time to cook.
How to Prep Beef Pilau
To prep Beef Pilau ahead of time, you can do the following steps ahead of time:
Mix the spices (minus the garlic) and store in an air-tight container until you are ready to use.
Use pre-shredded carrots from the produce section
Beef Pilau also reheats really well (but store the kachumbari separately) and freezes well, so feel free to make this ahead of time and use it when needed.
How to Make Beef Pilau Kid-Friendly
What is so great about this Beef Pilau recipe is that while you might be thinking that a dish from Kenya might be a stretch for your child's palate, the truth is that these ingredients are ones your kids are already familiar with.
With a base of basmati rice, beef, and carrots, and warm spices (but not at all spicy!!!), this is a perfect way to show tour family that just because a recipe comes from another part of the world that doesn't mean that it won't feel familiar!
Talking about Beef Pilau
A great way yo reduce any anxiety your kids might feel about trying something new, engage them in conversation while you eat. Here are some ideas to get you started:
This recipe is from Kenya, where the Lion King takes place! Have you ever ready any books or watched other tv shows about Kenya (or Africa)?
This salad is called kachumbari – can you say that? Would you like it served on top of your pilau or beside?
Smell your pilau. What does it smell like? Does it remind you of anything else you like to eat?
Try a bite of your pilau with the kachumbari – do you like them better together or separate?
How to Serve Beef Pilau
Serve this Beef Pilau family style at the table, allowing everyone to dish out their own helping. The kachumbari (or tomato salad) should also be served family style, and let kids decide if they want to have theirs be on top or beside their beef pilau.
Beef Pilau is really a complete meal – with grains, vegetables, and meat in the dish, you don't need much else. You will have a cinnamon stick (affiliate link) and a bay leaf in the pot at the end of the cooking and it will be hard to find amongst all the goodies in there. Make sure your family is aware that if they find it in their serving, they should not eat the bay leaf and the cinnamon stick (affiliate link). Make it a game to find out who has it in their bowl. Who will the lucky winner be?
A serving of fruit beside would add a great pop of color and fun flavor to the meal. Mangoes, Pineapples, Oranges, Banana, and Pears are all found in Kenya and would be awesome additions to the meal.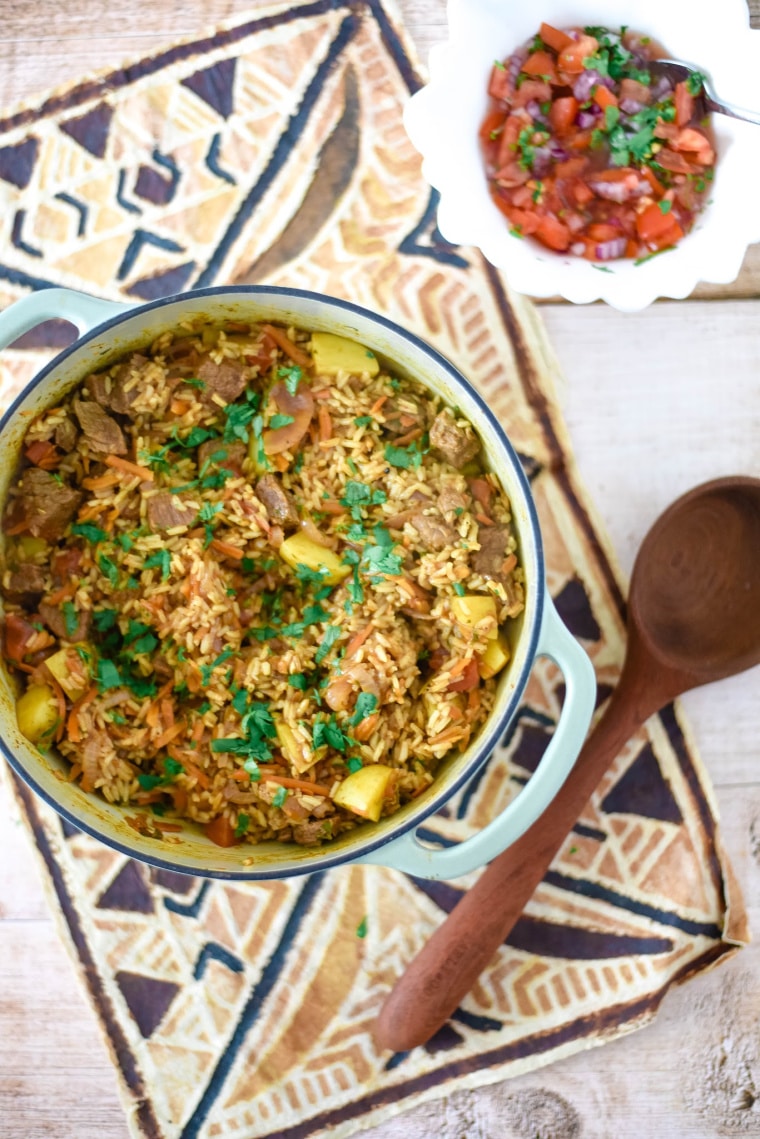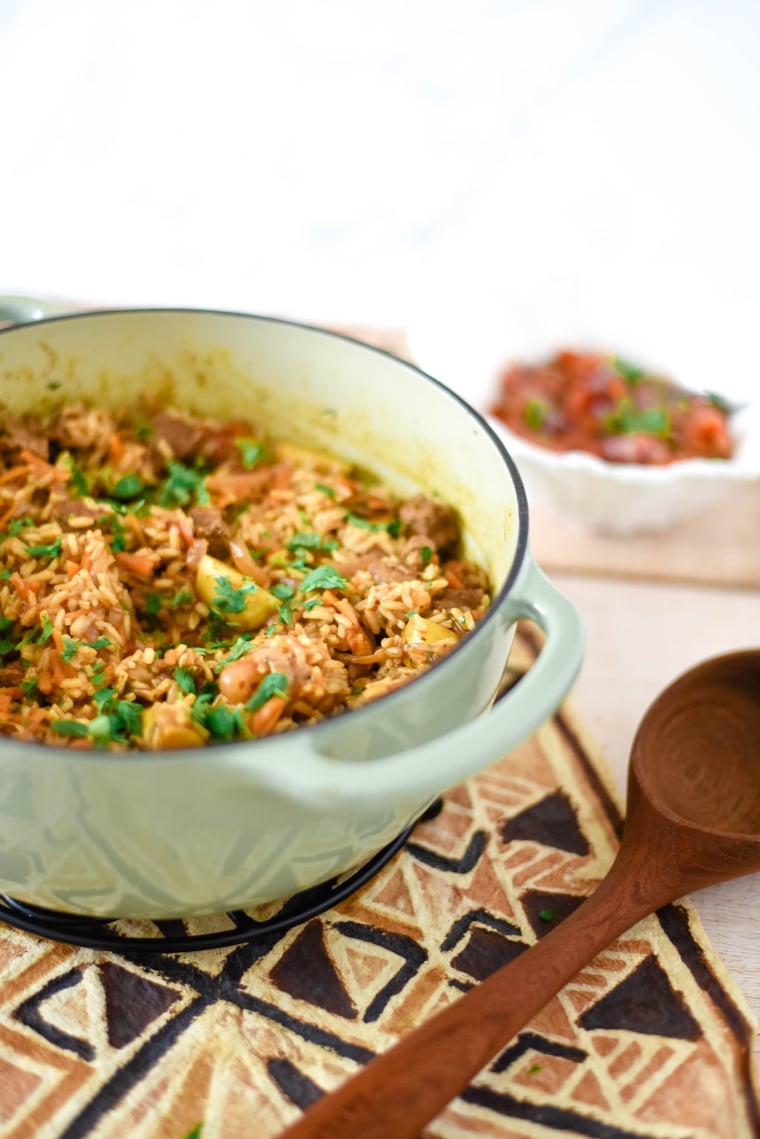 Kids in the Kitchen: How Your Kids Can Help You Cook
Getting your kids in the kitchen is an amazing way to help them be more interested in trying new foods and confident in their own abilities. This beef pilau recipe is great because it helps them learn to use measuring spoons and they get practice their stirring.
This recipe is perfect for beginner cooks because it is so easy! And it is a great recipe for kids to experiment and become more comfortable with new flavors – which means they are more likely to eat it!
Kids aged 1-3 can help you wash and dry all the produce, measure and stir the spices, pick the cilantro leaves off the stems, and help measure the rest of the ingredients out.
Kids aged 4-6 can do everything above, plus help you slice the tomatoes, make the kachumbari, and add the ingredients to the pot.
Kids aged 7-10+ can help you do everything above, plus help you slice the onions, and help stir the onions and the beef while they are cooking.
*Please note that these recommendations are generalized, and to please use your personal discretion with your child's skill level. And always, always supervise! Read more about how to have your children help you in the kitchen.
Food tastes better when its shared! If you try this recipe, let me know! Leave a comment and rate below! Love and links are always appreciated! If you'd like to share this post, please link to this post directly for the recipe, please do not copy and paste or screenshot. Thanks so much for supporting me! xoxo
Want to save this for later? PIN THIS TO YOUR EASY DINNER BOARD on Pinterest!
Beef Pilau Recipe
This beef and rice dish is simple, comforting, and flavorful!
Print
Pin
Rate
Ingredients
Beef Pilau
1.5

teaspoon

smoked paprika

1

teaspoon

ground cumin

½

teaspoon

ground black pepper

½

ground cardamom

½

teaspoon

ground ginger

½

cinnamon stick

⅛

teaspoon

ground cloves

2

Tablespoons

vegetable oil

1

red onion

sliced into thin slices

2

cloves

garlic

minced

½

cup

cilantro

divided

1 ½

pounds

beef pot roast

cut into 1" cubes with excess fat removed.

6

baby yellow potatoes

diced

2

cups

shredded carrots

2

roma tomatoes

diced

2 ½

cups

unsalted chicken stock

1

bay leaf

1 ½

cups

basmati rice
Kachumbari
2

sweet mini peppers

diced

1

tomato

diced

⅓

red onion

diced small

⅛

cup

cilantro

diced

juice from 1/2 a lemon

pinch

of salt
Instructions
In a small bowl, mix together the smoked paprika, cumin, pepper, cardamom, ginger, cinnamon stick and cloves, and set aside.

In a large enamened cast iron pot (wider than it is tall), heat 2 Tablespoons oil over medium-high heat.

When the oil is hot, add the sliced onion and cook, stirring occasionally, until the onion is starting to become translucent and brown in places, abdout 7-10 minutes.

Add in the spices, garlic, 1/4 cup chopped cilantro leaves, and stir until combined and fragrant, about 30 seconds.

Add in the beef cubes and sear, stirring occasionally, about 8 minutes.

Add in the diced potatoes, shredded carrots, diced tomatoes, broth and bay leaf. Bring to a boil.

Stir in the rice.

Boil for 5 minutes, then turn down the heat to medium-low and cover.

Cook, covered, on medium-low for 20 minutes.

While the beef pilau cooks, make the kachumbari.

Make the kachumbai by combing the diced tomato, red onion, cilantro, sweet mini pepper, salt, and lemon juice together in a medium bowl. Stir to combine and allow to sit for 20-30 minutes.

When the beef pilau is done, sprinkle with remaining freshly cilantro.

Serve with Kachumbari and enjoy!
Nutrition
Serving:
1
g
|
Calories:
471
kcal
|
Carbohydrates:
64
g
|
Protein:
21
g
|
Fat:
14
g
|
Saturated Fat:
4
g
|
Polyunsaturated Fat:
10
g
|
Trans Fat:
1
g
|
Cholesterol:
46
mg
|
Sodium:
322
mg
|
Fiber:
7
g
|
Sugar:
12
g
Check out the how to make beef pilau story.