This Pan Fried Pork Chop Recipe with Apple Cranberry Sauce is an easy family friendly weeknight meal with simple ingredients but tons of flavor.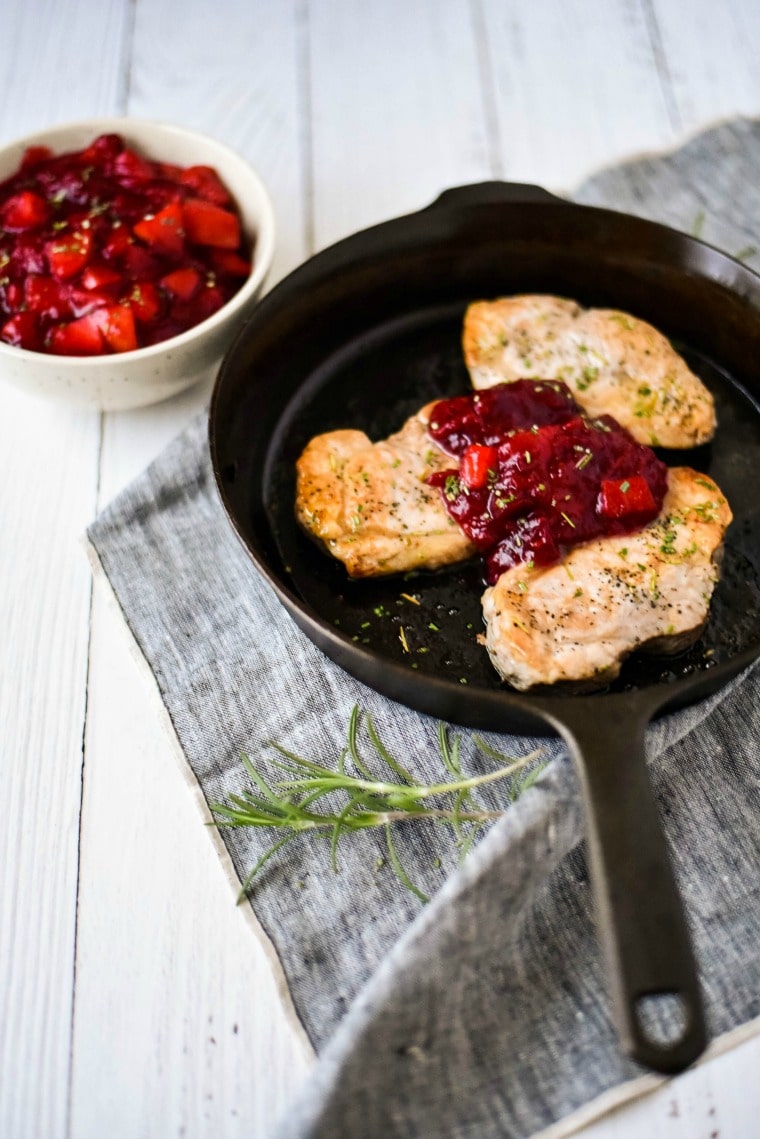 I am all for simple meals. Easy family dinners that take minimal effort and are quick to cook. But I don't think that just because a meal is quick and easy that it needs to rely on mixes and pre-packaged helpers, or be totally bland and tasteless.
This easy pan fried pork chop recipe takes about 20 minutes from start to finish. The pork chops are simply seasoned with salt, pepper, and fresh rosemary. The cranberry apple sauce is also simple, containing apples, cranberries, apple cider and maple syrup. They pair together beautifully.
How d0 you make apple cranberry sauce
Apple Cranberry sauce is super simple to make. You only have to add the ingredients to a medium saucepan and allow it to simmer until thick and reduced, about 10-15 minutes.
Not only is this sauce great for topping pork chops, but you can also use it on top of sliced ham, in sandwiches, on top of pancakes and waffles, in oatmeal,
Can I make apple cranberry sauce ahead of time and freeze it?
You totally can! Apple Cranberry sauce freezes really well and reheats really well. Or serve it cold, too!
How Your Kids Can Help in the Kitchen:
Kids aged 1-3 can help you measure the ingredients for the cranberry sauce,  wash and sort the cranberries, remove the rosemary leaves from the stems, and help set the table.
Kids aged 4-6 can help do everything above, plus help you chop the apple into pieces and mince the rosemary.
Kids aged 7-10+ can help do everything above, plus help you season the pork chops and stir the cranberry sauce as it cooks.
*Please note that these recommendations are generalized, and to please use your personal discretion with your child's skill level. And always, always supervise! Read more about how to have your children help you in the kitchen.
Serve these Pork Chops with Apple Cranberry Sauce with a side of brown rice or quinoa and easy roasted carrots.
Love Pork Chops? Try these easy weeknight pork chop recipes:
Pork Chops with Apple Cranberry Sauce
This Pan Fried Pork Chop Recipe with Apple Cranberry Sauce is an easy family friendly weeknight meal with simple ingredients but tons of flavor..
Ingredients
Apple Cranberry Sauce:
1 Tart Apple, cored and diced
2 Cups fresh cranberries
1/2 cup apple cider
1/8 cup real maple syrup
Pork Chops:
1 TBSP extra virgin olive oil
4 boneless pork chops
1/2 tsp salt
1/2 tsp pepper
1 tsp finely minced rosemary
Instructions
Preheat the oven to 500F.
In a medium saucepan, combine the diced apple, cranberries, cider and maple syrup.
Bring to a boil and then reduce to a low summer.
Allow to cook for 10-15 minutes, until thick. Remove from heat and set aside.
While the cranberry apple sauce is cooking, heat a large cast iron skillet to medium-high with the oil.
Pat the pork chops dry and season both sides with salt, pepper, and rosemary.
Add to the skillet and cook 3 minutes per side, or until browned but not cooked through.
Place the skillet in the oven closest to the element and allow to cook for 3 minutes.
Top with cranberry apple sauce and enjoy.
Notes
I like to make a double batch of the apple cranberry sauce and then use it for lots of things all week long!
Nutrition Information:
Yield:

4
Serving Size:

1
Amount Per Serving:
Calories:

536
Total Fat:

27g
Saturated Fat:

10g
Trans Fat:

0g
Unsaturated Fat:

15g
Cholesterol:

114mg
Sodium:

447mg
Carbohydrates:

38g
Net Carbohydrates:

0g
Fiber:

4g
Sugar:

25g
Sugar Alcohols:

0g
Protein:

38g
I'm excited to be sharing this recipe as part of Cranberry Week – now in it's third year! See all the tasty cranberry recipes being shared today below and follow #cranberryweek on social media for more ideas all week long.