These Earl Grey Cupcakes are dense and flavorful! Slather on this rich and decadent lemon buttercream frosting recipe for a perfect treat for tea parties and more!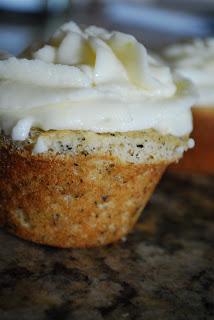 This post contains affiliate links.
Earl Grey tea
(affiliate link)
has to be one of my all time favorite teas. And one of my favorites is a variety of Earl Grey from a shop called Plum Deluxe. They have an
Earl Grey blend
that I am head over heels in love with. The traditional bergamont oil is smoothed out by adding vanilla, a touch of lavender, and it also has these beautiful blue dried cornflower petals in it. It makes for a really smooth cup of tea!
This cupcake did not disappoint, either. It was soft, but not overly moist, with just the right amount of earl grey to neither overpower you or be too weak. And the fresh lemon butter cream is the perfect frosting! Its a lovely bespeckled (Is that a word? I kinda like it. Bespeckled.) cupcake that I am sure you will love eating!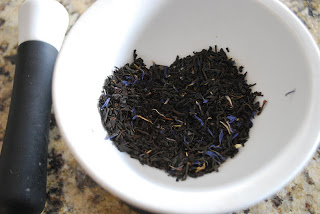 How to Make Earl Grey Cupcakes
These cupcakes are fun and easy to make! They get a double punch of earl grey flavor with both tea leaves in the batter and tea-brewed milk! For the full recipe, keep scrolling down!
The recipe starts with great tea! You will need 3 Tablespoons of loose leaf or three tea bags. If you are using teabags, remove the tea from 2 of the bags and grind with a food processor or a mortar and pestle until they are finer pieces. You don't want powder, but you don' want it so chunky that you chew bits of leaf your cupcake.
Place the milk in a small saucepan. Add the remaining tea, and when the milk comes to a simmer, turn off the heat and allow to cool and steep.
In a large mixing bowl, cream together the butter and sugar until light and fluffy.
Add the eggs, one at a time, mixing well between each.
In a second bowl, whisk together the flour, baking powder, salt, and the loose tea.
Strain out the tea leaves from the now cool milk-tea.
Alternate adding the dry ingredients and the milk tea to the butter/sugar mixture, stirring until just combined. Do not over stir or you will make your cupcakes dense and hard.
Divide the batter evenly in the prepared cupcake tins, about 2/3 full.
Bake for 20 minutes.
Cool completely, and then frost with lemon buttercream (recipe below).
This recipe only makes 12 cupcakes, and you will definitely wish that you had made more, so go ahead and make a double batch!
Recipe Note:
However much you want to, do not squeeze every last drop of tea steeped milk from the tea bags. I know, you want to. But its a bad idea! Tea leaves contain high levels of tannic acid, and the liquid inside the tea bag has the highest concentration of tannins. By squeezing your tea bag, you release these tannic acids into your tea, causing it to be more bitter, more sour, and more acidic. This isn't an issue with loose leaf as you aren't squeezing the liquid out of that, either.
Love Earl Grey? Try these other Earl Grey flavored Recipes:
There's nothing I love more than seeing you make my recipes! If you make these Earl Grey Cupcakes, don't forget to leave a comment below and rate the recipe!
And if you are on Instagram, tag @thegingeredwhisk and use the hashtag #gingeredwhisk on social media when you make my recipes so that I can share them and maybe even feature you. Follow along to get the latest updates:
And don't forget to subscribe to the email list to get all the extra tips, tricks and bonuses!
Want to save this for later? PIN THIS TO YOUR DESSERT BOARD on Pinterest!
Yield: 12 cupcakes
Earl Grey Cupcakes with Lemon Buttercream
These Earl Grey Cupcakes are tender and flavorful and topped with a luscious lemon buttercream frosting. Perfect for any tea party!
Ingredients
Earl Grey Cupcakes:
½ cup unsalted butter, room temperature
1 cup sugar
2 eggs
1 ½ cup flour
2 ¼ tsp baking powder
¾ tsp salt
½ cup milk
3 Tbsp loose Earl Grey tea, divided, or 3 teabags (although loose leaf will give you much better flavor! But use what you have.)
Lemon Buttercream Frosting
3 1/2 cups powdered sugar
1/2 cup (1 stick) unsalted butter, room temperature
1/4 cup milk
1 tsp vanilla extract
1 Tbsp lemon juice
2 Tbsp lemon zest
Instructions
Earl Grey Cupcakes:
Preheat your oven to 350.
Prepare 12 cupcake cups, either by greasing them or using liners.
With a mortar and pestle, or a food processor, grind your tea (take it out of the bags if you are using pre-bagged tea) until you get smaller pieces, but not quite powder. You don't want to chew your cupcake, but you do want to be able to see little speckles of the tea.
In a small saucepan, place one tea bag (or 1 tbsp loose leaf tea) into the milk and warm slightly.
Remove the saucepan from the heat before the milk simmers, and allow it to steep, and the milk to cool.
In your mixer, cream the butter and sugar together until light and fluffy.
Add the eggs one at a time, mixing well between each one.
In a large bowl, whisk together the flour, baking powder, salt and tea.
Add half of the dry mixture to your batter.
Add the milk (with the tea bag removed or the loose leaf tea strained out) and then add the remaining dry ingredients.
Stir until just combined, but do not overstir!!!
Divide the batter evenly amongst the pan, so that each well is about 2/3 full.
Bake 20 minutes.
Allow to cool completely before frosting
Lemon Buttercream Frosting:
In a large bowl, mix together the butter, lemon zest, and vanilla until all the lumps are gone.
Add the milk and mix until incorporated.
Slowly, about 1/2 cup at a time, mix in the powdered sugar.
Once all the sugar is in, cream on high for 2 minutes (with your electric mixer, or a super powered arm muscle)
Mix in the lemon juice.
Frost!
Enjoy!
Notes
If using teabags, do not squeeze the excess liquid out of the teabags. This causes excess tannins to be released into the liquid, causing the tea to be extra bitter and sour.
Nutrition Information:
Yield:

12
Serving Size:

1
Amount Per Serving:
Calories:

340
Total Fat:

9g
Saturated Fat:

6g
Trans Fat:

0g
Unsaturated Fat:

3g
Cholesterol:

54mg
Sodium:

263mg
Carbohydrates:

62g
Fiber:

1g
Sugar:

48g
Protein:

3g