Cranberry Mango Nut Bars (Gluten Free and Raw)
This month's round of Secret Recipe Club is brought to you by the lovely blog Without Adornment, written by Bean. Bean has a great blog with tons of awesome gluten free, sugar free, raw, and allergen free food. She named her blog after a rather beautiful Bible Scripture – "Your beauty should not come from outward adornment… Rather, it should be that if your inner self, the unfading beauty of a gently and quiet spirit, which is of great worth in God's sight." (1Peter 3:3-4). She tries to focus her blog on her own quest just be herself, without adornment, and I really love her approach, and her blog reflects it. Her photography is simple, but captures the beauty of the actual food itself, and her recipes are the same – natural food, wholesomely prepared, but obviously delicious.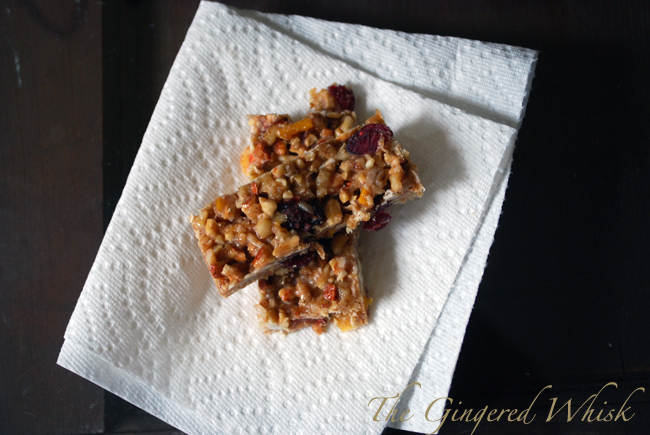 I had a rather hard time picking what I wanted to make this month. I've been doing a little bit of dabbling in using more whole and unprocessed foods, but I wasn't quite ready to make a foray into gluten free baking (which often contains a substantial list of ingredients not currently found in my kitchen). I finally found the perfect recipe – Cranberry Mango Nut Bars! This fit the bill perfectly, representing Bean's blog about Gluten-free eating, my quest to use less pre-processed foods. Plus it gave me the excuse to buy two things I have been eyeing at the grocery store but haven't been able to stop talking myself out of buying it – almond butter and coconut oil!
I am very happy with the way these bars turned out, too! After the initial chopping phase, these bars were a breeeeeze to put together. I think it took me 5 minutes, tops. After a brief stint in the freezer to harden the bars, it was time to taste them! And taste them I did. Like, three in a row. I had to make sure they were good, you know! 🙂 These are best eaten straight out of the refigerator. Because the honey isn't boiled, these granola bars stay soft, and the longer they are out of the fridge the softer they get!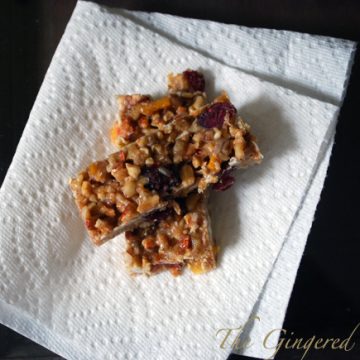 Cranberry Mango Nut Bars (Gluten Free and Raw)
These homeade granola bars are the perfect snack!
Print
Pin
Rate
Ingredients
¾

cup

raw almonds

chopped

¾

cup

raw cashews

chopped

¼

cup

raw walnuts

chopped

¼

cup

shredded coconut

⅓

cup

dried cranberries soaked in apple juice

⅓

cup

dried unsweetened mango

chopped

⅓

cup

almond butter

¼

cup

raw honey

2

TBSP

coconut oil
Instructions
Chop your nuts, mango, and soak your cranberries.


Grease an 8x8" pan with vegetable oil and set aside.


In a medium saucepan, combine the almond butter, honey and coconut oil.


Heat on low heat and stir constantly until the coconut oil is melted and the mixture is combined and creamy.


Dump in the remaining ingredients and stir to combine.


Spoon the mixture into the prepared pan and press until it is evenly spread out.


Place the pan in the freezer for 1 hour.


Cut into bars and then place back into the freezer for another hour.


Once the bars have solidified you can store them in the fridge.


Enjoy!
Nutrition
Serving:
1
g
|
Calories:
224
kcal
|
Carbohydrates:
19
g
|
Protein:
5
g
|
Fat:
16
g
|
Saturated Fat:
4
g
|
Polyunsaturated Fat:
11
g
|
Sodium:
45
mg
|
Fiber:
3
g
|
Sugar:
13
g
 (recipe adapted from Without Adornment)
Looking for other awesome snack ideas? Check out these easy recipes: