These easy to make chocolate peanut butter energy balls are the perfect to-go snack when you need something healthy yet want something sweet! A great kid friendly treat they can help make.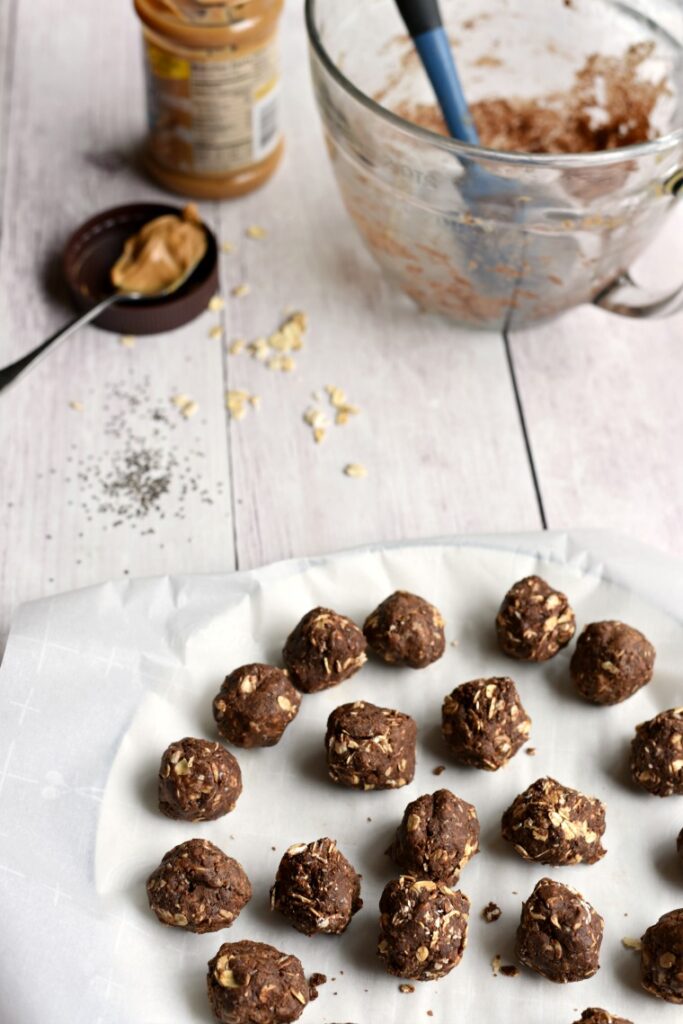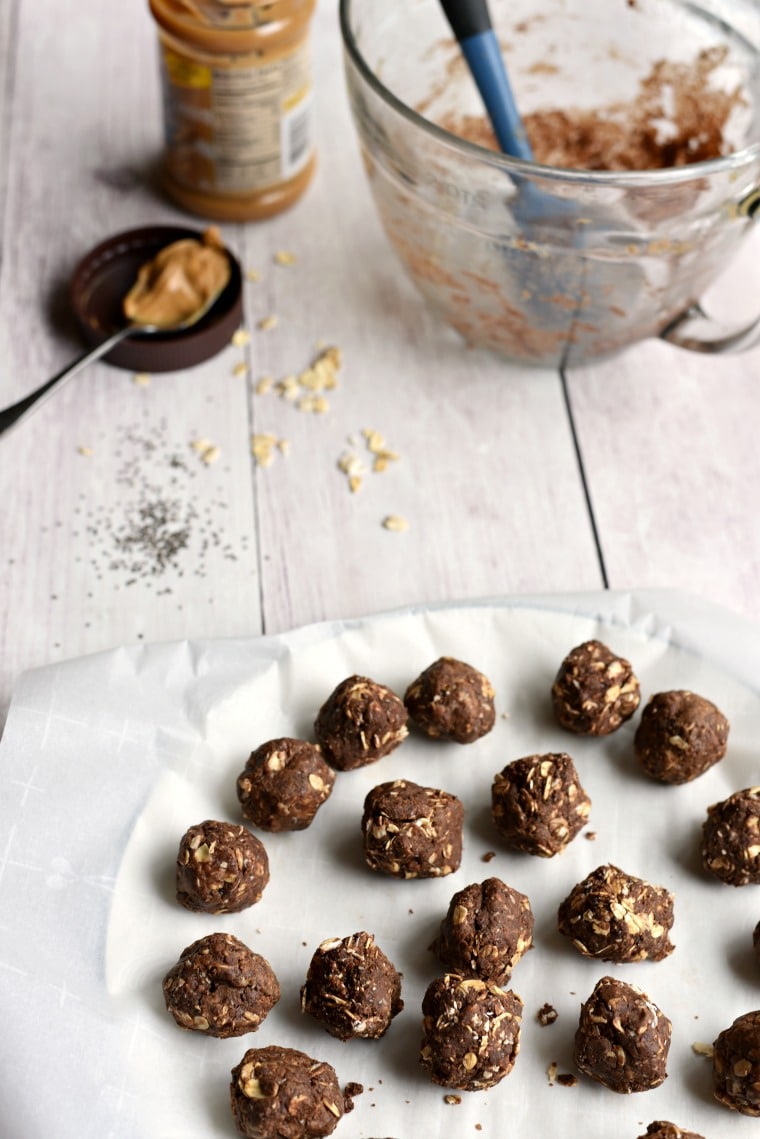 These chocolate peanut butter energy balls are the gold-star solution if you need a healthy, high energy snack that is easy to take on the go! They taste amazing – exactly like a no bake cookie, and yet they contain fantastic ingredients meant to satisfy and give them energy!
Made with oats, raw honey, flax seeds, chia seeds, peanut butter and unsweetened dark cocoa powder – these balls will give you the energy you and your kiddos need to play and work hard without a huge sugar rush! Plus I love that they don't make a giant mess in my car (or on my kids faces), either!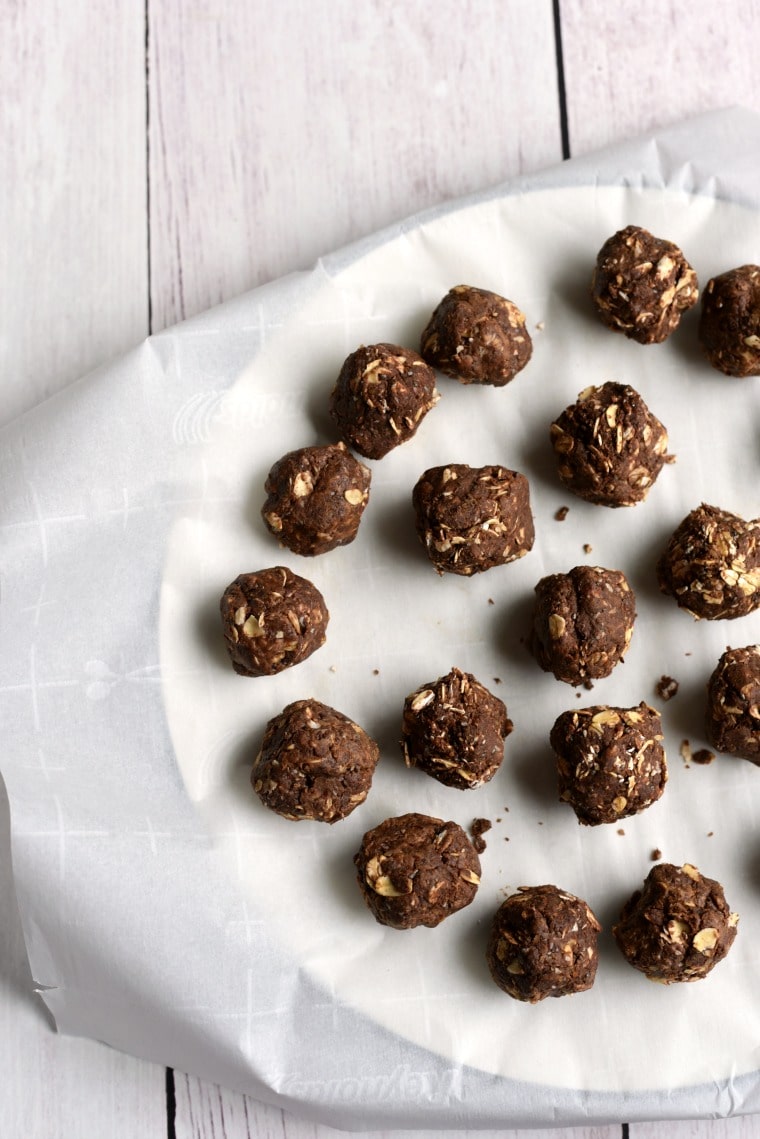 Seriously – figuring out how to raise two strong, independent, clever, modest, respectable girls is HARD!
On one hand I want them to be witty and clever and independent thinkers. But on the other hand I want them to also be kind and generous, to follow instructions (but not blindly, of course…).
I want to simultaneously shield and protect them and also arm them for battle like an Amazon warrior. What I think about most, though – is body image. Oh man, body image and girls is soooo tough. Growing up I knew so many girls who suffered with bulimia, or who were constantly dieting, constantly exercising, always self-shaming themselves into that "perfect" body. If I could go all fairy godmother and gift my girls with ONE thing, it would be to have a strong body image.
For myself, body image has always been in the back of my mind, but not something that was a forethought. I LOVE food. I will never, ever, ever stop eating and loving food. And I am also not a "gym" girl. I detest working out, running laps, lifting weights. It's just not me. I would much rather prefer a good hike, a long horseback ride, a bit of yoga, actually doing something.
So, I've never been a skinny girl, and I never will be. I've always had curves, and as I grow older and keep having children, my curves just keep on getting curvier. But you know what – I'm ok with that. This is my body, and its done some amazing and miraculous things.
I am 34 and I am at peace with my body – its far from perfect, but its mine.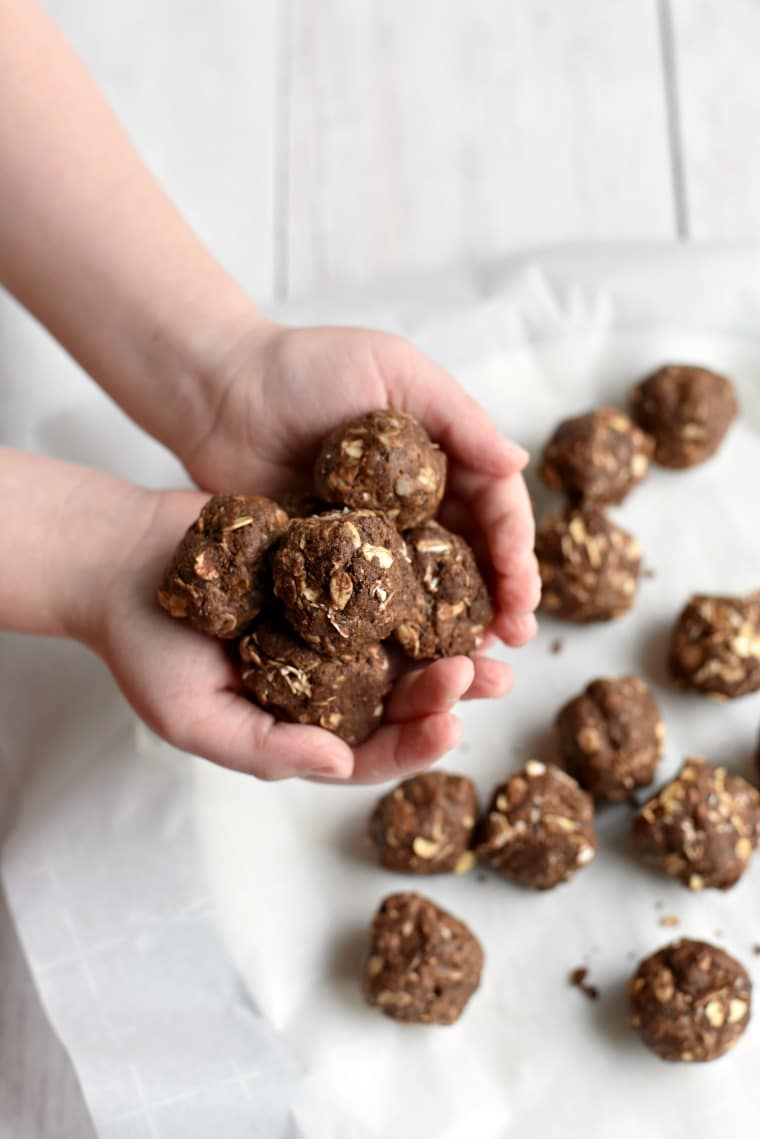 So, back to raising girls. My husband and I talked a lot about how we can foster that independence, how we can show our girls that strength > skinny, where being confident and sure of yourself is more important than what size you are.
One of the first things my husband said was that he wanted the girls to know how to swim – he was a swimmer in school and wanted our children to have that life skill.
We also decided to put our youngest daughter into gymnastics. It started as a way to burn off some extra energy for the little overactive monkey who gave up her naps too early for mama's liking, but we quickly fell in love with what it was teaching her – strength, flexibility, balance, agility, coordination, spatial awareness, resilience, mental toughness, commitment and dedication.
We quickly enrolled my oldest daughter as well, and couldn't be happier. I don't expect them to ever join an Olympic team, or being an amazing athlete who brings home a medal or a trophy. That's not why we are going this. We want them to be strong, inside and out, with a strong sense of self-esteem.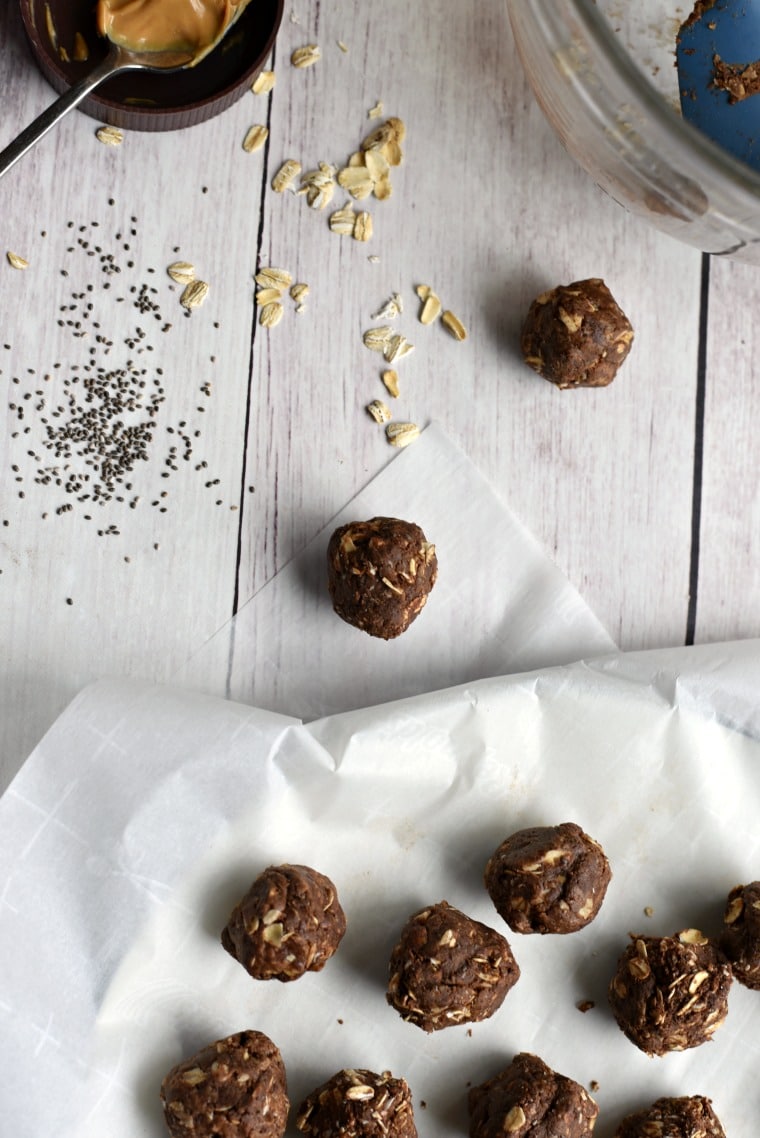 Because we now have both swimming lessons and gymnastics after school, as well as the occasional rock climbing session, we are always looking for a quick snack in between school and lessons. Finding something that was easily transportable, wouldn't make a giant mess in my car, and was slightly healthy. I also wanted to balance that line between not being filling enough for an hour long lessons and being so full they feel uncomfortable.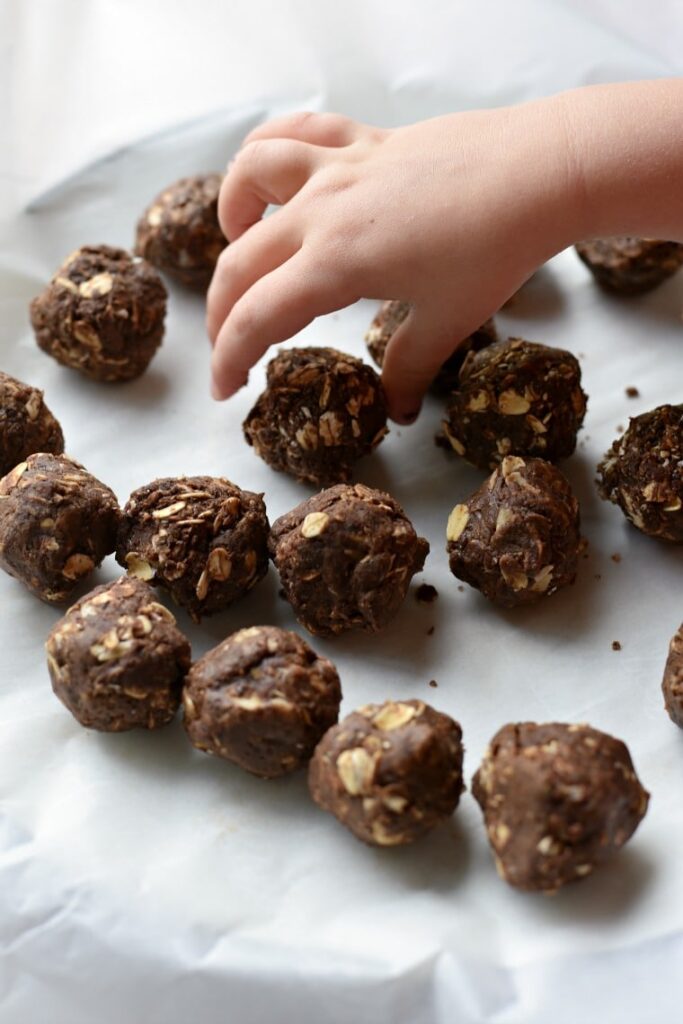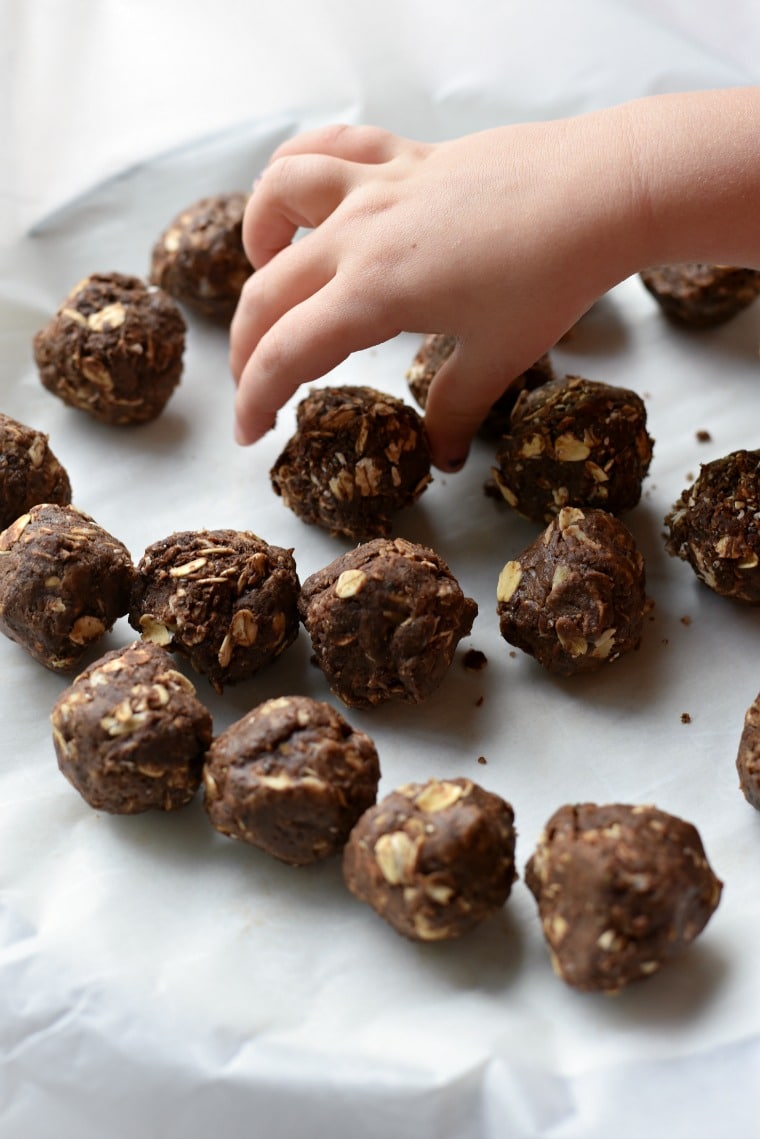 Food tastes better when its shared with the ones you love!
Your shares are how this site grows and I so appreciate it! Do you know someone who would love this recipe? I would love if you shared this on social media!
There's nothing I love more than seeing you make my recipes! If you enjoy this recipe, please do me a favor and give it a star rating! Thank you!
Subscribe to my email list to get all the extra tips, tricks and bonuses!
Yield: 20 servings
Chocolate Peanut Butter Energy Bites
These easy on-the-go chocolate peanut butter energy balls are perfect snacks for when you need a little energy, but not the sugar rush or too-full feeling associated with pre-workout eating!
Ingredients
1/2 cup natural peanut butter
1/3 cup raw honey
1 TBSP coconut oil
1 cup old fashioned oats
1/2 cup ground flaxseed
1 TBSP chia seeds
1/4 cup unsweetened dark cocoa powder
1 tsp pure vanilla extract
1 scoop protein powder (either chocolate or vanilla)
Instructions
Line a plate or baking tray with parchment paper and set aside.
Melt the peanut butter, honey, and coconut oil together until it becomes thin and liquid. It doesn't need to cook, just warm up.
In a large bowl, stir together the oats, flaxseed, chia seeds, cocoa powder, vanilla, and protein powder.
Using a rubber spatula, mix in the peanut butter/honey mixture into the oat mixture until well combined. You might need to switch to using your hands.
Using your hands, roll out 20-24 small round balls. You want these to be bite sized, about 1 TBSP worth at a time.
Place all the bites on the lined tray, and place in the fridge for at least 30 minutes to firm up.
Store in a covered container in the fridge for up to 1 week.
Enjoy!
Nutrition Information:
Yield:

20
Serving Size:

1
Amount Per Serving:
Calories:

116
Total Fat:

6g
Saturated Fat:

1g
Trans Fat:

0g
Unsaturated Fat:

4g
Cholesterol:

0mg
Sodium:

28mg
Carbohydrates:

11g
Fiber:

3g
Sugar:

5g
Protein:

5g