Panko Baked Chicken is an easy weeknight dinner recipe your family will love. Its dipped in salad dressing, coated with parmesan herb panko and then baked until crispy. Both kids and adults alike will enjoy it!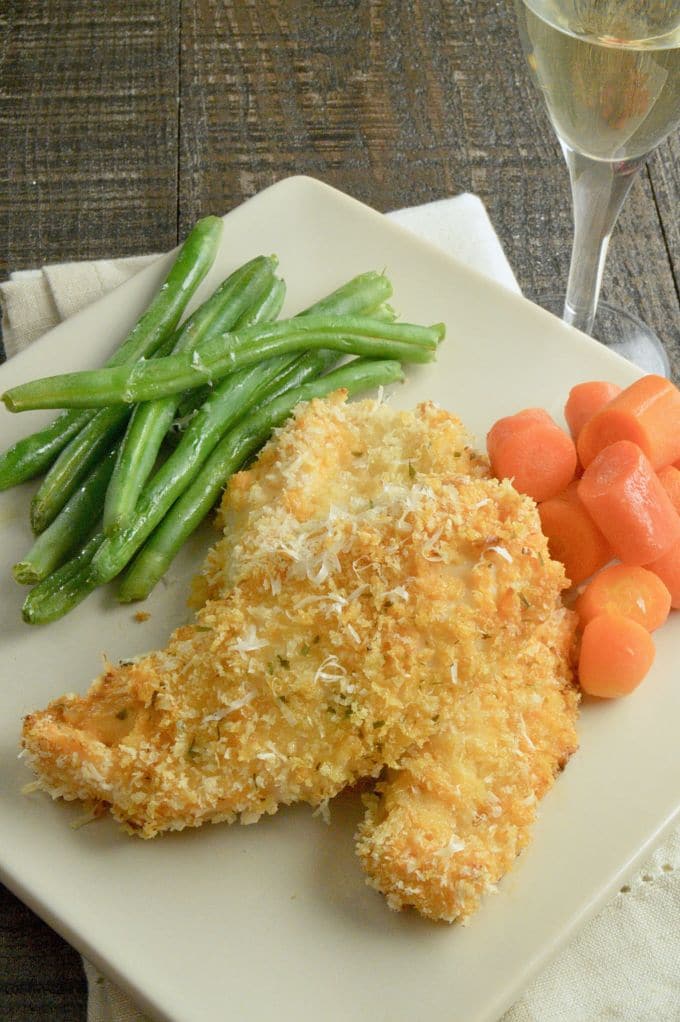 Hi everyone! Im Michele  and I'm popping over to write a post for Jenni while she's taking a little maternity leave! I write at West Via Midwest about how to entertain and cook for company with complete confidence.
I believe anyone can make great food that they are proud of without stressing out about it. I share tips for hosting the Big Family Celebration for the holidays or how to pull off a cocktail hour or football watching party with lots of fun tips and recipes to make it go off without a hitch!
Today I'm excited to share with you a recipe for that my family has used for years. It's called Dressed Up Chicken (or panko baked chicken)! It's made in no time at all, with just a few ingredients you probably already have. It's baked in the oven so its a little healthier than frying chicken, which is an added bonus too! 
The trick to making this crispy chicken is setting up the dipping station so that you minimize the mess and following a few simple tips when preparing the chicken before dipping them.
When you're making the chicken, set the dipping station up into bowls that go in the order that you are going to use them. The photo above is an example where I will first take a piece of the chicken, dip it in the dressing, then directly into the panko. 
What you don't see in this pic is the pic of the tray which is right next to it prepped for the oven. It makes it easy to drop the finished dressed up chicken piece to go right on to the tray eliminating an extra holding plate.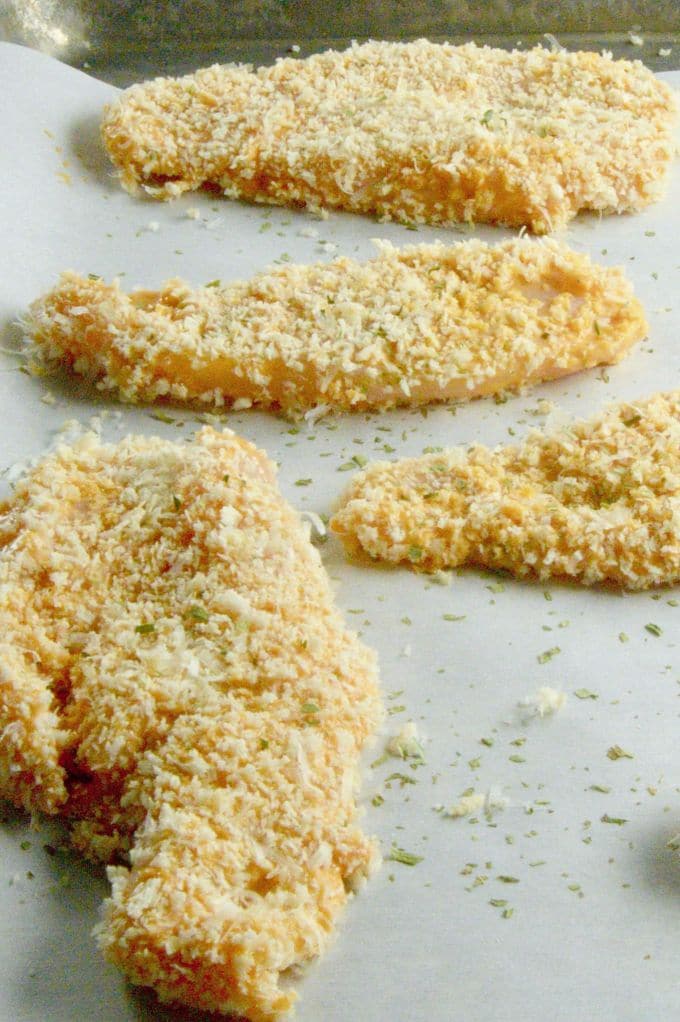 See?! This tray was right there for me next to the dipping station! You'll notice a couple of things that will help you with making this recipe successfully in these prep photos.
I made sure and used thinner cuts of chicken so that it cuts down on the time in the oven for baking. You can buy the chicken pre-cut thinly but you can save a little money by cutting them yourself. When cutting them, you can then pound them to equal thickness so they are all the same for even cooking!
I lined my baking sheet with parchment paper so that it was super easy to clean up afterwards. Basically toss the paper and wash it. No need for scrubbing off any excess coating that sticks to the tray if you use parchment paper!
Another added bonus is you have free time while the chicken is baking to work on your additional side dishes to serve with it.
You can also do like Jenni does here in her Sheet Pan Roast Beef and roast the veggies at the same time the chicken is baking right on the same pan. (Two sheet pans work, too! ). Just be sure and cut the veggies into smaller bites because the chicken is only in the oven about 30 minutes and that way your veggies will cook completely!
This recipe is totally adaptable to what your family likes. I've made it with Ranch Dressing and even a Blue Cheese dressing with rave reviews. If you sub a different dressing I do highly recommend using a creamier style dressing… a simple vinegar and oil dressing doesn't hold the coating as well during baking and gets kind of greasy.
I hope you enjoy this recipe for a quick dinner!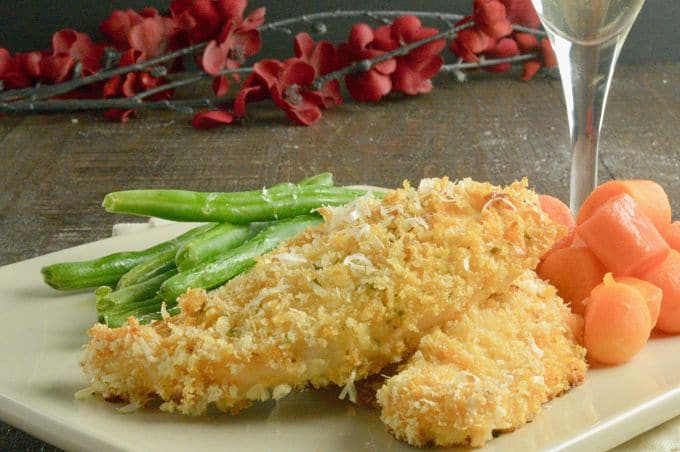 Serve this baked chicken with:
Food tastes better when its shared! If you try this recipe, let me know! Leave a comment and rate below! Love and links are always appreciated! If you'd like to share this post, please link to this post directly for the recipe, please do not copy and paste or screenshot. Thanks so much for supporting me! xoxo
Dressed Up Chicken
Dressed Up Chicken is an easy weeknight dinner recipe your family will love.  Its dipped in salad dressing, coated with parmesan herb panko then baked until crispy.  Both Kids and adults alike will enjoy it!
Print
Pin
Rate
Ingredients
2

pounds

skinless

boneless chicken

½

cup

thousand island salad dressing

½

cup

panko bread crumbs

¼

cup

parmesan cheese freshly grated

½

teaspoon

salt

1

teaspoon

dried tarragon

you can sub oregano too!
Instructions
 Preheat oven to 400F.

Prepare breasts to be small thin pieces of chicken.  You can do what ever size you want, but they all need to be the same.  

Cut them in half so that each piece is about 1/3" thick.  

Then place them in plastic bag and pound them a little thinner to finish just under 1/4" thick. Pound gently,  so they don't disintegrate when finished. The goal is to have all chicken pieces similar in size and width so that when you are baking them they cook evenly.

 In a small bowl place salad dressing.

 In a second bowl place the panko, salt, pepper, parmesan and tarragon.  Stir to mix.

 Prepare  your baking sheet by lining it with parchment paper.

 Prepare a dipping station with the chicken first, then dressing, then panko then tray in that order.

 One at a time, using one hand only dredge chicken in dressing, then panko making sure the chicken is evenly coated in both.  

Place the finished chicken pieces onto the tray about 1 inch apart.

 Repeat with all chicken.

 Place in oven and bake for 30 minutes until coating is golden brown and crispy and chicken is cooked through.  (Chicken will be solid white when done, no pink at all.)  Flip the pan at 15 minutes to allow for even browning.  Check the chicken at 30 minutes and make sure it is not pink, you may need to adjust time a little depending on your oven and the final thickness of the chicken

 Serve immediately.

Notes
Calorie information was provided using the specific ingredients I used to make this recipe.  If following a regimented diet, please calculate the information using specifically what you use to make it!

Make a double batch of these.  The crispy chicken works great as a salad topping the next day!
Nutrition
Serving:
1
g
|
Calories:
630
kcal
|
Carbohydrates:
15
g
|
Protein:
70
g
|
Fat:
30
g
|
Saturated Fat:
7
g
|
Polyunsaturated Fat:
19
g
|
Cholesterol:
215
mg
|
Sodium:
972
mg
|
Fiber:
1
g
|
Sugar:
6
g