This Easy Cheese Sauce is the perfect kid-friendly addition to your weeknight dinner veggies! This quick cheese sauce for veggies is great for dipping, pouring, or smothering.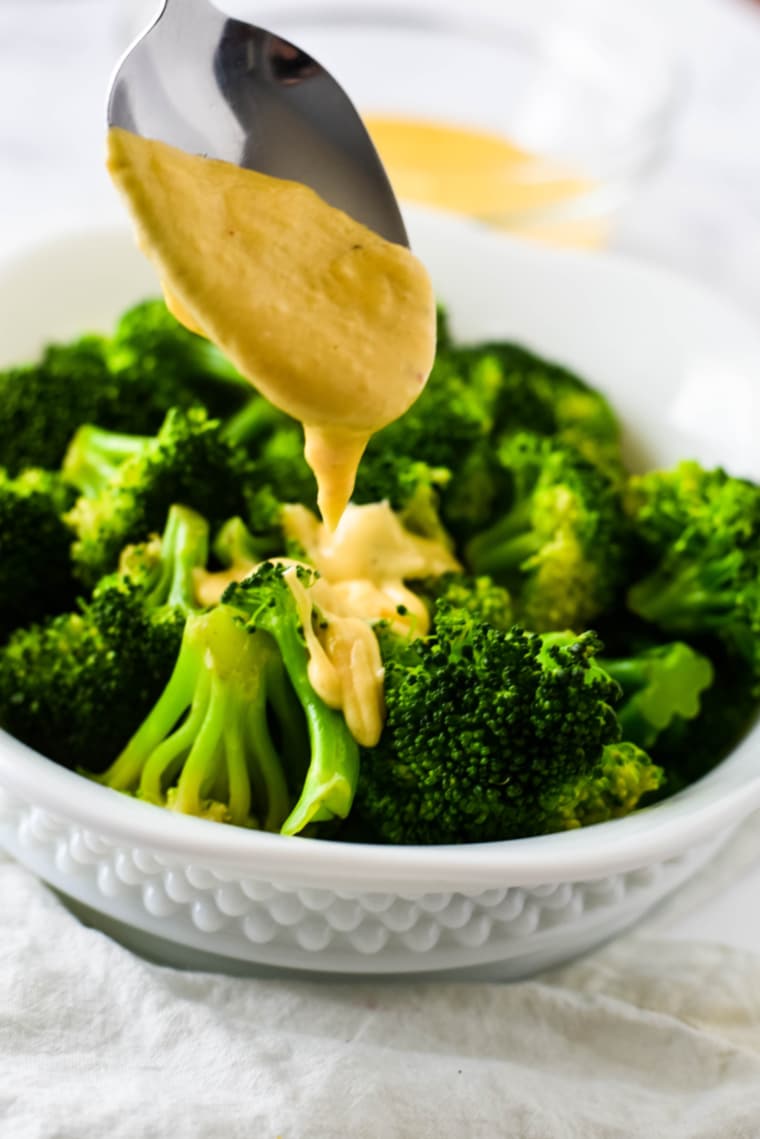 Aaaah, is there anything better than a gooey, melty, cheesy sauce?
A great cheese sauce recipe can be used for so many things. Beyond a great classic macaroni and cheese, it makes a fantastic dipping sauce for veggies!
I love using this cheese sauce for veggies as a way to not only tempt my kids from eating more veggies, but to also help them explore the flavors of different cheese that I use to make the cheese sauce.
You can easily change up the flavor of this quick cheese sauce by using different combinations of cheeses and adding fresh or dried herbs.
Try these other easy ways to make your meals better: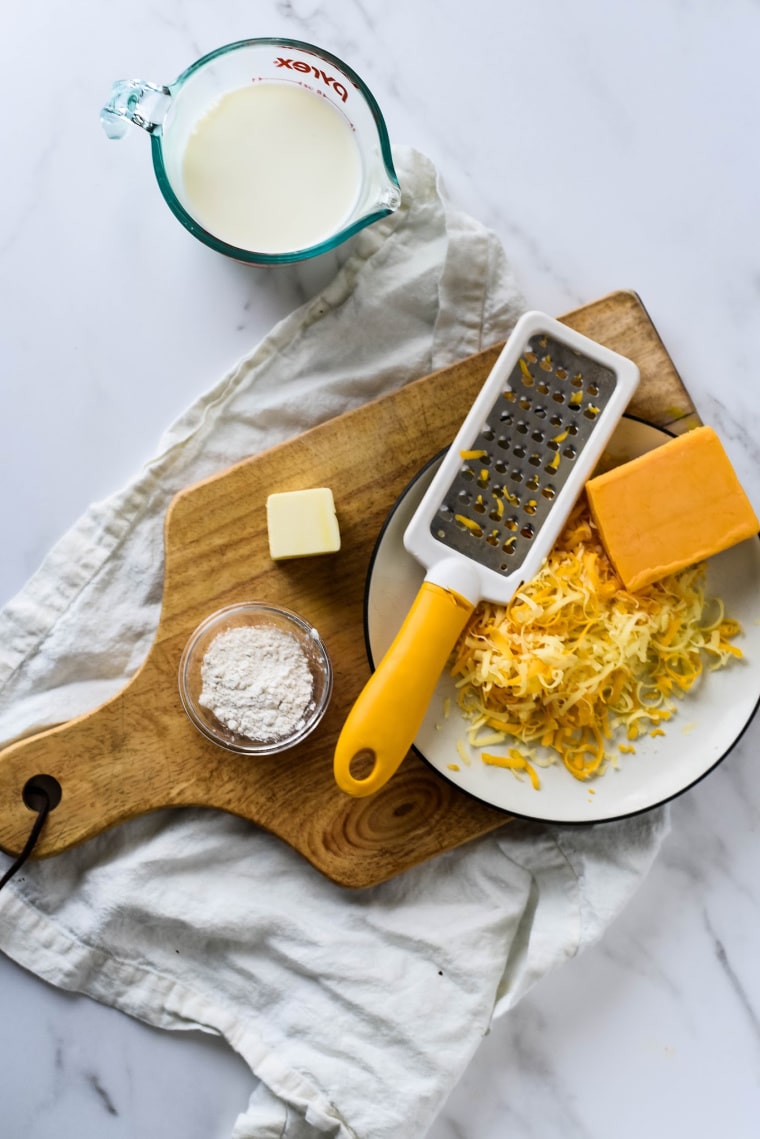 How Do You Make the Best Cheese Sauce?
A simple cheese sauce is easy and quick to make, but needs attention to a few simple steps.
First, you are going to make a "roux", which is a cooked mixture of butter and flour. Melt the butter in a large flat bottomed pan, and when it starts to bubble whisk in the flour and continue whisking for about 1-2 minutes. It is important not to rush this step or your cheese sauce will taste like flour.

Start making your "bechamel" by slowly whisking in the milk. You can also substitute part of this for chicken or vegetable stock if you wish. To get the best flavor, I suggest using whole milk.

Continue whisking until the sauce begins to thicken, about 4-5 minutes, and then remove from the heat.

You can now whisk in grated cheese and any spices you desire (salt and pepper are a great choice, as is salt-free italian seasoning blends).
Your cheese sauce is now ready to use! You can use it over pasta, on baked potatoes, or use it to dip veggies in.
How Do You Make A Smooth Cheese Sauce?
A smooth cheese sauce is easy to make. The most important thing to remember is when you are making your bechamel is to go slowly.
Add in your milk in small quantities (like ¼ cup at a time) and whisk until it is completely mixed in before adding the next amount. It's like the tortoise and the hare – slow and steady wins the race! Or best cheese sauce trophy.
How do you fix cheese sauce that is lumpy?
If your cheese sauce starts to split and become lumpy, it is probably overcooked and may be hard to save. You can try to fix it by adding in more liquid and whisking constantly over low heat until it comes back together. For a more detailed approach, read this article on fixing a curdled cheese sauce.
Can You Reheat a Cheese Sauce?
Yes! There are two keys to reheating a cheese sauce without it "breaking" and getting clumpy and gross.
The first key to reheating a cheese sauce is using the right amount fat when you make the sauce. In this recipe we are using an even ratio of butter to flour (2 TBSP of each). If you use too much butter, the sauce will separate easier.

The second key to reheating a cheese sauce is to reheat it on the stove and not in the microwave. Slowly reheating over low heat and stirring frequently will help your sauce to reheat evenly and smoothly. You could, in theory, reheat in the microwave as well, but it won't turn out as smoothly as if you did on the stovetop. But you can reheat on low heat in small time increments (like 45 seconds at a time), and stirring thoroughly in between each time until it is hot.
You can make this cheese sauce recipe 2-5 days ahead of time and store it in a sealed container in the fridge until you are ready to use.
What kind of cheese should you use in the best cheese sauce?
What kind of cheese you want to use depends on what you want to do with your cheese sauce recipe and how you want its flavor.
Cheddar Cheese
Cheddar cheese is an important basic for classic cheese sauce. It should make up at least half of your cheese sauce recipe.
Mild and Medium cheddar cheeses are more mild flavored and will have a more subtle taste. A sharp cheddar or aged cheddar will give your easy cheese sauce a more assertive flavor.
Other cheeses that would be great to add to easy cheese sauce are:
Grueyere

is a hard Swiss cheese with a subtle complex flavor profile, and adds a nutty and earthy flavor with slightly sweet notes.

Smoked Gouda

is a semi hard cheese with a creamy texture and smooth flavor with a smokey almost bacon-like flavor. (a young unsmoked gouda will add a rich but mellow flavor, and an gouda will add a deeper more pungent flavor.

Monterey Jack

is buttery and mild and a great addition.

Parmesan

is a lovely hard cheese with a slightly salty, slightly nutty flavor.

Fontina

has a great balance of buttery flavors and melts beautifully.

Havarti

has a mild and creamy buttery flavor
It is also important to not use pre-shredded cheeses found in grocery stores as they are often coated in substances that help prevent the cheese from sticking together. The best flavor and texture will come from quality cheeses that you grate yourself.
Try these other great cheese recipes:
Food tastes better when its shared! If you try this recipe, let me know! Leave a comment and rate below! Love and links are always appreciated! If you'd like to share this post, please link to this post directly for the recipe, please do not copy and paste or screenshot. Thanks so much for supporting me! xoxo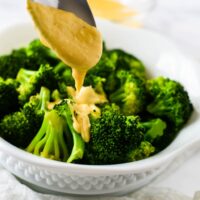 Easy Cheese Sauce
This Easy Cheese Sauce is the perfect kid-friendly addition to your weeknight dinner veggies! This quick cheese sauce for veggies is great for dipping, pouring, or smothering.
Print
Pin
Rate
Ingredients
2

TBSP

unsalted butter

2

TBSP

all purpose flour

salt and pepper to taste

1

cup

whole milk

1.5

cups

shredded cheese
Instructions
In a large non-stick skillet, melt the butter until it starts to bubble.

Whisk in the flour, stirring constantly, for 1-2 minutes, or until it starts to slightly bubble.

Slowly whisk in the milk, 1/4 cup at a time. Whisk in each addition completely before adding any additional milk.

Add salt and pepper to taste, and whisk constantly for 4-5 minutes, or until the sauce is thickened.

Remove the pan from the heat and whisk in the cheese in 2 or 3 additions, whisking until the cheese is melted and combined.

Enjoy!
Notes
You can switch up the flavor of this sauce by using different kinds of cheeses. Substitute half of the cheddar cheese with another kind of cheese like fontina, gruyere, havarti, parmesan or something else.
Nutrition
Serving:
1
g
|
Calories:
109
kcal
|
Carbohydrates:
3
g
|
Protein:
5
g
|
Fat:
9
g
|
Saturated Fat:
5
g
|
Polyunsaturated Fat:
3
g
|
Cholesterol:
25
mg
|
Sodium:
151
mg
|
Sugar:
1
g