This simple raita recipe is made with creamy yogurt, cool cucumber and fresh cilantro to create a cooling sauce that is perfect to serve with your family's Indian meal. This cucumber raita is a perfect dip to serve with spiced dishes like chicken tikka masala to help cool it down.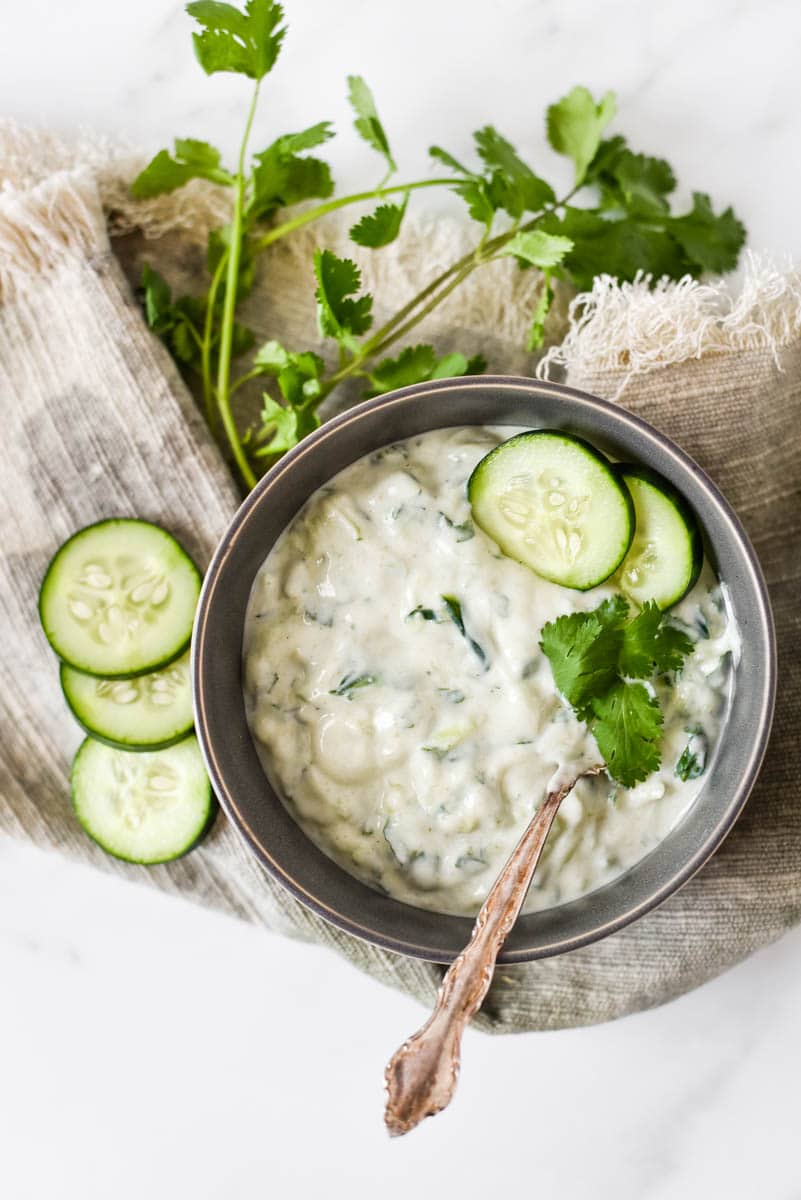 The trick to serving more heavily spiced meals to your family is to serve a simple cooling sauce like this easy raita. One of the concepts I love most about Indian cuisine is that the parts of each meal work together to create a balanced experience with flavors, textures, temperatures, and smells. Cucumber raita offers a cool and refreshing component to your meal.
Another way to cool down your palate when eating heavily spiced Indian food is a Mango Lassi!
Cucumber Raita
Cucumber Raita is a cooling, rangy, and creamy sauce that is a perfect side dip to serve with your family's favorite Indian meal.
Impress your kids with this knowledge: The dairy in the yogurt will coat the taste receptors in your mouth that respond to capsaicin (thats the "hot" taste). A protein called casein in the dairy binds to the capsaicin and washes away the heat!
Pronounce it like this: "Right – A".
What is the difference between Raita and Tzatziki?
At first glance, these two dips seem very similar. And since they share some basic ingredients and methodology, they are! The main difference is Tzatziki has as heavy dose of lemon juice and garlic, which makes it more tangy than raita.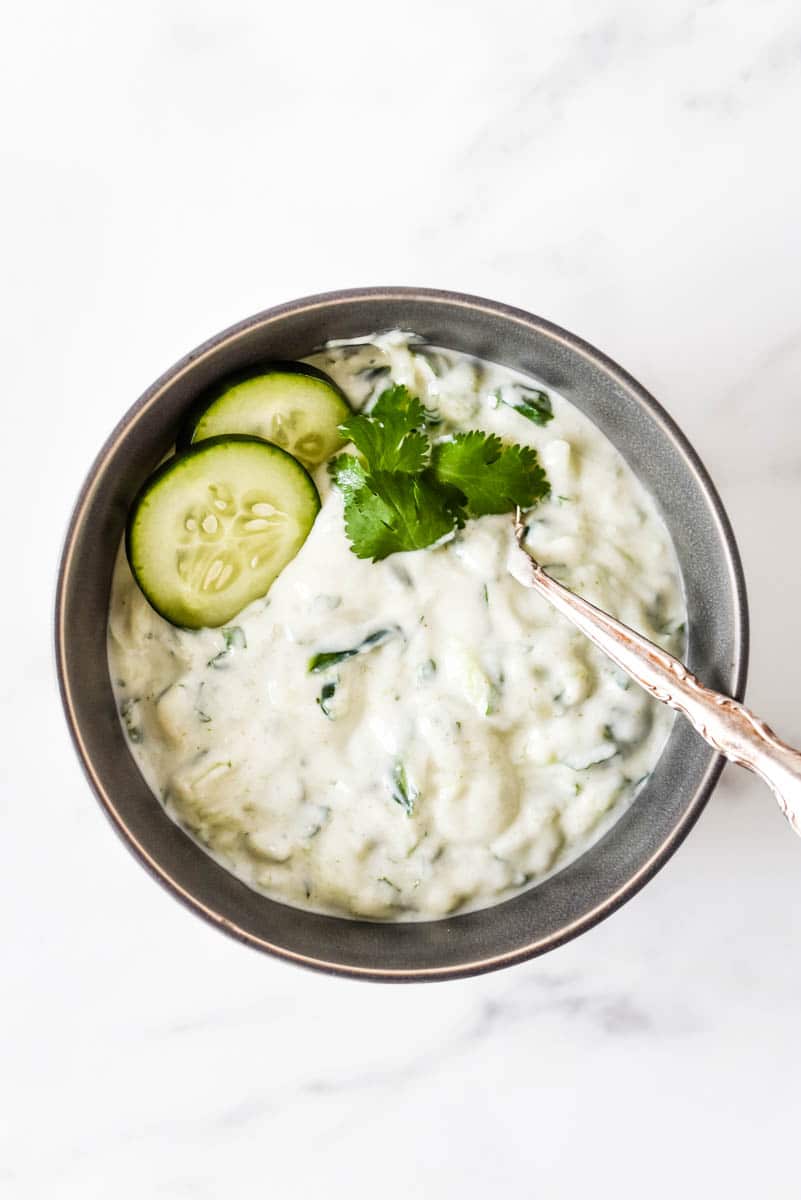 How to make raita
This simple raita recipe is very quick and easy to make. For the full directions, please scroll down to the recipe card below, but here is a general overview of the method you use to make it:
Grate the cucumber into a bowl. You want to keep the extra moisture that accumulates in the bowl.

Measure the yogurt into a bowl and stir or whisk it to ensure it is all even and smooth.

Add in the spices, chopped herb, and cucumber.

Mix well!

Chill until ready to serve.
*Variations:
Texture variations – you can make this chunkier or smoother based on how you prepare the cucumber. Dice the cucumber into small pieces for a chunkier version or blend the mixed dip in a food processor with a little extra water for a smoother consistency.
Taste variations – you can make this cucumber raita with mint instead of cilantro, too!
Prepping ahead of time
This raita with cucumber and cilantro is a great recipe to prepare ahead of time. It does best with some "sit time" in the fridge anyway, so go ahead and make it when you can! It will last 3-4 days in the fridge in an airtight container. Just give it a good stir before using.
How to serve raita to your family
Raita is a great dipping sauce to serve beside more heavily spiced curries like chicken tikka masala. Because is it is served cold and it has a cooling, refreshing flavor, it helps to add some textural, temperature, and flavor variation to your meal. And it can help the heavily spiced foods seem not so spiced!
Place the serving bowl on the table and allow every member of the family to help themselves. Will they use it like a dipping sauce, or will they add it on top? The choice is theirs!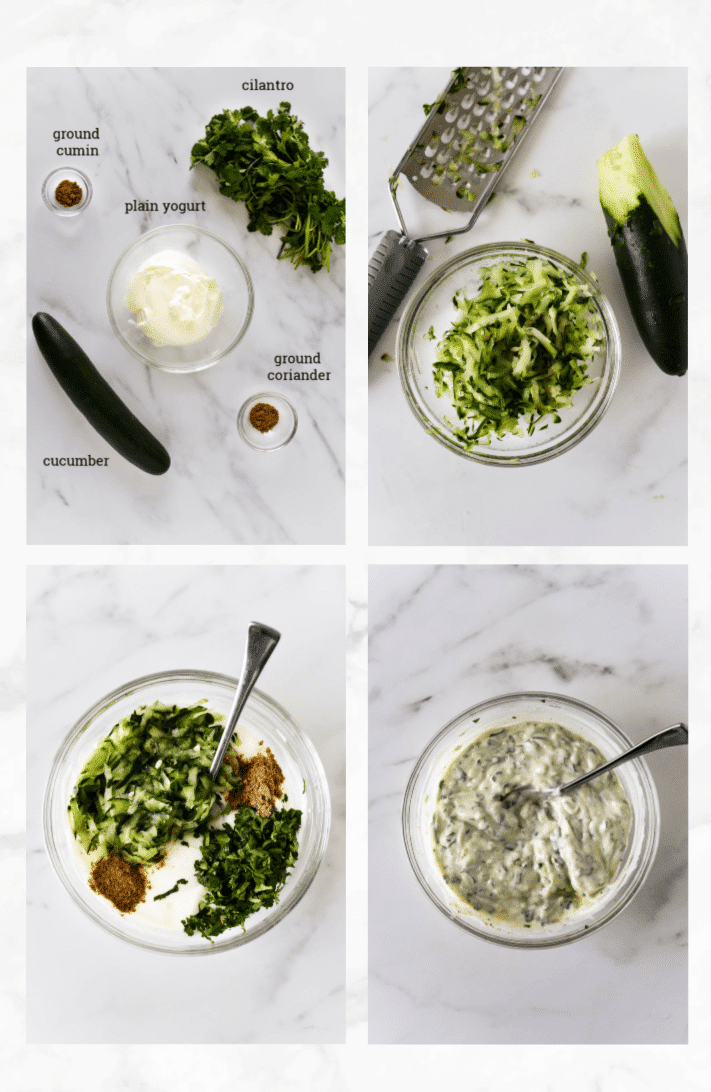 How to make Indian raita sauce kid friendly
This dipping sauce is a great kid-friendly Indian recipe. Kids love to dip food, so adding an easy kid friendly dip to your Indian meals is a great way to get them interested in trying what you are serving. This raita with cucumber and cilantro is cooling and has a very refreshing flavor, which kids love.
Getting kids involved in making the meal and being interested in exploring it also go a long way to helping them enjoy a meal.
Dinner conversations with kids
Dinner time is an excellent time to talk to kids about their food in a way that helps them to be more interested in it! This time is great to start conversations that help kids think more analytically about what they are trying instead of having an emotional reaction to it. Use these conversation starters:
Texture

– what is the texture of tha raita like? Is it smooth or chunky? How is the texture compared to the other parts of your dinner? Would you like it more if it was chunkier (the cucumber was in bigger pieces), or smoother (we blended the cucumber so it was all the same texture)?

Temperature

– how do you like the temperature of the raita? How does it compare with the other parts of your dinner?

Flavor

– What tastes can you detect (sweet, salty, etc). What flavors do you notice? How does this sauce pair with your meal?
Read more about how to explore the sense of taste with kids.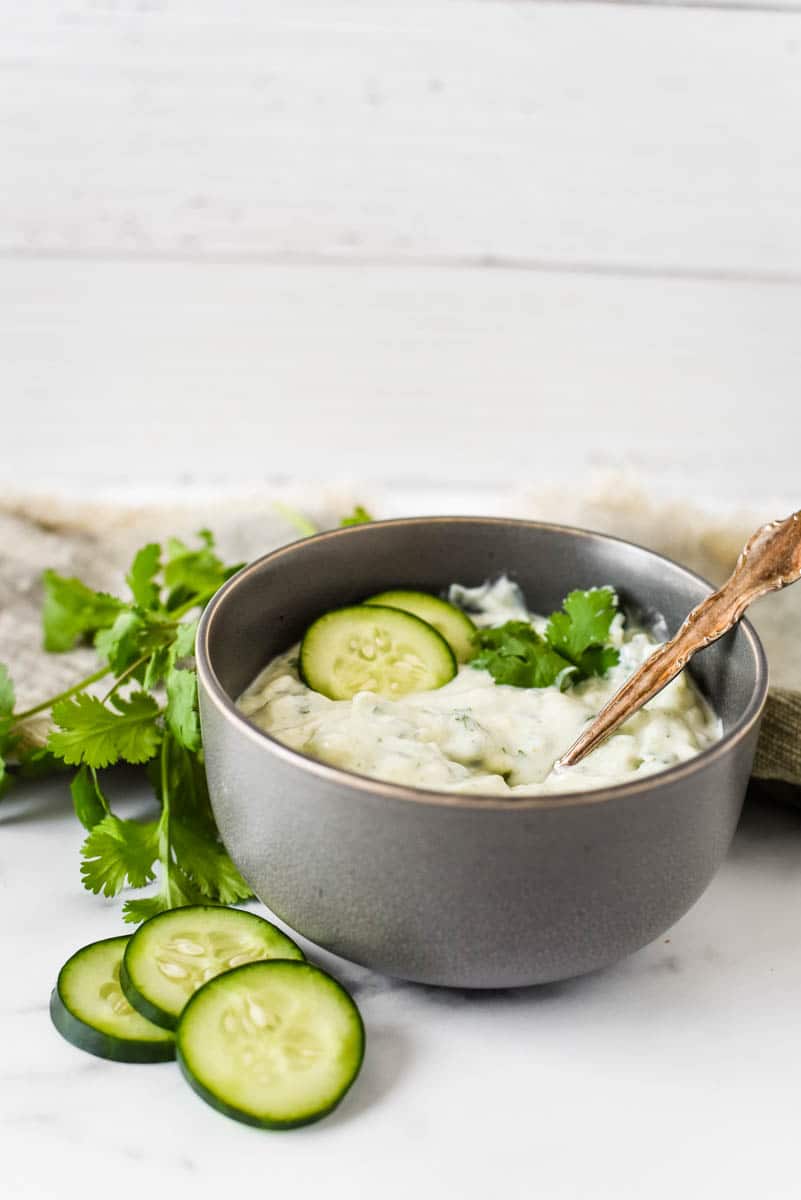 Kids in the kitchen: How your kids can help you cook
Getting your kids in the kitchen is an amazing way to help them be more interested in trying new foods and confident in their own abilities. This raita recipe is great because it helps them learn to create simple recipes and they get to practice their grating. This recipe is perfect for beginner cooks because it is so easy! And it is a great recipe for kids to experiment and become more comfortable with new flavors – which means they are more likely to eat it!
Kids aged 1-3

can help you

wash the cucumber and pick the cilantro leaves off the stems. They can also help you measure and mix the sauce.

Kids aged 4-6

can do everything above, plus help you

grate the cucumber.

Kids aged 7-10+

can help you do everything above.
*Please note that these recommendations are generalized, and to please use your personal discretion with your child's skill level. And always, always supervise! Read more about how to have your children help you in the kitchen.
Other Dips and Sauces:
Food tastes better when its shared with the ones you love!
There's nothing I love more than seeing you make my recipes! If you make this cucumber raita, don't forget to leave a comment below and rate the recipe!
And if you are on Instagram, tag @thegingeredwhisk and use the hashtag #gingeredwhisk on social media when you make my recipes so that I can share them and maybe even feature you. Follow along to get the latest updates:
And don't forget to subscribe to the email list to get all the extra tips, tricks and bonuses!
Want to save this for later? PIN THIS TO YOUR DIP BOARD on Pinterest!
Easy Raita Recipe
This simple raita recipe is made with creamy yogurt, cool cucumber and fresh cilantro to create a cooling sauce that is perfect to serve with your family's Indian meal. This cucumber raita is a perfect dip to serve with spiced dishes like chicken tikka masala to help cool it down.
Ingredients
1 cup plain yogurt
1/2 english cucumber
1 Tablespoon chopped cilantro
1/2 teaspoon ground cumin
1/2 teaspoon ground coriander
1/4 teaspoon salt
1/4 teaspoon pepper
Instructions
Place the yogurt into a medium bowl and stir to mix well.
Grate the cucumber into the yogurt. Stay mostly on the outside of the cucumber so you don't get the seeds in the dip.
Add in the cilantro, cumin, coriander and salt and pepper to taste.
Stir well to combine. If you would like it a little thinner, add 1 Tabelspoon of water at time until you get the consistency you want.
Cover with plastic wrap and store in the fridge until ready to use.
Enjoy!
Notes
Note on Texture: You can change the texture of this dip by changing how you prepare the cucumbers. For a chunkier dip, dice the cucumbers. For a smoother dip, processs everything in a food process for a fe seconds until smooth.
Note on Yogurt: You can use low fat plain yogurt for a thinner consistency, or a whole milk or greek yogurt for a creamier consistency.
*You can also substitute the cilantro for fresh mint!
Nutrition Information:
Yield:

8
Serving Size:

1
Amount Per Serving:
Calories:

21
Total Fat:

1g
Saturated Fat:

0g
Trans Fat:

0g
Unsaturated Fat:

0g
Cholesterol:

2mg
Sodium:

87mg
Carbohydrates:

3g
Fiber:

0g
Sugar:

2g
Protein:

2g