Cheese Boards are excellent for weekend snacking and make great simple kids party food and are loaded with a wide variety of fruits, veggies, cheeses and meats. These also make great after school snack trays! Even adults will love it!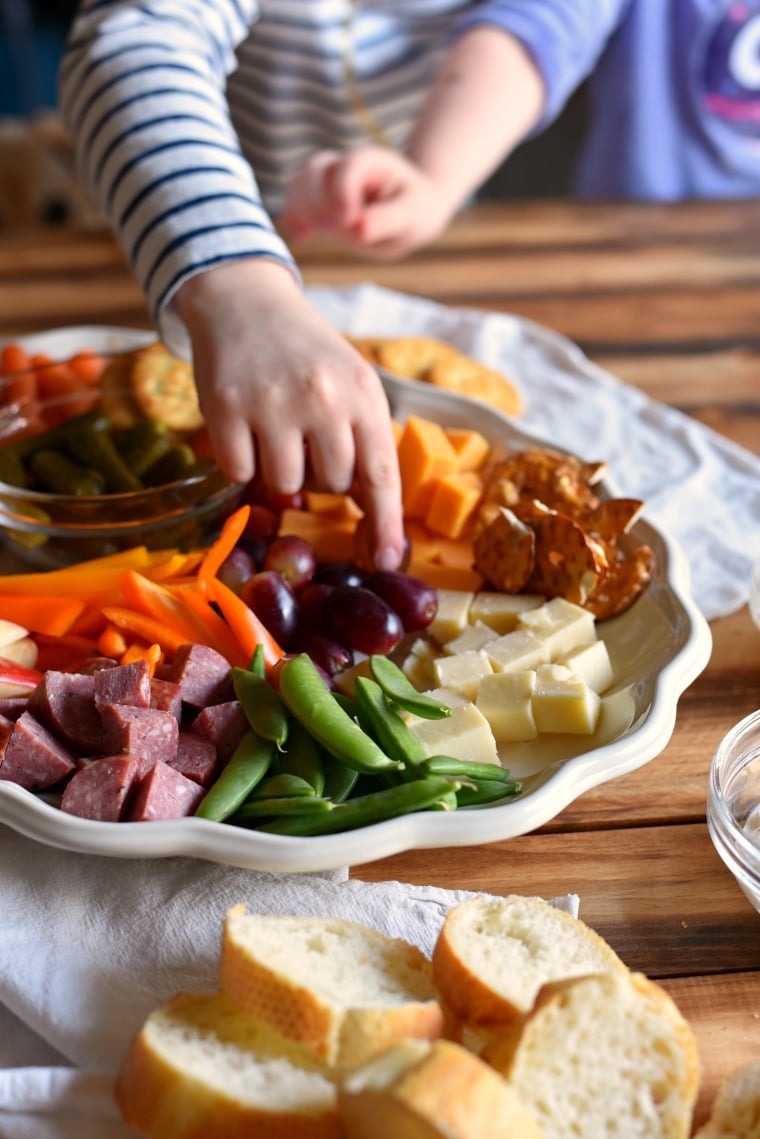 Every Sunday afternoon my family gathers together. We usually do a large meal, talk, play, and generally just hang out. Before we start the dinner, though, we always start the afternoon with a large charcuterie plate and either a cocktail or a glass of wine while we catch up on all the week's happenings. It has become a fun tradition that we love and it is definitely missed on the weeks we don't do it.
But over time we have realized that the kids really enjoy being able to become a part of this tradition. They don't want to be in the other room while all the adults are snacking in the kitchen. Because of that we have evolved our charcuterie boards to become a little more family friendly. Sure we still occasionally have something stinky or ultra bold, but we also make sure there is plenty on there that the girls will love, too.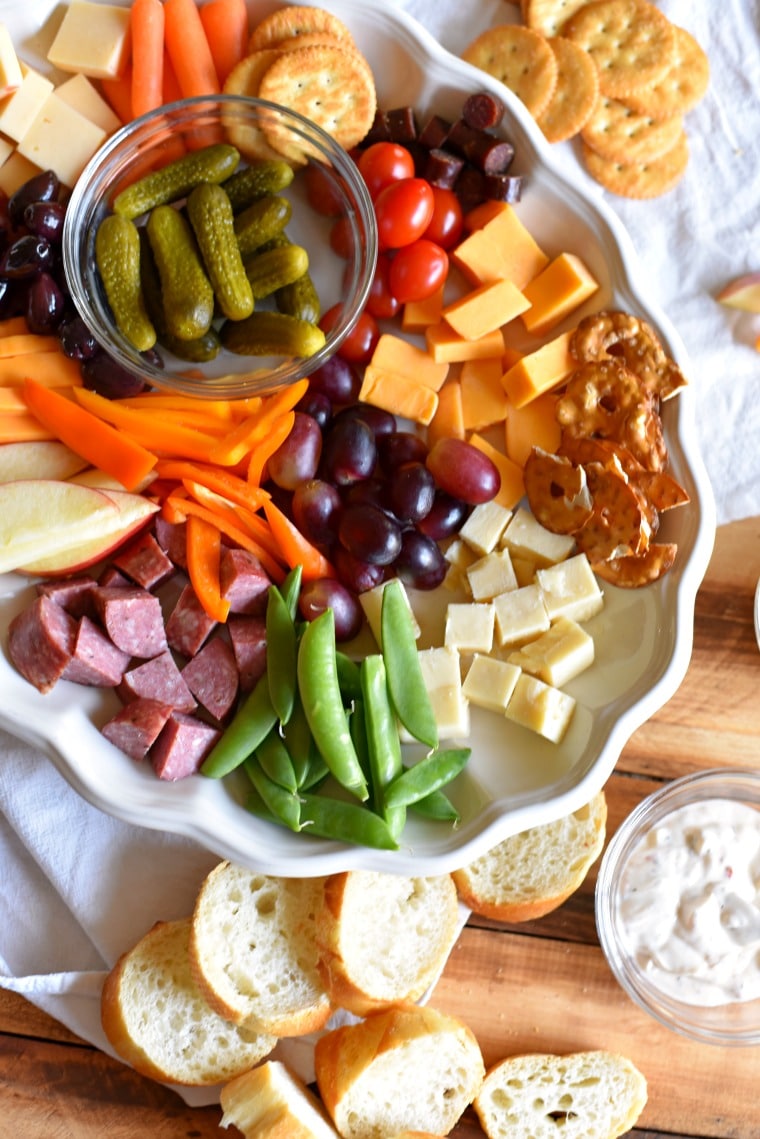 Building an easy and family friendly cheese board is really all about choosing a wide variety of finger foods and arranging them on a large tray together. I usually make my board on a large rimmed baking sheet (affiliate link) and then just dump handfuls of items here and there until the tray is full. You don't need to take the time to cut things into cute little shapes or use cheesy crackers shaped like specific creatures that live in the sea. Although, you totally can if you want!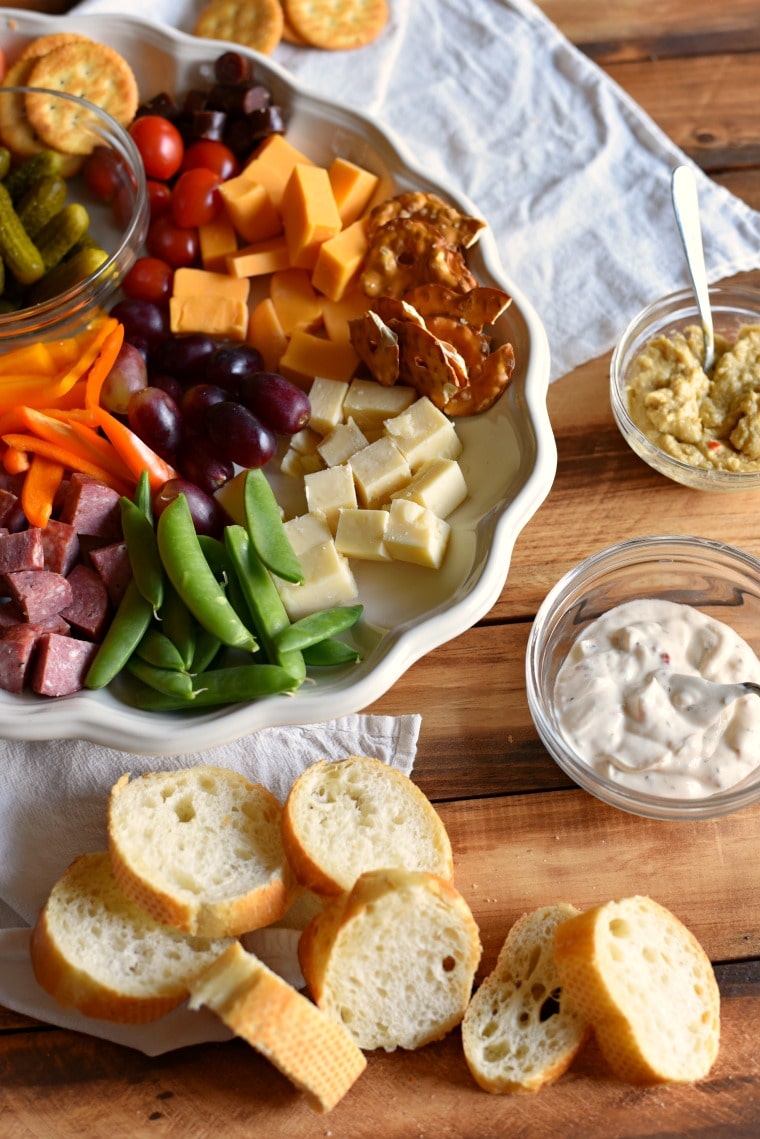 The trick to making a beautiful charcuterie board is to vary your items – space out items that are the same size, shape or color with different items to give your tray visual appeal. For example – don't place cherry tomatoes and grapes beside each other because they are both roundish. If you want to add something that is juicy or watery (think pickles) or small (nuts or pomegranate arils), place them in a small bowl on the tray. These make amazing options for simple kids party food!
These trays also work awesome as after school snack trays (but smaller sized), and I often fix something similar when I am trying to make dinner but my children are about to die from starvation (their exaggeration, not mine). Adding a wide variety of fruits, vegetables, meats and cheeses means that even if they fill up on their "snack" and are too full for dinner I know that they still ate a balanced meal and got some good nutrition down!
Other recipes that make great kid friendly party food are Easy Cheese Dip and Mini Pizza Bites!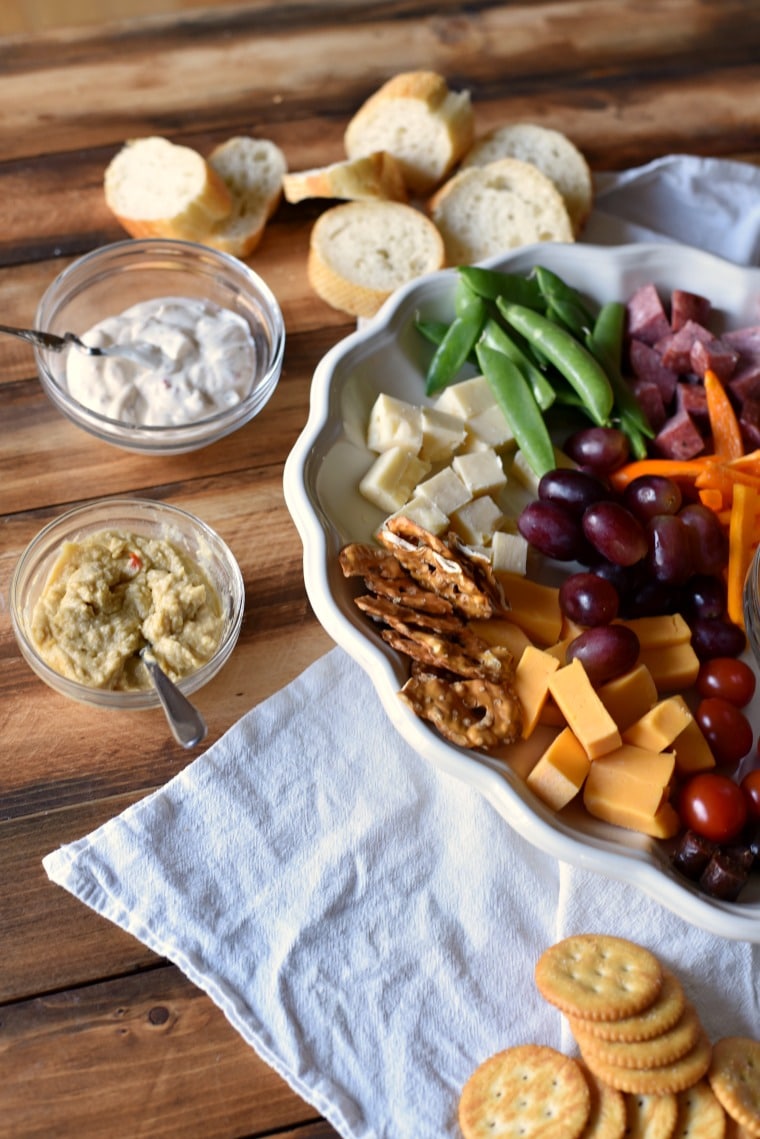 What to Add To A Kid-Friendly Charcuterie Board
The key to making a good charcuterie board is to have a good selection of all different kinds of things. Pick 2-3 different options from each of the categories below. Make sure that all the items are pre-cut into bite sized pieces and ready for snacking (no sharp cheese knives on these boards, please!).
Click here for more information on how to raise kids who love to eat great food!
Which Cheeses Are Good For a Kid-Friendly Cheese Tray?
Pick milder cheeses (a super stinky blue may not be the best choice unless you know your kids really enjoy it!). Pick 2 to 4 cheeses in both yellow and white coloring, and cut them into a variety of shapes (cubes, slices, sticks, etc).
Both white and yellow sharp Cheddar Cheeses are good – get a good quality like Kerrygold, or something out of the fancy cheese case. This is not a time for Kraft.
Edam
Havarti
Gouda
Mild Goat Cheese
small balls of fresh mozzarella cheese
Gruyere
Which Fruits Should I add?
Again, pick a variety of colors, textures and crunchy level. Cut them into different shapes and sizes.
Slices of fresh apple – get a crispy apple like a Honeycrisp, Pink Lady, or a good green. Dried apple chips are also a fun addition because they are crispy
Pear slices
Grapes
dried apricots
berries like blueberries, blackberries, raspberries or quartered strawberries
What Kinds of Veggies To Add To A Charcuterie Board?
Make sure the items are small sized so they are perfectly grab-able and dip-able.
cherry tomatoes
sliced cucumbers (we really like those little persian ones!)
sweet snap peas
baby carrots or carrot sticks
baby kosher pickles
slices of sweet mini peppers (the orange, yellow and red ones)
Which Meats should I add to a Kid-Friendly Charcuterie Board?
salami
sliced and quartered sections of summer sausage
a good quality jerky
rolls of deli meat like turkey or ham
Fun Extra Stuff to Add
Nuts – Almonds, Walnuts, or Pistachios
Something to Dip like Ranch Dressing, French Onion Dip, or Hummus
Don't forget the crackers, pretzel crisps and slices of baguette!
Crispy roasted chickpeas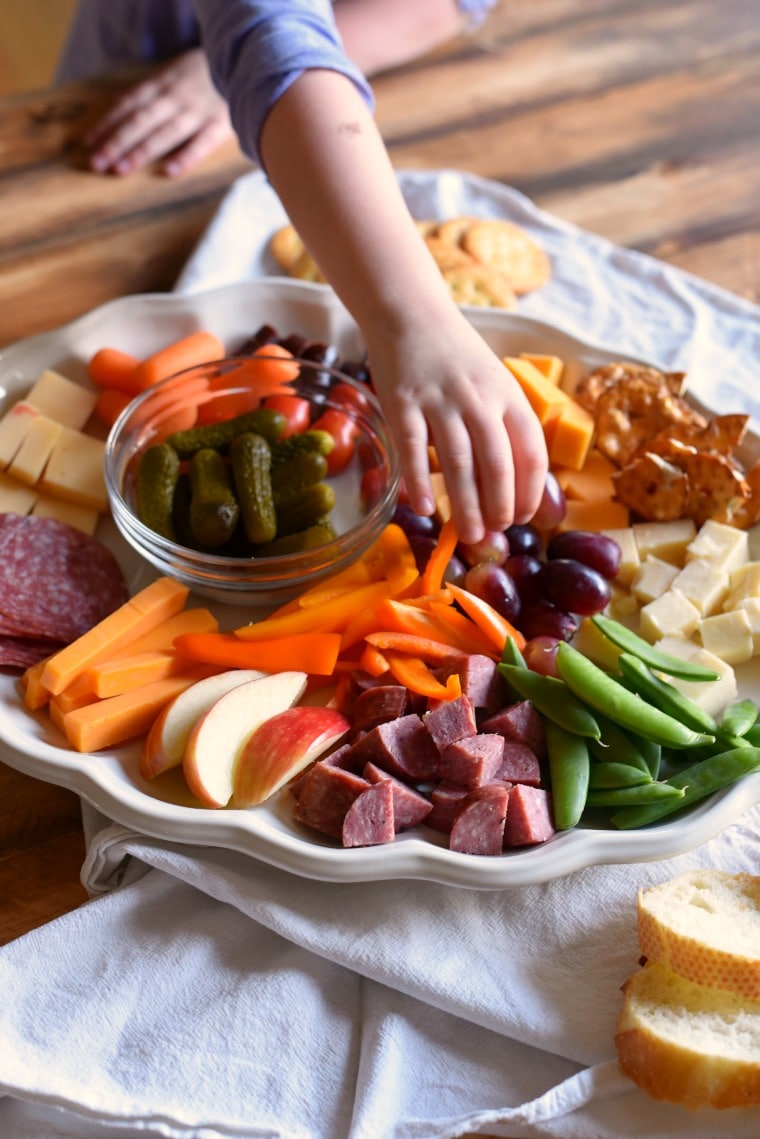 Looking for other fun ways to make family meals interesting?