How to Make One Meal For the Whole Family
Learn how to make one meal for the whole family to enjoy – from baby and toddler to adult! Enjoying a meal together as a family is an important part of your day – and learning how to cook one meal that satisfies everyone makes life easier, quicker, and cheaper.
Trying to feed a family can feel totally overwhelming at times.
Not only are you trying to make a healthy meal for your family as quickly as possibly after a long day – but you also have to deal with each person's food preferences. Daddy doesn't like sweet potatoes or mushrooms, the middle child will only eat things in if they are a circle, and the oldest thinks everything needs to be drowned in ketchup. Yuuuuup…. sooo there with you.
Add to all of that your desire to feed nutritious food that fuels their little bodies and eat a meal that tastes amazing for yourself, and that's a serious task worthy of any Super Mom (or Dad).
Just going to go out on a limb here and guess that you don't actually like cooking 5 different meals in less than 30 minutes? I mean, I used to dream of being a chef but I don't need that kind of self-imposed pressure every night! Creating one meal for the whole family (baby included) can chow down on and is nutritious and delicious seems totally impossible and unrealistic, but trust me – you can definitely do it!
"Thank you to Raised Real for sponsoring this post. And Thank you for supporting the brands that support me and allow me to continue to grow my blog. All opinions, recipe and photographs are my own."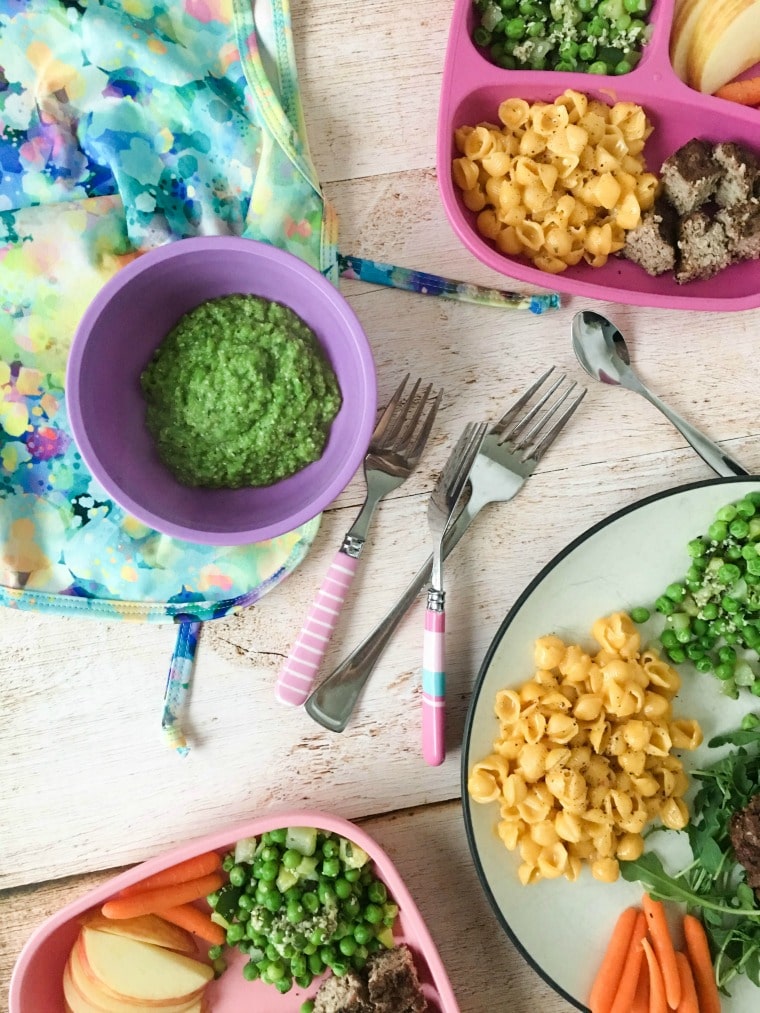 How to Make One Meal For The Whole Family
Cooking one meal that feeds the whole family is a lifesaver, no matter the situation. Not only does it save you money (because you are going through less food), but it also saves you time (because you are cooking less food), and it also saves your sanity (because you are making less food).
The best meals are ones that are based on real food. A few key things to remember:
Don't be afraid of flavor! Babies and toddlers don't need bland food. Adding herbs and spices are definitely ok (Note: I'm not talking about copious amount of spicy heat that will burn the inside of everyone's digestive system here). If you are looking for a place to start, check out my post on How to Add Spices to Your Kid's Meals.
Do avoid using ready made meal-kits and sauces – they are too full of other ingredients little digestive systems don't need (like preservatives and additives). Stick to a few, real ingredients.
Skip items like salt and sugar!
Be aware of choking hazards like bones, big pieces, nuts, processed meats like sausage and bacon, and honey!
Don't skimp on the side dishes – fresh veggies and fruits go a long way to adding nutrition to a meal in a simple way.
Serving your children a variety of real foods in interesting flavor combinations is an important step in raising adventurers eaters. Interested in reading more about this? Check out my Complete Guide To Raising Adventurous Eaters.
How to Make Family Meals Suitable For Baby:
When making baby food out of your family meal, it is important to remember to keep things simple – the less ingredients involved the better (note: that doesn't mean bland!). Think about the age and stage of your baby and what they have already been exposed to and what is digestively appropriate for them.
Focus on fresh veggies and simple proteins – they are so easy to turn into fresh baby food!
Don't add salt or sugar to baby's food – remove baby's portion before adding it to the rest of the family's meal. For flavor try adding fresh herbs and spices instead, or trying combinations of fruits and vegetables together.
Remember that baby's can't have honey or raw eggs until 12 months of age, so leave a portion out for baby before adding some of these ingredients to your serving.
Blend or mash baby's portion to the desired consistency – you can thin it would with a bit of water if need be. If you need to thin it out, use a bit of water, formula, or breastmilk until you reach your desired consistency.
How to Make Family Meals Suitable For Toddlers:
No matter what Pinterest tells you, breaking out the cookie cutters and fancy plates is not necessary for every meal. Sure, channeling your inner Picasso on Christmas morning is fun and special – but every single breakfast, lunch and dinner? That would be exhausting. And entirely unrealistic. Instead, teaching your toddler to eat the food that you are also eating is important.
Keep these items in mind when making toddler meals:
small serving sizes – toddlers only need a few tablespoons of each item on their plate.
serve things "deconstructed" with individual ingredients in small piles on their plates – and give them the option to construct their own or eat it as is.
keep meals colorful by adding different colors in fresh fruits and vegetables.
Making Family Meals with Raised Real
I recently discovered an amazing company called Raised Real that might be one of the best subscription boxes ever – they offer organically sourced, flash frozen meals for baby right to your doorstep. Each little packet has been specially prepared to be exactly what your little one needs. All you need to do is steam it and choose how you want to serve it – blended into a super smooth puree, mashed a little chunkier, or as is for finger foods. Not only is this an amazing way to serve amazingly fresh and homemade baby food to your little one with almost no work, but its also a fantastic way to serve great things to the rest of your family, too!
Each box comes with 20 packages packed with dry ice (4 packages of each of that month's 5 flavors), along with little cards telling you exactly what is in each package. Each meal has been carefully created by a dietician to be rich in vitamins and minerals, combine healthy fats and proteins, and are paired in ways that help aid digestion – plus no added sugar, salt, preservatives or weird ingredients you can't pronounce. I also love that a subscription to this service also includes unlimited access to the Raised Real Help Hotline, so you can call or text to get help from real people if you need help with any part of feeding your little. Because sometimes you just need someone else to tell you that you are doing things right, or something is completely normal.
What I love most about Raised Real is that I can easily use those packets not only for the baby but for the rest of the family as well! I think it is so important for babies and toddlers to see that their family eats the same thing they are. Baby shouldn't eat better than you – the baby should be eating as well as you! Because everyone in the family deserves to eat amazingly delicious and super nutritious food that is easy, right? (Can I get an 'Amen'?).
We have been enjoying our packets – not only has the baby been loving tying them, but the whole has also been been enjoying them! Its so great to use a packet or two as a side dish for the other kiddos – and myself, too! – on busy days when we need a quick dinner or when I need to bulk up the leftovers we are having for lunch.
Other uses for Raised Real Meals include:
For sweeter, fruit based versions:

Adding the packets to smoothies
Pureeing them and serving as "compotes"
Add to oatmeal!

For more savory vegetable versions:

Serving them as side dishes for the whole family
Kick up your avocado toast and add a smashed packet with an egg!
Sprinkle over a bed of greens and a grilled chicken breast as a salad topper.