11 Easy Mediterranean Meals For Families
These Mediterranean Meals are a perfect way to add more flavor and variety into your meal plan in easy ways your family will love! With slow cooker, sheet pan, and 30 minute recipes, these family friendly mediterranean dinners will be a delicious way to have dinner on any busy weeknight!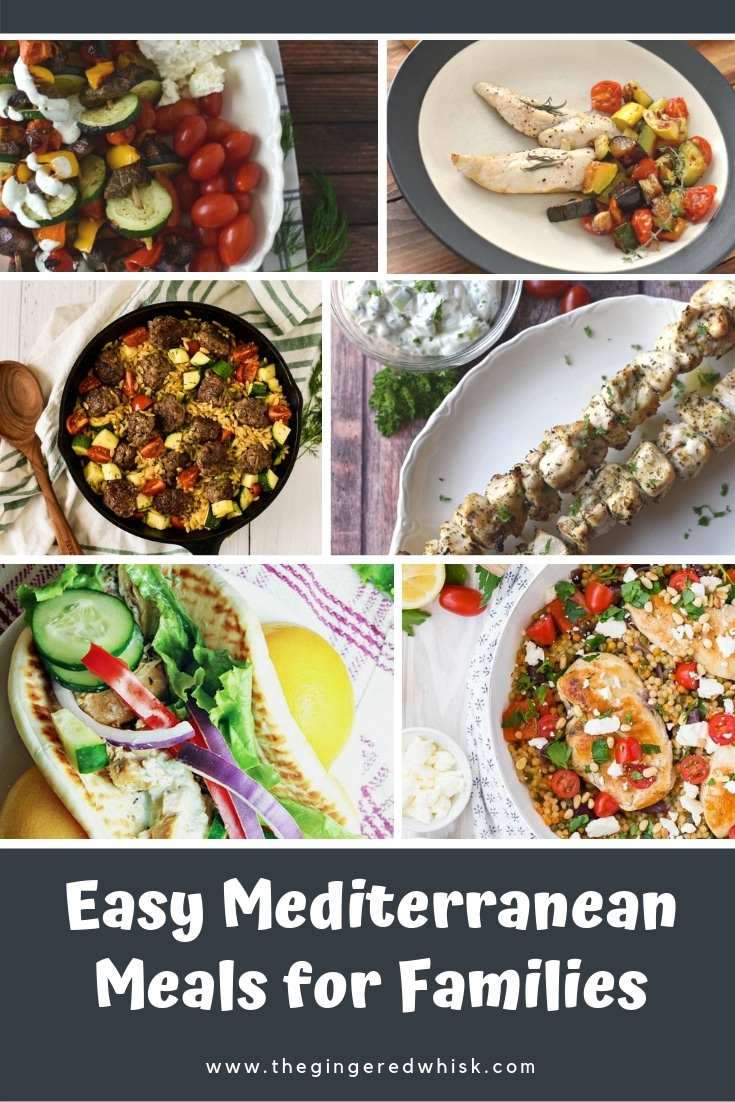 These Easy Mediterranean Meals are perfect for families to enjoy on busy nights. All made from scratch, with easy to find ingredients and perfect for all members of the family. Pair these with an easy side dish for a great dinner your family will love. These dinner recipes are inspired by food from Cyprus, Croatia, Greece, Portugal, Morocco, Southern Italy and Spain!
Interested in adding more Mediterranean flavors to your weeknight meals but not sure how to make it actually doable? Check out my Beginner's Guide to Mediterranean Cuisine for easy tips and recipes that are weeknight and kid-friendly and will help your weeknight meals be a win!
Family Friendly Mediterranean Recipes
Mediterranean recipes are a great addition to your meal plan – full of bright flavors and colorful produce, your family will love these easy recipes! Add these to your meal plan today!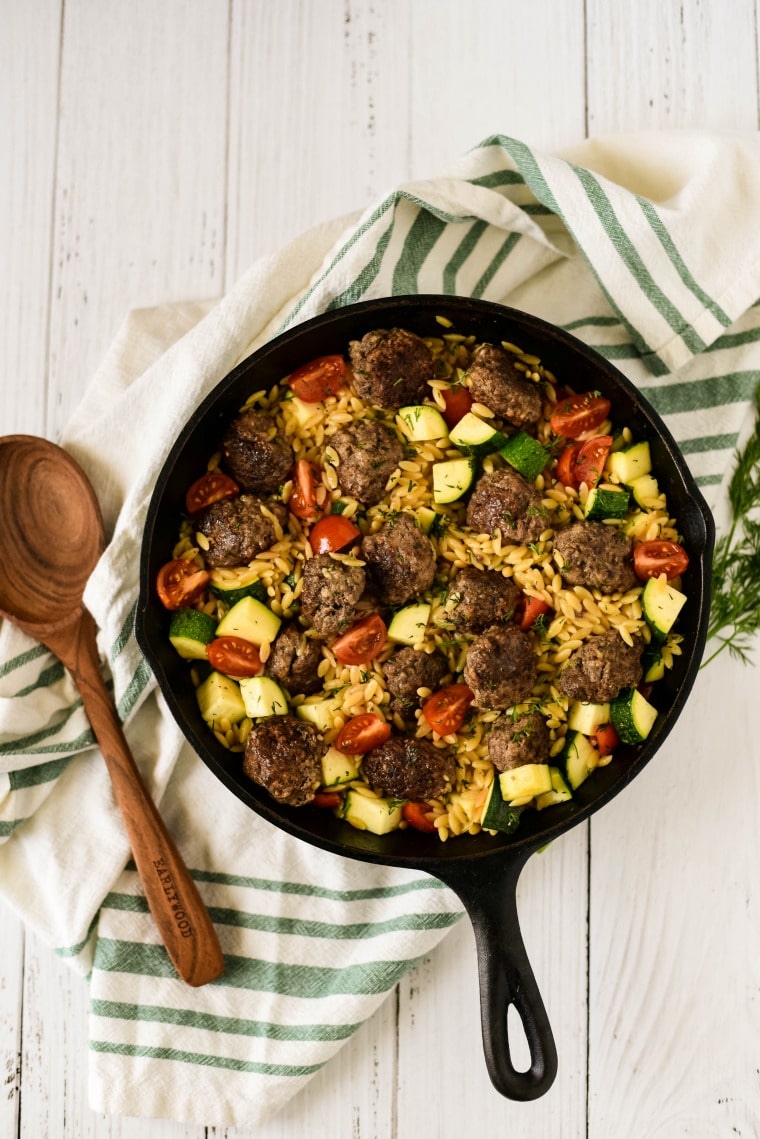 Greek Meatballs with Lemon Orzo Skillet from The Gingered Whisk – This easy greek meatball skillet with lemon orzo is a great family friendly weeknight meal. Greek spiced beef meatballs are cooked with orzo, diced zucchini and tomatoes and sprinkled with fresh dill and fresh lemon juice. This 30 minute meal is flavorful and easy!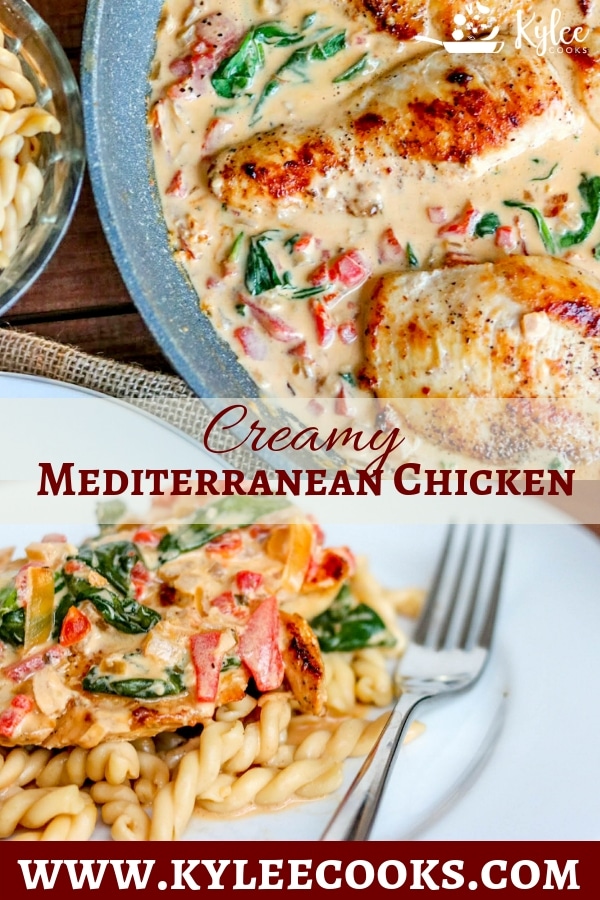 Creamy Mediterranean Chicken Skillet from Kylee Cooks – This Creamy Mediterranean Chicken Skillet is so delicious, you won't believe how easy and fast it is to cook. Perfect for weeknights, with flavors everyone will enjoy – you'll be fighting over the leftover sauce!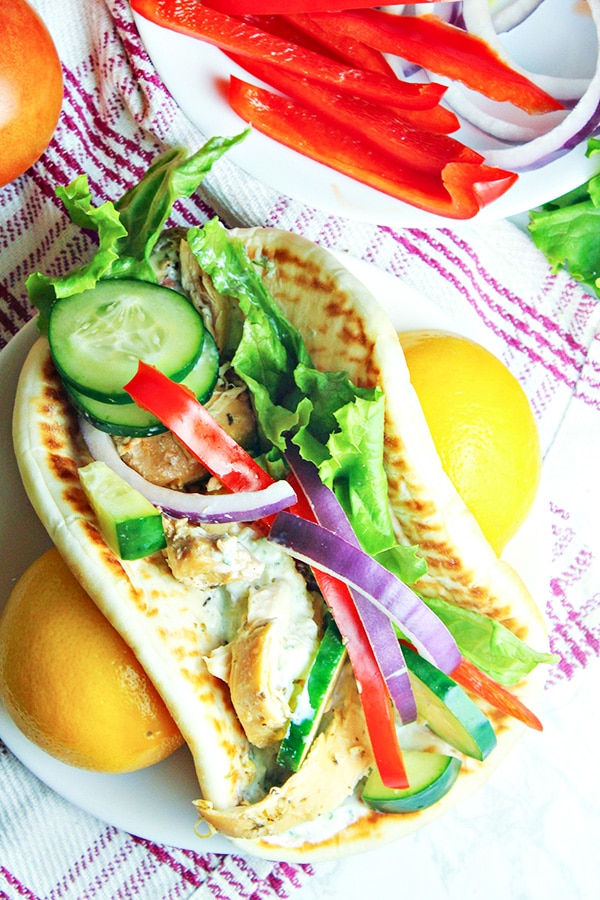 Slow Cooker Greek Chicken Gyros from Home Cooking Memories – This easy Slow Cooker Greek Chicken Gyros recipe is perfect for busy families. Throw the ingredients into your slow cooker and a few hours later, you'll have delicious and healthy chicken for gyros that everyone will love. Place this meat into warm pita bread and top with tzatziki sauce and your choice of toppings.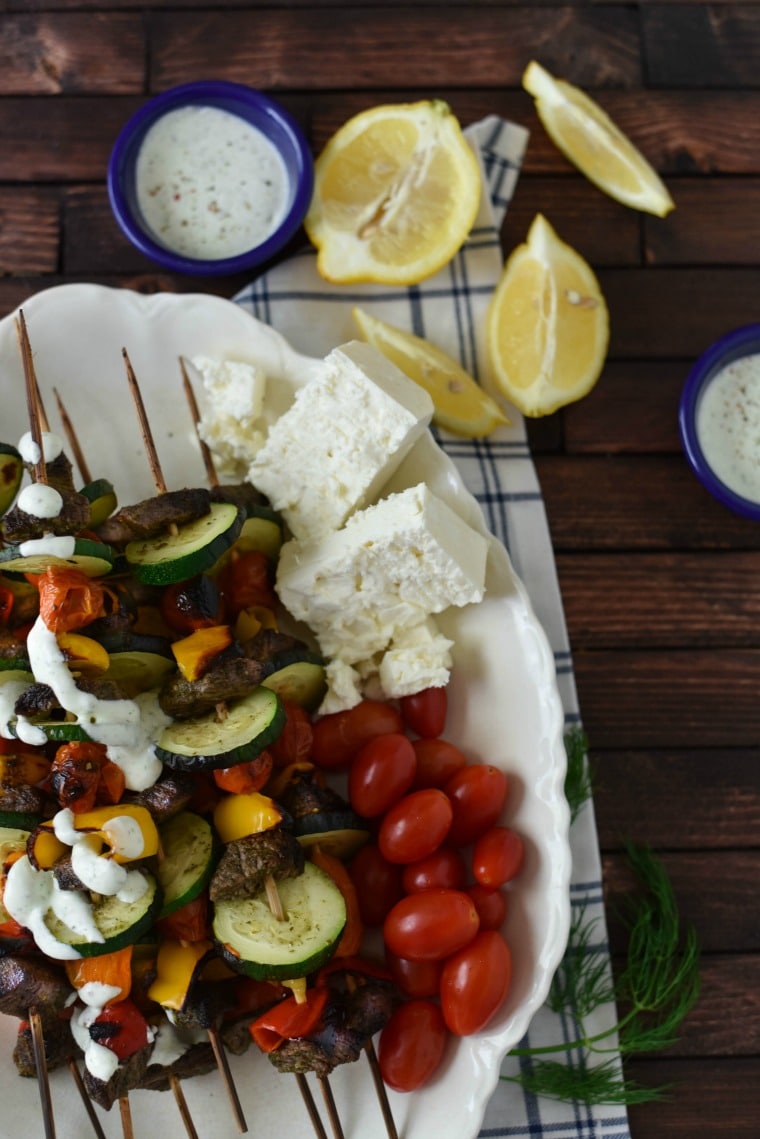 Greek Souvlaki Beef Skewers from The Gingered Whisk – This Greek Souvlaki Recipe is inspired by "The Odessey" and wanting to share Ancient Greek Culture and Recipes with my children. The Beef Kabobs are easy to make, full of colorful vegetables, and are served with an awesome feta and dill dipping sauce!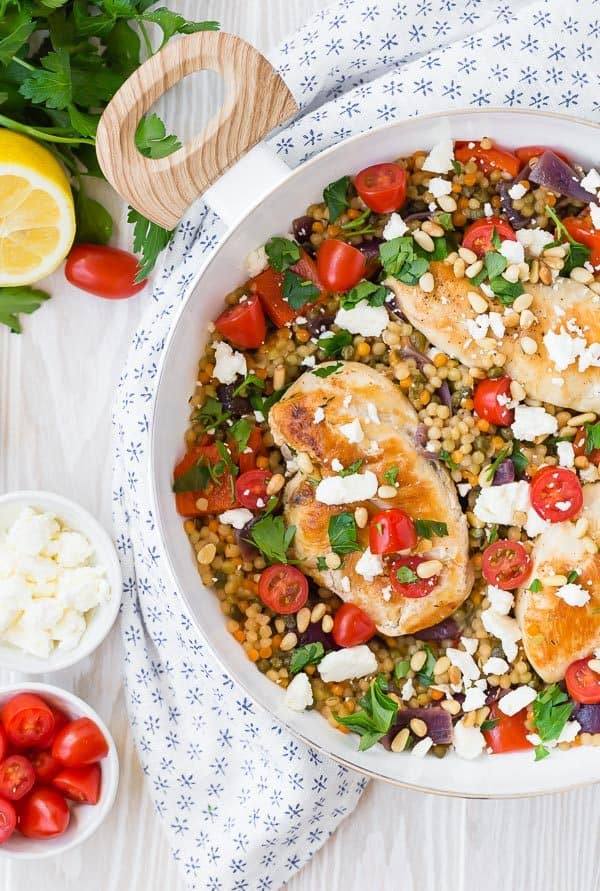 One Pan Mediterranean Chicken and Isreali Couscous from Rachel Cooks – This One Pan Mediterranean Chicken and Israeli Couscous is a complete meal made in one pan. The flavors are bright and flavorful, and it's going to become one of your go-to recipes!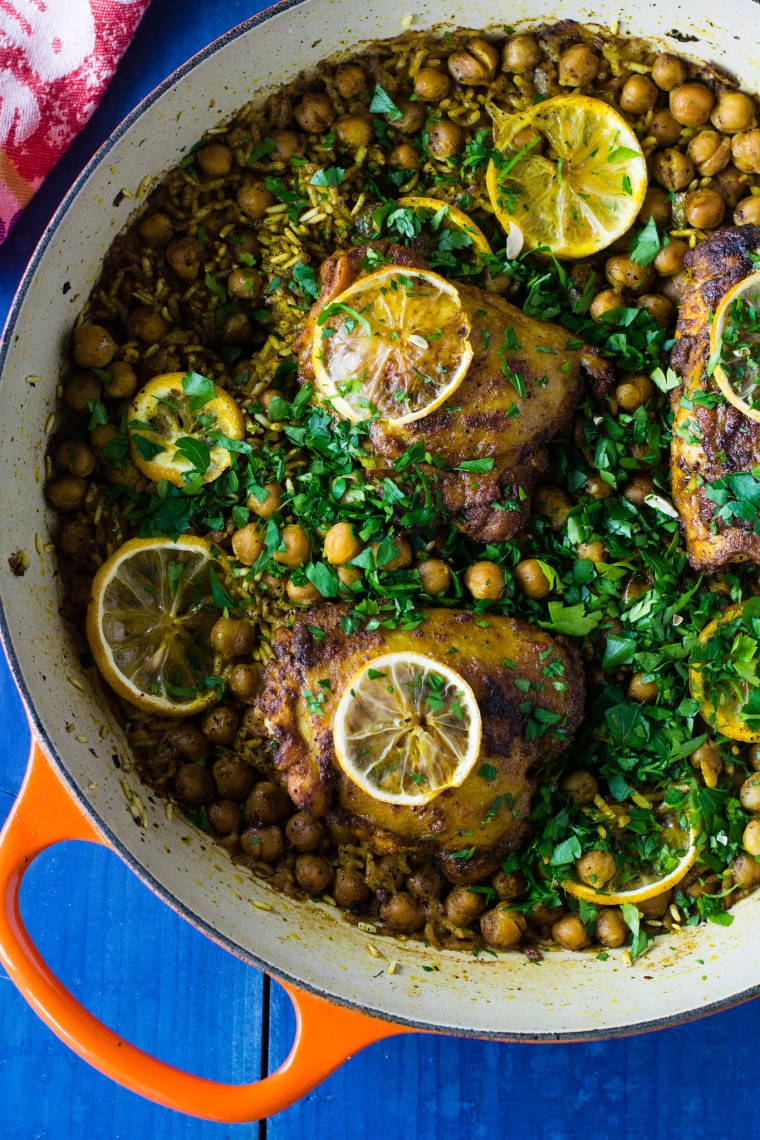 One Pot Lemon Chicken with Rice and Chickpeas from Little Ferraro Kitchen – This flavorful one pot recipe is ready in 30 minutes!
Baked Ratatouille and Rosemary Chicken Sheet Pan from The Gingered Whisk – This easy baked ratatouille sheet pan meal is perfect for late summer produce. Ready in under 40 minutes and kid friendly, this Ratatouille with Rosemary Baked Chicken is ready in under 40 minutes and your children will love trying this Cinderella inspired recipe!
Easy Chicken, Chorizo and Shrimp Paella from Iowa Girl Eats – Easy Chicken, Chorizo and Shrimp Paella is a gluten-free, 1-skillet dinner recipe that's simple yet anything but ordinary.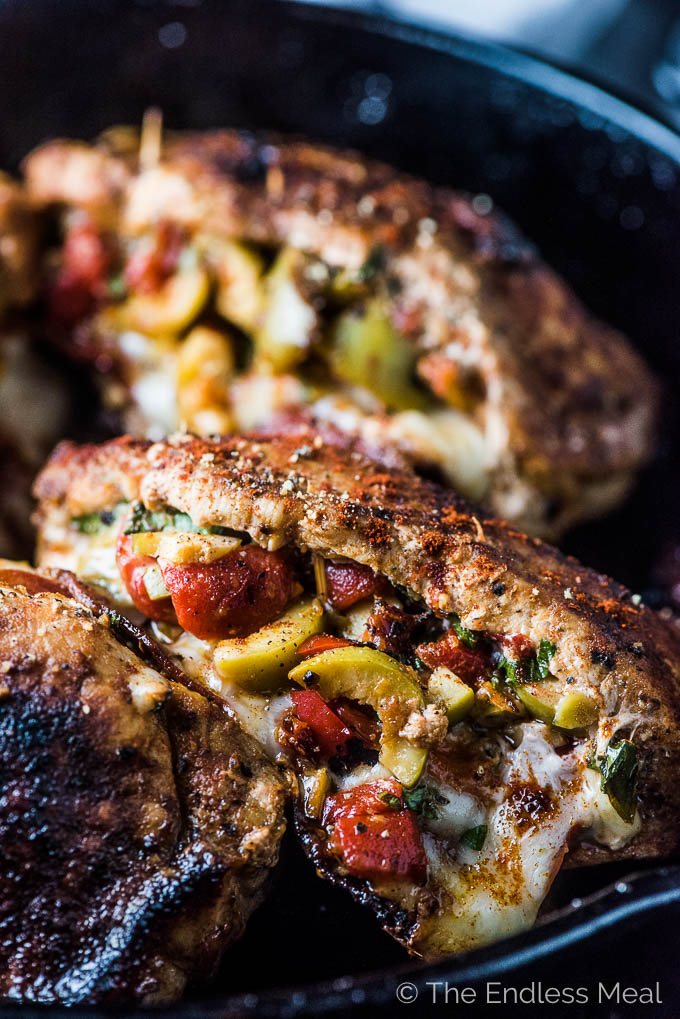 Stuffed Spanish Pork Chops from The Endless Meal – Stuffed Spanish Pork Chops are filled to the brim with roasted red peppers, sun dried tomatoes, chorizo, and juicy Gordal olives from Spain. They're an easy to make (and healthy!) dinner recipe that everyone will love!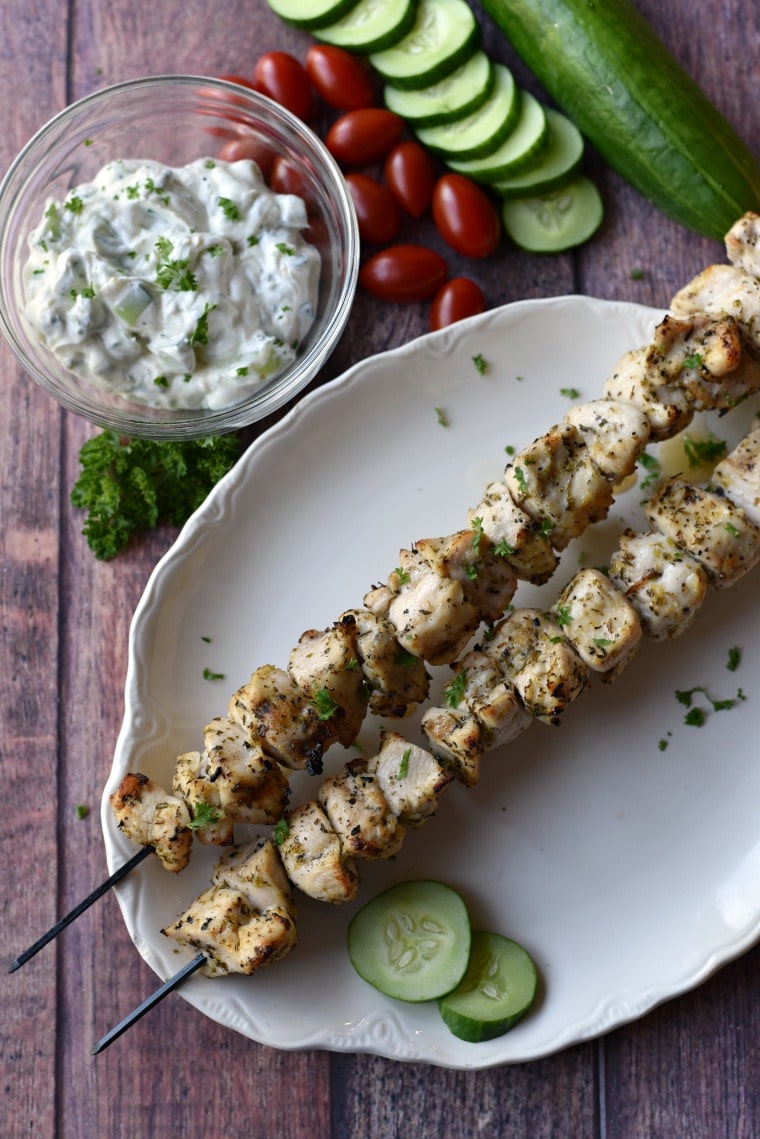 Easy Greek Grilled Chicken Kebabs from The Gingered Whisk – This easy grilled greek chicken recipe is perfect for busy weeknights! Just a few simple ingredients and 30 minutes and you have a meal your family will love!
Moroccan Salmon and Apricot Couscous Salad from Lean Green Nutrition Fiend – This Moroccoan Salmon is full spiced and perfectly cooked. Pair it with a refreshing and light couscous for a full meal that will have your taste buds traveling to Morrocco with barely any work!
Greek Pasta Skillet with Burst Cherry Tomatoes from Flavor the Moments – This high protein pasta meal is on the table in 25 minutes!
I hope you enjoyed this round up! If you enjoyed this, you might enjoy my other easy 30 minute meals – you can see the whole collection here.