Greek Meatballs and Lemon Orzo Skillet
This easy meatball skillet with lemon orzo is a great family friendly weeknight meal. Greek beef meatballs are cooked with orzo, diced zucchini and tomatoes and sprinkled with fresh dill and fresh lemon juice. This 30 minute meal is flavorful and easy!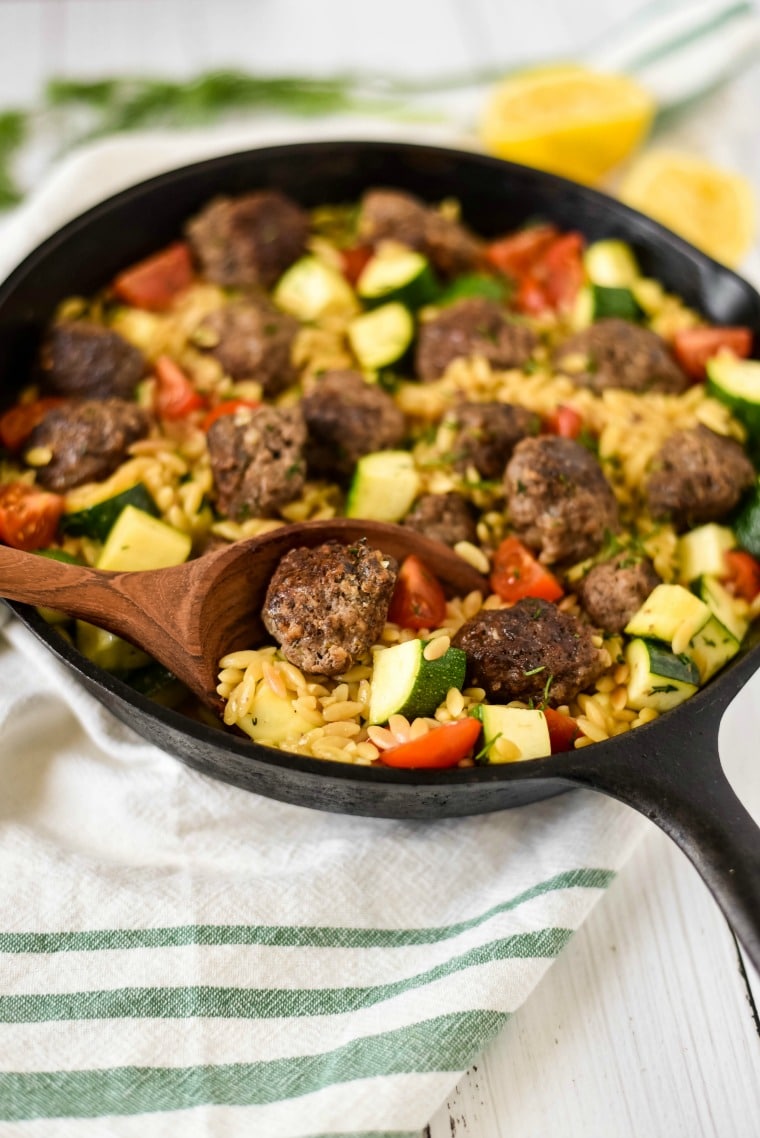 Thank you to Iowa Beef Industry Council on behalf of the Iowa State Beef Checkoff Program for sponsoring this post. And Thank You for supporting the brands that support me and allow me to continue to grow my blog. All opinions, recipe and photographs are my own.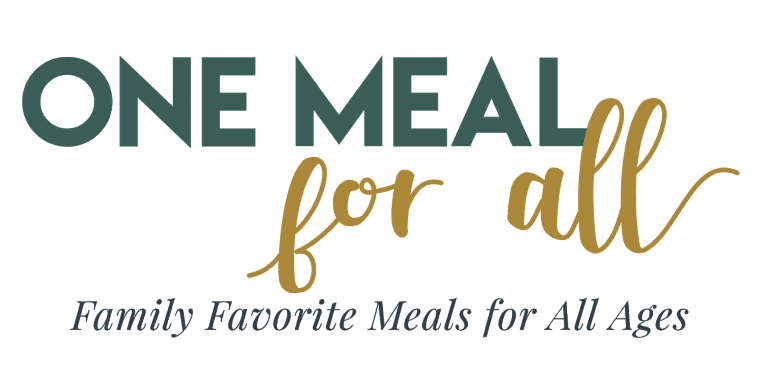 Each time my kids graduate from baby food purees to table food, I have a momentary freak out of "what the heck do I feed this baby?!" before I remember that they can eat just about everything that we do – as long as we are mindful to cook healthy, nutritious meals.
Its actually not that hard to cook meals that are perfect for the whole family, as long as you pay attention to what ingredients you are using.
Always use the best quality you can

Keep the salt to a minimum (baby kidneys can't metabolism it as well as ours)

R

emember to keep it nutritious as you can.
Our weeknights have been super crazy lately – between after school activities for the girls and after work meetings for my husband, dinner has to be planned out extremely well or its the drive through for us.
Other healthy beef recipes for families with babies: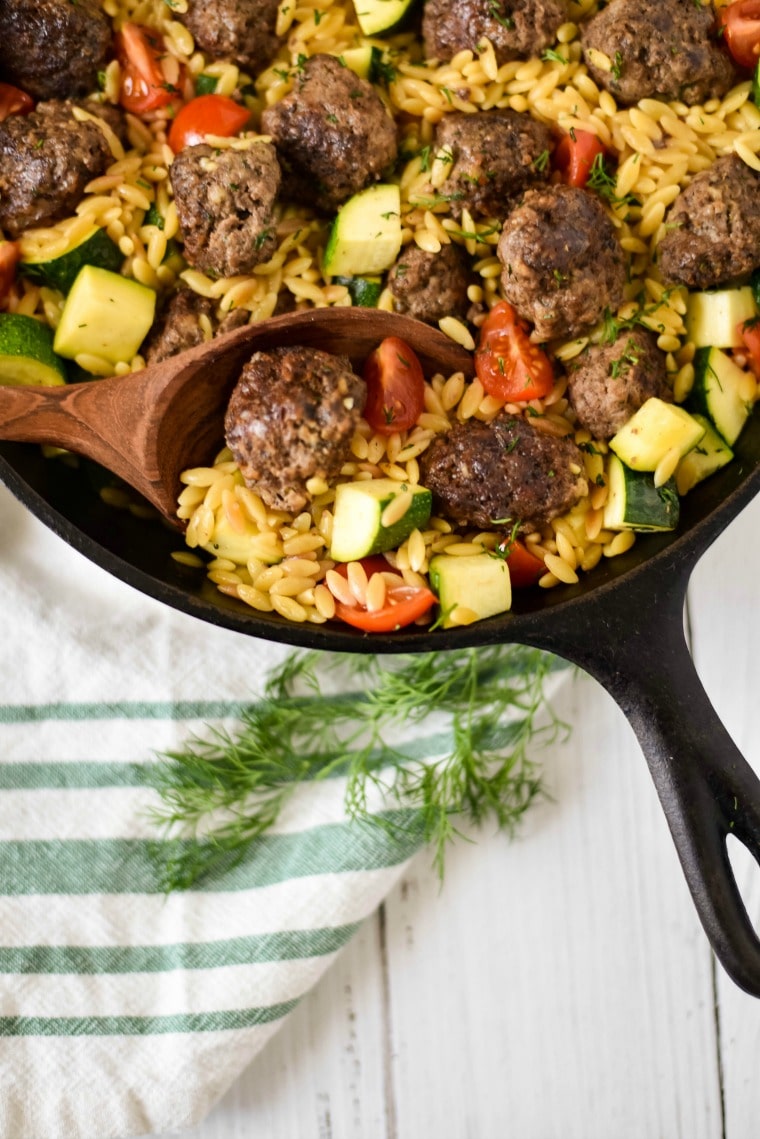 How to make homemade meatballs
Meatballs are one of our favorite meals to make. Not only can you do sooo much more with them than spaghetti, but they have to be one of the most kid friendly foods out there. These greek meatballs are definitely easy, kid friendly meatballs!
When it comes to making meatballs, using ground beef is one of my favorites – its flavorful, its versatile, its cheap, and it's packed with nutrients like protein, iron, and zinc. Its a perfect nutritious food to use for recipes to feed babies and toddlers (and adults, too!).
Tips to make the best homemade meatballs

:
You want to use ground beef with some fat in there – the fat adds flavor! I usually go for 15% fat content, or 85/15. As long as you stay within 10-20% fat content, you will be good to go. If you have too much fat, the meatballs will be too greasy, and if you do not have enough fat, the meatballs will be dry.

Don't overmix your meatball mixture or they will be tough.

Use a skillet that is large enough so your meatballs aren't crowded. They need plenty or room to properly brown and get nice crispy edges!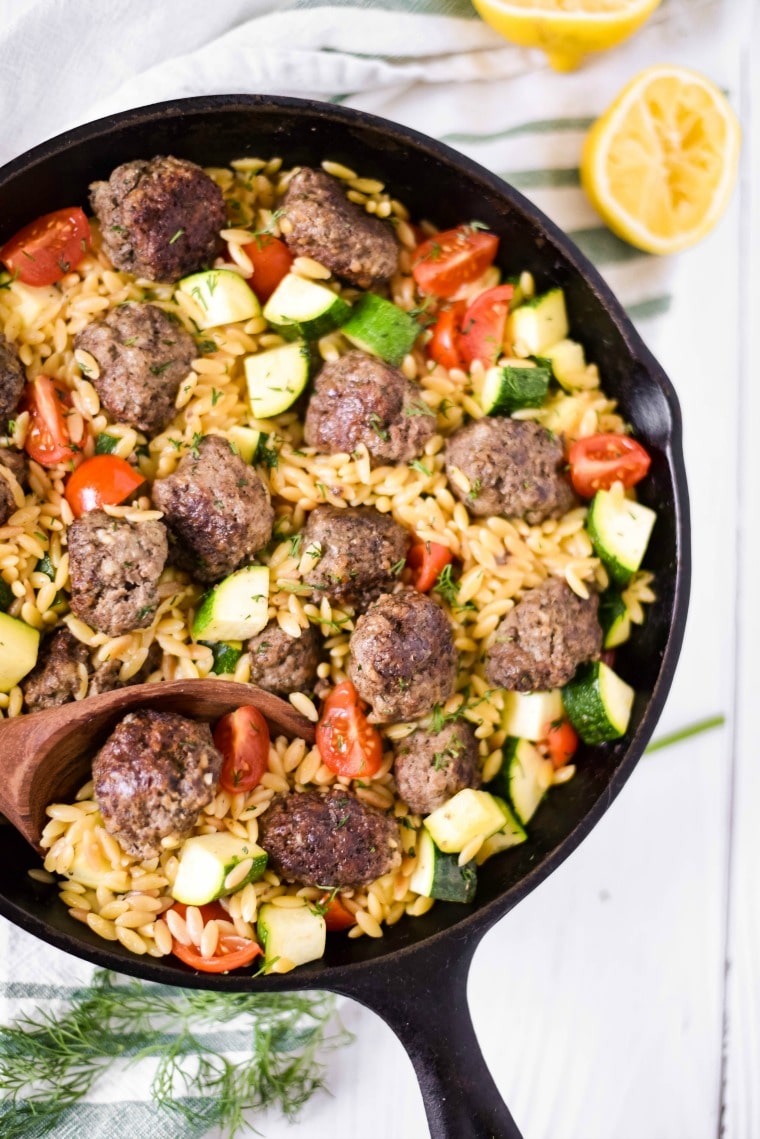 How to serve Greek meatballs with lemon orzo to your family
For Babies – These Greek meatballs are an awesome ground beef recipe for baby! To serve the meatballs to babies, make the recipe as directed, and when it is time to eat, dice the meatball into very small pieces. The zucchini and tomato can also be diced into small pieces depending on the needs of your baby, and the lemon orzo can be served as is.
For Toddlers – Try "deconstructing" the greek into different piles – meatballs, lemon orzo, and veggies all in their own separate pile. Sometimes food touching other food can be overwhelming for kids, so to minimize this, just separate it all out.
For Older children and Adults – Older kids and adults can enjoy this meal as is, or with an extra generous sprinkling of fresh dill.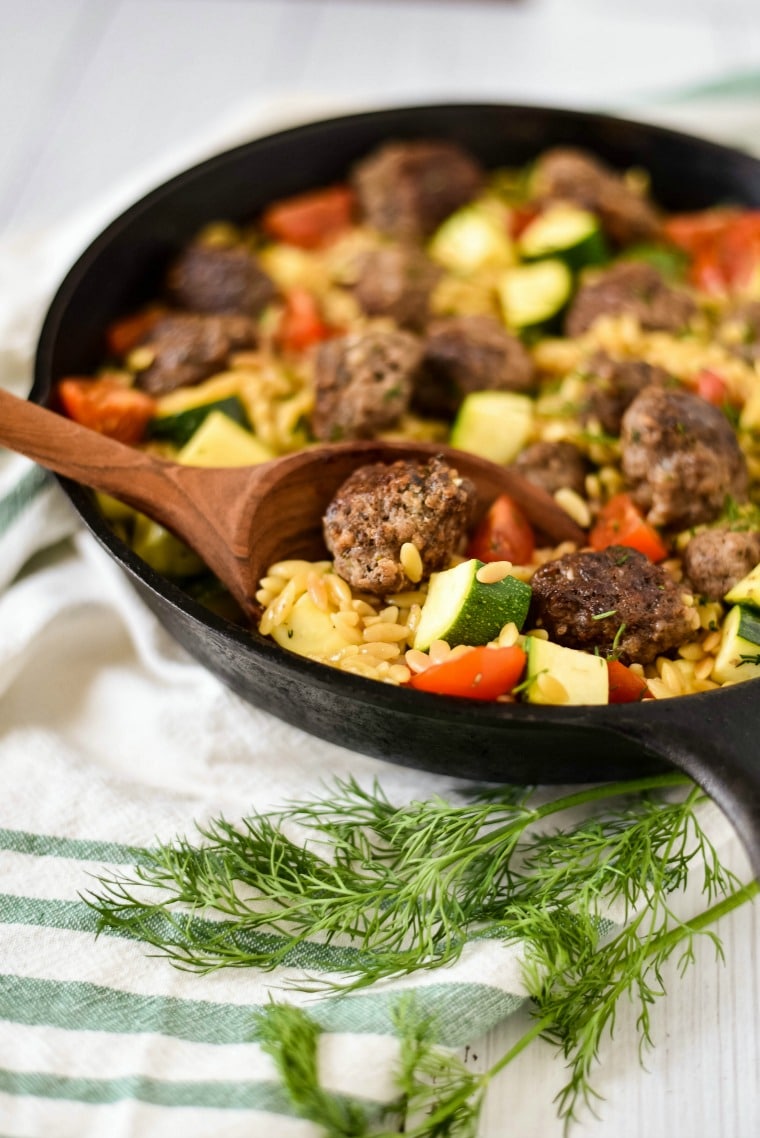 How you can prepare these meatballs and orzo ahead of time
This meatball skillet meal can be prepared ahead of time either as a whole recipe in its entirety or in parts.
The meatballs can be made up to two days ahead of time. You can then simply reheat it when it is time to eat.

Zucchini can be cut up to 12 hours earlier. Just cover them with a damp paper towel and place in a plastic bag in the refrigerator until you need them. The tomatoes should be left until its time to cook, though.

To make these meatballs cook faster, you can get out all of the necessary ingredients and tools you need before you start cooking, as well as measuring out your ingredients ahead of time.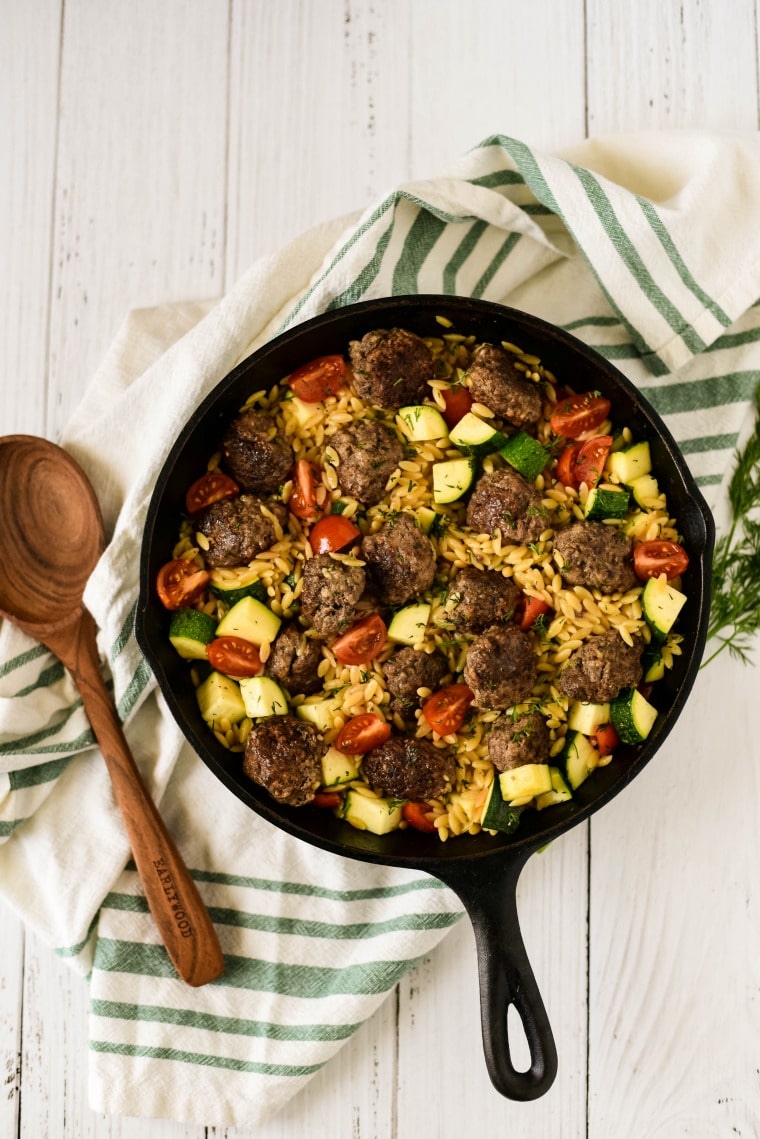 How Your Kids Can Help in the Kitchen:
Kids aged 1-3

can help you measure everything, plus pick the dill leaves off the stems, wash the veggies, and juice the lemon.

Kids aged 4-6

can help do everything above, plus help you slice the zucchini and cherry tomatoes.

Kids aged 7-10+

can help do everything above, plus help you mix and shape the meatballs.
*Please note that these recommendations are generalized, and to please use your personal discretion with your child's skill level. And always, always supervise! Read more about how to have your children help you in the kitchen.
Food tastes better when its shared! If you try this recipe, let me know! Leave a comment and rate below! Love and links are always appreciated! If you'd like to share this post, please link to this post directly for the recipe, please do not copy and paste or screenshot. Thanks so much for supporting me! xoxo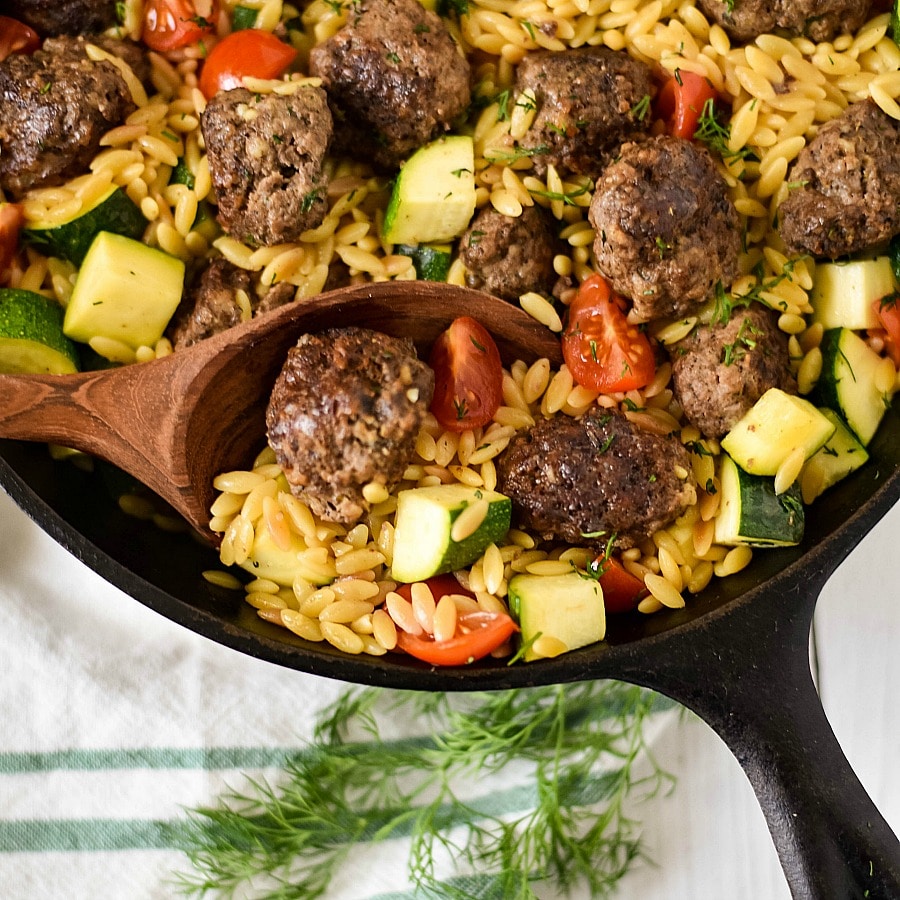 Greek Meatballs and Lemon Orzo Skillet
This easy greek meatball skillet with lemon orzo is a great family friendly weeknight meal. Greek spiced beef meatballs are cooked with orzo, diced zucchini and tomatoes and sprinkled with fresh dill and fresh lemon juice. This 30 minute meal is flavorful and easy!
Print
Pin
Rate
Ingredients
1

lb

ground beef

¼

cup

panko breadcrumbs

2

tsp

salt free greek seasoning

1

clove

garlic

minced

1

egg

¼

tsp

pepper

1

Tablespoon

olive oil

1 ¼

cup

orzo pasta

2

cups

unsalted chicken broth

1

medium zucchini

quartered and sliced

½

cup

cherry tomatoes

quartered

1

Tablespoon

lemon juice

¼

cup

fresh dill

chopped
Instructions
Preheat the oven to 350F.

In a large bowl mix together the ground beef, panko breadcrumbs, greek seasoning, garlic, egg and pepper. Mix until just combined, but do not overmix.

Form the meat mixture into balls using about 2 Tablespoons of meat mixture for each meatball.

Heat a large cast iron skillet over medium-high heat with 1 Tablespoon olive oil.

Place the meatbals into the skillet in an even layer with some space in between. Cook the meatballs for 3-4 minutes per side, until nice and browned all over. If you need to, cook the meatballs in two batches.

Turn off the heat on the stovetop.

Add in the orzo and chicken broth to the skillet. Give it a slight, careful stir to make sure the orzo is evenly distributed.

Cover with a lid or foil and place in the oven to bake for 10 minutes.

Stir in the diced zucchini, recover with lid, and bake for an additional 5 minutes.

Remove from oven and stir in the sliced cherry tomatoes, lemon juice and fresh dill.

Enjoy!