This Italian Chocolate Bread (Pane al Cioccolato) is a lovely bread to make – with a slight sourdough tang, a subtle chocolate flavor and a beautiful, open crumb. It is perfect for snacking, making french toast, or sweet sandwiches.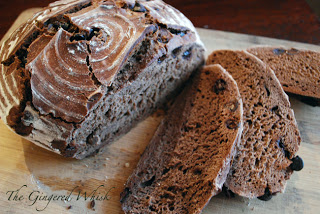 I've decided I have been way too lazy with my photo taking. The majority of the time I am hastily taking two or three photos (on my phone) before we sit down to dinner, so I know those photos are really not at their best. But everything else? I have no reason for slacking off there. I have never claimed to be a "food stylist" and I will honestly probably never buy fancy dishes and props to use. But I can at least try to remember to use the basic photography principles sometimes, and take my camera off of automatic! So, one afternoon, when Ladybug was asleep, I brought out my camera, switched it into manual mode, and starting shooting pictures. I think I did pretty good, what do you think? (hint: say yes!)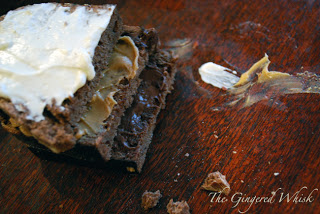 My friend Lisa of Parsley, Sage, Desserts and Linedrives was asked to be the host of Bread Baking Day #47, which is awesome for her, because, well, she is awesome. She decided since it is February that she wanted us to combine bread and chocolate this month. What can be better?! And then she had to be a darling and extend me a personal invitation to join in on the fun! Of course I had to say yes! Bread and chocolate and Lisa? Sign me up!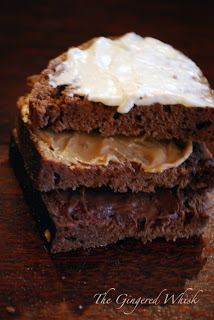 While making this bread, I wasn't quite sure how it was going to turn out. I didn't read the recipe close enough before I started and was really disappointed when I read that it needed yeast in it. Sourdough and yeast together? But I went ahead and threw the yeast in, as it was only a tiny amount. Then I was kind of worried when my dough, like, didn't rise. At all. That usually isn't a good sign, but I preservered anyway.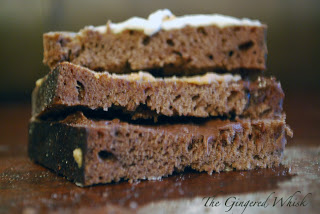 What does Pane Al Cioccolato taste like?
I was really surprised when I cut into this loaf, it has a nice crumb, and it was really soft!
By itself, the bread isn't overly chocolate tasting, it has just a tiny hint.
And it isn't really sourdough tasting, either.
But slathered with a nice layer of nutella, peanut butter, or cream cheese, this bread is heaven on a plate. Or a napkin. Or standing in the corner of the kitchen hoping the toddler doesn't see you because you don't feel like sharing.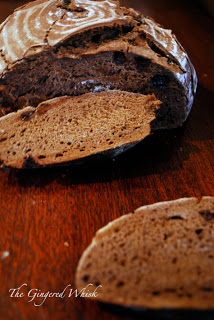 There's is nothing I love more than seeing you guys make my recipes! If you make Italian Chocolate Bread Recipe, don't forget to leave a comment below and rate the recipe!
And if you are on Instagram, tag @thegingeredwhisk and use the hashtag #gingeredwhisk on social media when you make my recipes so that I can share them and maybe even feature you. Follow along to get the latest updates:
And don't forget to subscribe to the email list to get all the extra tips, tricks and bonuses!
Want to save this for later? PIN THIS TO YOUR BREAD BOARD on Pinterest!
Pane Al Cioccolato (Apple Pie, Patis, and Pate)
Yield: 12 servings
Pane al Cioccolato (or Italian Chocolate Bread)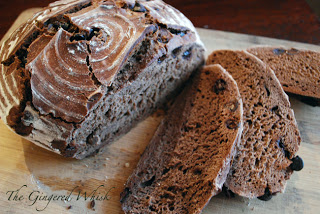 This Italian Chocolate Bread is lovely bread to make - with a slight sourdough tang, a subtle chocolate flavor and a beautiful, open crumb. It is perfect for snacking, making french toast, or sweet sandwiches.
Prep Time
13 hours
30 minutes
Total Time
14 hours
10 minutes
Ingredients
Biga Naturale (or starter):
28 grams of 50% hydration starter
32 grams (1/4 cup) bread flour
18 grams water, at room temperature
Final Dough:
All of the biga naturale
393 grams (3 cups) bread flour
248 grams (1 1/8 cups) water
71 grams (4 TBSP) honey
1 TBSP vanilla extract
25 grams (4 TBSP) cocoa powder
1/4 tsp instant yeast
10 grams (1 TBSP) kosher salt
78 grams chocolate chips
Instructions
Mix the ingredients for the biga naturale together in a bowl until everything is evenly distributed.
Cover with plastic wrap and a towel and allow to sit at room temperature for 8 hours.
In the bowl of your electric mixer, mix together all the ingredients for the final dough, except for the chocolate chips!
Knead by machine for 8-10 minutes.
Allow the dough to rest for 5 minutes.
Dump the dough out onto a lightly floured counter and knead in the chocolate chips by hand, until well incorporated.
Place the dough in a lightly oiled bowl, cover, and allow to sit at room temperature for 2 hours.
Shape into either a boule or batard (a round or an oval) and allow to sit at room temperature for 3 hours (covered).
Preheat your oven and baking vessel to 400 F.
Score your bread with a few slashes in whatever pattern you like.
Bake the bread for 20 minutes covered, rotate the loaf, and bake another 15-20 minutes uncovered.
When done, remove bread to a cooling rack and allow to cool for at least 1 hour.
Nutrition Information:
Yield:

12
Serving Size:

1 slice
Amount Per Serving:
Calories:

192
Total Fat:

2.9g
Cholesterol:

0.3mg
Sodium:

336.3mg
Carbohydrates:

36.8g
Sugar:

9g
Protein:

5.4g