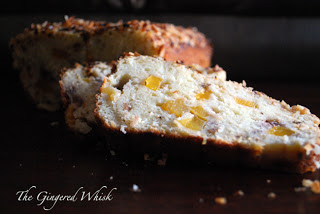 The Daring Bakers' February 2012 host was – Lis! Lisa stepped in last minute and challenged us to create a quick bread we could call our own. She supplied us with a base recipe and shared some recipes she loves from various websites and encouraged us to build upon them and create new flavor profiles.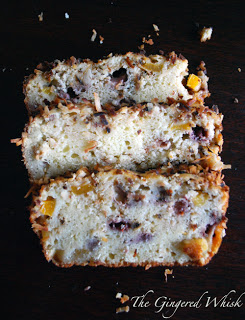 Yes! I looove quick breads! Rarely a week goes by that we don't have some soft of muffin in our house, so I was super excited when I saw this month's challenge! Something nice and easy but completely delicious! I tend to make a lot more muffins than I do breads, though, so I wanted to do an actual bread this time. After this ridiculously warm winter we have had (no snow and 50 degrees?!), and the fact that I see spring flowers peeking up from the ground, I felt spring (and summer) needed to be welcomed whole-heartedly! The delicious combination of pineapple, mango, strawberry and coconut were exactly what I needed.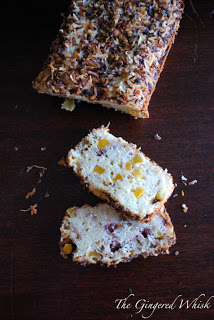 This bread is amazing! It is so soft and moist, its more cake-like than any other quick bread I have had. And it tastes like Hawaii. Or what I imagine Hawaii would taste like… if you could eat a state… I wrote the directions out as I did them – the original recipe had stuffy instructions for a stand mixer and beating each ingredient in one at a time. For me, though, a quick bread is supposed to be quick! A bowl and a spoon, people! I just don't get it when recipes are over-complicated on purpose. My only recommendation is to please please set the timer when you are toasting your coconut! Otherwise you will be happily chopping away at your fruit and suddenly think: "Mmm! Something smells good! Kind of like coconut…..Holy Crap! THE COCONUT!" Luckily I saved it seconds before it was burnt, but as you can see in the pictures it is nice and toasty!
Aloha Quick Bread (loosely adapted from Two Peas and Their Pod)
1 1/2 cups sweetened shredded coconut
1/2 cup unsalted butter, melted
1 1/2 cups flour
1/2 tsp baking soda
1/2 tsp salt
1 cup sugar
3 large eggs
1 cup sour cream
2 cups fruit – pineapple, strawberry, and mango, cut into chunks
Preheat the oven to 350.
Spread 1 cup of the coconut on a baking sheet.
Bake until lightly toasted, tossing occasionally, for 6-10 minutes.
Grease 9×5 inch loaf pan and set aside.
In a medium bowl, whisk together the flour, baking soda, and salt. Set aside.
In a large bowl, whisk together the melted butter and eggs until frothy.
Add the sugar and whisk well.
Add in the sour cream and mix until incorporated.
Using a rubber spatula, mix in the flour, being careful not to overmix.
Fold in the fruit and the toasted coconut.
Pour into the greased loaf pan.
Sprinkle the top of the loaf with 1/2 cup of coconut (the untoasted stuff).
Bake for 60-65 minutes, or until a toothpick inserted into the center comes out clean (cover with foil halfway through so the top of the bread does not burn).
Remove the bread from the oven and allow to cool in the pan for 15 minutes.
Remove the bread from the pan and allow to cool completely.
Enjoy!