This easy roasted vegetable breakfast tacos recipe makes a quick and delicious breakfast or dinner. With just 20 minutes of time and packed with nutrients and protein, this kid-approved taco recipe is an easy and quick meal the whole family will love!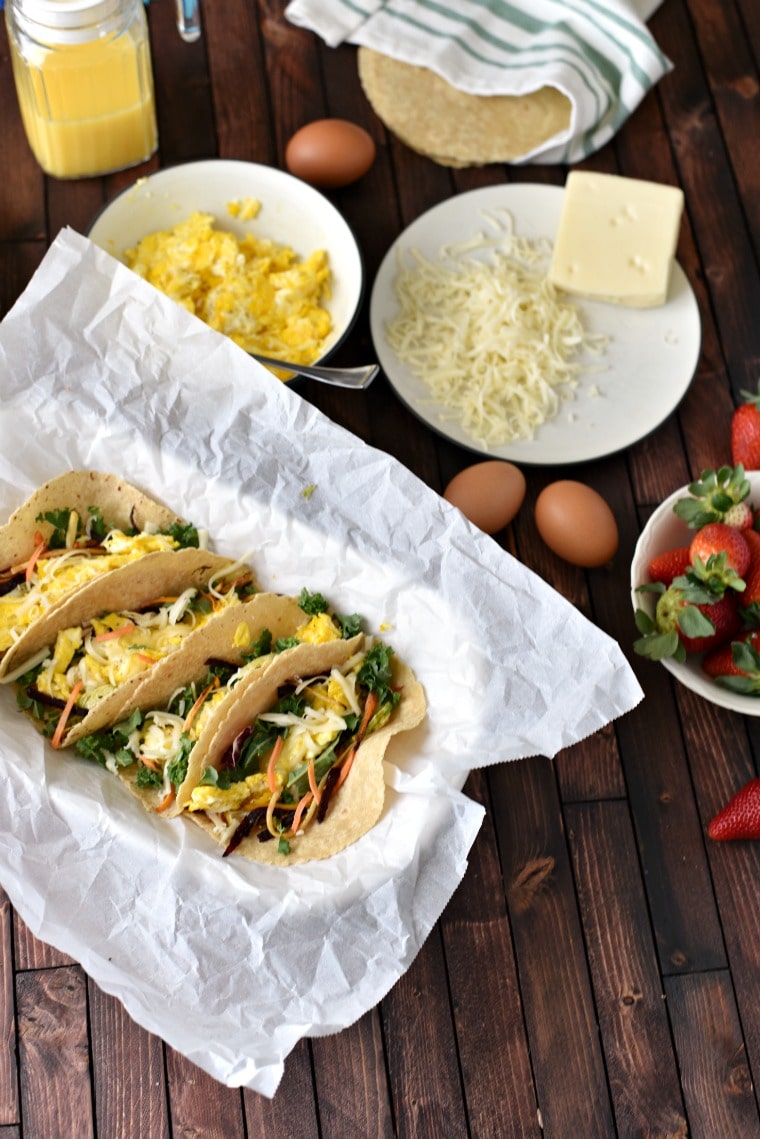 Thank you to Iowa Egg Council for sponsoring this post. And thank YOU for supporting the brands that support me and allow me to continue to grow my blog. All opinions, recipe and photographs are my own.
Is there one specific way to eat that you know will always get your kids to try something? If my kids can dunk something in a sauce, its gonna be eaten. But better yet – if it comes in the form of tacos, its culinary gold. I knew that using shredded/spirailized veggies inside a tacos would be a fun and easy way to get my kids to realized the phrase "roasted vegetables" wasn't that scary. By adding them to a dish I knew they would eat (breakfast tacos!) and making the pieces small, I knew they would be more likely to eat them.
Because saying "we are having roasted brussels sprouts, parsnips and kale for dinner!!!" might be met with a "that's disgusting" face, but telling them we are having breakfast tacos with rainbow veggies would go down without a hitch!
These roasted root vegetable breakfast tacos are an easy and delicious meal that is not only healthy, but one that your family will love as well! The filling is easy to make and filled with beets, brussels sprouts, butternut squash, carrots, and parsnips!
Ok, I see the look on your face – you are seriously doubting that kids will eat this, that it is really is easy, and that it tastes great. But trust me on this, ok? I've got some easy tips on how you can make this super quick and easy. The roasted veggies combine with a hint of thyme and sage and are roasted to perfection. There are some crunchy, crispy bits, some lovely flavors, and a gorgeous array of colors. Layer that on top of a bed of baby kale leaves, and top of all off with soft scrambled eggs and some freshly grated fontina cheese, and you have yourself a healthy and delicious meal!
(Check out my tips in How to Raise Adventurous Eaters to discover even more awesome tips to get your kids to try more foods!)
Incorporating eggs into our meals is an easy and effortless way to make sure my kids get great nutrition! And I love serving them for all meals of the day – we don't keep eggs for breakfast, but use them for easy lunches, quick dinners, and even snacks, too!
When you want healthy, all-natural food that will keep you feeling fuller and energized, eggs are where its at! Eggs are a high quality source of protein (6 grams per egg!), and have 13 essential vitamins and minerals, 9 essential amino acids, unsaturated fats and antioxdants – all for 70 calories per egg. No matter if you are trying to get back on track after the holidays or you just want to infuse more easy and healthy meals into your kid's preferred meals, eggs are an excellent choice!
For more information on how awesome eggs are, and to find more recipes that use them, check out the Iowa Egg Council's website or visit them on Facebook!
Roasted Vegetable Shortcuts
This easy and quick breakfast tacos recipe is a cinch to throw together – especially if you use a few grocery store hacks!
Buy your vegetables pre-shredded or spiraled if you can – Not only will it save you a ton of time in preparing the vegetables, but you can also roast a big bunch at one time that you can use all week in salads, as are easy side dish, or  over eggs.
I was able to find the brussels sprouts and carrots pre-shredded, and I bought a mix of spiralized parsnips and butternut squash, which left me only the beets that I needed to cut. I even bought the kale pre-washed and cut into bite sized pieces.
My girls loved that they were able to help with essentially every step of this (except for the julienne of the beet, I kept that task for myself) meal.
Get your Kids in the Kitchen
Children aged 0-3  can help pick out the ingredients at the store, measure the seasoning, and help set the table.
Children aged 4-7 can help crack and scramble eggs, shred the cheese, and prep the vegetables.
Children aged 8-12 can help can help cook the eggs, julienne the vegetables, and help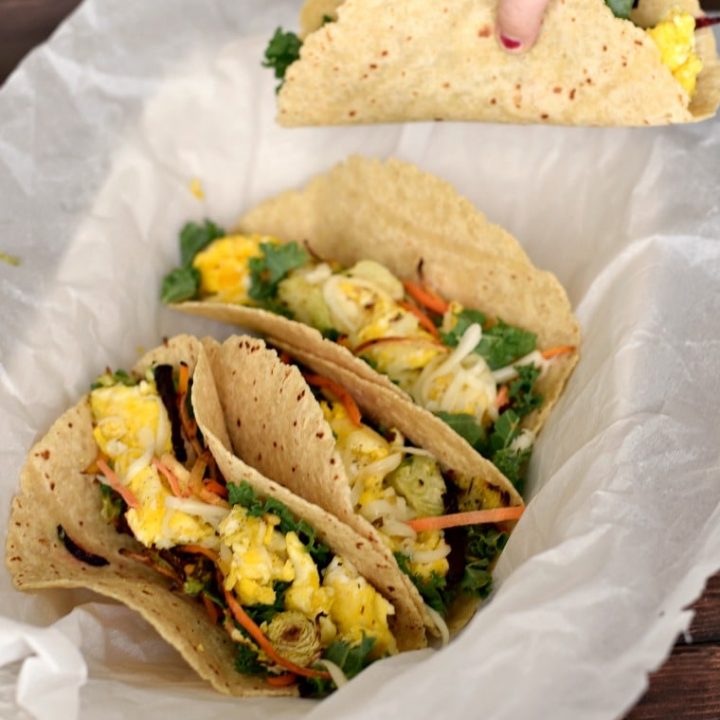 Roasted Vegetable Breakfast Tacos
These easy roasted vegetable breakfast tacos make a quick and delicious breakfast or dinner. With just 20 minutes of time and packed with nutrients and protein, this kid-approved taco recipe is an easy and quick meal the whole family will love!
Ingredients
For Roasted Vegetables:
2 beets
2 medium carrot
12 brussels sprouts
2 medium parsnip
1/2 butternut squash
2 TBSP EVOO
salt/pepper to taste
1/2 tsp dried thyme
1/2 tsp dried sage
For Serving:
6 eggs, scrambled (or fried or poached!)
8 soft corn tortillas
1.5 cups torn baby kale leaves
2 cups shredded fontina cheese
Instructions
Preheat oven to 425
Spiralize the carrots, parsnips and butternut squash and then cut into smaller sections.
Shred the brussels sprouts, chop the kale, and julienne the beets.
Place all the veggies onto a rimmed baking sheet. Sprinkle with salt, pepper, sage, thyme and olive oil and toss to coat.
Roast for 10 minutes.
While the veggies are roasting, make the scrambled eggs. Crack the eggs into a medium sized bowl and whisk with a fork.
Pour the whisked eggs into a warm skillet and cook, stirring occasionally, over medium-low heat until cooked through. Season with salt and pepper to taste.
Assembly:
For each taco, layer the fresh torn kale, roasted vegetables, scrambled eggs and shredded fontina cheese into a soft corn shell and enjoy!
Notes
Use bagged preshredded brussels sprouts and kale and pre-spiralized carrots, parsnips and butternut squash that you can find in the produce section of your local grocery store
Nutrition Information:
Yield:

4
Serving Size:

1
Amount Per Serving:
Calories:

635
Total Fat:

38g
Saturated Fat:

16g
Trans Fat:

1g
Unsaturated Fat:

20g
Cholesterol:

323mg
Sodium:

697mg
Carbohydrates:

47g
Fiber:

10g
Sugar:

10g
Protein:

31g
Looking for other awesome way to use eggs? Try these recipes:



SaveSave