This curried egg salad is about to become your new favorite way to use leftover hard boiled eggs! Packed with healthy ingredients and amazing flavor, this takes your regular egg salad sandwich and kicks it up a notch!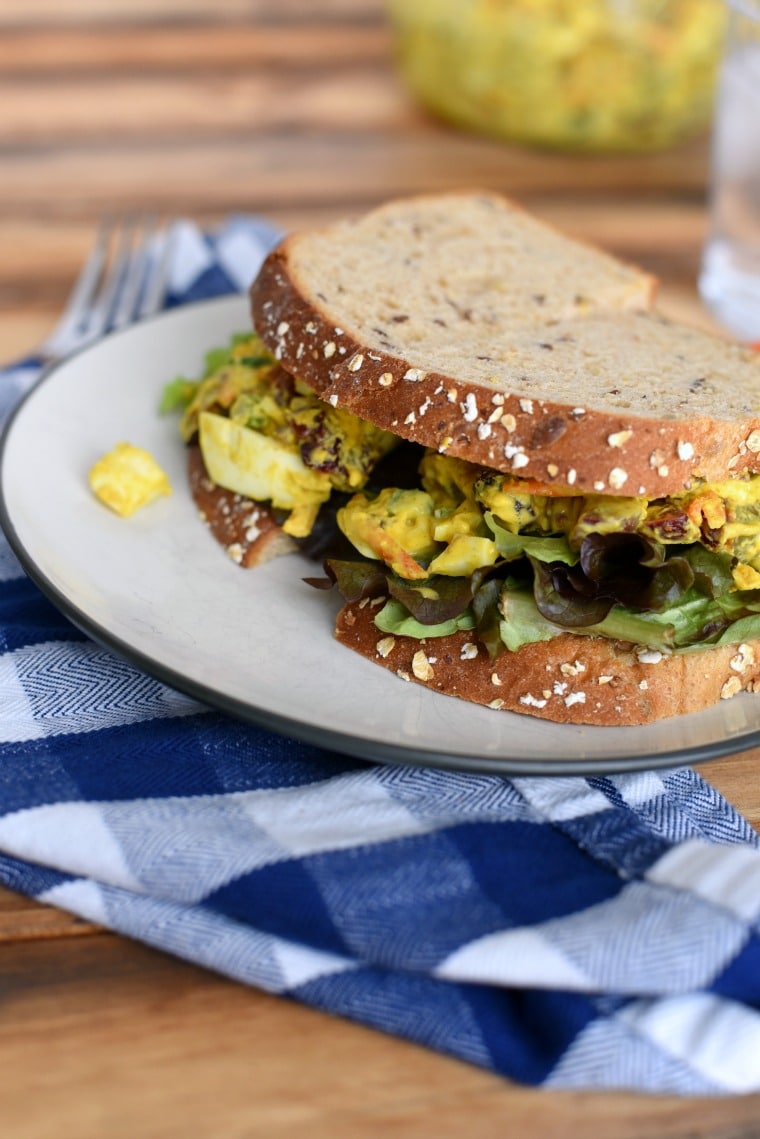 Thank you to the Iowa Egg Council for sponsoring this post. And thank YOU, dear reader, for supporting the brands and companies that support me and allow me to continue to grow my blog. All opinions, recipe and photographs are my own.
Interested in other great eggs for dinner recipes? Try:
Pulled Pork Bahn Mi – This Banh Mi Recipe uses leftover pulled pork and is an easy weeknight meal the whole family will love. Crispy Bread is slathered in a spicy lime tahini mayo (its not too spicy for the kids, though!), a quick pickled vegetable slaw, and a gorgeous runny egg. It's the weeknight meal you have been dreaming of!
Roasted Vegetable Breakfast Tacos – This easy roasted vegetable breakfast tacos recipe makes a quick and delicious breakfast or dinner. With just 20 minutes of time and packed with nutrients and protein, this kid-approved taco recipe is an easy and quick meal the whole family will love!
Easy Shakshuka Recipe – Shakshuka is a flavorful Middle Eastern breakfast recipe that is perfect for dinner. Eggs poached in a homemade tomato sauce and topped with crumbled feta cheese and cilantro, and served with crusty bread. This easy shakshuka recipe is a flavorful and quick meal that uses eggs for dinner!
If your family is like mine, and makes about 12x more easter eggs than you could ever possible need, then this recipe is totally what you need in your life. This isn't your typical egg salad recipe – its packed with flavor and studded with way fun and healthy ingredients!
My entire life I have only ever known the egg salad my mom makes. I have always been kind of finicky about mayo based "salads" – chicken salad, egg salad, macaroni salad, potato salad, ok, you get the point… There are literally 10 thousand different ways to make a "salad" type recipe, and the addition of a something as simple as pickle juice or the wrong brand of mayo can totally make or break a recipe. But this recipe totally breaks the mold of a traditional egg salad!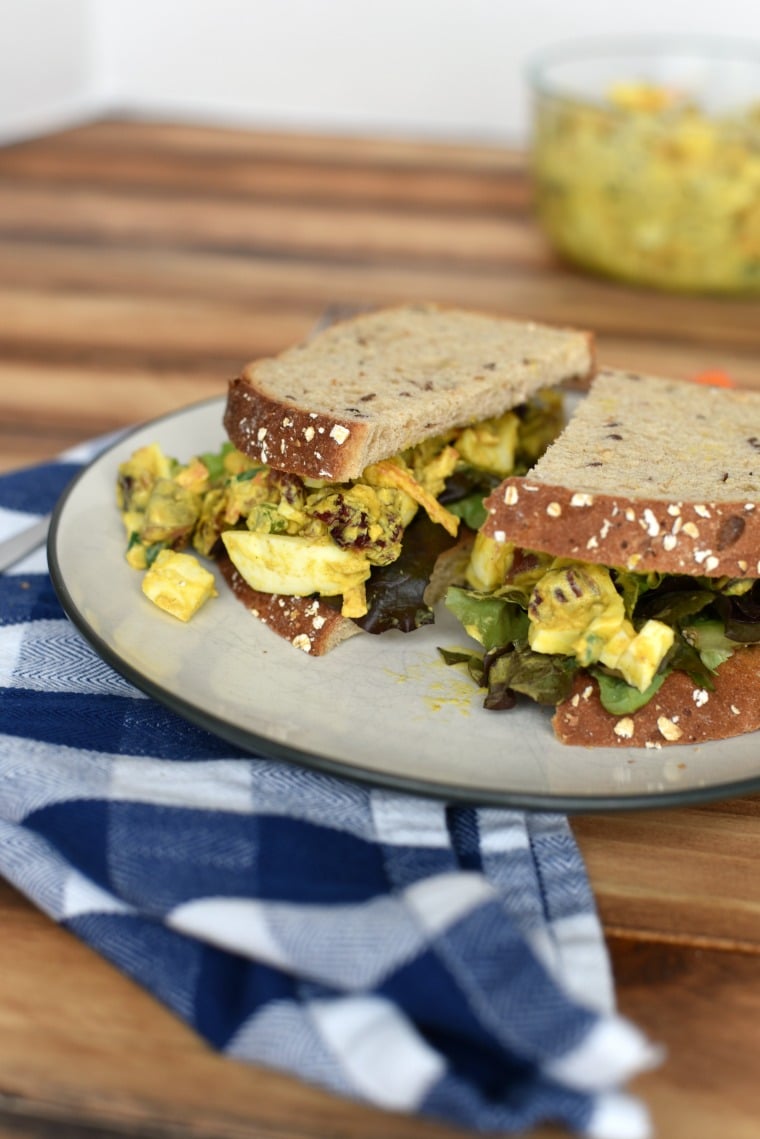 Not only does this recipe taste amazing, but its so dang healthy it should be labeled as a superfood. Eggs contain 6 grams of protein and also have tons of choline (which is important for cell activity, liver function, transportation of nutrients throughout the body and is vital for the development of an infant's memory functions). Replacing the traditional mayonnaise with plain greek yogurt adds even more protein power, probiotics, and calcium. Turmeric (affiliate link) has anti-inflammatory properties and is also a strong antioxidant. The shredded carrots bring beta-carotene, fiber, and a ton of vitamins to the table, and the pecans bring some awesome healthy un-saturated fat to help lower bad cholesterol. And cranberries have been shown to improve your immune function, decrease your blood pressure and help with UTI's.
See? Super food for super moms!
*Notes about Hard Boiled Eggs:
Make sure to allow plenty of time for the eggs to cool before you peel them. They are much easier to peel when cool!
Place hard boiled eggs in the fridge within 2 hours of boiling
Hard boiled eggs can safely be kept in the fridge for up to 7 days
That slightly green ring you see around the yolk of a hard boiled egg? That is a harmless reaction between the sulfur in the egg white and the iron in the egg yolk. It means the egg was cooked for too long or at too high a temperature!
Check out Iowa Egg Council on Pinterest for even more awesome recipes (seriously, some great recipes on there!). Also head on over and check them out on Facebook for recipes, videos, great information, and fun tips/tricks!
Need some lunch inspiration? Try these easy and flavorful ideas:
Grilled Turkey Apple Sandwich

– Give a boring grilled cheese the boot. This easy sandwich is packed with fun and unexpected flavors. With tender turkey, crisp apples, sharp cheddar cheese, and tangy mango chutney, this salad is what your lunch bread deserves!

Apple, Brie, and Arugula Quesadillas

– This Apple, Brie and Arugula Quesadilla is a perfect easy quick lunch recipe for when you want something a little different!
Curried Egg Salad
This curried egg salad is about to become your new favorite way to use leftover hard boiled eggs! Packed with healthy ingredients and amazing flavor, this takes your regular egg salad sandwich and kicks it up a notch! 
Print
Pin
Rate
Ingredients
6

eggs

½

cup

plain greek yogurt

1

TBSP

lemon juice

1

tsp

maple syrup

2

tsp

curry powder

½

tsp

ground turmeric

¼

tsp

sea salt

½

cup

grated carrot

3

green onions

chopped

½

cup

dried cranberries

1

cup

quartered red seedless grapes

⅓

cup

chopped pecans

*Serve with crackers

on bread/toast, or in a lettuce wrap
Instructions
Carefully place eggs in a large pot with a lid.

Fill with just enough cold water to cover the eggs by 1 inch.

Heat over high heat until just boiling.

Remove the pan from the burner and cover with a lid.

Allow to sit for 12 minutes (for large eggs, extra large eggs need 15 minutes).

Drain the hot water out and refill the pot with cold water and ice and allow to cool completely (you might need to change out the water/add more ice as needed to keep the water cold).

When the eggs are cool, gently tap them on the counter to crack the shells and then remove the peel.

Run under cool water to remove all traces of shell.

Slice eggs in half and place the yolks in a large bowl.

Using a fork, mash the yolks until they are all crumbs.

Mix in the greek yogurt, lemon juice, maple syrup, curry powder, ground turmeric and sea salt until well combined.

Chop the egg whites and toss them into the bowl as well as the carrot, green onion, cranberries, grapes, and pecans.

Mix until combined.

Enjoy on bread, with crackers, or with lettuce wraps.
Notes
Nutritional Information does not include what you serve it on (bread, crackers, etc!).
Make sure to place hard boiled eggs in the fridge within 2 hours of cooking, and store in an airtight container in the fridge for 3-4 days.
Nutrition
Serving:
1
g
|
Calories:
339
kcal
|
Carbohydrates:
33
g
|
Protein:
19
g
|
Fat:
16
g
|
Saturated Fat:
3
g
|
Polyunsaturated Fat:
11
g
|
Cholesterol:
292
mg
|
Sodium:
372
mg
|
Fiber:
4
g
|
Sugar:
25
g
Save
Save