Pulled Pork Banh Mi Recipe
Who doesn't love a messy sandwich? This Bahn Mi Recipe uses leftover pulled pork and is an easy weeknight meal the whole family will love. Crispy Bread is slathered in a spicy lime tahini mayo (its not too spicy for the kids, though!), a quick pickled vegetable slaw, and a gorgeous runny egg. It's the weeknight meal you have been dreaming of!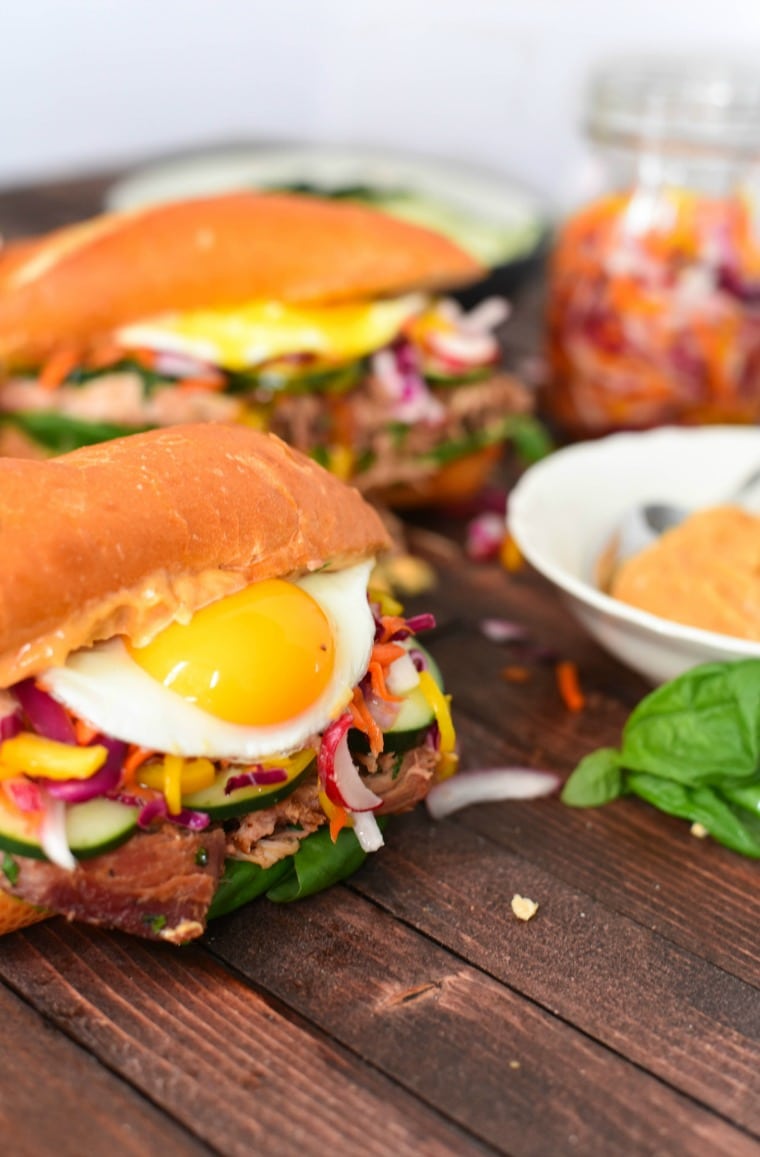 Thank you to The Iowa Egg Council for sponsoring this post. And Thank you for supporting the brands that support me and allow me to continue to grow my blog. All opinions, recipe and photographs are my own. #PutAnEggOnIt!
Is there anything better than a messy sandwich? The kind where you aren't quite sure how to eat it, yet you know you need to? This sandwich is exactly that – drippy, messy, and oh-so delicious!
Kids and adults alike love a meal where they are totally allowed to get down-right dirty! With a few shortcuts, this meal comes together lightning fast (keep reading to find some easy tips!), and is packed with so much great nutrition and flavor that no one will guess how easy it was to prepare.
It is just the kind of sandwich recipe you need to add a little foodie-flair in your weeknight meal routine!
Interested in other great eggs for dinner recipes? Try:
Easy Shakshuka Recipe – Shakshuka is a flavorful Middle Eastern breakfast recipe that is perfect for dinner. Eggs poached in a homemade tomato sauce and topped with crumbled feta cheese and cilantro, and served with crusty bread. This easy shakshuka recipe is a flavorful and quick meal that uses eggs for dinner!
Roasted Vegetable Breakfast Tacos – This easy roasted vegetable breakfast tacos recipe makes a quick and delicious breakfast or dinner. With just 20 minutes of time and packed with nutrients and protein, this kid-approved taco recipe is an easy and quick meal the whole family will love!
Easy Greek Yogurt Curried Egg Salad Recipe – This curried egg salad is about to become your new favorite way to use leftover hard boiled eggs! Packed with healthy ingredients and amazing flavor, this takes your regular egg salad sandwich and kicks it up a notch!
Pulled Pork Bahn Mi Sandwich with Pickled Slaw, Lime Tahini Mayo and An Egg
One truth holds to be self-evident in my house-hold, and that is that my children will always, always eat eggs. Using this knowledge, I often use eggs in fun and unique ways that stretch the boundaries of "normal" food for my kids. Serving the same thing day after day gets totally boring for me. I crave new recipes, fun flavors, and different textures. And one way that I slowly ease fun and new foods that excite me but don't scare them into our weekly meal plan is to combine foods I know they love and trust with something a little bit different then they are used to.
Take this sandwich for example – Eggs (check), bread (check), and leftover pulled pork (check). Adding in a quick pickled veggie slaw in rainbow bright colors adds a fun new flavor, crunchy texture, and introducing a little bit of tahini with the smallest bit of sriracha ever just ever so slightly pushes their boundaries.
May just so happens to be National Egg Month, and I am so excited to partner with the Iowa Egg Council to create this easy and healthy weeknight meal that highlights how eggs can be used in fun and creative ways (and not just for breakfast!)! I love the idea of "putting an egg on it" because that egg is like that extra little sparkle that really makes a recipe stand up and shine. From ramen to waffles, there's not much that won't be that much better by putting an egg on it!
Bahn Mi Bahn Mi Sandwich Shortcuts
Use leftover pulled pork from the slow cooker or buy some precooked from the grocery store. My local grocery store sells the best smoked pulled pork they make in-house!
The Lime Tahini Mayo can be made a day ahead of time and stored in an air tight glass container in the fridge.
Use pre-shredded cabbage, carrot, radish, and cucumbers for the slaw. Don't mix up the slaw before hand, it needs to be fresh. Prep all the ingredients that go into it ahead of time, though, and store in the fridge until needed.
If any diners are squeamish about the runny egg in the sandwich, feel free to give it a flip and cook it over-medium or over-hard, or even scramble it up. A poached egg would also be amazing, and sliced hard boiled can be used as well.
Interested in adding more Asian flavors to your weeknight meals but not sure how to make it actually doable? Check out my Beginner's Guide to Asian Cuisine for easy tips and recipes that are weeknight and kid-friendly and will help your weeknight meals be a win!
[mailerlite_form form_id=6]
Tips for Making The Best Fried Egg
Everyone knows that Iowa grows corn and raises pigs – but a little known fact is that Iowa also produces more eggs than any other state, too! That means that 1/5th of the eggs eaten come from my home-state! Whoop-whoop! Go Iowa! And did you know that most eggs on the grocery stores have been laid, processed, and placed on a grocery store shelf within 72 hours? Iowa farmers are dedicated to providing the most nutritious and fresh eggs they can to their customers.
Eggs contain 13 essential vitamins and minerals, and only have 70 calories. They also have 6 grams of high quality protein and tons of choline. I love serving my kids eggs in fun and unique ways, because I know they will always, always eat eggs.
For the perfect fried egg:
Heat a tablespoon of unsalted butter in a non-stick skillet (I prefer a cast iron griddle) over medium-high heat until hot and lightly foamy. Don't heat the melted butter so hot that it sizzles and pops and burns.
Carefully break the egg into a small bowl and slip into the pan gently and slowly – keep the egg close to the skillet so it stays together better. If the heat is too high it will splash all over and spread more. To cook more than 1 egg at a time, make sure there is plenty of space between each egg.
Reduce to low heat (don't cook the eggs too hot or they will become tough and rubbery! And no one wants to eat that! Cooking low and slow helps preserve the nutrients, too). Cover the pan with a lid and allow to cook until the whites are set but the yolks are still runny, about 2 or 2.5 minutes.
How Get Your Kids In The Kitchen:
Kids aged 1-3 can help you wash the produce, measure out ingredients for the dressing and the slaw and mix them up. Children this age can also help you set the table.
Kids aged 4-6 can help you do everything above, plus slice the cucumbers and peppers, heat the pulled pork and stir in the dressing, spread the lime tahini mayo, and layer the sandwiches.
Kids aged 7-10+ can help you do everything above, as well as slice the bread, and cook the eggs.
*Pulled Pork Bahn Mi For Toddlers: Try serving this "deconstructed" – place little piles of the pulled pork (with or without the dressing, depending on the age), pickled veggies, scrambled eggs, and bread with some of the mayo as dipping sauce on the plate.
Pulled Pork Banh Mi Recipe with Pickled Slaw and Topped with an Egg
Who doesn't love a messy sandwich? This Pulled Pork Bahn Mi Recipe is an easy weeknight meal the whole family will love. Crispy Bread is slathered in a spicy lime tahini mayo (its not too spicy for the kids, though!), a quick pickled vegetable slaw, and a gorgeous runny egg. It's the weeknight meal you have been dreaming of!
Print
Pin
Rate
Ingredients
For Pulled Pork:
½

lb

pulled pork

1

TBSP

fish sauce

1

tsp

lime

2

tsp

soy sauce

1

tsp

garlic powder

2

tsp

ginger

3

green onions

sliced

1

TBSP

sesame oil

¼

cup

chopped cilantro
Quick Pickled Slaw:
½

red onion

sliced thin

⅔

cup

shredded carrot

⅔

cup

sliced radishes

cut into matchsticks

⅔

cup

sliced sweet yellow pepper

1

cup

shredded purple cabbage

½

cup

rice vinegar

½

cup

sugar

2

tsp

salt

juice of 1 lime
Tahini Lime Mayo:
½

cup

mayo

3

TBSP

tahini

½ - 1

TBSP

sriracha

depending on how spicy you want it

juice of 1/2 lime
For Assembly:
4

small loaves of french bread

or 2 cut into half

4

Eggs

fried

12

fresh basil leaves

1

cucumber

sliced
Instructions
In a large skillet, heat the pulled pork until warm.

In a mixing bowl, whisk together the ingredients for the dressing (fish sauce, lime juice, soy sauce, garlic powder, ginger, green onions, sesame oil and cilantro) and toss with the pulled pork. Set aside and keep warm.

In a medium flat-bottomed glass dish, place the onion, carrot, radish, pepper, and cabbage in as much of a single layer as you can. It doesn't have to be perfect, but make it even. In a glass, whisk tougher the rice vinegar, sugar, salt, and lime juice. Pour over the sliced and shredded vegetables and allow to sit on the counter while you finish preparing the rest of the ingredients.

In a medium bowl, stir together the mayo, tahini, sriracha, and lime juice. Set aside.

Cut the bread into sandwich sized pieces and slice in half.

Heat a large skillet over medium-high and cook the eggs until the whites are set and the yolks are mostly still runny. Remove from pan, place on a plate and set aside.

Spread a generous dose of the tahini lime mayo on the bread.

On each sandwich, lay 3 leaves of basil, layer a few slices of cucumber, some pulled pork, a generous helping of pickled slaw (strain out the juice before placing on the sandwich), and top with the egg.

Repeat for remaining sandwiches.

Enjoy!
Nutrition
Serving:
1
g
|
Calories:
703
kcal
|
Carbohydrates:
68
g
|
Protein:
20
g
|
Fat:
40
g
|
Saturated Fat:
7
g
|
Polyunsaturated Fat:
31
g
|
Cholesterol:
216
mg
|
Sodium:
2526
mg
|
Fiber:
5
g
|
Sugar:
47
g