Shakshuka is a flavorful Middle Eastern breakfast recipe that is perfect for dinner. Eggs poached in a homemade tomato sauce and topped with crumbled feta cheese and cilantro, and served with crusty bread. This easy shakshuka recipe is a flavorful and quick meal that uses eggs for dinner!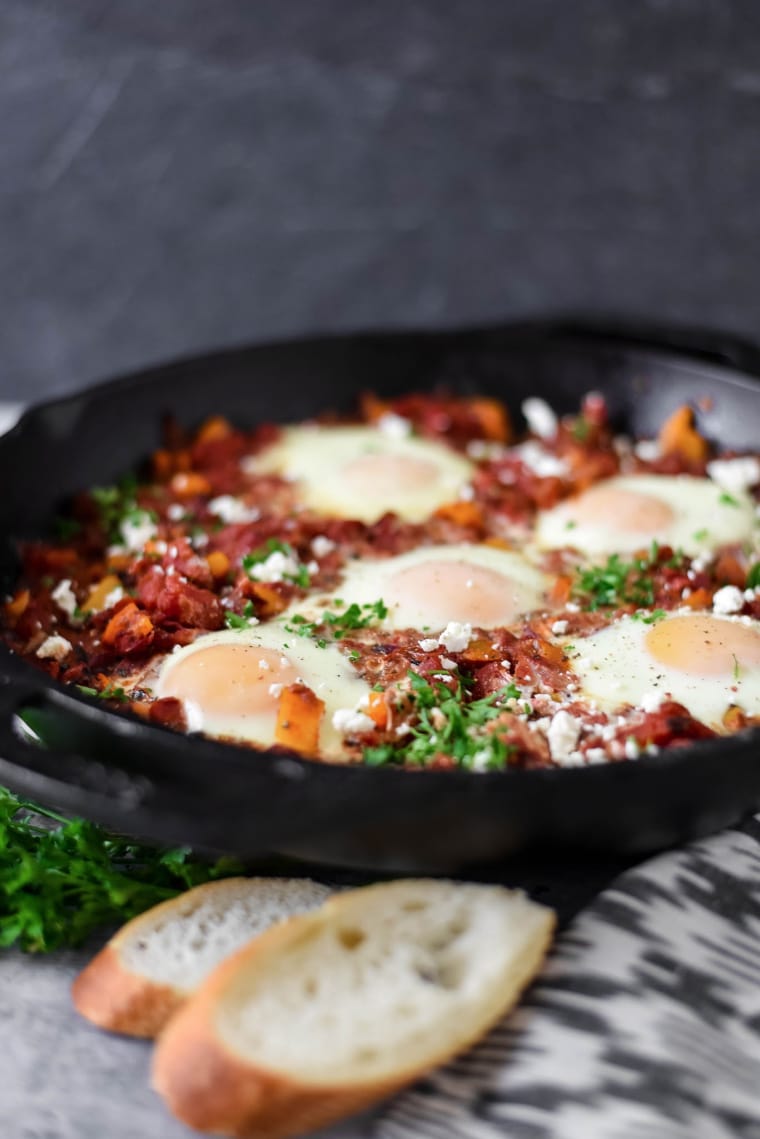 Have you ever had Shakshuka? I love serving this fun and easy meal to my family. 
When it comes to fast and easy dinners, eggs are a great choice! But sometimes its hard to know how to cook eggs for dinner that isn't scrambled eggs. 
Shakshuka is a really egg-cellent meal that is a great for lunch, breakfast, or dinner. With just a few nourishing, simple ingredients, this light meal is an easy choice. 
Shakshuka is a homemade tomato sauce flavored with onions, peppers, garlic, smoked paprika and cumin, that has been simmered so it becomes thick and almost stew-like. Eggs are then nestled into the thick sauce and poached right in the tomato sauce. Sprinkled with feta cheese and cilantro, and served with crusty bread, this meal is fun and delicious to eat.
Thank you to Iowa Egg Council for sponsoring this post. And Thank YOU for supporting the brands that support me and allow me to continue to grow. All opinions, recipe and photographs are my own.
This fall, I've partnered with the Iowa Egg Council and experts from other top egg farming states to share easy dinner recipes to keep busy weeknights stress-free. Check out www.DishOnEggs.com  for dozens of deliciously quick, family-friendly recipe ideas to add to your weekday dinner routine! Eggs aren't just for breakfast—they add protein, flavor and texture to dinner dishes, too. From tacos and pizzas to salads and pasta, everything is better when you put an egg on it!
Interested in other great eggs for dinner recipes? Try:
Shakshuka Recipe
Shakshuka is a really fun recipe! Basically it is a homemade, flavorful tomato sauce that you poach eggs in. Serve it with some crusty bread for dipping, and this is a fun and flavorful meal that your family will love.
Where is Shakshuka from?
This meal of poached eggs in spicy marinara sauce originated in North Africa (specifically Tunisia and Libya), and has quickly become a really popular Middle Eastern dish, and is really popular in Israel. 
The word "Shakshuka" comes from Arabic, meaning "a haphazard mixture" or "all mixed up". I can see some mom, long ago, creating a mixed up dinner from the random things she had on hand. 
How to prep Shakshuka ahead
Shakshuka is an easy meal to make, but there are a few things you can do to prep ahead of time and make cooking that much easier.
Use a mini chopper to chop the onion and peppers ahead of time and then store in an air-tight glass container in the fridge for up to 3 days ahead.

Measure out your spices (cumin, oregano, and smoked paprika) and store in an air-tight container at room temperature until ready to use.

Chop the parsley and mince the garlic and store, separately, in the fridge until you are ready to cook.
*Note: Shakshuka will not reheat well when fully cooked. You can, however, make the tomato sauce ahead of time and reheat when you want to eat dinner. Because it would take quite a while to reheat the tomato sauce to be hot enough to poach the eggs in (and thus removing the benefits of cooking it ahead of time), I suggest serving it with fried or scrambled eggs instead of poached. Not traditional, but just as tasty and fast.
Tips to Make the Best Shakshuka Recipe
Because Shakshuka is such an easy recipe to prepare, here its all about the quality of your ingredients.
Use crushed fire roasted tomatoes

– Using a really great quality canned tomato will help impart really great flavor into your tomato sauce. I highly recommend crushed fire roasted tomatoes because it gives a hint of that smokey flavor with a bit of texture and tons of sauce.

Add in some tomato paste

– Adding just a bit of tomato paste will help to thicken your sauce but also help deepen the flavors so it will taste like you spent hours simmering the sauce.

Crack the eggs into a bowl.

Cracking the eggs into a small bowl one at a time and then carefully pouring each egg into the indents you make insures that you don't accidentally break the yolk.

Start on the stovetop and finish in the oven.

Giving your egg one minute to cook on the stovetop helps to give the eggs a bit of a head start in cooking so they firm up but help the yolks still be runny. 

Knowing when your eggs are done

. Getting the perfectly cooked egg is hard, especially because the egg will continue to cook in the hot sauce when you remove it from the stovetop. If you want the eggs to be runny still, cook them for 6-8 minutes, where the whites are mostly opaque, the yolks have risen a bit, and everything jiggles a bit when you wiggle the pan. If you want your eggs firmer, cook the eggs an additional 2 minutes.
Note: I have seen a lot of talk about whether or not to use cast iron when cooking shakshuka. The acidity of the tomatoes can damage the seasoning on a cast iron, which would cause the meal to taste a little tinny. You will want to make sure that your cast iron is well seasoned. If your cast iron is new or you don't have a good finish on it, I would suggest using a stainless steel pan or an enameled instead. Read more about how to get a really good season on your cast iron.
How to make Shakshuka Kid-Friendly 
To make this easy shakshuka recipe kid friendly, get your kids involved in the meal. Ask for help preparing the tomato sauce (keep scrolling for steps each age group can do). The more involved they are, the more interested they will be, and the more likely they will be to enjoy it!
Dinner Conversations with Kids about Shakshuka
Dinner time is a great time to talk to your kids! But beyond discussing how recess and lunch went, bring the conversations around to the food you are eating. Discussing each part of the meal, and making observations about what you are eating often help kids think about their food in a more analytical way and with less emotional stress about trying something new. Here are a few ideas to get you started:
Talk about the textures of the food you are eating. What does the tomato sauce feel like in your mouth? Is it smoother or rougher than the poached eggs? 

Talk about the smells of your meal. What does the smell of your shakshuka remind you of?

Talk about the flavors of the dinner. How does the taste of your shakshuka change when you pair it with the egg? What about when you pair it with the bread? What would you change to make this meal yummier next time? Would you like it served differently?
How do you pronounce Shakshuka?
Learning how to say new words is fun! Help your kids learn how to pronounce this dinner correctly. You say it "shack-shoe-kah".
How to Serve Shakshuka
Shakshuka is such a great meal because it works for so many different ways – a savory breakfast, a great brunch, a light lunch, or a vegetarian dinner.
If your family is totally against poached eggs, you can still enjoy this dinner. While not traditional, you can cook up some scrambled eggs in a separate pan and serve them alongside the tomato sauce and bread anyway.
What goes well with Shakshuka?
Traditionally, you only need some good pita or challah bread to serve with this at breakfast. But to turn this into an easy weeknight meal, I like to serve it with an easy salad mix and some fresh fruit to fully round out the meal.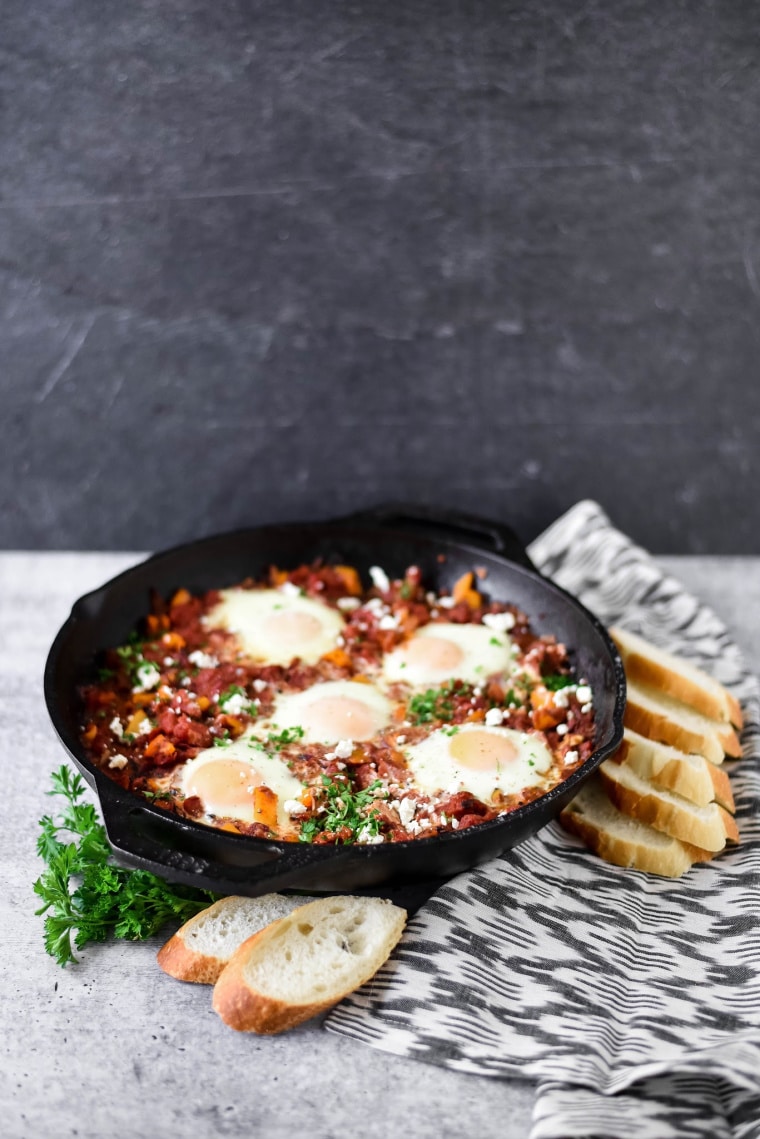 Kids in the Kitchen: How Your Kids Can Help You Cook
Getting your kids in the kitchen is an amazing way to help them be more interested in trying new foods and confident in their own abilities. 
This Shakshuka recipe is great because it helps them learn to crack an egg and they get to practice their stirring. 
This recipe is perfect for beginner cooks because it is so easy! And it is a great recipe for kids to experiment and become more comfortable with new flavors – which means they are more likely to eat it!
Kids aged 1-3

can help measure the spices, help you you

wash the onion and pepper and parsley, and pick the parsley leaves off the stems. They can also help you crumble the feta if you bought it in a brick.

Kids aged 4-6

can do everything above, plus help you

open the can of tomatoes, chop the fresh parsley, and crack the eggs.

Kids aged 7-10+

can help you do everything above, plus help you

dice the onion and pepper (with supervision), stir the tomato mixture in the pan, and help you add the eggs to cook. They can also help you slice the bread.
*Please note that these recommendations are generalized, and to please use your personal discretion with your child's skill level. And always, always supervise! Read more about how to have your children help you in the kitchen.
There's nothing I love more than seeing you make my recipes! If you make this Shakshuka for dinner, don't forget to leave a comment below and rate the recipe!
And don't forget to subscribe to the email list to get all the extra tips, tricks and bonuses! 
Want to save this for later? PIN THIS TO WEEKNIGHT DINNER BOARD on Pinterest!
Easy Shakshuka Recipe
Shakshuka is a Middle Eastern meal that is egg-cellent. Eggs poached in a tomato sauce & topped with crumbled feta, cilantro, & served with crusty bread.
Print
Pin
Rate
Ingredients
2

TBSP

Extra Virgin Olive Oil

1

red bell pepper

chopped

½

red onion

chopped

1

garlic clove

minced

1

teaspoon

cumin

1

teaspoon

smoked paprika

½

teaspoon

dried oregano

28

oz

diced fire roasted tomatoes

4-6

eggs

2

TBSP

fresh parsley

chopped

¼

cup

crumbled feta cheese

1

loaf crusty bread

for serving (Optional)
Instructions
Preheat the oven to 350F.


Heat a large oven safe skillet on the stovetop on medium-high.


Sauté the chopped pepper and onion until starting to become soft, about 7 minutes.


Add garlic, cumin, paprika, oregano and sauté for 30 seconds, stirring frequently.


Stir in the fire roasted diced tomatoes.


Simmer for 20 minutes.


Make 6 wells into tomato mixture for the eggs.


Crack each egg into a small bowl and carefully and slowly pour into the individual wells.


Cook on the stove for 1 minute, then transfer to the oven and cook for 6-8 minutes (closer to 6 minutes for runnier egg yolks, and closer to 8 minutes for more firm egg yolks).


Remove from the oven.


Top with chopped parsley and crumbled feta and season with salt and pepper to taste.


Serve with crusty bread.

Nutrition
Serving:
1
g
|
Calories:
744
kcal
|
Carbohydrates:
105
g
|
Protein:
30
g
|
Fat:
23
g
|
Saturated Fat:
6
g
|
Polyunsaturated Fat:
15
g
|
Cholesterol:
287
mg
|
Sodium:
1348
mg
|
Fiber:
10
g
|
Sugar:
18
g