This Braised Peach Chicken Recipe with Balsamic Rosemary Sauce is an easy recipe for entertaining! With tons of elegant flavor and simple steps, this will be on your "to make" list over and over!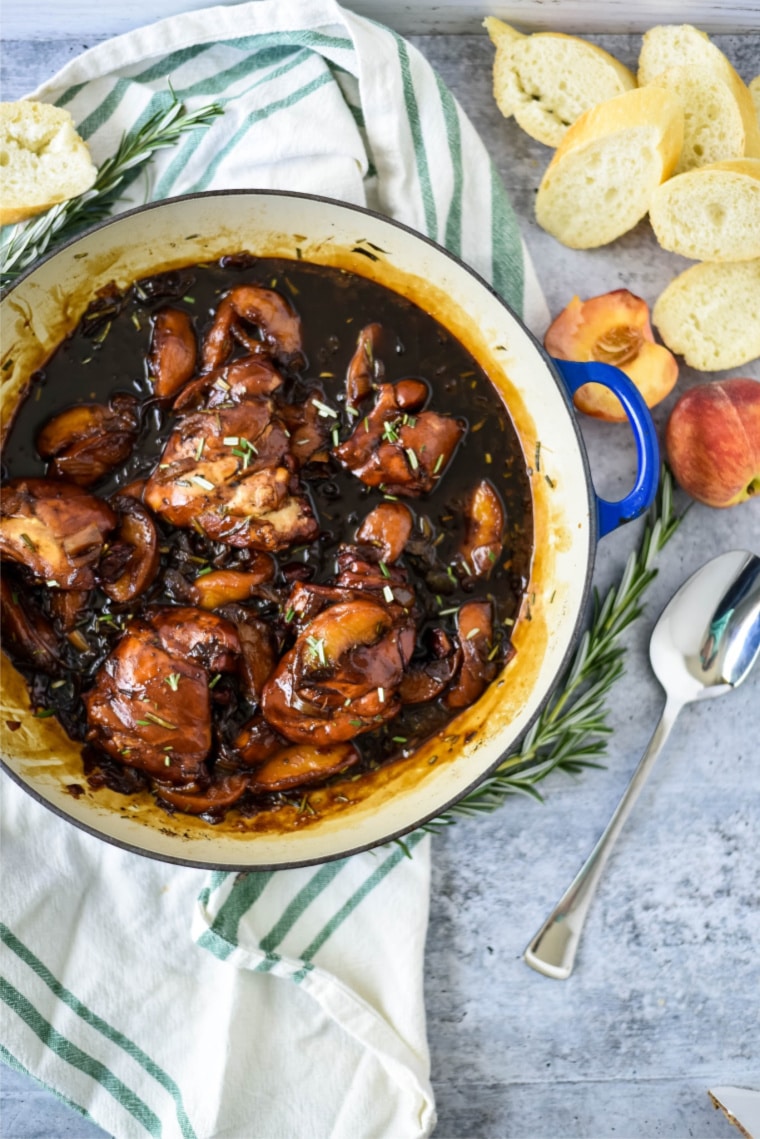 I am definitely having a love affair with fresh fruit + fresh herbs + awesome meat. I can't stop pairing them together, and I am never disappointed! They just go together so well! Whatever this dish lacks in visual appeal (because lets be honest, its not winning any beauty contests), it makes up for about 80 times in taste.
Chicken thighs braised until super tender in a sauce of honey and balsamic vinegar, studded with caramelized onions, fresh juicy peaches, and a handful of fresh and fragrant rosemary. Its utterly amazing. Joel and I literally stood over the pot and ate every single last bite of chicken and every drop of sauce. It was divine!
How to Braise Chicken
Braising Chicken is a great way to make tender and flavorful meals, especially chicken thighs. It helps to tenderize tough meat, adds flavor that it absorbs from the braising liquid, and is also very forgiving. Its hard to mess up a braised meat!
Basically, you start by searing the chicken to get a good color and crisp on the skin.
Then deglaze the pan with some good juices – broth or wine are the best choices!
Then nestle the meat back in the pan, add the lid, and let it work for a bit until the meat is tender, flavorful, and perfectly cooked.
For this particular recipe we are going to change things up a bit. Typically when you braise chicken you use a bone-in, skin-on recipe. But for this recipe we are using boneless, skinless chicken thighs. So we don't want to sear them or they would stick like crazy. Instead, we are going to sear our peaches and get some great caramelize flavor to the peaches as well as some nice crusty bits on the pan. Then we degalze with honey and balsamic vinegar! Nestle the chicken back into the pan, wait 30 minutes and enjoy a seriously amazing meal that takes almost no work at all!
Fruit and Meat Pairings
Like Apples and Pork or Turkey and Cranberry Sauce – Peaches and Chicken work together beautiful well! Its not nearly as controversial as pineapple on pizza (which totally belongs, too).
I know that it sounds kind of weird, but trust me when I say – It works! The fruit adds a hint of sweetness to the slightly salty meat. The fruit and meat work together to enhance the flavor and appeal of each other.
Wanna know something so fun? I was on TV last week!!! If you didn't catch me gushing all about it on
my instagram
account, you should definitely check out the clip!
Wini Moranville
invited me to do a cooking segment on
Great Day Iowa on KCWI
. It was my first time ever on camera, and I was so nervous. But it was also so fun! If you want to check it out (and see what I made) check out the clip
here
!
Yield: 4 Servings
Rosemary Peach Balsamic Chicken
This easy braised chicken recipe is paired with fresh juicy peaches and fragrant rosemary to create a simple but elegant tasting meal.
Ingredients
2 TBSP Extra Virgin Olive Oil
1 small sweet yellow onion, sliced thinly
4 springs fresh rosemary, chopped
1 1/2 tsp coarse salt
1/4 tsp pepper
3 peaches, sliced
1/4 cup honey
3/4 cup balsamic vinegar
2 lb boneless, skinless chicken thighs
Instructions
In a large braiser, heat the olive oil over medium-high heat.
Sautee the onion, rosemary, salt and pepper for 4-5 minutes, or until the onion is translucent.
Add the sliced peaches and saute for 5 minutes, stirring occasionally.
Add in the honey and balsamic vinegar and heat to a simmer.
Simmer for 5 minutes, without stirring.
Add in the chicken thighs, making sure they are covered with the sauce.
Cover and allow to simmer for 30 minutes.
Remove the chicken from the pan, and simmer for 2-3 minutes, until slightly reduced.
Drizzle the sauce over the chicken and enjoy!
Nutrition Information:
Yield:

4
Serving Size:

1
Amount Per Serving:
Calories:

597
Total Fat:

25g
Saturated Fat:

6g
Trans Fat:

0g
Unsaturated Fat:

18g
Cholesterol:

277mg
Sodium:

1286mg
Carbohydrates:

40g
Fiber:

2g
Sugar:

36g
Protein:

57g