This skillet pesto chicken recipe comes together in less then 30 minutes! It's fresh, healthy, and so delicious! Perfect for busy families!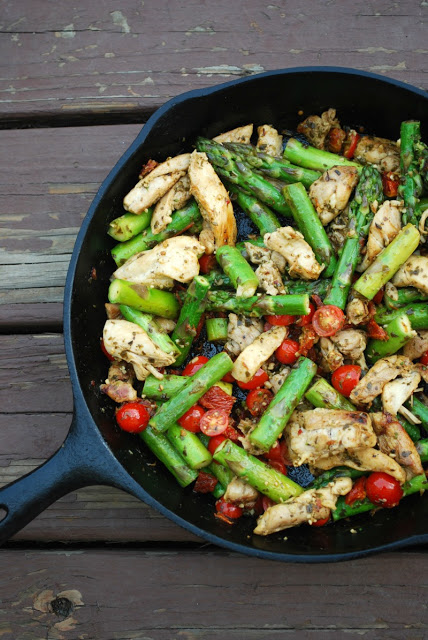 It seems like every other day I meet kids who refuse to eat pretty much everything. Mamas are always telling me their kids only eat frozen chicken nuggets, certain brands of cheese sticks, and other "kid" food. I definitely hear that kids refuse to eat anything plant based all the time.
I mean, I get it! Dinner is HARD!
Everyone is tired, crabby, hungry… its a sucky time of day. The very last thing you want to do is fight with kids about what they are eating. It totally makes sense in a tired parent brain to just feed them food you know they will eat. Its much better to know they are full and everyone is happy than to spend an hour fighting and have them go to bed hungry, right?
Except for when it all backfires and your kid is overly hungry because there are no options they will eat. I mean, don't get mad – but its kind of, just ever so slightly, your fault. See, kids only know what they are taught. If you only teach them to eat chicken nuggets and goldfish crackers because its easier – that's all they will know. If you want to teach them to love and enjoy a variety of foods, you need to teach it to them – by nurturing, discovering, and exploring all the food world has to offer.
Wanna know my #1 secret to get kids interested in eating their veggies in a fun way?
Grow a garden!
I have a facebook live video that totally explains it all in more detail (which you can watch here) but basically – kids love to be involved! Giving them the opportunity to help care for, harvest and prepare their own food teaches them not only responsibility and a love of nature, but it also gets them super interested in checking out what they are growing! And while you are at it – give them a paring knife (and some super supervision) and let them help slice the veggies a little, too!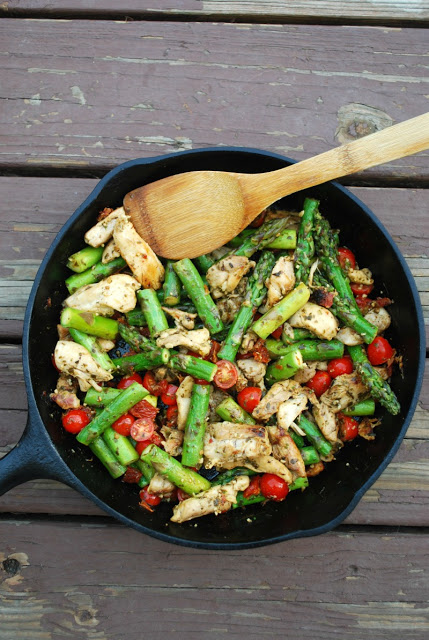 This skillet chicken dinner comes together in less then 30 minutes! It's fresh, healthy, and so delicious! The only thing it lacks is its ability to reheat well, so just go ahead and eat it all! Enjoy!
If you don't have a cast iron skillet yet, you need to get one! They are amazing workhorses!
Check out this post
to see why you need one and how to care for it.
Yield: 4 Servings
Skillet Pesto Chicken and Veggies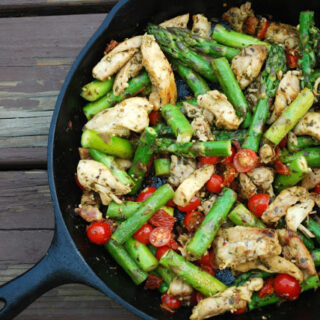 Ingredients
2 TBSP Olive Oil
1 pound boneless, skinless chicken thighs
1/3 cup sun-dried tomatoes in oil
1 pound asparagus
1/4 cup basil pesto
1 cup cherry tomatoes
Instructions
Slice the chicken thighs into strips.


Drain the sun dried tomato oil off and roughly chop.


Heat a large skillet over medium heat with 2 TBSP olive oil.


Add the sliced chicken thighs and season with salt, half of the chopped sun-dried tomatoes, and cook on medium for 5-10 minutes, flipping occasionally.


While the chicken is cooking, cut the cherry tomatoes in half, and trim the ends off of the asparagus and cut into 2" pieces.


When the chicken is cooked through, remove to another plate and keep warm. Keep the oil in the pan, and then add the asparagus and the rest of the dried-tomatoes and cook for 5 minutes, or until the asparagus is cooked but not limp.


Add the chicken back to the skillet and add the pesto and the cherry tomatoes, and stir to coat well and the chicken is reheated, about another minute or two.


Serve, and Enjoy!


Nutrition Information:
Yield:

4
Serving Size:

1
Amount Per Serving:
Calories:

377
Total Fat:

25g
Saturated Fat:

5g
Trans Fat:

0g
Unsaturated Fat:

19g
Cholesterol:

142mg
Sodium:

322mg
Carbohydrates:

9g
Fiber:

3g
Sugar:

3g
Protein:

33g
SaveSave