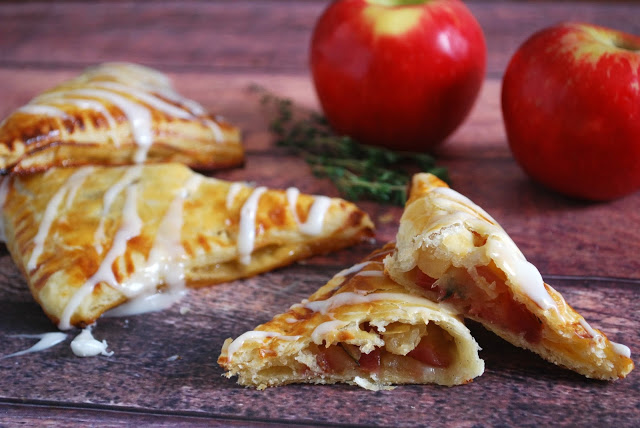 Have you ever had one of your childhood memories challenged by a sibling? Normally my brother and I are totally on the same page, but this past week we totally but heads over something – and then my parents sided with my brother! The nerve!
Jenni Ward/The Gingered Whisk is a participant in the Amazon Services LLC Associates Program, an affiliate advertising program designed to provide a means for sites to earn advertising fees by advertising and linking to Amazon.com.
This series is great for pretty much anyone aged middle school and older. The 23 book series follows the heroic adventures of woodland creatures in a medieval type setting. Besides the fun and engaging story lines and the super creative accents and speaking styles of all the characters, Brian Jacques does an amazing job of describing all the food in the books. Feasting (and eating in general) is an integral part of all goings-on with the characters, and everything from simple snacks to great feasts are described in mouth watering detail. Seriously, I remember being in awe of all the food! If you have never read these books before, I can only describe them as a fun combination of Watership Down and Lord of the Rings.
This month I have joined up with a like-wise group of bloggers who love their books and food equally to celebrate #RedwallAugust! All month long bloggers have been taking to social media to share their awesome recipe creations inspired by the Redwall Books. Definitely
check them out here
!
These apple turnovers turned out amazingly well – the rustic and easy puff pastry recipe is one of my favorites – it comes together easily and quickly, and it never fails me! I decided to go sugar free this time and used some amazing local honey and fresh thyme from my garden. The flavors blend together magnificently and its a fun division from the normal apple and cinnamon combination. It would definitely be Redwall Abbey approved!
Yield: 12 Servings
Apple Turnovers with Honey and Thyme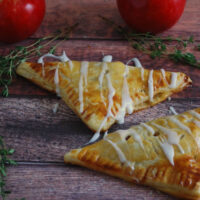 These easy apple turnovers are sweetneed with honey and flecked with thyme and enveloped in a quick rustic puff pastry. They are a perfect fall treat.
Total Time
1 hour
20 minutes
Ingredients
**Quick Puff Pastry
2 cups all purpose flour
1/2 tsp salt
20 TBSP unsalted butter
2/3 cup ice cold water
**Apple Honey Thyme Filling
4 Honey Crisp Apples
1/2 cup good quality honey
4 TBSP unsalted butter
3 TBSP chopped fresh thyme
1/2 tsp vanilla paste
1 tsp ground ginger
1/2 tsp salt
**Assembly
**Glaze
1/2 cup powdered sugar
3-4 TBSP milk
Instructions
Cube the butter and place in the freezer to chill while you prepare the other ingredients.
Place the water in a cup with ice to chill.
In a large mixing bowl, stir the flour and salt with a fork.
Add in the chilled butter and work with your hands to break up the pieces until uniform pieces of pea-sized butter remain.
Pour in the ice cold water (but not the ice) and stir with the fork until a loose dough forms.
Dump out onto a well floured counter and knead into a ball.
Re-flour the counter if necessary and roll the dough out into a roughly 10" rectangle.
Fold the dough into thirds (like an envelope) and rotate 90 degrees.
Roll the dough out into a 10" rectangle, and then fold in thirds again.
Repeat this process 5-6 times.
The last time you fold it up, wrap in cling wrap and allow to sit in the fridge for 30-45 minutes (you can also leave this in the fridge overnight) while you make the apple filling.
Core and dice the apples.
Heat the honey in a large skillet over medium-low heat until simmering.
Add the apples, thyme, and butter.
Cook, stirring often, for about 10 minutes, or until the apples are slightly soft and caramelized looking.
Remove from heat and stir in the vanilla paste, ginger, and salt.
Allow to cool to room temperature.
Preheat oven to 350 F.
Line a baking sheet with a silpat mat or parchment paper
Flour the counter and roll the dough out into a large rectangle.
Cut the edges of the dough off to form 4 straight edges.
Cut the dough into 12 equal squares.
In a small bowl, whisk the egg and 1 tsp milk together and brush one corner of each dough squash with it (so one corner and the two sides that form it).
Leaving as much juice behind as possible, spoon the apple filling into the center of each square of dough.
Fold the squares over to form a triangle (so the non-egg washed corner come to rest on top of the egg-washed corner.
Press seal with the tines of a fork.
Pierce the tops of each turnover with a sharp knife a few times to allow steam to leave and then brush with the remaining egg wash.
Bake for 18-20 minutes, or until golden brown.
Allow to cool on a wire rack.
In a small bowl, whisk together the powdered sugar and milk until you get a thick icing you can drizzle on top of the cooled turnovers.
Nutrition Information:
Yield:

12
Serving Size:

1
Amount Per Serving:
Calories:

387
Total Fat:

24g
Saturated Fat:

15g
Trans Fat:

0g
Unsaturated Fat:

8g
Cholesterol:

78mg
Sodium:

214mg
Carbohydrates:

42g
Fiber:

2g
Sugar:

23g
Protein:

4g
SaveSaveSaveSave