This Chicken shawarma recipe is a full flavor and totally addicting twist on a sandwich! Tender marinated chicken with tabouli, garlic sauce, and wrapped in a hummus coated pita. The whole family quickly devour it!
Being a big foodie and a big nerd, I always pay attention to the food they serve in movies. I know, they are totally meant to be background, but I just can't help myself!
Sometimes the food they serve is really obvious – everyone knows about Harry Potter and his butterbeer, that Elves eat Lembas bread, and somewhere in Paris there is a rodent who makes a mean veggie dish. But sometimes, things are more subtle.
Are you a fan of the Marvel movie series? They are definitely fun entertainment, and I love seeing how they are tying them all together! They make great date night movies for my husband and me!
In the very first Avengers movie, there is a scene at the very end, after they have gotten done saving the world from alien invasion and mass destruction, where Iron Man suggests they all go out eat. He says something like "There's a great shwarma place a few blocks from her. I don't know what it is, but I want to try it."
Then at the very, very end of the movie, past all of the credits, there is an extra scene. It's literally like 30 seconds long – but all the avengers are sitting at a table in this cafe that is completely destroyed. Workers behind them are sweeping rubble while all the Avengers sit silently eating Shwarma.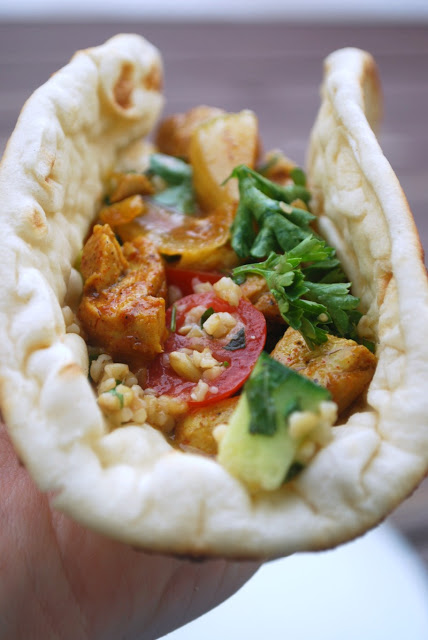 I was totally like Tony Stark – I had no idea what Shwarma was, but I was instantly curious and needed to find out! Yes, I realize the movie came out several years ago, so lets just pretend that its taken an awfully long time for me to find the PERFECT recipe to share with you.
Because Shwarma, as it turns out, is amazing.
Like, I can't stop eating it and its my new favorite meal ever. The amount of flavor here is just utterly divine. Spicy, saucy roasted chicken and onions is wrapped in a flatbread with a creamy garlic sauce and fresh tabbouleh and hummus. Chicken shawarma is heaven on flatbread.
*A warning for weeknight cooking – This dish takes a full hour, so if you are planning to make this on a weeknight, please be aware of your timing. The tabbouleh and the garlic sauce can both be made ahead of time and stored in the fridge, so feel free to do that if that helps! Otherwise, enjoy!!
Yield: 4 Servings
Chicken Shwarma
This Chicken shawarma recipe is a full flavor and totally addicting twist on a sandwich! Tender marinated chicken with tabouli, garlic sauce, and wrapped in a hummus coated pita. The whole family quickly devour it!
Ingredients
**Marinade
1 lb boneless, skinless chicken breasts
2 tsp smoked paprika
1/2 tsp tumeric
2 tsp cumin powder
1/2 tsp cinnamon
2 tsp black pepper
1 tsp salt
juice from 2 lemons
1/2 cup olive oil
1 tsp red pepper flakes
1 large onion, sliced into wedges
2 garlic cloves, minced
**Tabbouleh
1/2 cup bulghur wheat or 1 cup quinoa
1 1/2 cups boiling water
juice from 1 lemons
1 large bunch flat leaf parsley
1 bunch mint
2 green onions
3 roma tomatoes
1/4 cup olive oil
1 small cucumbber
**Garlic Sauce
1 head garlic sauce
1/4 tsp salt
1 cup canola oil
juice of half a lemon
**Assembly
hummus
tabbouleh salad
pita wraps/flat bread
Instructions
In a large bowl, whisk together the lemon juice, olive oil, salt, cumin, black pepper, paprika, tumeric, red pepper flakes, cinnamon, and garlic.
Add the chicken and toss to make sure the chicken is coated well. **The longer you let the marinade sit, the better it is. At least an hour is awesome, but in a pinch you can throw it into the oven as is.
Preheat the oven to 425F.
Add the sliced onion to the bowl and toss to coat.
Add everything to a 9x13 baking dish and spread evenly.
Bake for 40-45 minutes, or until the chicken is browned and crisp on the edges. ** While the chicken is baking, prepare the tabbouleh and then the garlic sauce.
Let the chicken rest for about 5 minutes and then slice into it.
Place the bulgur in a small bowl and cover with 1/2" of boiling water. Cover and sit about 20 minutes.
While the bulgur is soaking, chop the parsley, mint, cucumber, and tomatoes.
Mix these together with the lemon juice, olive oil, and salt.
When the bulgur is done, drain off any excess liquid and toss with the herbs/tomatoes.
Allow to sit at room temperature until ready to eat.
You can store excess in an air tight container in the fridge for a few days. *The taste gets better as it ages, so you might want to make this ahead of time if you can. If not, it will still be good!
Place the garlic and salt into a food processor and puree until smooth.
Slowly drizzle in 1/2 cup of the oil while the processor is going.
Add in 1 tsp of the lemon juice and puree.
Drizzle in the remainder of the oil, puree, and then add the remainder of the lemon juice.
Puree until its fluffy and white!
Warm the pita/flatbread in the microwave for about 30 seconds, and then spread with hummus, spoon 2-3 TBSP of tabbouleh salad, add the chicken and drizzle with garlic sauce.
Nutrition Information:
Yield:

6
Amount Per Serving:
Calories:

949
Total Fat:

71.9g
Cholesterol:

55.2mg
Sodium:

981.4mg
Carbohydrates:

53.6g
Sugar:

4.1g
Protein:

27.2g
Also try these great full-flavor weeknight recipes: