These Sourdough Cookies are a great sourdough recipe to use your sourdough discard. Soft and chewy, with a sourdough tang offset by chocolate chips, pecans and dried cranberries.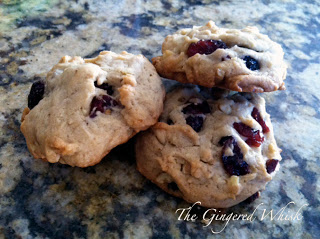 I've been having a lot of fun playing with my sourdough starter, and not just baking bread. I really wanted to try making cookies with them, but I was not happy at all with the recipes I was finding online. They either looked like hard little biscuit cookies (blerg), or they were packed with crisco. I know cookies aren't exactly healthy, but I kinda get grossed out by putting crisco into them. You might as well inject it right into my thighs.
Since I wasn't finding what I wanted, the only thing to do was to create my own.  So, I made my recipe, and I LOVE how it turned out! These cookies are soft and chewy, with a slight tang from the sourdough, sweet-tartness from the dried fruit. Also try Sourdough Peanut Butter Cookies!
You might also like:
Kitchen Sink Sourdough Cookies of Awesomeness (by Jenni)
1 cup butter, melted
3/4 cup sugar
3/4 cup brown sugar
1 egg
1 cup sourdough starter
1 tsp vanilla
3 cups flour
1/4 tsp baking powder
1/4 tsp baking soda
1/2 tsp salt
1 cup toasted chopped walnuts
6 ounces chips (white chocolate or milk chocolate)
1 cup dried fruit (cherries, cranberries, or a blend)
Preheat oven to 400 degree.
In a large bowl whisk together the flour, baking soda, baking powder and salt.
In the bowl of your electric mixer, cream together the butter and sugars.
Turn the mixer off, and with a wooden spoon gently mix in your starter until combined.
Add the egg (you can turn your mixer back on now) and the vanilla.
Slowly add the flour mixture into the mixer, until just combined.
Fold in your nuts, chips and fruit.
Place by spoonfuls onto a cookie sheet and bake 10-12 minutes, or until starting to turn golden brown around the edges