This spiced grilled pork chops recipe is an easy weeknight meal for families! The slightly spiced pork with pineapple salsa is beautifully balanced and very flavorful!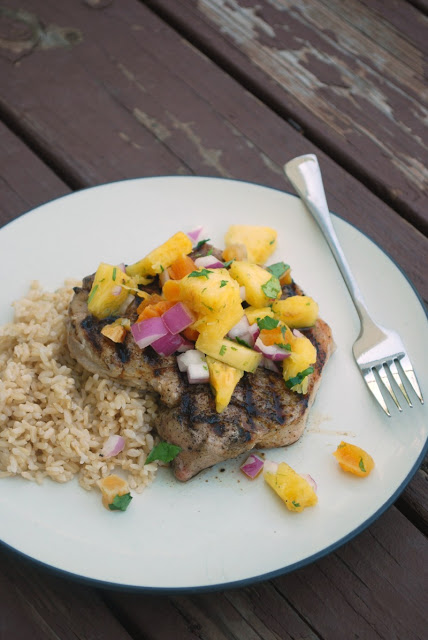 We've been having a ridiculous blizzard here lately. The newscasters have been calling it the "Blizzard of Oz", "Snow-mageddon", and "Snowpocalypse".  It's gross outside – cold, windy, snow, and ice.  We have been staying home from work, cuddled by the fire, and even the dogs are snuggled up with blankets (that actually isn't unusual for them, spoiled as they are).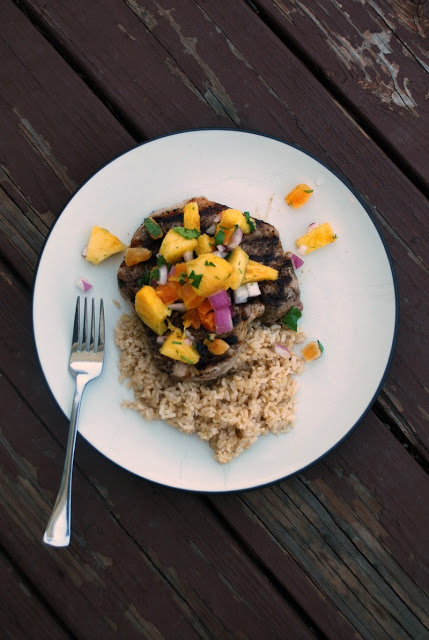 But while everyone else is filling their kitchen with smells of chili, meatloaf, and pot pies, I took us on a tropical trip.
Fruit salsas are all the rage right now, well, they were in the summer time. But why not in the winter, too?
Yeah, its more expensive right now, but that just means that you will enjoy it all the more! This salsa was no exception – definitely fantastic!! Light, refreshing, just a hint of heat. Definitely a winner! I can imagine it would be awesome with some chips, too!
Spiced Pork with Pineapple Salsa
These spiced grilled pork are an easy weeknight meal for families! The slightly spiced pork chops are offset with juicy, tropical pineapple salsa!
Ingredients
1 c Pineappple, chopped
8 halves dried apricot halves, chopped
2 tbsp red onion, finely chopped
1 tsp jalapeno, seeded and finely chopped
1/4 tsp lime zest
2tbsp lime juice
2 tbsp cilantro, chopped
1/4 tsp salt
1/4 tsp pepper
1/4 tsp ground allspice
1/4 tsp ground red pepper
16 ounces lean boneless pork chop, trimmed (4 pieces)
cooking spray
Instructions
Combine the first seven ingredients in a bowl.
Cover and chill for 30 minutes.
Combine salt and next three ingredients.
Sprinkle both sides of pork chops, let stand 10 minutes.
Prepare grill (or grill pan).
Grill pork 6-7 minutes per side, or until pork is no longer pink.
Serve with 1/3 cup salsa for each chop.
Nutrition Information:
Yield:

4
Serving Size:

1
Amount Per Serving:
Calories:

275
Total Fat:

16g
Saturated Fat:

6g
Trans Fat:

0g
Unsaturated Fat:

9g
Cholesterol:

85mg
Sodium:

244mg
Carbohydrates:

4g
Net Carbohydrates:

0g
Fiber:

1g
Sugar:

2g
Sugar Alcohols:

0g
Protein:

31g
SaveSave