Thai Stir Fry with Pork and Broccolini
This easy Thai Stir Fry with Pork and Broccolini is a great weeknight meal your family will love! With tender, bite sized pieces of pork, packed with veggies like broccolini, sweet peppers and mushrooms, and with a slightly sweet and flavorful Thai inspired sauce, this 30 minute dinner is sure to become a family favorite recipe!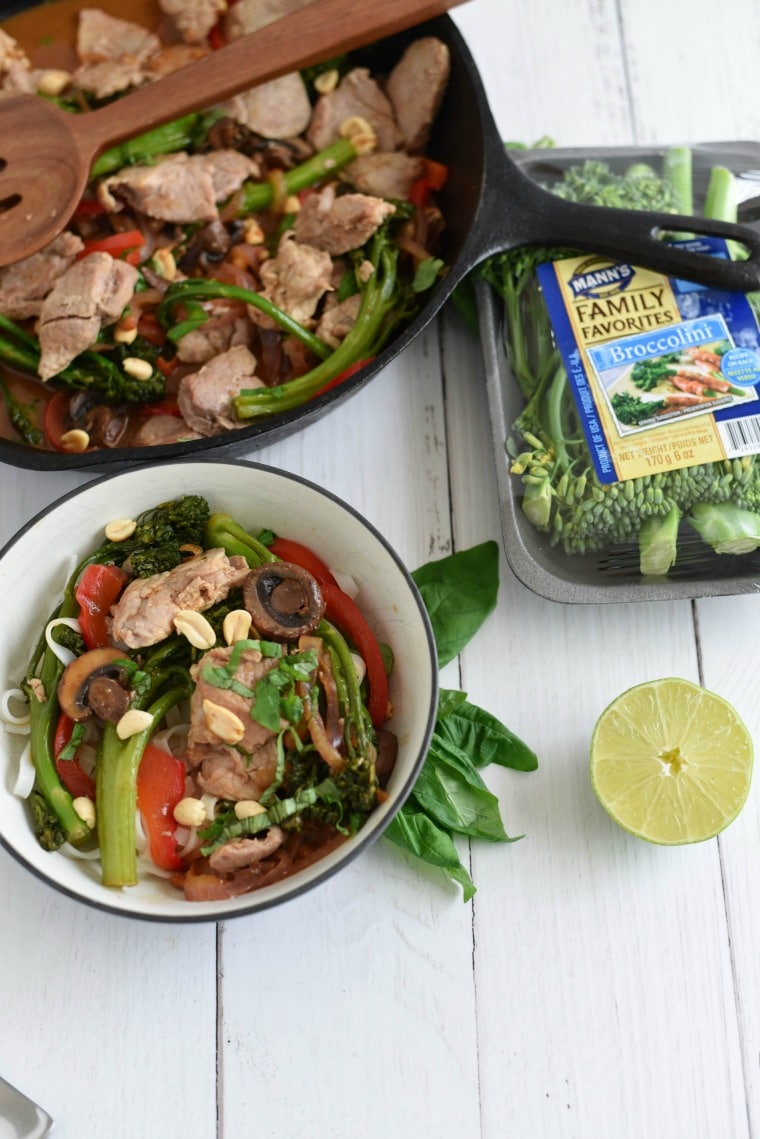 My four year old cracks me up.
Lately, she has been begging me to make more dinners that she can use her learning chopsticks with.
Ramen and sushi (yes, my 4 year old begs for sushi)? You bet!
Mac and cheese? Well, if you insist!
So I have been trying to fix more meals that she can practice her new found skills with, and I think I found the perfect kid-friendly meal that is perfect for a weeknight, is healthy, and takes 30 minutes to make! Can it get any better than that? Only if your dishes wash themselves!
Thank you to Mann's Fresh Vegetables for sponsoring this post. And THANK YOU, Dear Reader, for supporting the brands that support me and allow me to continue to grow my blog. All opinions, recipe and photographs are my own.
I love that she wants to practice this skill, and I love that she will eat practically anything while she does. Each food offers a new challenge,  and vegetables that normally get balked at disappear like magic. I love trying fun new ways to entice my children to eat more foods – whether it is creating meals based off of classic princesses, having them create their own meals like in Kid Friendly Sushi, or topping their meals with different colorful foods in Slow Cooker Pork Ramen, getting them to step outside the normal "weeknight dinner" box really helps them to be a tiny bit more adventurous in what makes it from their plate to their tummy.
If you are wanting to start adding more flavor, variety and fun into your weeknight meals, check out my START HERE page, and make sure you read my Complete Guide for Raising Adventurous Eaters post!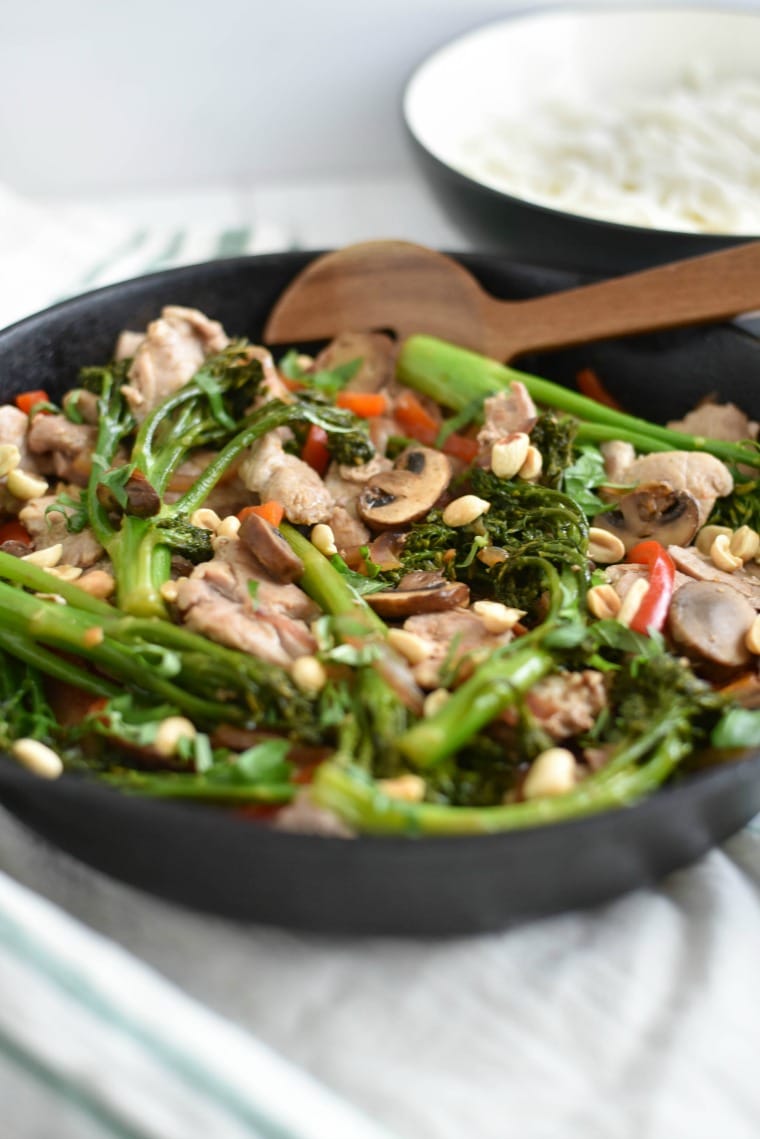 Thai Stir Fry with Pork and Broccolini
This stir fry recipe is a great weeknight meal! It is ready in about 30 minutes and you only need a handful of pantry staples and some fresh ingredients to get it on the table. I used red onion, peppers, mushrooms and broccolini in mine, but it would also be great if you added in some julienned carrots, too!
We loved this dish and its slightly sweet but flavorful sauce, and the textural contrast between the noodles, super tender pork, slightly crisp vegetables, and then the crunch of the peanuts. This meal really offers a lot of fun flavors, textures, and colors to your meal, and will definitely brighten up your boring weeknight dinner into something fun and exciting!
How to Serve Thai Stir Fry with Pork and Broccolini:
You can serve this with rice stir fry noodles, rice, or with quinoa. My girls are huge pasta-lovers, so I know that anytime we can mix things with pasta its a big win for them. Do what works best for you family!
I love how the whole broccolini look in the bowl, and so I cooked them whole. I served them whole for myself and my husband, but for my girls I then sliced them into smaller pieces and added them back to their stir-fry bowls.
Top each bowl with plenty of dry roasted peanuts (you can crush them if your little ones need smaller sizes) for a fun crunch and extra peanuts flavor. Also sprinkle each bowl with fresh chopped basil and a wedge of lime.
This stir fry recipe can be enjoyed with either forks or chop-sticks!
Serve this with thai mango rice for a fun and delicious dessert.
Interested in adding more Asian flavors to your weeknight meals but not sure how to make it actually doable? Check out my Beginner's Guide to Asian Cuisine for easy tips and recipes that are weeknight and kid-friendly and will help your weeknight meals be a win!
What is Broccolini?
Broccoli. Broccoli Rabe. Broccolini. Is it just me, or is the world of vegetables exploding with new things every time you turn around? How's a tired mama supposed to tell them apart much less know what to do with them? Well, never fear because I am here, and I have your back!
So. We all know broccoli – but whats with broccoli rabe and broccolini? How different are they really?
Broccoli Rabe isn't actually broccoli at all. It is actually more closely related to a turnip! It tastes a bit more bitter, earthy and nutty than traditional broccoli, and is best when sautéed or blanched. Treat it kind of like you would a bitter leafy green.
Broccolini might look like cute little baby broccoli trees, but they are actually a hybrid between regular broccoli and Chinese kale – they have a milder, sweeter, and more earthy taste – which makes them way more kid friendly than regular broccoli, in my opinion! Broccolini can be steamed, sautéed, roasted, or grilled, so its a truly versatile veggie that you can easily incorporate into your meal plans! Visit Mann's Fresh Vegetables site for even more recipes you can use with broccolini.
How Your Kids Can Cook With You:
Kids aged 1-3 can help you measure and whisk the wet ingredients together and set the table.
Kids aged 4-6 can help you do all the above, plus help you slice the onions, peppers, mushrooms and basil.
Kids aged 7-10+ can help you do all the above, plus help you add and stir the ingredients into the skillet.
*Please note that these recommendations are generalized, and to please use your personal discretion with your child's skill level. And always, always supervise!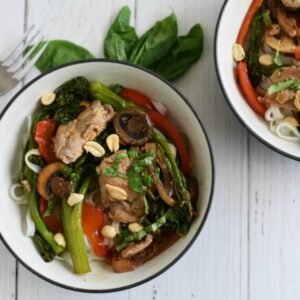 Thai Stir Fry with Pork and Broccolini
This Thai Stir Fry with pork and broccolini is an easy weeknight meal your family will love!
Print
Pin
Rate
Ingredients
2

Tablespoons

soy sauce

2

Tablespoons

brown sugar

2

Tablespoons

fish sauce

¼

teaspoon

fresh ginger

½

teaspoon

ground coriander

¼

teaspoon

ground cumin

1

Tablespoon

peanut butter

1

teaspoon

red curry sauce

1

lb

pork tenderloin

1

Tablespoon

sesame oil

10

oz

broccolini

½

red onion

6

oz

sliced bella mushrooms

1

red pepper

1

lime

⅓

cup

dry roasted peanuts

crushed

¼

cup

fresh basil

chopped
For Serving:
Cooked Rice Stir Fry Noodles or Rice.
Instructions
In a medium bowl, whisk together the soy sauce, brown sugar, fish sauce, ginger, coriander, cumin, peanut butter and red curry paste. This is your sauce. Set aside.

With a sharp knife, remove any excess fat or silvery connective tissue from the pork tenderloin.

Slice the pork into thin coins, and then each coin into a half circle.

Heat a non-stick skillet over medium-high heat with the sesame oil.

Add the pork to the hot pan and sauté for 2 minutes on each side, or until mostly cooked through and browned on both sides.

Remove the pork to a plate and keep warm.

In the same skillet, add the sauce and simmer for 2-3 minutes, or until simmering.

Add in the broccolini, red onion, and mushrooms and cook, covered with a lid, for 3 minutes, or until the broccolini is mostly cooked through and tender.

Add in the red peppers and 1 TBSP lime juice and cook an additional 1 minute.

Place the pork and any juices back into the pan, stir, and cook an additional 2 minutes, or until warmed through.

Serve with rice noodles or rice, and garnish with crushed peanuts and chopped basil.

Enjoy!
Notes
Leftovers can be stored in an airtight container in the fridge for up to 3 days. Reheat in the microwave until warmed through.
Nutrition
Serving:
1
g
|
Calories:
356
kcal
|
Carbohydrates:
22
g
|
Protein:
33
g
|
Fat:
16
g
|
Saturated Fat:
3
g
|
Polyunsaturated Fat:
4
g
|
Monounsaturated Fat:
7
g
|
Trans Fat:
0.04
g
|
Cholesterol:
74
mg
|
Sodium:
1364
mg
|
Potassium:
901
mg
|
Fiber:
4
g
|
Sugar:
12
g
|
Vitamin A:
2472
IU
|
Vitamin C:
109
mg
|
Calcium:
102
mg
|
Iron:
3
mg
Looking for more adventurous weeknight meals that are weeknight and kid friendly? Try these out tomorrow:
SaveSave