This easy sushi for kids recipe is inspired by Princess Mulan! These vegetarian sushi rainbow rolls are easy to make, fun to eat, and are a great starter sushi recipe for the whole family.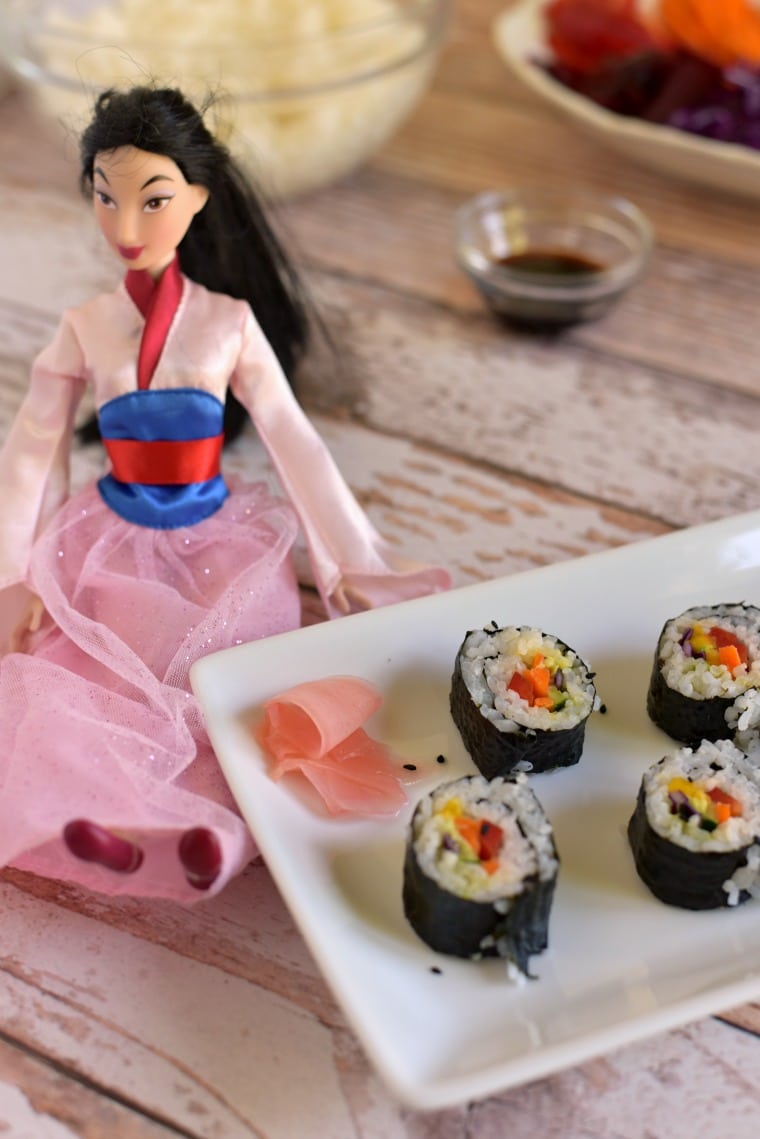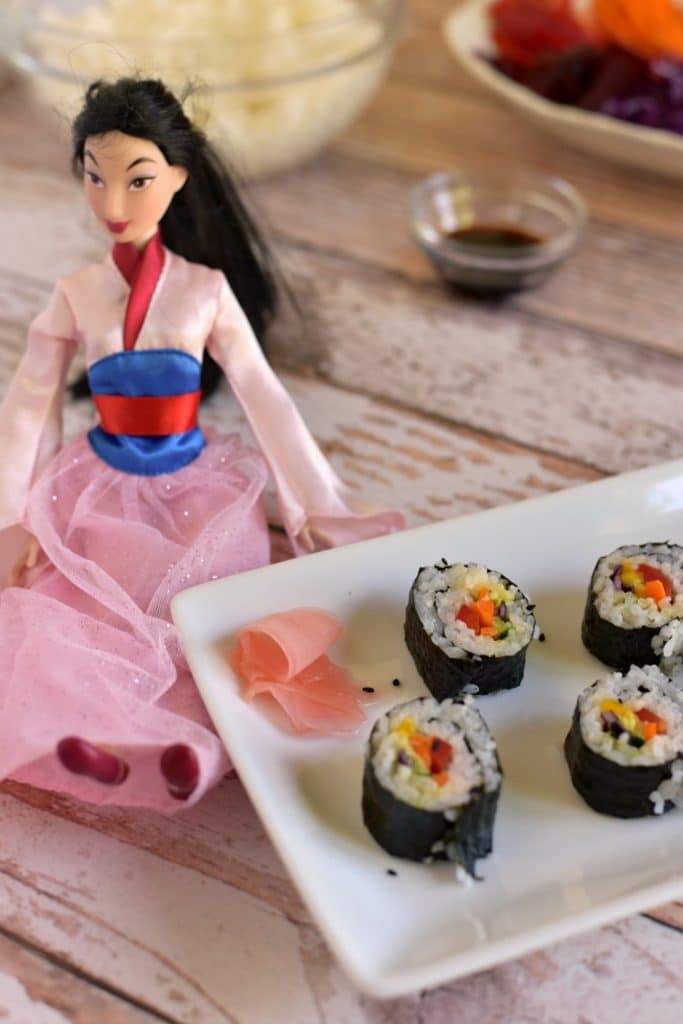 Welcome to the Eat Like A Princess Series!
I designed this series as a fun way to teach my daughters about new cultures through the Disney Princesses in hopes that they will become more open to trying new foods, to understand other cultures better, and to enjoy exploring the world around them. And still staying within the 30 minute weeknight dinner theme. You can see other recipes in this series here.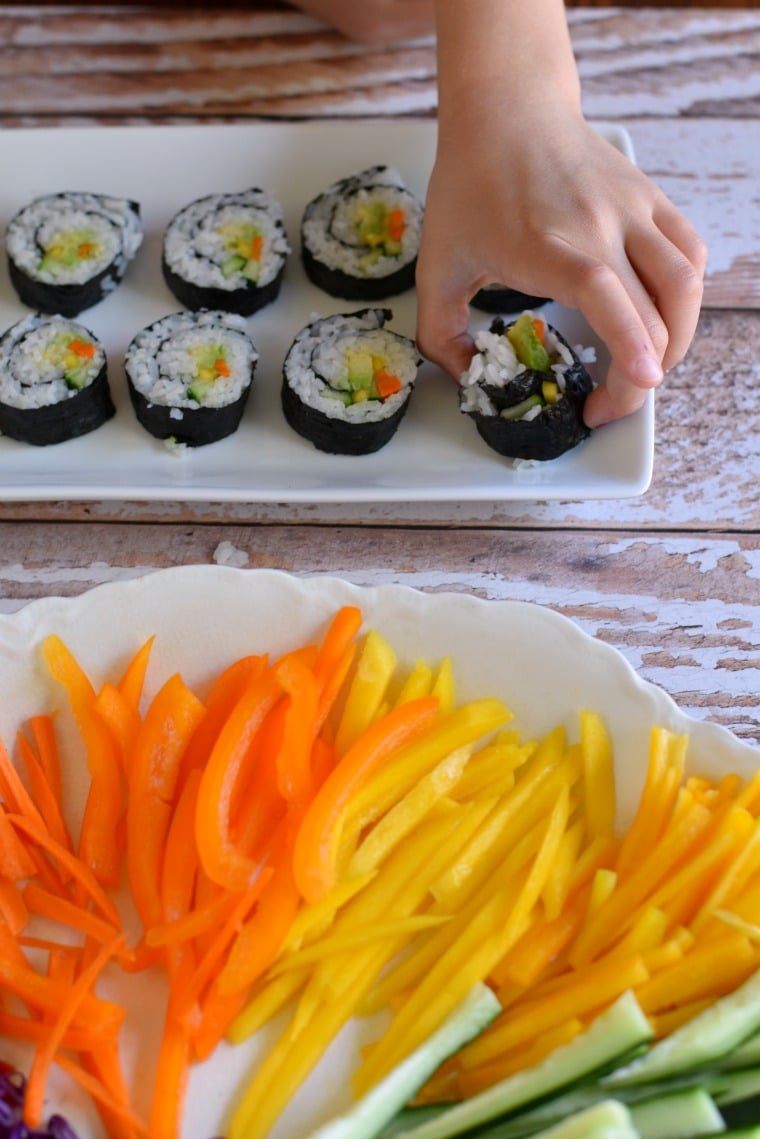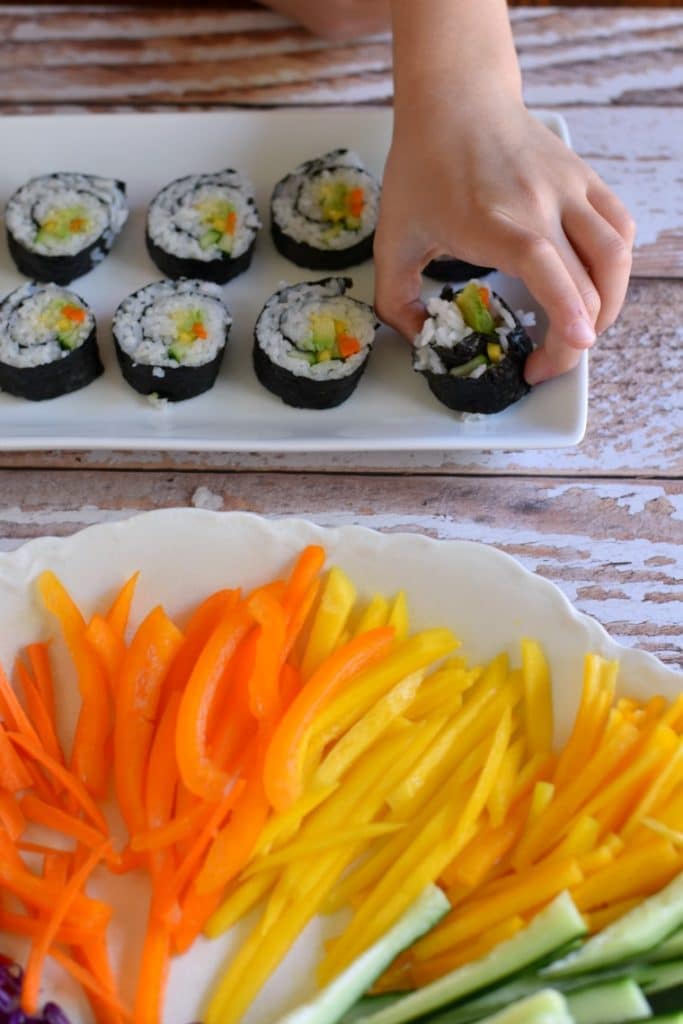 I have only recently discovered my love for sushi, and have discovered that making them at home is easy, super fun, and amazing because I can get 100% what I want in my roll. In my on going quest to teach my children a love for all food, I have been involving them in these little DIY at home adventures of mine, and love how enthusiastic they are about trying out my crazy ideas. When I was thinking about what recipe I wanted to make for Mulan, what I really wanted to do was go out and stuff my face with all the sushi.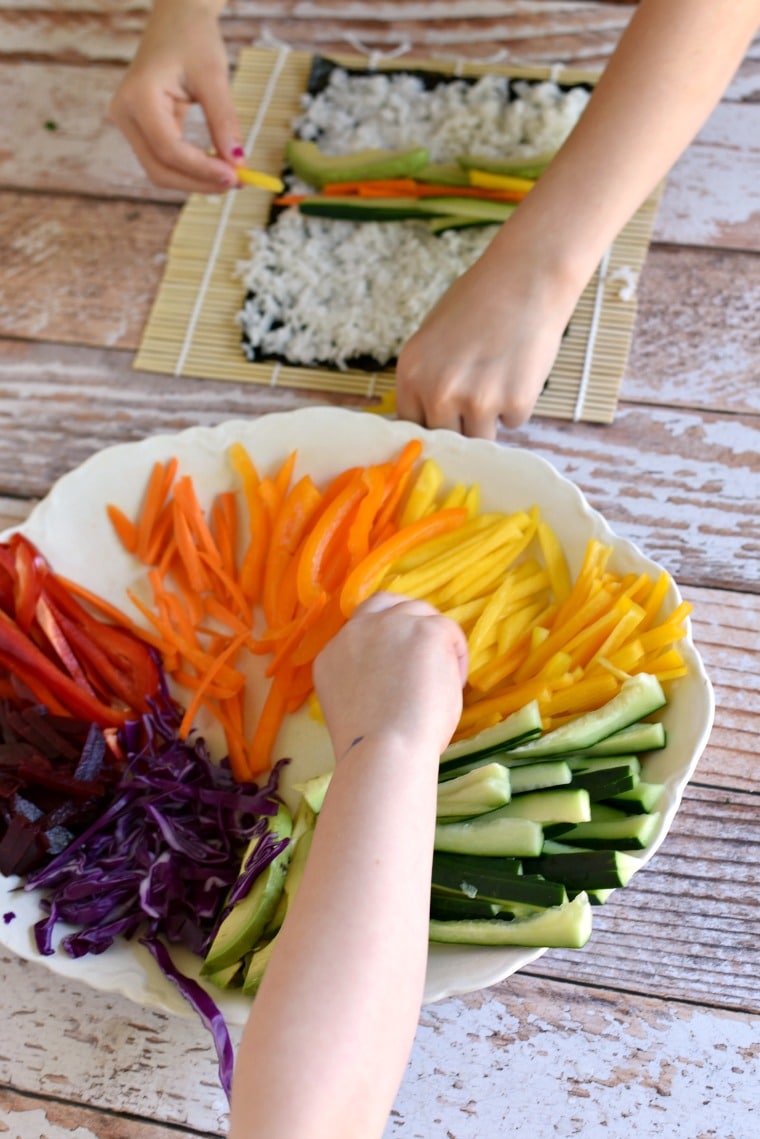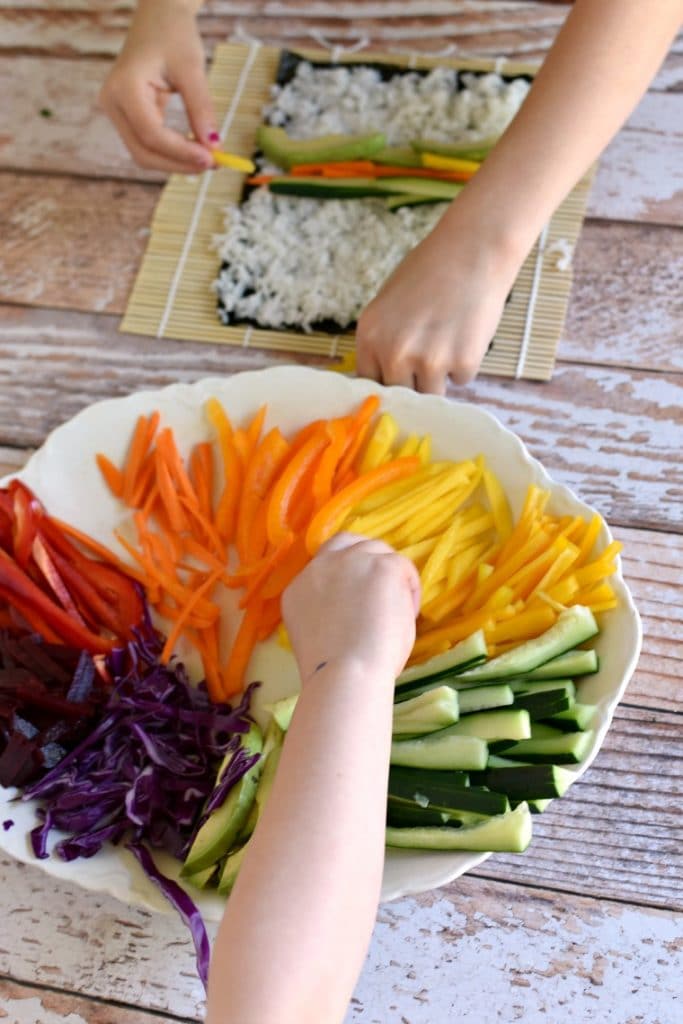 So how do you make sushi seem fun and exciting to kids? I wanted something that would still be easy to make, yet appealing for kids. Raw fish was out, there was no way I would be able to get my kids to eat that (and I am assuming yours, too). I thought about putting something cooked in there for about 5 seconds – rotisserie chicken? seared tuna? They just didn't sound appealing to me, and added more work. In the end I decided to keep it vegetarian and only have fruits and veggies in there. To make it fun and appealing I took a page out of my Rainbow Pizza recipe and offered up a variety of choices in a rainbow array of colors. And hence, Rainbow Sushi was born!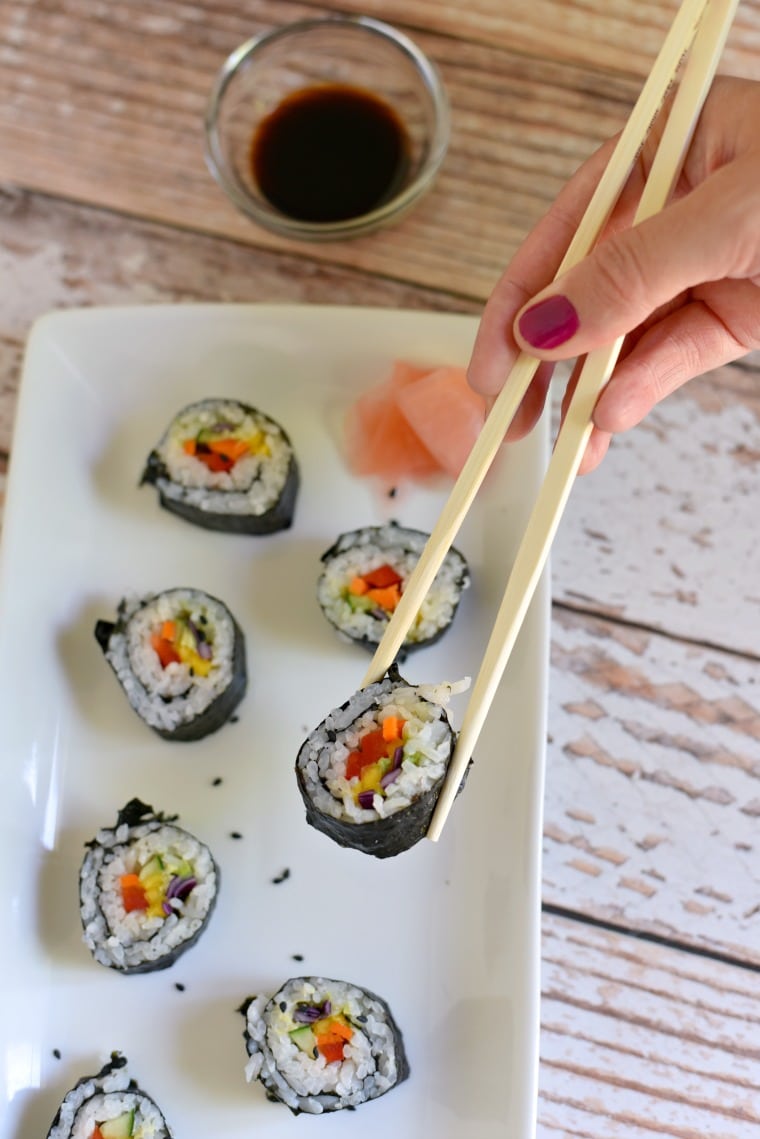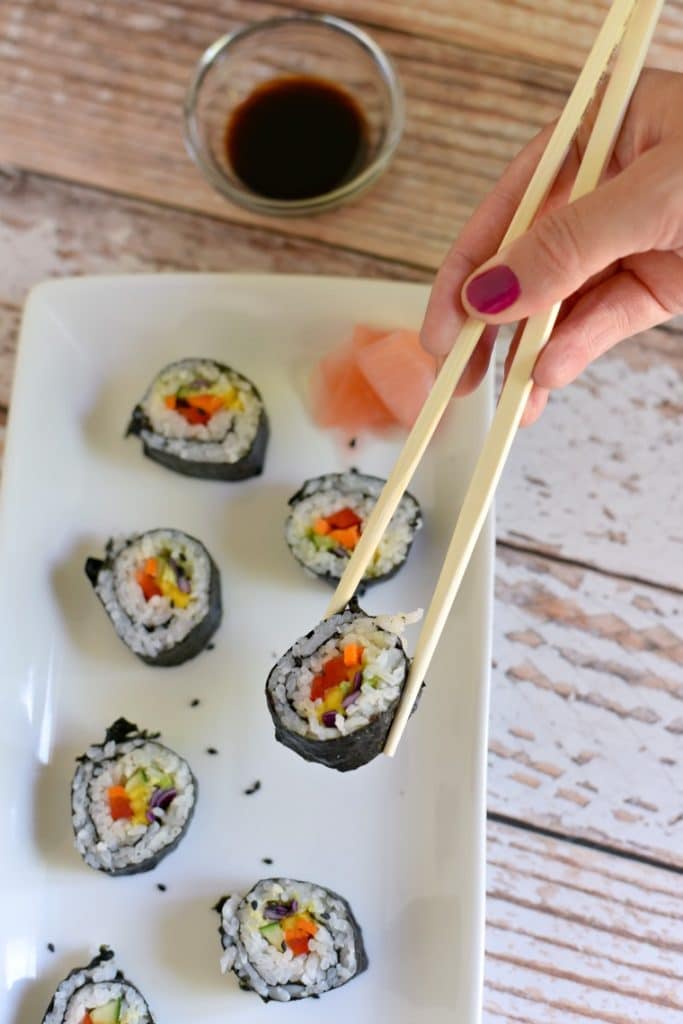 If you don't have one of those friends you can call with your weird crazy ideas, you need to get one. I mean, how many people could you say "Hey! Let's make vegetable sushi with 5 small children today!" to and not have them look at you like you were utterly crazy? So yes, making sushi with children IS a little crazy. It's messy, and kind of chaotic, but friends, its so dang fun.
**Note: This recipe is not intended to be 100% authentic. Mulan is a fictional character, and although we know that she lived-in China, this recipe was created by me. Yes, sushi is Japanese, not Chinese. This recipe is intended to be easy enough that children can help you prepare it by chopping up vegetables, creating their own dish and even practicing rolling their roll. It is supposed to be a fun way to get kids interested in eating veggies, not an authentic and historically correct recipe. It is my hope that it is interesting enough to pique their interest in new cultures and foods without being too intense or weird.
Interested in adding more Asian flavors to your weeknight meals but not sure how to make it actually doable? Check out my Beginner's Guide to Asian Cuisine for easy tips and recipes that are weeknight and kid-friendly and will help your weeknight meals be a win!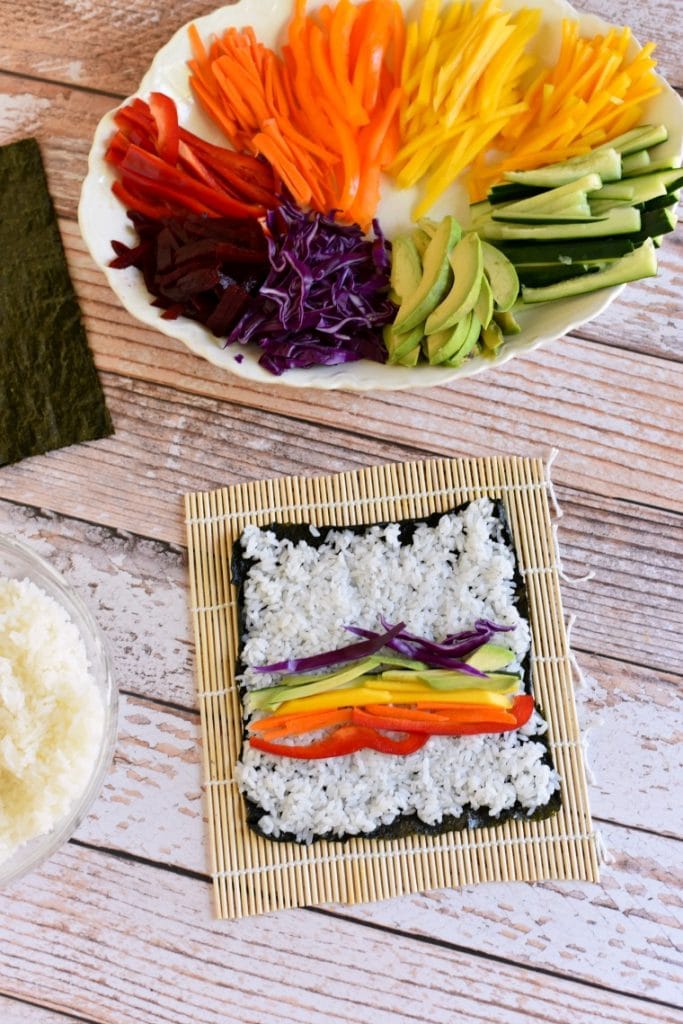 Tips for having a Sushi Party for kids:
Have your children help you select a rainbow variety of additives at the store – make sure you at 2 things for every color so there are lots of choices. Also don't forget fruit like mango or avocado!
Make it PRETTY! I don't mean cut everything into tiny little cutesy shapes, but present things in a fun way so it looks interesting. We arranged everything in a rainbow on a tray, but you could also use small bowls.
Make extra sushi rice. Seriously, make waaaay more than you need. You can always use leftover for a stir fry later, but its better to make sure you have enough than to run out!
Have a dipping sauce for kids – we offered shoyu (which is an organic soy sauce)
I also like offering some protein along side of this, and if you like to as well, rotisserie chicken, seared tuna or salmon, or even chicken nuggets would work wonderfully.
How to Serve Sushi for Kids:
This post contains affiliate links. See more about what that means on my disclosure page.
You can find really inexpensive sushi rolling mats at World Market, as well as tons of other supplies you need (nori, sushi rice, rice vinegar, cute kid-friendly chopsticks, pickled ginger, little bowls for dipping sauces, seriously everything you could possibly want for a sushi making party).
If you have a child who doesn't want to try a nori wrap (which is made out of seaweed), you have a few alternatives. You can either use a soy wrapper (which come in fun colors) or you can make spring rolls with spring roll wrappers or rice paper. If you end up using the spring roll wrappers, make sure you follow the directions on the package because these do not work like nori sheets at all. Do NOT put them on a bamboo rolling mat or you will have a giant sticky mess that won't come off (yes, we made that mistake).
** In a few of the photos above you can see that I sprinkled some black sesame seeds on a sliced sushi roll, but I didn't think it really added anything to the recipe at all (and all subsequent rolls didn't get any) and so I left that part out of the recipe. Go ahead and add them in if you like, or leave them out.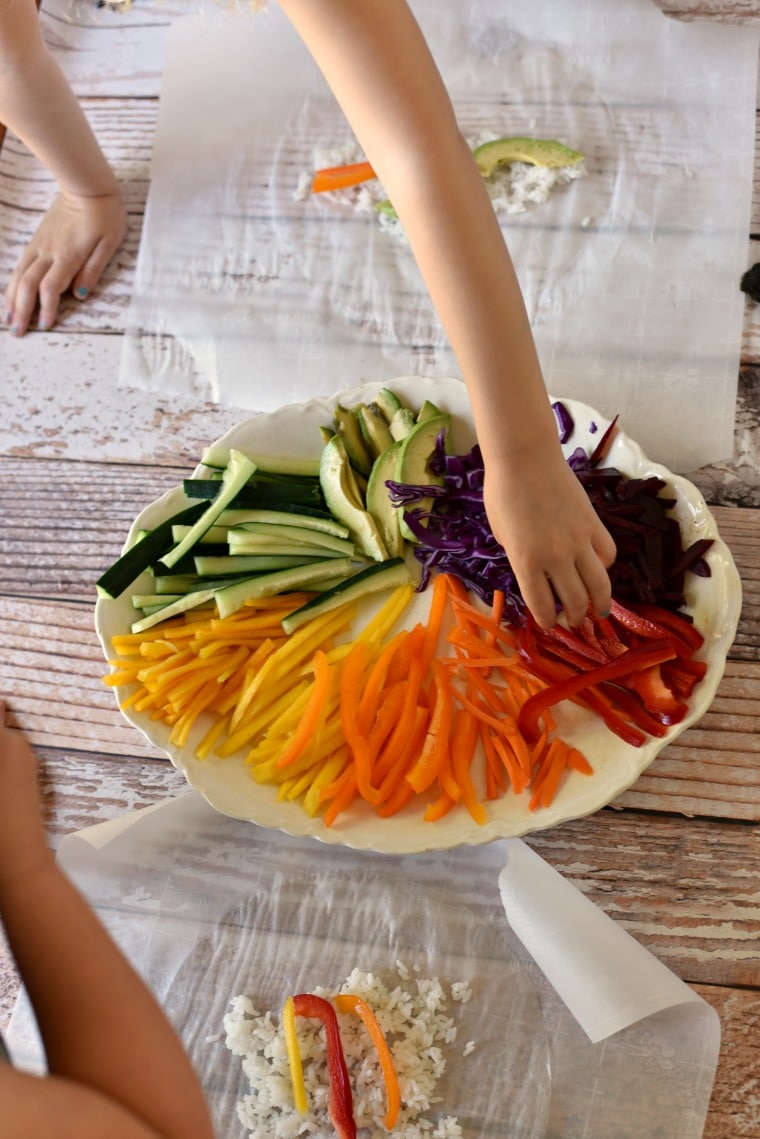 Rainbow Veggie Sushi for Mulan - Eat Like A Princess
These easy and beautiful rainbow sushi are a perfect and fun way to introduce sushi to kids
Ingredients
For Sushi Rolls:
6 nori seaweed warps
2 cups sushi rice
1 red, orange, and yellow bell pepper, sliced thinly
1 carrot, peeled and julienned
1 mango, sliced into thin strips
1 avocado, sliced into thin strips
1 cucumber, sliced into thin strips
1/2 cup shredded purple cabbage
1/2 cup cooked beets, sliced into thin strips (I bought mine pre-cooked at the grocery store!)
For Serving:
Soy sauce
Pickled Ginger (for super brave children)
Wasabi (for adults!)
Instructions
Combine the 2 cups uncooked sushi rice with 4 cups water.
Cover with a tight fitting lid and bring to a boil. Reduce to a simmer and allow to simmer on low for 10 minutes. After 10 minute turn off the heat and allow to sit for another 10 minutes - DO NOT TAKE OFF THE LID!
Meanwhile, prepare the rest of the ingredients by slicing them as thin as you can (save the beet for last because it will dye everything).
When the rice is done cooking, stir in the rice vinegar and place it in a bowl to cool down slightly.
Place a nori sheet on to the bamboo rolling mat (make sure that the pieces of bamboo are horizontal so you can roll it).
Wet your hands in a bowl of warm water and place a small amount of rice on the nori and pat it into a thin layer to cover the nori. You want a continuous and even layer rice while still keeping it thin.
Add your fillings in a line about 1/3 of the way from the bottom of the nori roll.
Start to roll the bamboo/nori up - they will roll kind of like cinnamon rolls, but make sure to keep the bamboo mat on the outside and don't add it into your roll. As you roll, squeeze and compress the bamboo mat to compress and tighten the roll.
When complete, remove the bamboo mat and slice into coins with a super sharp knife.
Serve immediately and enjoy!
Nutrition Information:
Yield:

6
Serving Size:

1
Amount Per Serving:
Calories:

212
Total Fat:

6g
Saturated Fat:

1g
Trans Fat:

0g
Unsaturated Fat:

5g
Cholesterol:

0mg
Sodium:

410mg
Carbohydrates:

38g
Fiber:

5g
Sugar:

16g
Protein:

4g
Looking for other awesome "Eat Like A Princess" Recipes? Check out the rest here!
SaveSave