Try this Chimichurri Ground Beef and Rice Skillet for an easy dinner that is sure to become a family favorite meal. This Argentinian inspired recipe is turned into a quick and easy weeknight recipe that is kid-friendly and is the perfect finger food and kid-friendly recipe! Made with ground beef and rice, this skillet recipe is served with a tasty chimichurri sauce. This easy dinner recipe for families is sure to be a big hit!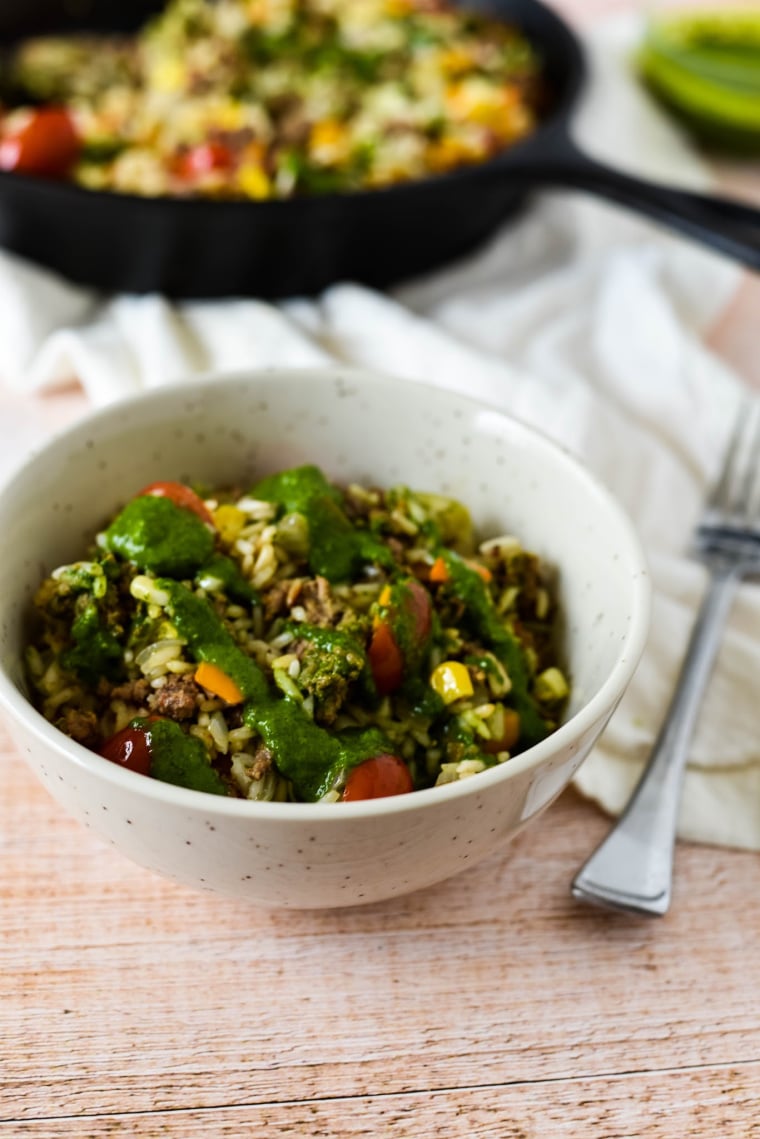 Ground beef is the perfect option when it comes to quick and easy dinners. If you have been looking for the perfect family pleaser meal, this is it! An easy 30 minute skillet recipe, this dinner is a great option for families who need easy but want more flavor, but still packs the nutrition your family needs!
Inspired by chimichurri steak, but adapted to be kid-friendly and perfect for baby-led weaning or toddlers who need finger foods, this is the quick ground beef recipe you have been looking for!
Thank you to Iowa Beef Industry Council for sponsoring this post. And THANK YOU, Dear Reader, for supporting the brands that support me and allow me to continue to grow my blog. All opinions, recipe and photographs are my own.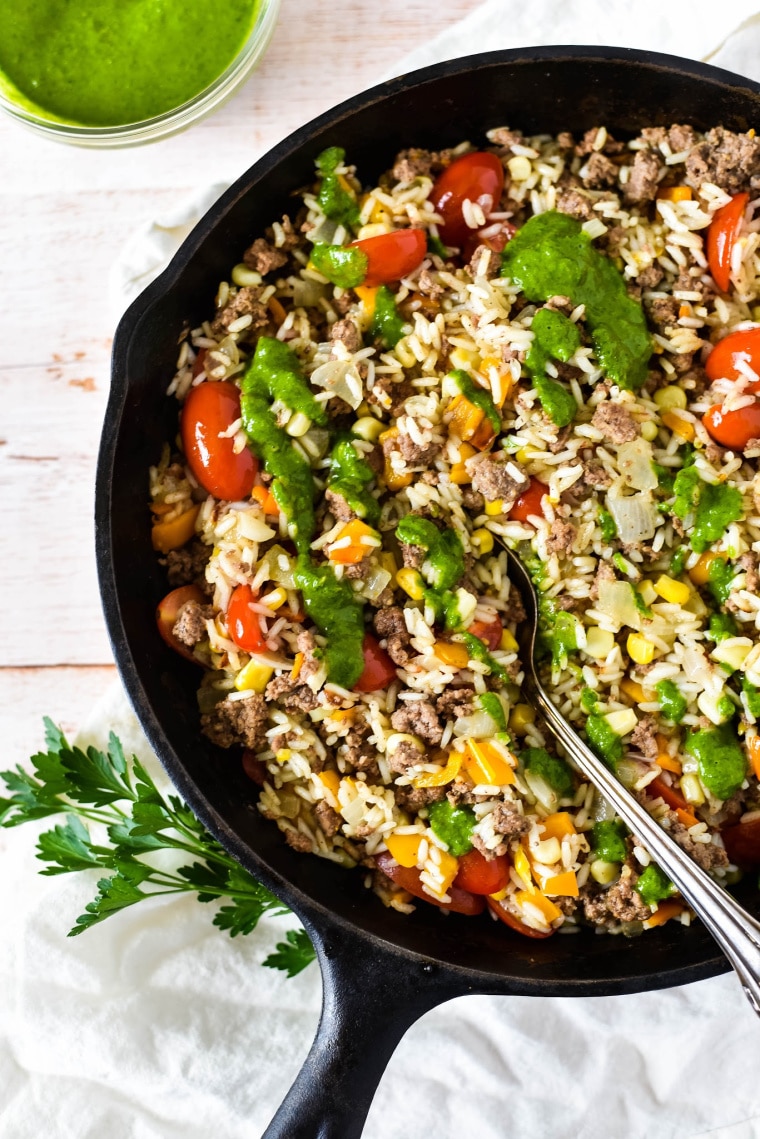 Beef is an awesome food for babies, toddlers and children (and adults, too!) because it provides the protein, iron and zinc their little growing bodies need, especially during the first two years of life. I am a strong believer in laying a solid food foundation from the very beginning. Not only in good, nutritious food, but also in exposing them to a variety of fresh flavors and ingredients.
The more you can expose your kiddos to from the start, the better you set the stage for healthy, adventurous eating for their entire lives.
I love this one pot skillet meal because not only does it combine quick cooking ground beef with veggies, but it also includes tons of beautiful colors and nutritious ingredients. It is mild enough to be perfect for kiddos of all ages, but also flavorful enough to be enjoyable for adults. It really is a great option for families – quick, nutritious, and delicious for everyone at the table.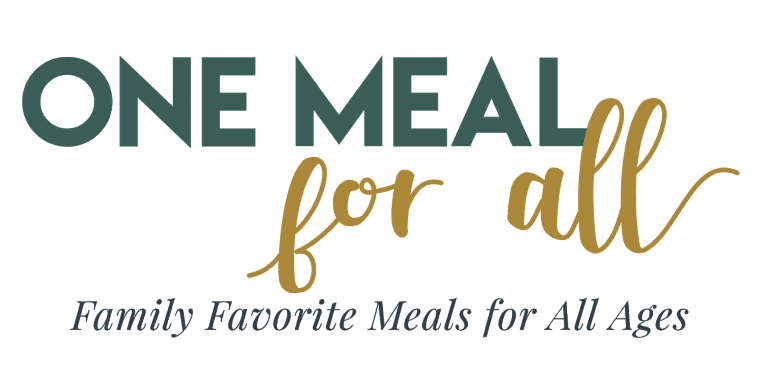 Other healthy beef recipes for families with babies:
If you are wanting to start adding more flavor, variety and fun into your weeknight meals, check out my START HERE page, and make sure you read my Complete Guide for Raising Adventurous Eaters post!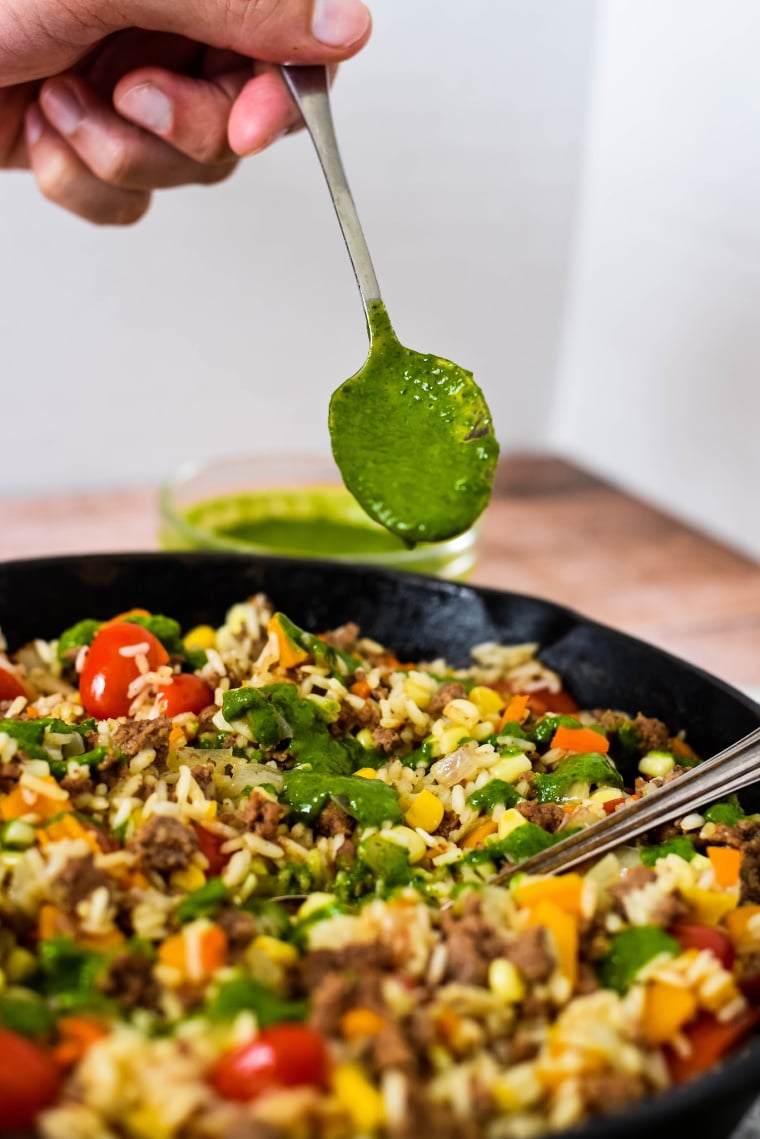 What is Chimichurri Sauce?
Chimichurri sauce is a traditional part of Argentinian food. Think of it as prolific as ketchup – it can be used for so many thing and is commonly seen on the dinner table!
Traditionally it is a loose oil based condiment that consists of parsley, cilantro, garlic, olive oil and vinegar. It is great with steak, but also amazing with a smoky grilled fish or chicken! Try it drizzled over tacos, as a marinade for grilled meats, thinned out with more olive oil for a salad dressing, or as a sandwich spread.
Now traditionally a chimichurri sauce recipe is not overly processed like this – its supposed to be a hand-made, loose sauce that drips over your steak. In order to make chimichurri more appetizing for those cautious eaters at the dinner table, I threw tradition to the wind (sorry) and grabbed my food processor – sometimes you gotta do what you gotta do. The resulting smooth sauce is a silky green color (without individual flecks of "green stuff" that can be picked out and questioned).
How do you make Chimichurri kid friendly?
I skipped the traditional addition of red pepper flakes so that it wouldn't be too spicy for little tasters. We added these on to the adult bowls later. If you want to start adding some heat to your children's meals, I suggest starting with 1/4 to 1/2 of what is listed in the recipe.
I blended the sauce smooth to make it a homogenous sauce – this way every speck and fleck can't be picked out and questioned.
Start off by stirring a small amount of chimichurri sauce into your kids bowl and mix it in thoroughly. Don't allow it to be used like Chick-fil-A sauce. You can always add more, but you can't take it away. My 8 year old helped herself to a giant helping of chimichurri sauce when I was busy with the baby and found it to be way too strong for her tastes. In her words, its a very "sharp" sauce, so start small.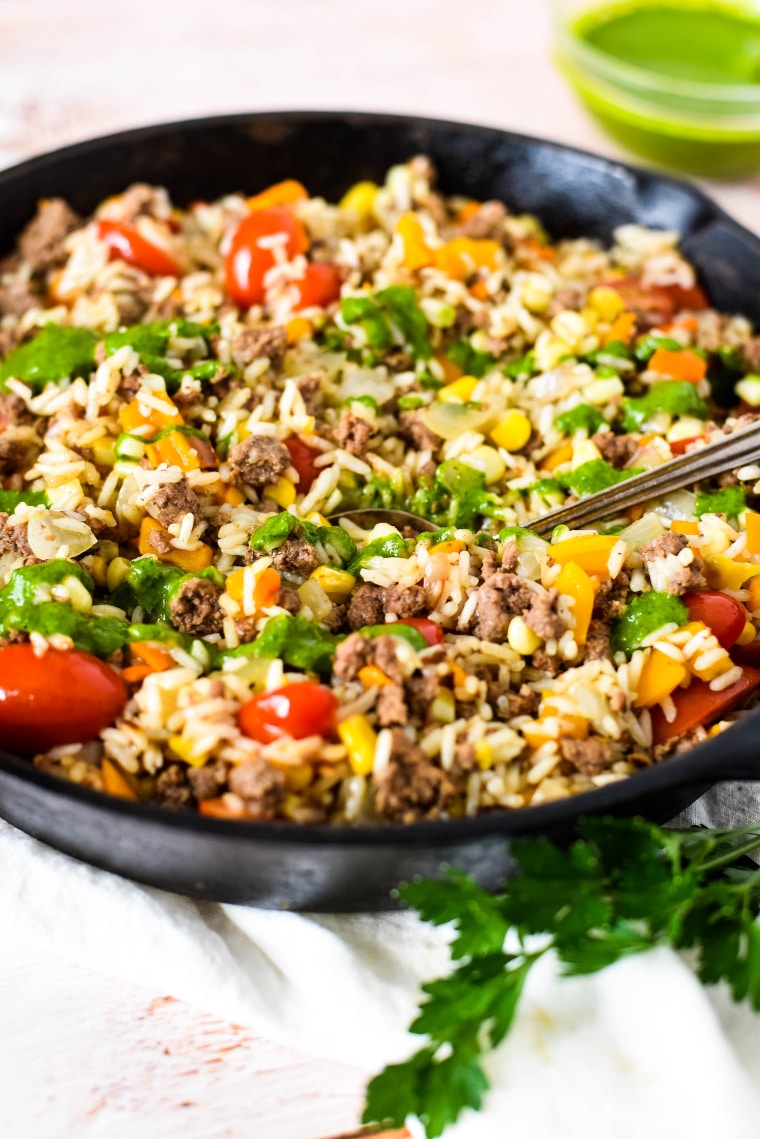 Recipe notes:
Pick a good ground beef. Look for fresh ground beef that is bright cherry-red color. If it is in a vacuum package, it will be a darker-purplish red color. Choose a ground beef that is between 80-90% lean as it cooks well for crumbling and you don't need to drain off too much fat. Check the "sell by" date and use within 2 days of that date, storing in the coldest part of your refrigerator until you are ready to cook it.
Make the chimichurri sauce and set aside until you need it. You can make this up to a day ahead, but know that the longer it sits the stronger flavor it will have.
Cook the ground beef in a 12″ flat bottomed pan like a cast iron skillet. This will allow the ground beef to cook thoroughly without crowding the pan. Cook for about 8-10 minutes, stirring occasionally and breaking into chunks about 1/4″ in size or smaller. Do not add salt to the beef as it cooks, especially if you are feeding this to babies and young children – they do not need excess salt in their diets and we will get plenty of flavor from other ingredients, especially the chimichurri sauce.
Add in the peppers and onions and cook until softening.
Add in the rice and water. Cover with a lid and simmer for 15 minutes, or until most of the liquid is absorbed. You can replace the water with chicken or vegetable stock, but stick with water if you are feeding this to babies and toddlers as stock can contain a lot of salt they don't need.
Stir in corn and tomatoes and allow to sit off the heat for an additional 10 minutes, with the lid on, to allow rice to finish cooking.
Serve with chimichurri sauce and tortilla chips, if desired.
Steps your kids can help you with:
Inviting your kids into the kitchen with you to cook a meal is an important way to help them be more curious about and confident with the new foods you serve.
This ground beef skillet recipe is perfect because it is so easy and there are so many steps that kids can help with.
Kids aged 1-3 can help pick the parsley and cilantro leaves off the stems, peel the garlic, and measure out all the ingredients. Kids this age can also help set the table.
Kids aged 4-6 can help do everything above, plus help use the food processor to make the chimicurri and stir the ingredients while cooking – with supervision.
Kids aged 7-10+ can help do everything above, plus chop the pepper and onion, and help cook the ground beef.
*Please note that these recommendations are generalized, and to please use your personal discretion with your child's skill level. And always, always supervise! Read more about how to have your children help you in the kitchen.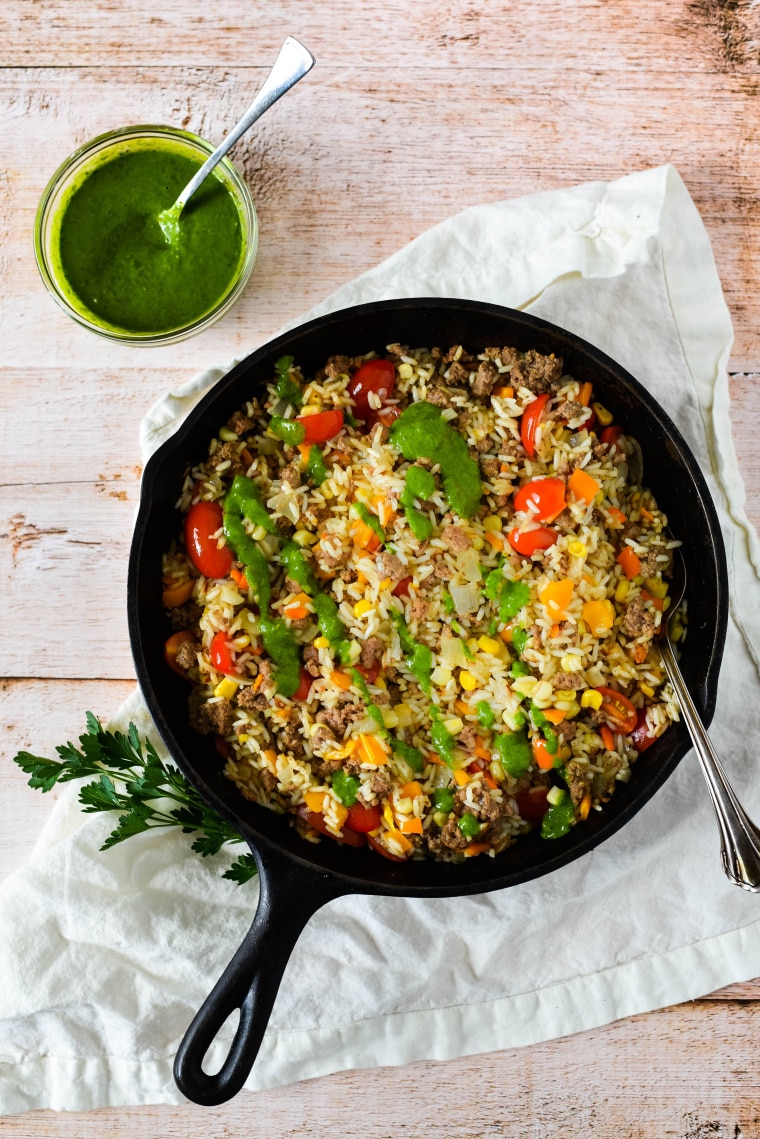 How to serve this rice and ground beef dinner to your family
For older babies (10+ months) and toddlers: Serve this on a tray or a bowl and allow them to eat without the chimichurri sauce. This meal is the perfect finger food for baby led weaning or for toddlers just starting to use their silverware.
For children: Serve this in a bowl and mix in a small spoonful of chimichurri sauce (like 1 tsp worth). If they would like more flavor, you can add another teaspoon of sauce at a time and mix thoroughly after each addition. This will spread the flavor throughout the meal so it won't be so intense.
For adults: Serve this with a generous helping of the chimichurri sauce. You can choose to stir the sauce throughout the ground beef and rice bowl, or enjoy it drizzled on top. We also enjoyed ours with tortilla chips!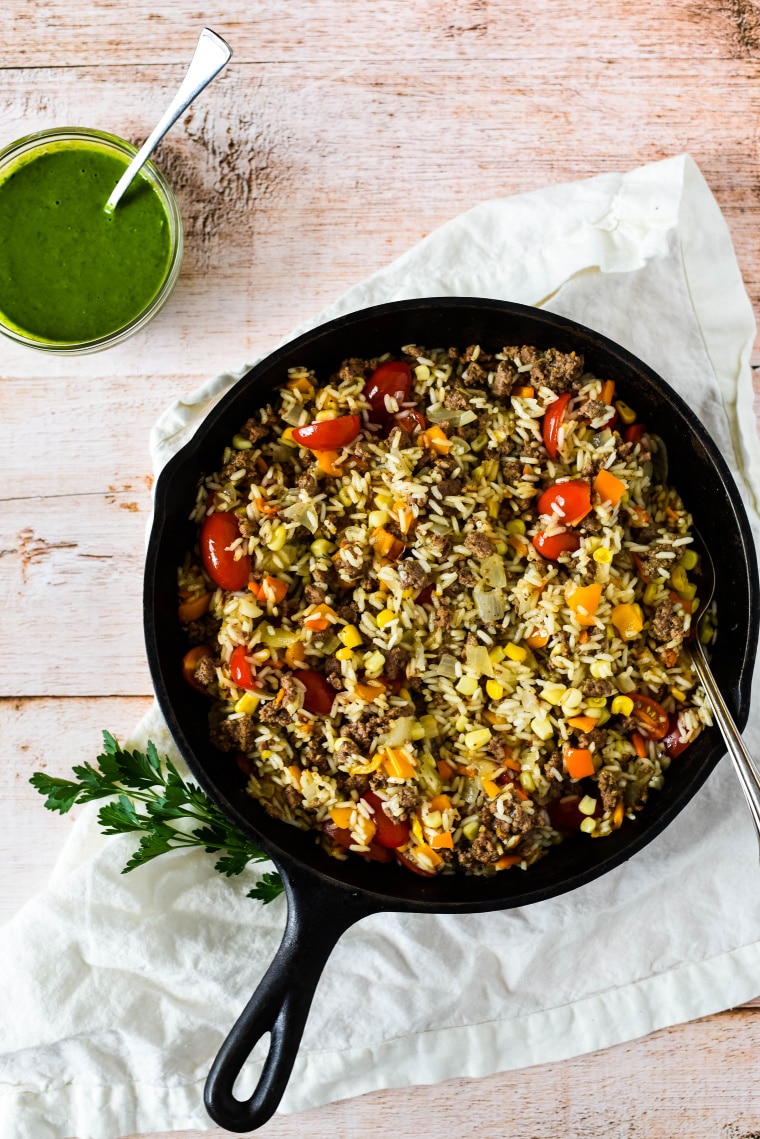 Looking for more adventurous meals that are weeknight and kid friendly? Try these out:
Food tastes better when its shared! If you try this recipe, let me know! Leave a comment and rate below!
Yield: 4 Servings
Chimichurri Ground Beef and Rice Recipe
This easy one pot meal is perfect for the busy family that craves more flavor from their dinner! Perfect for families who are doing baby led weaning or with toddlers, this kid-friendly and nutritious meal is ready in 30 minutes!
Ingredients
Chimichurri Sauce:
1/4 cup extra virgin olive oil
2 TBSP red wine vinegar
1/2 tsp dried oregano
1/4 tsp cumin
1/4 tsp salt
1 clove garlic
1/2 cup fresh parsley
1/2 cup fresh cilantro
1 tsp red pepper flakes, optional
Ground Beef and Rice Skillet
1 lb ground beef
1 TBSP olive oil
1 yellow onion
1 orange pepper
1 cup rice
1.5 cups water
1 cup corn
2 cup cherry tomatoes, halved
Instructions
In a food processor, blend together the olive oil, red wine vinegar, oregano, cumin, salt, garlic, parsley, and cilantro (and red pepper flakes, if desired) until smooth. Set aside.
In a large cast iron skillet, heat 1 TBSP olive oil over medium-high heat.
Cook the ground beef, stirring occasionally, for 5-8 minutes, or until no longer pink.
Add in the onion and pepper and continue cooking an additional 5 minutes, stirring occasionally, until the peppers and onions are starting to soften.
Add in the rice and water, cover with a lid and allow to simmer for 15 minutes.
Remove the lid, stir in the corn and cherry tomatoes, and then replace the lid.
Turn off the heat and allow to sit for an additional 10 minutes.
Fluff with a fork and serve with the chimichurri sauce.
Nutrition Information:
Yield:

4
Serving Size:

1
Amount Per Serving:
Calories:

589
Total Fat:

38g
Saturated Fat:

10g
Trans Fat:

1g
Unsaturated Fat:

24g
Cholesterol:

101mg
Sodium:

265mg
Carbohydrates:

28g
Fiber:

3g
Sugar:

5g
Protein:

35g