Chicken ballotine is a fancy and delicious meal that will impress! A whole chicken deboned and wrapped with a spinach, cheese and bread stuffing. A fancy French meal that is worth the time and effort!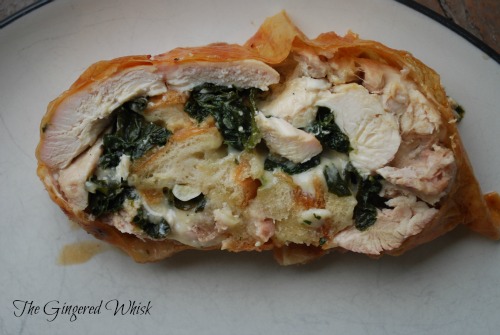 Ready for a super challenge? Come on, I know you can do it!
If you ready to roll your sleeves up, chanel Jacques Pepin, and take on something technically challenging but so deliciously worth it, than I have an amazing recipe for you today!
Love cooking traditional meals that will stretch your cooking techniques? Try these dinners:
Traditional Cassoulet

– Well worth the time and effort, this traditional cassoulet is perfect dinner to show off with!

Chicken and Sausage Paella

– This Paella recipe has bright flavors and is a lovely meal to share with friends and family.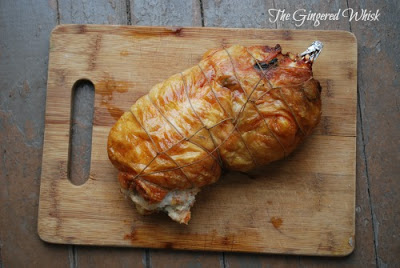 I would suggest wrapping your laptop in saran wrap and placing it on your kitchen counter while you make this. You will want to watch this video about 50 bajillion times while you prepare this. This way you can stop/rewind/play as much as you need without getting raw chicken all over everything. http://www.youtube.com/watch?v=kAekQ5fzfGM
Once you get through the de-boning part, the stuffing, stuffing, wrapping and roasting portion are fairly straightforward, and afterward – WOW. I was kind of hoping this would be an ultimate flop so I would never have to do it again. But that is not the case here at all. This is delicious. Amazingly delicious. Very moist, and sooo delicious! I'm definitely going to be mangling more chickens!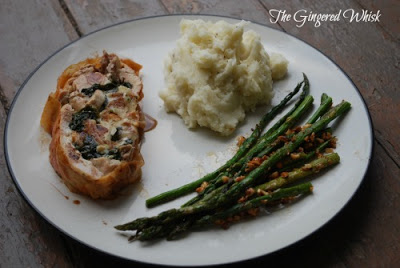 How to serve this meal
This meal is so fun to because its such a show stopper! Serve it alongside mashed sweet potatoes and roasted whole carrots for a lovely meal that is sure to please everyone. Don't forget dessert! Serve with a fromage blanc tart for a fun French meal!
Food tastes better when its shared! If you try this recipe, let me know! Leave a comment and rate below!
Yield: 6 servings
Chicken Ballotine Recipe
Ingredients
Spinach, Cheese, and Bread Stuffing
1 Tablespoon olive oil
1 teaspoon finely minced garlic
5 ounces baby spinach leaves
1/4 teaspoon salt
1/4 teaspoon freshly ground black pepper
1 cup grated Gruyere cheese
1 1/2 cups cubed (1/2") bread
Ballotine
1 whole chicken (about 3 3/4 pounds), boned
1/4 teaspoon salt
1/4 teaspoon freshly ground black pepper
Sauce
1/2 cup dry red wine
1/3 cup water
1 celery stalk, diced into 1/4" pieces
1 small onion, chopped finely
1 carrot, pulled and cut into 1/4" dice
1/2 teaspoon cornstarch, dissolved in 1 Tablespoon of water
1 Tablespoon dark soy sauce
1 Tablespoon chopped fresh parsley
Instructions
Spinach, Cheese and Bread Stuffing
Heat the oil in a large saucepan or skillet. Add the garlic, spinach, salt, and pepper and cook for 1 minute to soften the garlic and wilt the spinach.
Transfer to a bowl and let cool to room temperature. (The cheese and bread come into play when you are stuffing the chicken, so just prepare them and set aside for now).

Ballotine of Chicken
Preheat the oven to moderately hot 400°F/200°C/gas mark 6.
Lay the chicken skin side down on the work surface and sprinkle with the salt and pepper.
Spread the cool rice or spinach mixture evenly over the chicken – stuffing the legs too.
Sprinkle the cheese and bread cubes on top of the spinach.
Roll the chicken up, tie it with kitchen string, and place it in a roasting pan.
Roast the ballotine for about 1 hour or until the temperature is 160-165 degrees F in the center of the ballotine. I took mine out after 50 minutes and let it sit until it reached 165.
Lift it from the pan and place it on a cutting board.

For the sauce:
Skim off and discard most of the fat from the drippings in the pan.
Add the water and wine to the drippings to deglaze the pan, and heat over medium heat, stirring to loosen and melt the solidified juices.
Strain the juices into a saucepan.
Add the celery, onion, and carrot and bring to a boil over high heat.
Cover, reduce the heat to low, and boil gently for 5 minutes.
Stir in the dissolved corn starch and soy sauce and bring the mixture back to a boil, stirring, to thicken it.
Remove from the heat.
Serving
Remove the string from the ballotine.
Cut half of it into 4 or 5 slices, each about 1 inch thick.
Return the uncut half of the ballotine to the serving platter and arrange the cut slices in front of it.
Pour the sauce over and around the ballotine, garnish with the parsley, and serve.
Cut additional slices of ballotine as needed at the table.
Nutrition Information:
Yield:

6
Serving Size:

1
Amount Per Serving:
Calories:

389
Total Fat:

24g
Saturated Fat:

9g
Trans Fat:

0g
Unsaturated Fat:

13g
Cholesterol:

113mg
Sodium:

598mg
Carbohydrates:

4g
Fiber:

1g
Sugar:

1g
Protein:

35g
Nutrition information is an estimate and is provided for informational purposes only. For the most accurate information, please calculate using your specific brands and exact measurements.