These easy lemon cakes are a delightful treat that are perfect for your Game of Thrones party or while watching the show. Dainty lemon cakes topped with a candied lemon and drizzled with lemon simple syrup.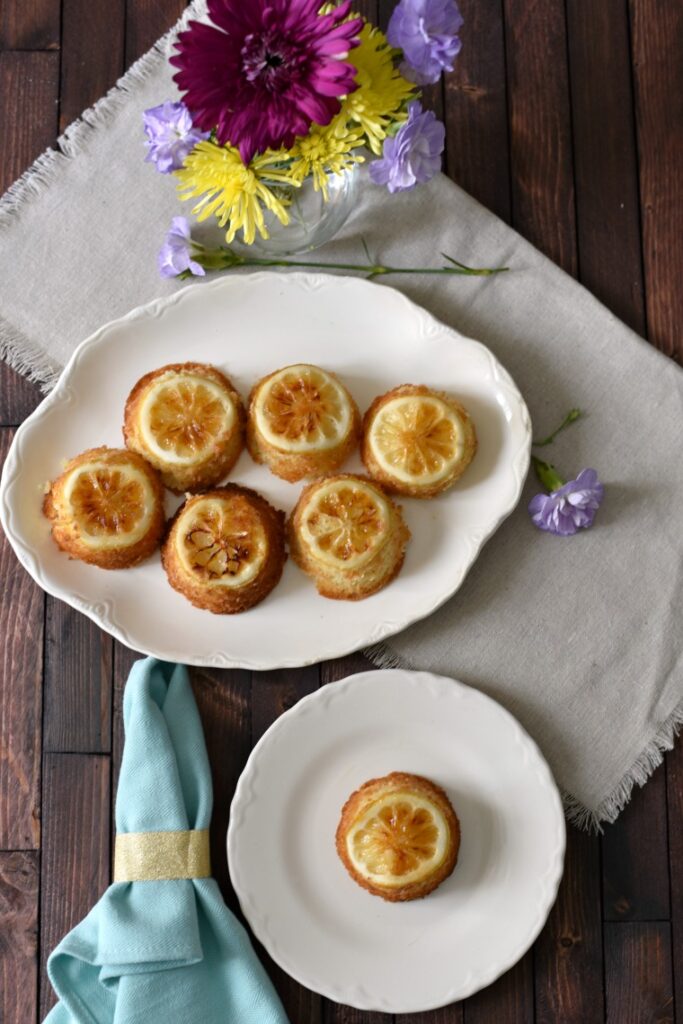 Game of Thrones has seriously become one of my favorite TV shows. And I think it might be the only tv/movie that I recommend over the books. Which is weird, coming from me! I like the books, but they are dense tomes of pedigrees and descriptions. Its like Earnest Hemmingway and J.R. Tolkein got together and wrote them. I love the imagery behind the show, though, and for some reason I much prefer watching than reading this series. Has that ever happened to you?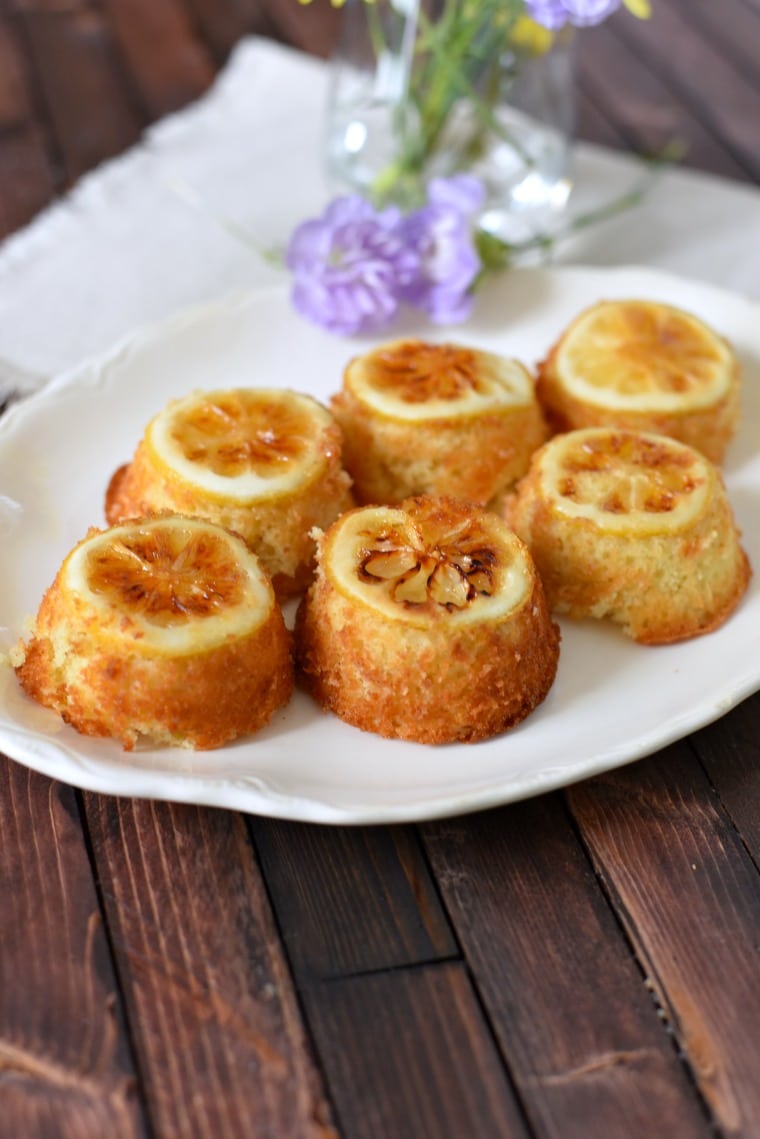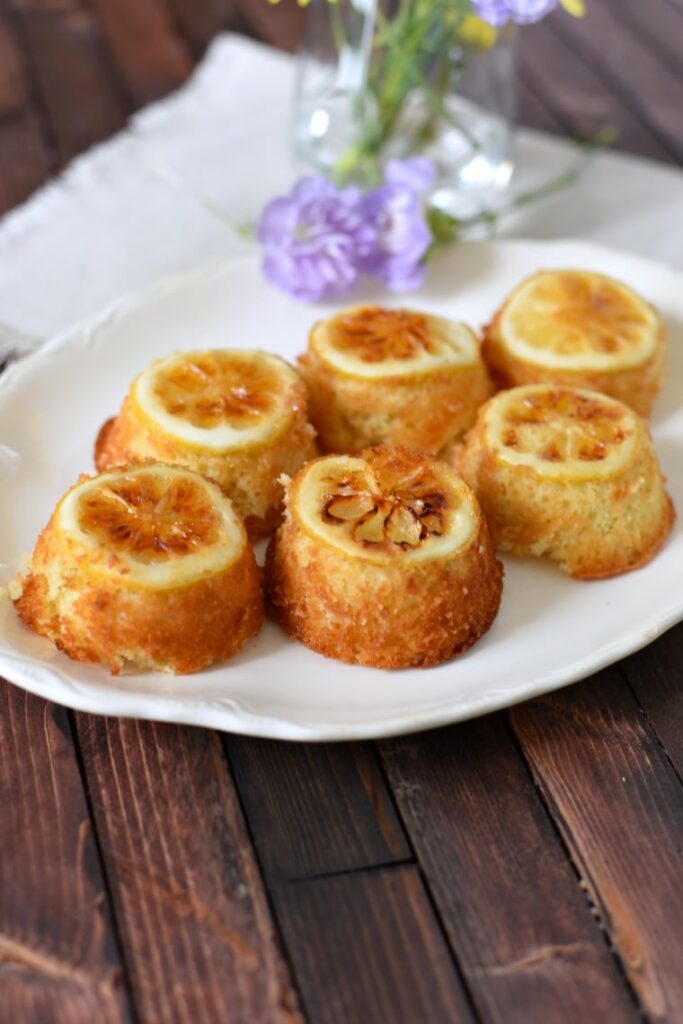 Want to make other fun Game of Thrones inspired recipes? Try these:
If you love Game of Thrones inspired recipes (and other nerdy goodies), make sure you sign up for my email list to receive more fun and easy recipes!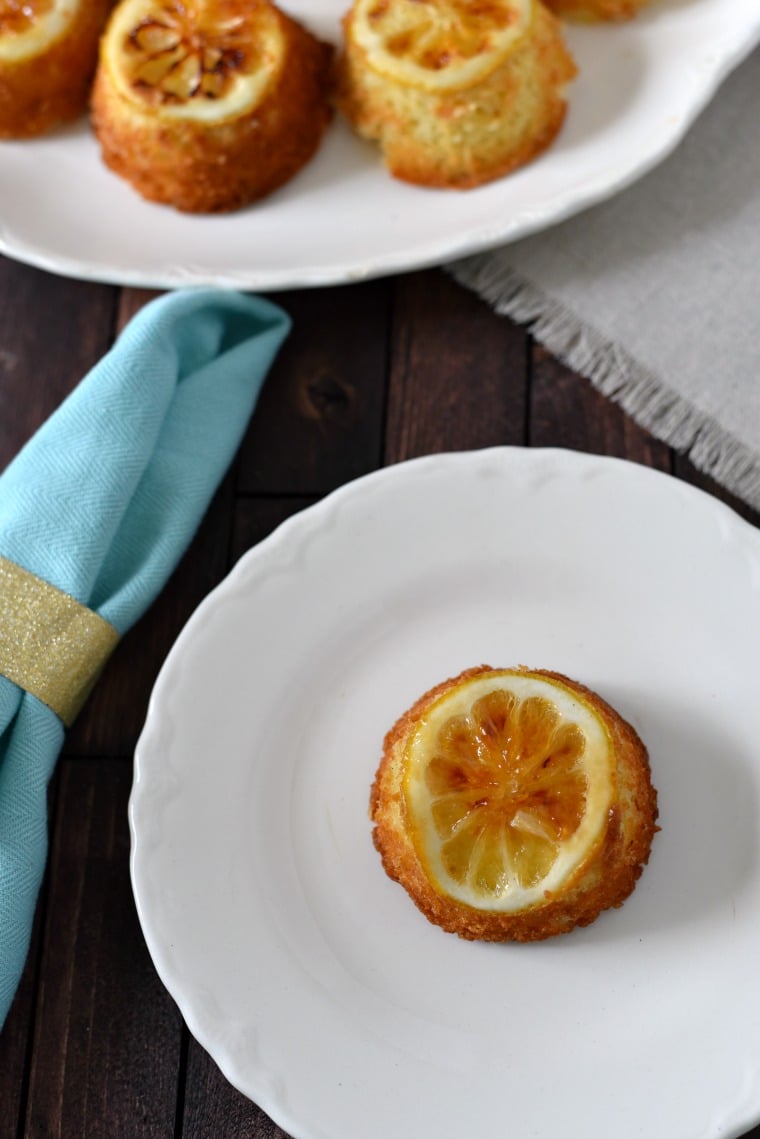 I am not sure I could actually name a favorite character. I have really enjoyed watching all of them change and grow. And naming a favorite is pretty much the best way to have that character die, LOL. But I have found Sansa Stark to be really fun to watch last season, and I can't wait to see who she becomes in this next season! If you haven't seen the show, she starts out as one of 4 children (plus a ward) in the North – its cold and wintery, and she dreams of living a life at court. She isn't actually very nice – very prissy, dainty and naive. But as the seasons go on she suffers many hardships, and she really grows into her own person – exhibiting a strength and — that no one would have guessed she had. I don't want to reveal any spoilers if you haven't seen the show or read the books (and why haven't you, actually?! Get on that!) but Sansa has changed a lot – going from a pitiful princess type to a strong and determined woman, and I cannot wait to see what she gets up to this next season!
I made these lovely little Lemon Cakes for Sansa. Its' no surprise that lemon cakes would be Sansa's favorite – lemons would be super hard to come by in the North, and would totally remind her of the life of a lady that she so wants to live. A lot of recipes for Lemon cakes either have you make a traditional lemon cupcake, or something that more resembles a biscuit. They are often mentioned in the books, and usually served as a tea-time treat. I wanted something that was kind of in-between the two. Since Game of Thrones takes place in a time period that is similar to the last medieval period of Europe (about the 15th century ), I wanted a recipe that would be appropriate for lords and ladies of the day, but also not overly ridiculously fancy by today's standards.
How to make Candied Lemon Slices:
The candied lemons are a fun addition to these mini lemon cakes!
Make sure to cut them as thinly as you can! If they are too thick, they won't cook as well and will still be chewy. Use a mandolin or a sharp knife.
Use a large flat bottomed pan (it doesn't need to be tall).
Combine the sugar and water to make the start of a simple syrup. Place the lemon slices in the pot in a single layer – you don't want them to overlap or they won't cook well.
Simmer the lemon slices in simple syrup for 15 minutes until they are soft and cooked through.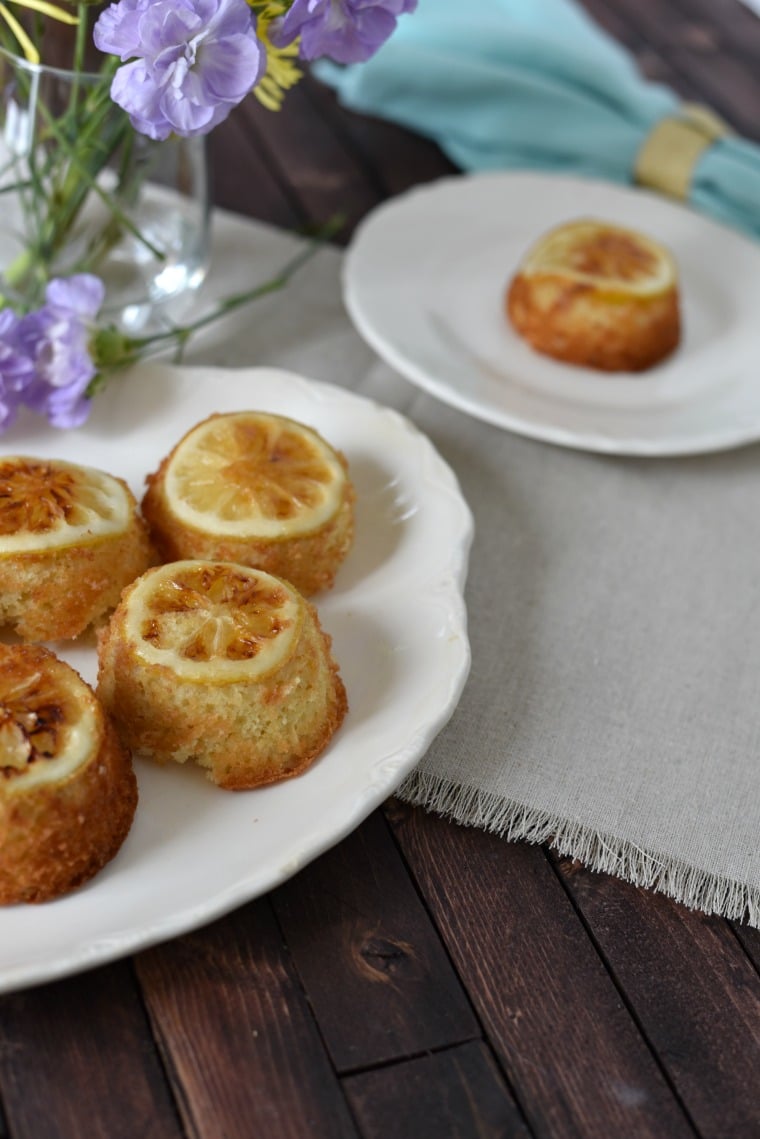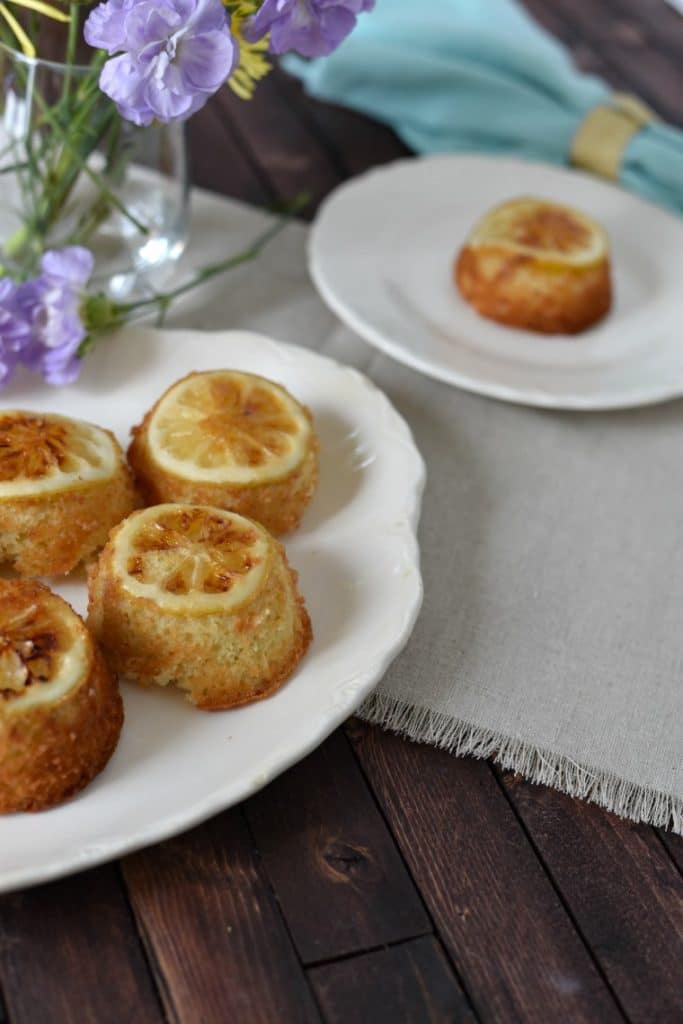 These little cakes are easy to make and so worth the time! The candied lemons on top add a fun element, and while they are cooking (they only take 15 minutes) you can mix up the batter for the moist and super lemony cakes. I recommend greasing your muffin pan with a spray meant for baking because a traditional with canola or coconut oil will make your candied lemon slices darker (just like you see in my pictures). I also highly recommend greasing the tops of the muffin pans (you know, the flat parts in between the cups).
There's is nothing I love more than seeing you guys make my recipes! Tag @gingeredwhisk and use the hashtag #gingeredwhisk on social media when you make my recipes so that I can share them and maybe even feature you. And follow along to get the latest updates:
Want to save this for later? PIN THIS TO YOUR Game of Thrones Recipes Board on Pinterest!
And don't forget to subscribe to the email list to get all the extra tips, tricks and bonuses!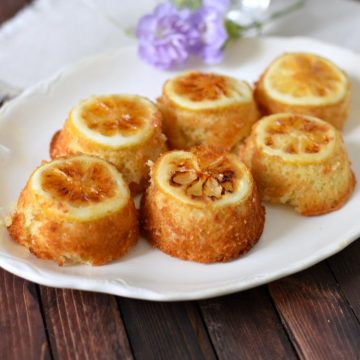 Easy Lemon Cakes
These lemon cakes are dainty, moist, and perfect for a tea party. Inspired by Sansa Stark of Game of Thrones, these cakes won't disappoint a highborn lady or a commoner!
Print
Pin
Rate
Ingredients
*Candied Lemons
2

cups

sugar

1.5

cups

water

2

lemons

sliced thinly
*Lemon Cake
2.5

cups

flour

1

tsp

salt

½

tsp

baking powder

½

tsp

baking soda

2

TBSP

lemon zest

3

TBSP

lemon juice

1

cup

butter

softened

1

tsp

vanilla extract

1

cup

buttermilk

1.25

cups

sugar

2

eggs
*Lemon Glaze
1

cup

powdered sugar

½

cup

lemon juice
Instructions
Preheat oven to 350F.

Spray the wells and tops of a 12-hole muffin pan well with baking spray. Use the kind with the flour in the spray, and make sure you spray the flat spaces between the wells, too. The candied lemons are sticky, so you want to make sure you can easily get the  cakes out later!

*To Make the Candied Lemons

Slice the lemons as thinly as you can. If they are too thick they might end up chewy and the rind might not cook as well.

In a large bottomed pot (it doesn't need to be deep, but it does need to be wide), combine the sugar and water.

Simmer gently to combine, and then gently place the lemon slices in a single layer into the pot.

Simmer for about 15 minutes.

Remove and allow to drain on a piece of parchment paper until ready.

*Lemon Cakes

Beat the butter and sugars together until light and fluffy.

Add in the eggs one at a time.

Add in the lemon juice, lemon zest, and vanilla extract.

Stir in the flour, salt, baking soda and baking powder until just combined.

Add in the buttermilk and mix until combined.

Place one candied lemon slice into the bottom of each well, making sure it fits well.

Place a little less than 1/4 cup of batter on the top of each lemon slice.

Bake for 15-20 minutes, until just starting to turn golden and the batter is firm.

Remove from the oven and cool on a wire rack.

When warm (not hot and not completely cool, but still warm to the touch), carefully run a knife along the edge of each of the cakes and gently remove. Place upside down with the lemon slice on top.

In a medium bowl, mix together the lemon juice and sugar for the glaze. Carefully drizzle over the top of each of the cakes.

Enjoy!
Notes
As written, this recipe makes enough for 12 cakes - although you will end up with extra cake batter! I have tried adjusting the recipe to make an even dozen, but it just doesn't work. So, you have two options - either make a second batch of lemons (with new sugar and new water) to have enough candied lemon slices for all the cakes, or bake the other 4-5 cakes without candied lemon slices!
Nutrition
Serving:
1
g
|
Calories:
504
kcal
|
Carbohydrates:
87
g
|
Protein:
5
g
|
Fat:
17
g
|
Saturated Fat:
10
g
|
Polyunsaturated Fat:
5
g
|
Trans Fat:
1
g
|
Cholesterol:
72
mg
|
Sodium:
445
mg
|
Fiber:
1
g
|
Sugar:
65
g
Interested in other Game of Thrones inspired recipes? Check out my Vale Mule, a fun raspberry mule, perfect for a summer evening on the deck and inspired by the Vale.