Chicken and Sausage Gumbo Recipe
This quick and easy 30 Minute Chicken and Sausage Gumbo Recipe is sure to please! This one pot meal is designed to help your kids explore the flavors of New Orleans. Roll up your sleeves, turn on some jazz enjoy this easy one pot meal!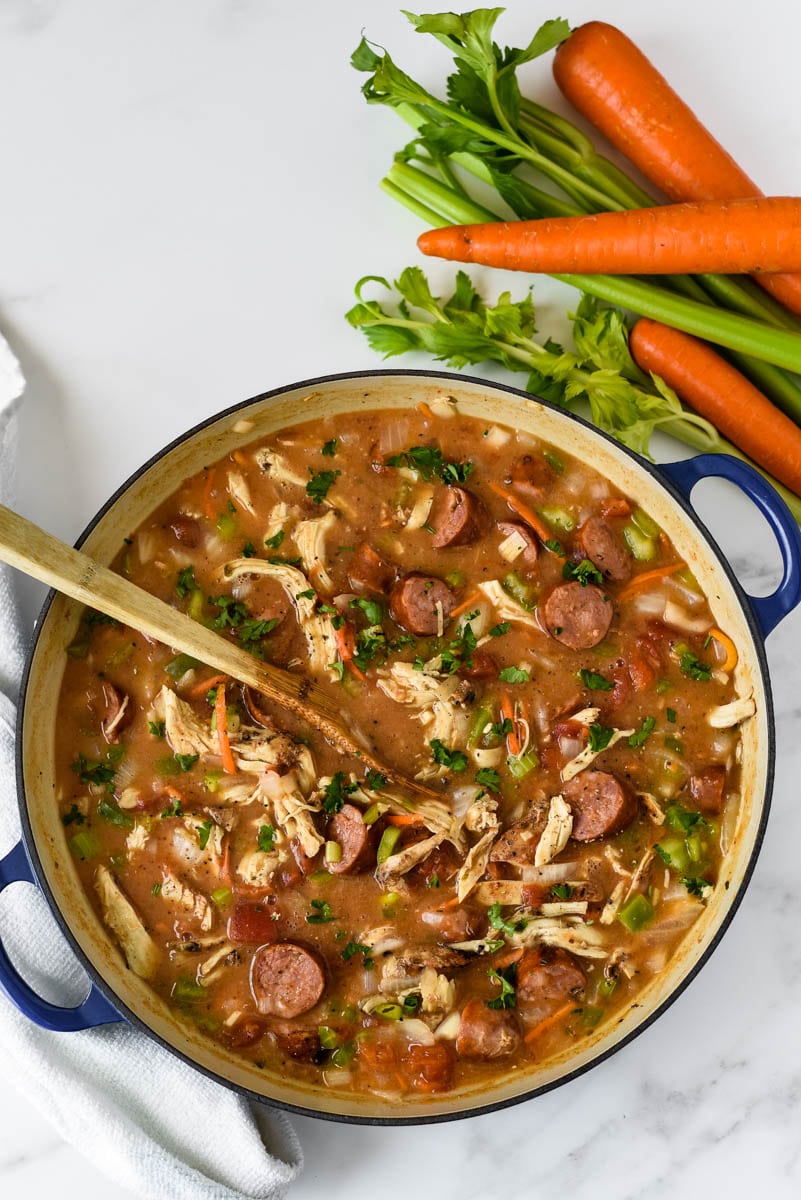 Gumbo and Jambalaya have always been one of our favorite dishes to make, but one that we don't make often because it usually takes a while and our children don't usually like it because it is spicer than they typically enjoy. But they were all for trying it again for the sake of eating like Princess Tiana! (oh, the power of suggestion!). With a few shortcuts we were able to create one of the easiest gumbo recipes ever, and one that kids and adults alike will love! This gumbo is not at all "authentic" but it sure is good on a busy weeknight! 
Weeknight gumbo with chicken and sausage
Gumbo is a stew that is famously from Louisiana made with stock, meat, and the "Holy Trinity" of vegetables – celery, bell peppers and onions! But something that is often confused is if you call it cajun or creole?
This weeknight version isn't quite traditional. I skipped out on the super traditional dark roux (it takes a good hour of uninterrupted time to make one) because its nearly impossible to find in any of my town's grocery stores. If you have the time, you should totally attempt to make one some day, though!
There are two different variations of Gumbo – a creole version and a cajun version.
Before I dig into that, though, let's take a moment to talk about the differences in cajun and creole cuisine, because while they are often thought of as two words for the same thing they are actually quite different!
Creole Cuisine – Creole cuisine comes from the French and Spanish settlers that ruled Louisiana and the merging of their food with the food of freed slaves in the area. It is thought of as "city food" and has a wide range of ingredients and variety because of the accessibility of different exotic ingredients and wide mix of cultures that contributed to this cuisine.
Cajun Cuisine – Cajun cuisine comes to us from rural country where French people from Canada eventually settled in four regions of more swampy southern Louisiana. It is thought of as "country food" and made use of what was available to the people at that time.
*Basically a rule of thumb is that creole cuisine uses tomatoes and proper cajun food does not.
Creole gumbo comes from southeastern Louisiana, and generally contains shellfish, a dark roux, tomatoes, and is topped with file powder. Cajun gumbo is popular in southwestern Louisiana, and is also made with a dark roux, shellfish or chicken, does not contain tomatoes, and is generally topped with parsley and green onions. Sausage or ham can be added to both variations. This quick weeknight version is kind of a combination of both creole and cajun gumbo recipes.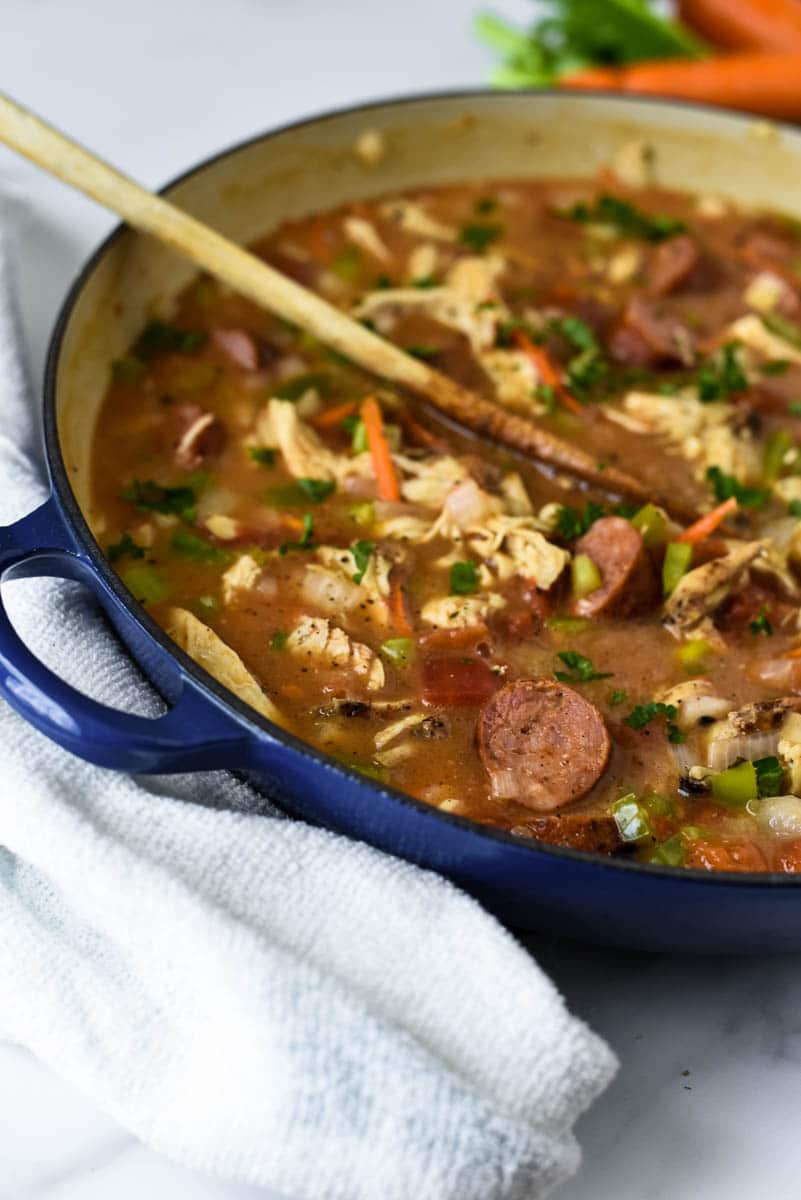 This recipe was made as part of my "Eat Like A Princess" series, where I create weeknight meals inspired by the classic Princesses in the hopes that it helps children be more curious about trying new foods, flavors, and cuisines. This meal was inspired by Princess Tiana from The Princess and the Frog.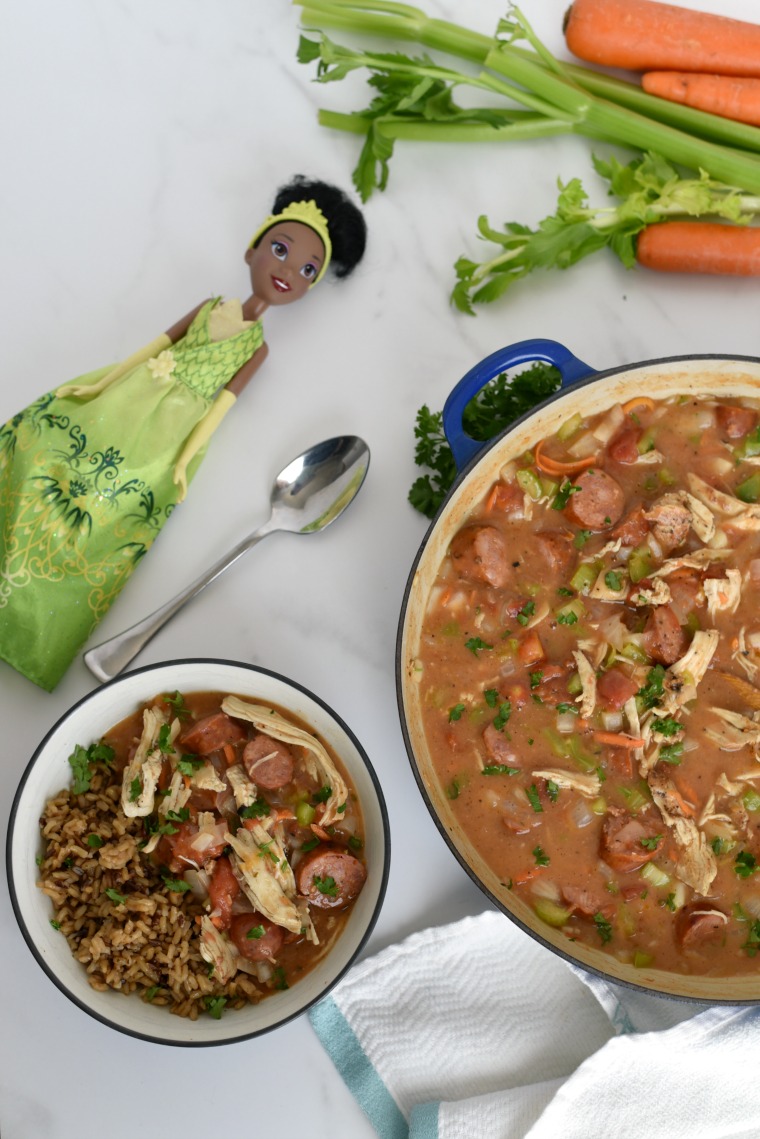 How to make gumbo with chicken and sausage:
This gumbo is quite simple to make. For the full recipe with ingredients and instructions, please scroll on down to the recipe card. But the general gist of the recipe is this:
Dice your veggies really small. That helps them to cook faster.
Sauté the sausages until browned on both sides. Remove to a bowl and keep warm.
Melt the butter in the pan and sauté the veggies until they are soft. Add the garlic.
Stir in the flour until it is combined and everything is coated in flour.
Slowly pour in the broth, about 1/4 cup at a time, and mixing thoroughly before adding anymore.
Add in the meats and drained tomatoes and stir to combine.
Serve with parsley and file powder.
Shortcuts to make gumbo faster and easier:
Normally Gumbo takes several hours to make, but a few shortcuts will turn this into a quick 30 minute meal that your kids can help you make AND will enjoy eating! The result is a hearty and flavorful recipe packed with chicken and smokey sausage!
Use the microwave-ready pouches of rice to shorten cooking time and reduce the number of pots you dirty. We like this brown rice and quinoa one, but you can use a white rice, too! We used 2 pouches for this recipe.
Buy a rotisserie chicken from your local grocery store so you don't have to cook the meat! My local store sells the meat already pulled off the bones, which makes a HUGE time saver!
Buy your carrots, peppers and onions pre-chopped will save you time. Look for shredded carrots in the produce section and you can find chopped onions and peppers either in the produce section or in the freezer section! It is up to you to weight your budget vs time and see which is most important that day.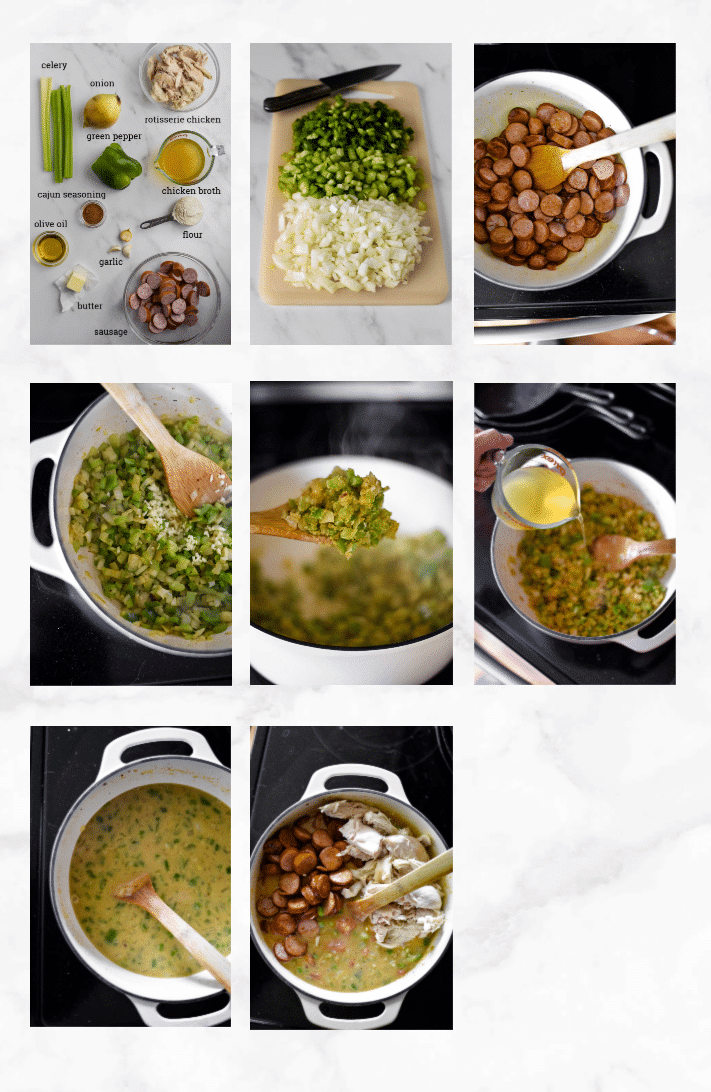 How to make gumbo kid friendly
Gumbo is a great meal to serve to families because its got great flavor, but isn't overpowering at all! Normally gumbo is made with andouille sausage, but that can get kind of spicy. If you aren't sure if the brand of andouille sausage is one that your kids will eat, I suggest switching out for kielbasa instead.
Dinner conversations with kids:
Dinner is a great time to talk with your kids! I find that talking with your kids about the food you are eating (and more than a "take another bite!" way) really helps them to become more interested in trying the food in front of them.
Try discussions about:
Where the "bayou" is.
Talk about the different textures they find on their plate – What is crunchy, what is soft?
Discuss the different flavors they taste – What is sweet, toasty, savory?
Ask questions about what their favorite part of the meal is, how they would change things, and what they would like to see next time you cook this.
Read more about how to explore the sense of taste with kids, and sign up for the fun FREE 5 day Tasting Trek Challenge!
[mailerlite_form form_id=8]
How to serve chicken and sausage gumbo to your family
Gumbo is a great meal to serve to all members of your family.
For toddlers: pull out the "pieces" of the gumbo and leave the sauce part in the pan. Cut up the sausage and chicken into bite sized pieces and double check that all veggies are the right size. Serve everything in its own pile, along with some rice. Serve a colorful fruit on the side, such as berries or purple grapes to add some color and textural differences.
For preschoolers: Serve the meat, veggies, and rice in three separate piles on a preschoolers plate. Allow them to garnish with parsley and a touch of file powder if they want. Serve some colorful fruit on the side.
For older kids: Allow the older kids to decide if they would like their gumbo served on top of or beside their rice. Allow them to garnish as they want.
Make a complete American cajun meal and serve this with cajun maque choux corn and easy bananas foster for dessert!
Get your Kids in the Kitchen:
Getting your kids in the kitchen with you is an excellent way to help them be more interested and excited about their food – which means they are most likely to actually eat it! Below you will find easy ways to have your kids help you cook Princess Tiana's Gumbo Recipe!
Children aged 0-3 can help you pick out the produce at the store, measure the ingredients and set the table.
Children aged 4-7 can help you do everything above, plus help chop the produce, slice the sausage, microwave the rice pouches, and help stir the Gumbo while cooking.
Children aged 8-12 can help you remove the chicken meat from the rotisserie, help make the roux, and do most of the cooking/stirring.
*Please note that these recommendations are generalized, and to please use your personal discretion with your child's skill level. And always, always supervise! More information on teaching your kids to cook with you.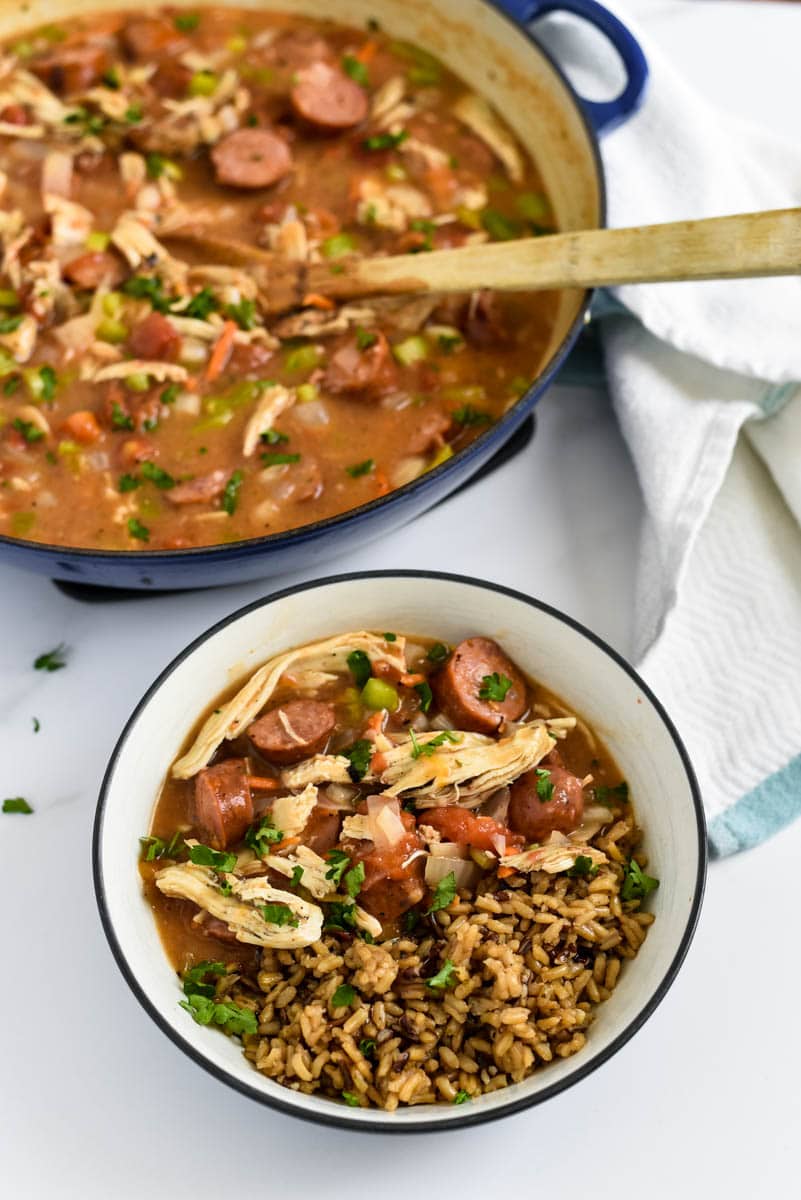 There's nothing I love more than seeing you make my recipes! If you make this Chicken Sausage Gumbo, don't forget to leave a comment below and rate the recipe!
And if you are on Instagram, tag @gingeredwhisk and use the hashtag #gingeredwhisk on social media when you make my recipes so that I can share them and maybe even feature you. Follow along to get the latest updates:
And don't forget to subscribe to the email list to get all the extra tips, tricks and bonuses!
Want to save this for later? PIN THIS TO YOUR DINNER BOARD on Pinterest!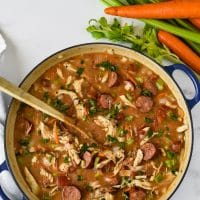 30 Minute Chicken and Sausage Gumbo
This quick and easy 30 Minute Chicken & Sausage Gumbo Recipe for Princess Tiana is sure to please your whole family. An easy one pot meal designed to help your kids explore the flavors of New Orleans and "Eat Like A Princess!"
Print
Pin
Rate
Ingredients
8

oz

precooked andouille sausage

⅓

cup

flour

2

tbsp

butter

2

TBSP

oil

1

green pepper

chopped

3

celery stalks

chopped

4

garlic cloves

minced

salt/pepper to taste

about 1/2 tsp each

1

medium onion

chopped

1

tbsp

creole spice

1

can diced tom

2

cups

broth

1

rotisserie chicken

2

cups

cooked brown rice

3

TBSP

fresh chopped parsley
Instructions
Heat a large skillet over medium heat.

Place the 2 TBSP of oil into the pan and allow to warm.

Add the sliced sausages to the pan, and cook the sausage until browned, stirring occasionally, about 4 minutes, and then remove to a plate. Keep warm.

Add the butter to the skillet and allow to melt.

Add the onions, celery, and green pepper to the skillet and cook, stirring occasionally, for 10 minutes.

Add in the minced garlic and allow it to cook until fragrant, about 30 seconds.

Stir in the flour.

Add in the can of tomatoes, the cajun seasoning, and mix well to combine.

Slowly add in the chicken broth, about a 1/4 cup at a time, stirring to combine well before each new addition.

Allow to simmer for 5 minutes, stirring occasionally.

Add in the shredded rotisserie chicken,the sliced sausage, stirring to mix well, and allow to warm through, about 5 minutes.

Top with fresh chopped parley and rice and enjoy!
Notes
If your children find Andouille Sausage to be too spicy, you can replace with Kielbasa.
Shorten cooking time by using pre-chopped carrots, onions and peppers found in your local grocery store (check the fresh produce and/or the freezer section!)
Nutrition
Serving:
1
g
|
Calories:
430
kcal
|
Carbohydrates:
28
g
|
Protein:
23
g
|
Fat:
25
g
|
Saturated Fat:
8
g
|
Polyunsaturated Fat:
14
g
|
Cholesterol:
83
mg
|
Sodium:
650
mg
|
Fiber:
2
g
|
Sugar:
3
g
For a more step by step version, check out the how to make chicken and sausage gumbo story.
SaveSaveSaveSave
SaveSave
SaveSave