This easy bananas foster recipe is a simple and quick dessert that is perfect for families to enjoy together. Sauteed bananas are drenched in a gooey sauce of caramelized sugar and spices, sprinkled with walnuts and then served over vanilla ice cream. Bananas foster without rum is kid friendly and ready in 10 minutes.
Bananas foster is one of those recipes you need to have in your back pocket. Its so simple to make and its ready in 10 minute, which makes it great even on busy night or when you need a last minute dessert. And because its made with pantry staples, you can make it when you think about it!
Make the meal complete with Chicken and Sausage Gumbo and Cajun Maque Choux Corn.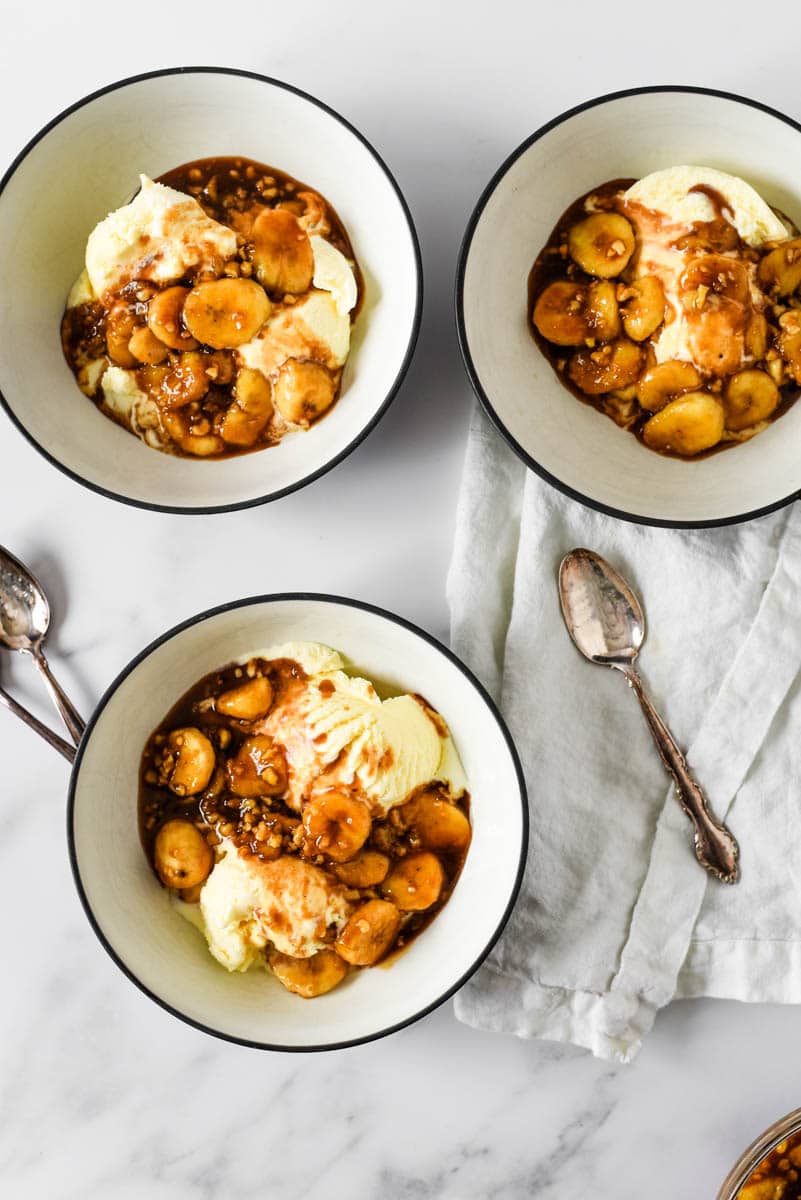 Bananas Foster
Bananas Foster is an iconic Louisiana dessert. Slightly cooked bananas are bathed in a gooey spiced caramel sauce and drizzled over vanilla ice cream.
Created in the 1950's, Bananas Foster has become an iconic New Orleans dessert. In the 50's, New Orleans was a huge port of entry for bananas being shipped from Central and South America. This recipe was created at a restaurant called Brennans.
The owner, Owen Brennan asked his chef to create a new dessert that featured bananas and the result was named after Richard Foster, who was a friend of the restaurant owner and a civic leader in the city.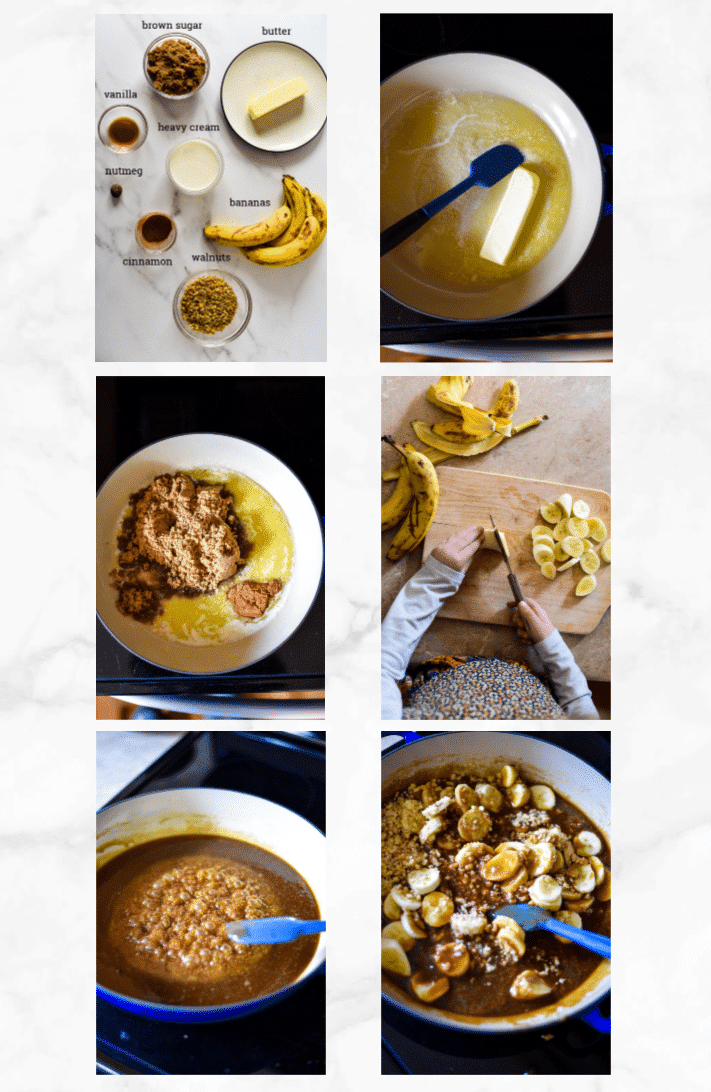 How to make bananas foster without rum
Bananas foster is a very simple and easy dessert to make at home, and a great recipe to cook with kids. For the full recipe and directions, please scroll down to the recipe card.
The following is just a brief synopsis of the cooking method:
Melt the butter over medium heat.

Stir in the brown sugar and spices until the sugar has been dissolved, about 4 minutes.

Slice the bananas into coins and then add to the pan, along with the nuts and cook for 2-3 minutes.

Stir in the extracts.

Serve over vanilla ice cream.
Prepping ahead of time
This dessert is so quick and easy to make, there really isn't much you can do to prep ahead. While bananas foster CAN be technically stored in an airtight container in the fridge and reheated for later, the texture of the bananas will become mushier.
Instead I recommend pre-measuring out your ingredients for the sauce and having them ready to go.
How to serve this dessert to your family
This quick dessert is easy to make together and great for serving to a variety of ages.
Serve bananas foster with vanilla ice cream

Spoon it over pancakes or french toast!

Enjoy it with homemade oatmeal or yogurt for breakfast!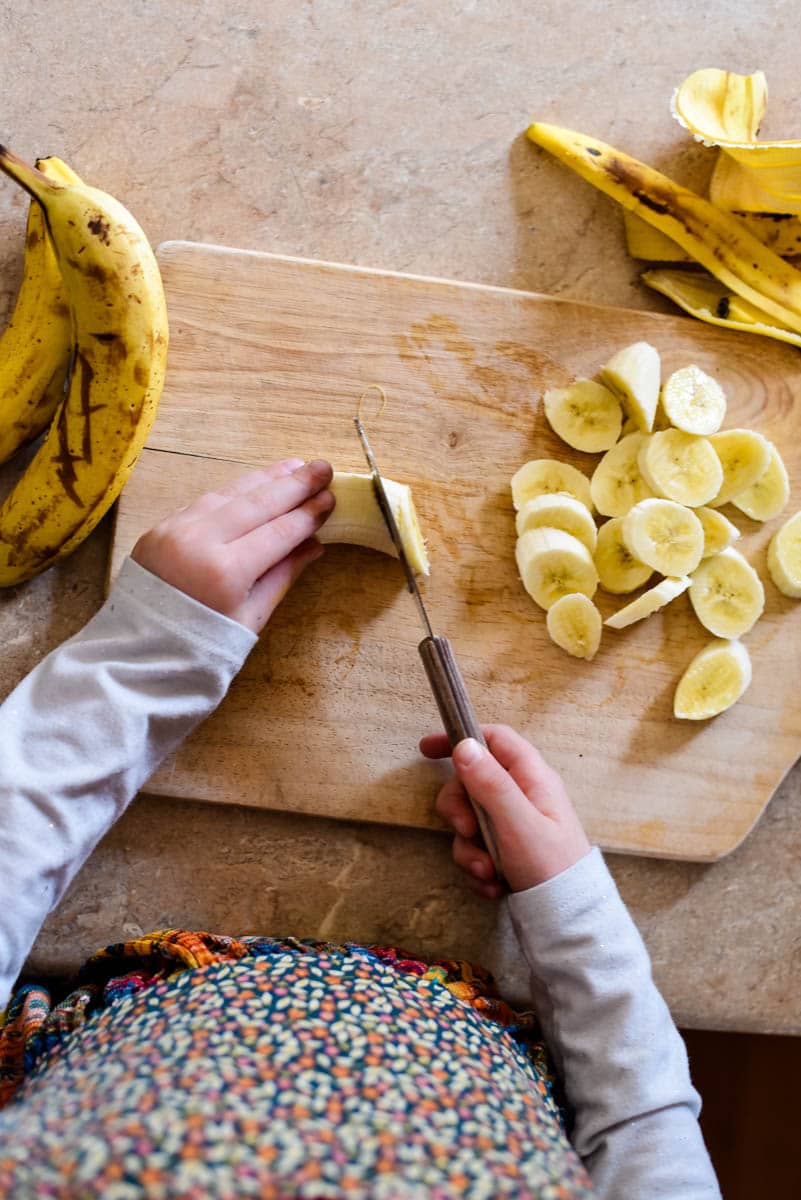 How to make bananas foster kid friendly
To make this version of bananas foster more kid friendly, we are skipping the usual step to flambe.
Typically bananas foster has a small amount of alcohol added, which is then set on fire ( also called "flambe", which is French for "flamed").
The fire not only creates a dramatic effect but it helps to develop a more rich and complex flavor and smell of the food, and removes some of the initial harshness that is present with alcohol. However, a short time of being set on fire only removes about 25% of the alcohol present.
Instead of using rum, we are going to use a substitute of more vanilla extract, a sprinkle of nutmeg, and a tiny splash of rum extract.
Table conversations with kids
At the table is a perfect time to talk to your kids about their food in a fun way that helps to take the pressure off of the "newness" of a meal. Use these conversation starters to get your family thinking about bananas foster in a more analytical way:
Texture

– What is the texture of the sauce? Is it smooth, silky, creamy? How did the texture of the banana change when we cooked it?

Taste

– Which of the 5 tastes do you sense? Sweet, salty, bitter?

Smell

– What does bananas foster smell like? Does it remind you of anything else?

What did you like best about the bananas foster? How do you think we could make it even better? What should we change when we make it again?
Kids in the kitchen: How your kids can help you cook
Getting your kids in the kitchen is a great way to get them more interested in trying new foods. This easy bananas foster recipe is great because it helps them learn about making a caramel sauce and they get to practice their sauteing.
This recipe is perfect for beginner cooks because it is so easy! And it is a great recipe for kids to experiment and become more comfortable with new flavors – which means they are more likely to eat it!
Kids aged 1-3

can help you

measure the ingredients.

Kids aged 4-6

can do everything above, plus help you

peel and slice the bananas as well as help you add ingredients to the pan.

Kids aged 7-10+

can help you do everything above, plus help you

stir the sauce and help you serve the dessert.
*Please note that these recommendations are generalized, and to please use your personal discretion with your child's skill level. And always, always supervise! Read more about how to have your children help you in the kitchen.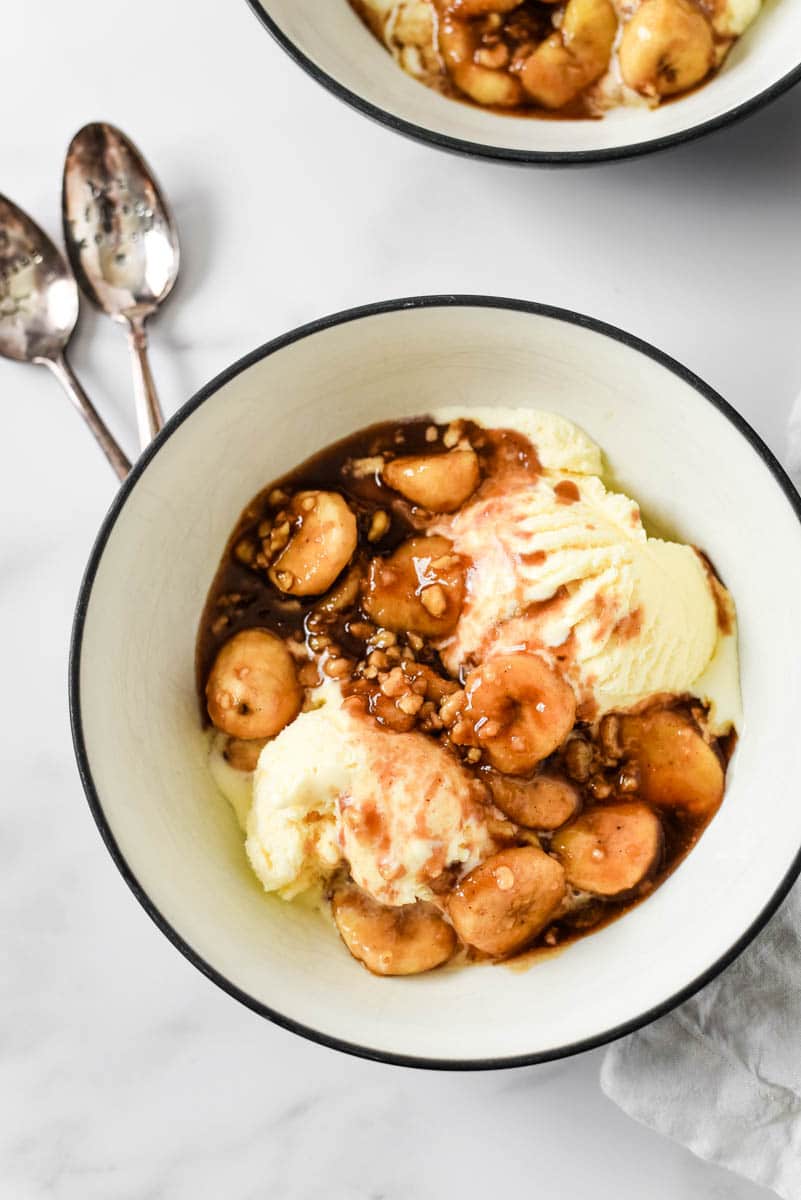 Other simple dessert recipes:
Food tastes better when its shared with the ones you love!
Your shares are how this site grows and I so appreciate it! Do you know someone who would love this recipe? I would love if you shared this on social media!
There's nothing I love more than seeing you make my recipes! If you enjoy this recipe, please do me a favor and give it a star rating! Thank you!
Subscribe to my email list to get all the extra tips, tricks and bonuses!
Want to save this for later? PIN THIS TO YOUR EASY DESSERTS BOARD on Pinterest!
Yield: 6 Servings
Easy Bananas Foster Recipe
This easy bananas foster recipe is a simple and quick dessert that is perfect for families to enjoy together. Sauteed bananas are drenched in a gooey sauce of caramelized sugar and spices, sprinkled with walnuts and then served over vanilla ice cream. Bananas foster without rum is kid friendly and ready in quickly.
Ingredients
1/2 cup unsalted butter (1 stick)
1 cup dark brown sugar
½ cup heavy cream
2 teaspoons rum extract
2 teaspoons vanilla extract
1 teaspoon cinnamon
¼ teaspoon nutmeg
⅛ teaspoon almond extract
3 bananas
½ cup chopped walnuts
1 pint vanilla ice cream
Instructions
Measure out all your ingredients first, this recipe movies quickly.
In a Medium saucepan over medium heat, melt the butter.
When the butter is melted, add the brown sugar, heavy cream, cinnamon and nutmeg, and bring to a slight bubble.
Stir until the sugar is dissolved, about 4-5 min.
Slice the bananas into coins.
Add the bananas and walnuts to the pan and toss to coat with sauce. Cook 2-3 minutes, stirring just a few times.
Remove from heat and stir in the vanilla extract.
Serve immediately over vanilla ice cream.

Notes
You can keep and reheat leftovers, however the bananas will loose some of their texture and become a little mushier.
Leftovers can be used for oatmeal, french toast, yogurt, etc.
Nutrition Information:
Yield:

6
Serving Size:

1
Amount Per Serving:
Calories:

536
Total Fat:

34g
Saturated Fat:

18g
Trans Fat:

0g
Unsaturated Fat:

14g
Cholesterol:

82mg
Sodium:

52mg
Carbohydrates:

56g
Fiber:

3g
Sugar:

47g
Protein:

4g