Spiced Blood Orange Puff Pastry Pinwheels
These easy orange puff pastry pinwheels are an easy dessert recipe for when you want something delicious without a lot of fuss. Spiced with orange zest, cinnamon and a little cayenne pepper, these pinwheels are drizzled with a beautifully pink blood orange glaze.
Inspired by the Sun Spears from House Martell, this Game of Thrones recipe is perfect for your next viewing party!
Winter Spring is Coming!
And with it, the final season of Game of Thrones!
At our house, we cannot be more excited! Each night after we tuck our girls into bed, we have been rewatching all the previous seasons to get ready. And secretly planning a ridiculously geeky Game of Thrones watching meal for the upcoming premiere!
Blood oranges are famous because their juice is such a bright and vibrant red color. It does kind of remind you of blood. And there's no bloodier show than Game of Thrones.
And puff pastry pinwheels kind of remind me of the sun.. sooo.. a puff pastry pin wheel made with blood oranges spiked with a little hidden heats makes me think of House Martell and the Sand Snakes! Pretend you follow my train of thought here, ok?
These puff pastry pinwheels (or suns) are so easy to make, so there is no excuse not to have them ready for your next viewing party. Flakey and buttery puff pastry is twirled around orange sugar spiced with cinnamon and a tiny bit of heat – because sweet with a little bit of heat is the name of the game here.
Want to make other fun Game of Thrones inspired recipes? Try these: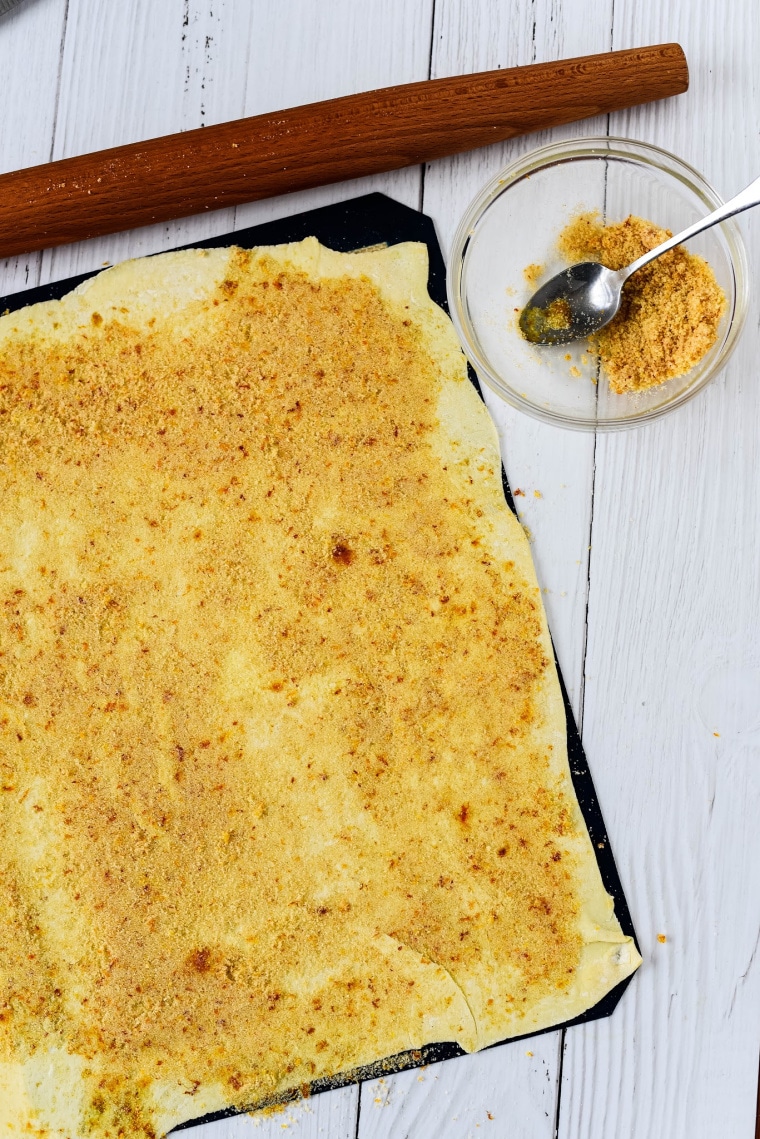 How to Make Blood Orange Danish Puff Pastry Swirls
This recipe is very simple to make! Here is a brief overview of the recipe to give you an idea of how it works. For the full set of directions and measurements, please make sure you scroll down to the recipe card below!
These Blood Orange Puff Pastry Pinwheels are so quick and simple to make! They do make a fair amount of sugary mess, so I recommend doing this over a piece of parchment paper or on a baking sheet.
Make the filling
Make the orange sugar by rubbing orange zest into the sugar with your fingers. This really releases the oils in the blood orange and helps infuse the sugar with all that great orange flavor!
Stir the cinnamon and optional cayenne pepper into the orange sugar.
Assemble the pinwheels
Roll out your puff pastry into a rectangle.
Sprinkle the orange sugar over the puff pastry and use the rolling pin to press it into the puff pastry.
Use a pizza wheel or a sharp knife to slice the pastry into 7 thick slices vertically.
Slice each of the strips in half, and layer the two thinner strips on top of each other, with the orange sugar facing inwards.
Press the ends of the two twists together and then twist the strips together.
Roll the twisted strips of puff pastry into a spiral, like a snail shell. Tuck the loose end under.
Place the swirls on a baking sheet lined with parchment paper or a sit-pat and allow to chill in the fridge for 10-15 minutes.
Bake in a preheated 400 degree oven for 14-18minutes, or until starting to turn golden brown.
Storage Information
These orange pinwheels are best the day they are made.
Store any leftovers in an airtight container for up to three days.
How Your Kids Can Help You Bake
These Orange Puff Pastries are perfect for kids to help you make! Warning – They ARE messy, but they are messy even without kids, so just go for it! Remember, its about the memories, not the perfection! Here are some great age appropriate ways to get your kids in the kitchen with you:
Kids aged 1 to 3 can help you measure everything, sprinkle the orange sugar on the puff pastry.
Kids aged 4 to 6 can help do everything above, and help roll out the puff pastry, zest the orange, and create the orange sugar.
Kids aged 7 to 10+ can help do everything above, plus twist the puff pastry spirals.
*Please note that these recommendations are generalized, and to please use your personal discretion with your child's skill level. And always, always supervise! Read more about how to have your children help you in the kitchen.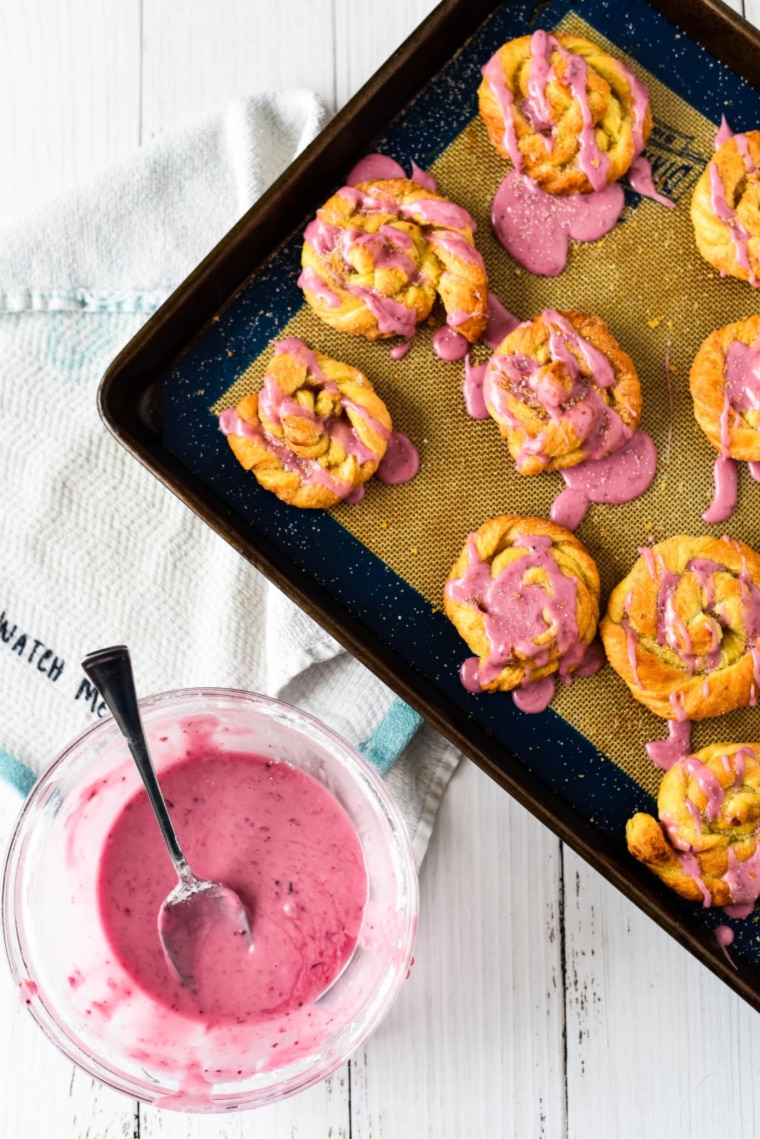 Food tastes better when its shared! If you try this recipe, let me know! Leave a comment and rate below! Love and links are always appreciated! If you'd like to share this post, please link to this post directly for the recipe, please do not copy and paste or screenshot. Thanks so much for supporting me! xoxo
Blood Orange Puff Pastry Pinwheels
Orange puff pastry pinwheels are an easy dessert for when you want something delicious & easy. Inspired by Game of Thrones House Martell.
Print
Pin
Rate
Ingredients
1

box puff pastry

2 sheets, thawed

1

large blood orange

½

cup

granulated sugar

½

teaspoon

ground cinnamon

¼

teaspoon

ground cayenne pepper

optional
Instructions
Line a baking sheet with a silpat mat or parchment paper and set aside.

Zest and juice 1 blood orange. Set each aside in separate bowls.

In a small mixing bowl, combine the orange zest and sugar. Use your fingers to press the two together and really rub the orange zest into the sugar.

Stir in the cinnamon and optional cayenne pepper, if using. Remove 1 Tablespoon and set aside for after baking.

Roll the puff pastry sheets into large rectangles about 3mm thick.

Spread half of the remaining orange sugar over each puff pastry sheet.

Use a rolling pin to gently press the orange sugar into the puff pastry sheet.

Cut each puff pastry sheet into 7 vertical strips about 1" wide.

Cut each 1" wide strip in half vertically.

Fold the half strips over each other so the sugary sides face each other.

Press the ends together and twist together to form a rope.

Twist and roll the rope around itself to form a snail shell pinwheel shape.

Tuck the loose end under neath.

Place the pinwheels on the prepared baking sheet and place in the fridge to chill while the oven preheats.

Preheat the oven to 400F.

Bake for 14-18 minutes, or until golden brown and puffy.

Allow to cool completely.

Make the blood orange glaze by whisking together the blood orange juice and 2.5 cups of powdered sugar.

Drizzle the glaze over the cooled puff pastry pinwheels and sprinkle the remaining orange sugar on top.

Enjoy!
Nutrition
Serving:
1
g
|
Calories:
46
kcal
|
Carbohydrates:
10
g
|
Fat:
1
g
|
Polyunsaturated Fat:
1
g
|
Sodium:
5
mg
|
Sugar:
8
g