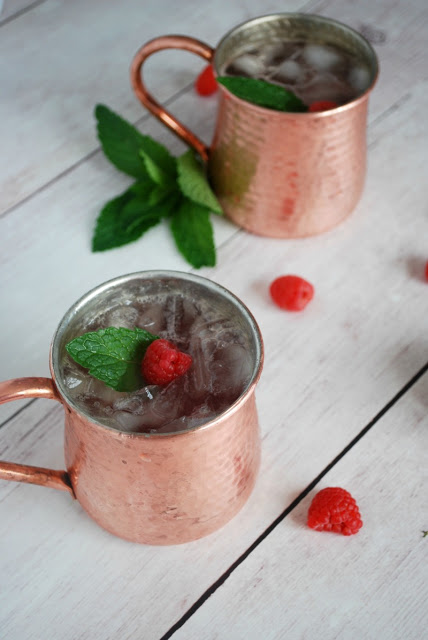 *This post contains affiliate links. You can read more about this in my Parterships file.
The Moscow Mule is pretty much a mainstay during the summer. But when you add in fresh summer raspberries and mint it really takes it up to the next level. Like to the top of a mountain kind of level.
Have you been watching Game of Thrones this season?! I don't want to give anything away, but ALL THE EMOTIONS!!!! If you haven't jumped on the bandwagon yet – this is your invitation. Please watch it. And yes, start from the beginning. If you are as obsessed as I feel lately, lets' totally chat!
This Moscow Mule is dedicated to The Vale. The scenery and landscape of Westerns (and beyond) is gorgeous. I love how each region is so unique. If you aren't familiar, the Vale is a a mountainous region, and I imagine that this version of a Moscow Mule would be perfect on a nice summer day. Especially as the sun was setting over the mountains and your could look out from the Eyrie and see the land stretched out before you. Raspberries that grow at high altitudes tend to be super concentrated in flavor and when combined with sweet mint, would make a lovely and refreshing beverage!
Secrets to the Perfect Mule:
The first is to create a raspberry infused simple syrup. Sure, you could just muddle your raspberries right into your cup – it would totally get the job done. But then you would have raspberry bits floating around for you to chew on, and you would also probably get raspberry seeds stuck in your teeth. And that's not cool.
I mean, I know I am nerdy. I just created a cocktail based on a fictional land in a book. But we can try to be nerdy and cool at the same time, can't we? That's like, my dream – so I'm running with it.
So unless you want raspberry seeds in your teeth, you are going to want to use a fine mesh strainer to strain get all the seeds and left over pulp out of the syrup. Go ahead and make this ahead of time and store in an air tight container in the fridge for about two weeks.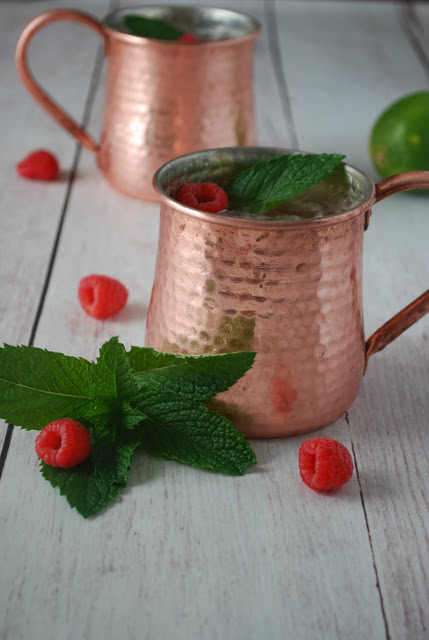 The second secret to making this drink awesome is all in the mug. Yes, you can drink this out of a wine glass, or a juice glass, or whatever you have lying around glass. But to be totally legit, you have GOT to have a copper mug! The copper keeps the drink like super cold. I suggest getting a really high quality copper mug that will last you a while – forget the ones that have nikel or tin plating. I really like [easyazon_link identifier="B018OHVE2S" locale="US" tag="theginwhi-20″]these lovely mugs[/easyazon_link] – they are better quality than most you find in stores, and yet cheaper than most of them, too! Also you will want some [easyazon_link identifier="B000V72992″ locale="US" tag="theginwhi-20″]Bar Keeper's Friend[/easyazon_link] to keep your mugs looking super shiny and spotless. The copper will patina over time (which is kind of gorgeous, too) so make sure you hand wash and dry them immediately.
Print
The Vale Mule
Author:

Prep Time:

10 Minutes

Cook Time:

12 Minutes

Total Time:

22 minutes

Yield:

4 Servings

Category:

Beverage

Cuisine:

American
---
Ingredients
**Raspberry Simple Syrup
1 cup sugar
1 cup water
2 cups fresh raspberries
**Vale Mule
1 shot vodka
juice 1/2 lime
1/4 cup raspberry syrup
1 ginger beer
sprig of mint
raspberries for garnish
---
Instructions
*Raspberry Simple Syrup
In a small pan, combine the sugar and water.
Bring to a simmer and heat just until the sugar dissolves.
Add the raspberries and a simmer for 12 minutes.
Remove from heat and allow to cool for a few minutes.
Strain the syrup with a fine mesh strainer, using a spoon to get as much juice out as you can.
Place the syrup in an airtight container and store in the fridge for up to 2 weeks.
In a frosty copper mug, combine ice, vodka, lime juice, ginger beer, raspberry syrup and mint leaves.
Looking for some other fun Game of Thrones Inspired Recipes? Check these out!