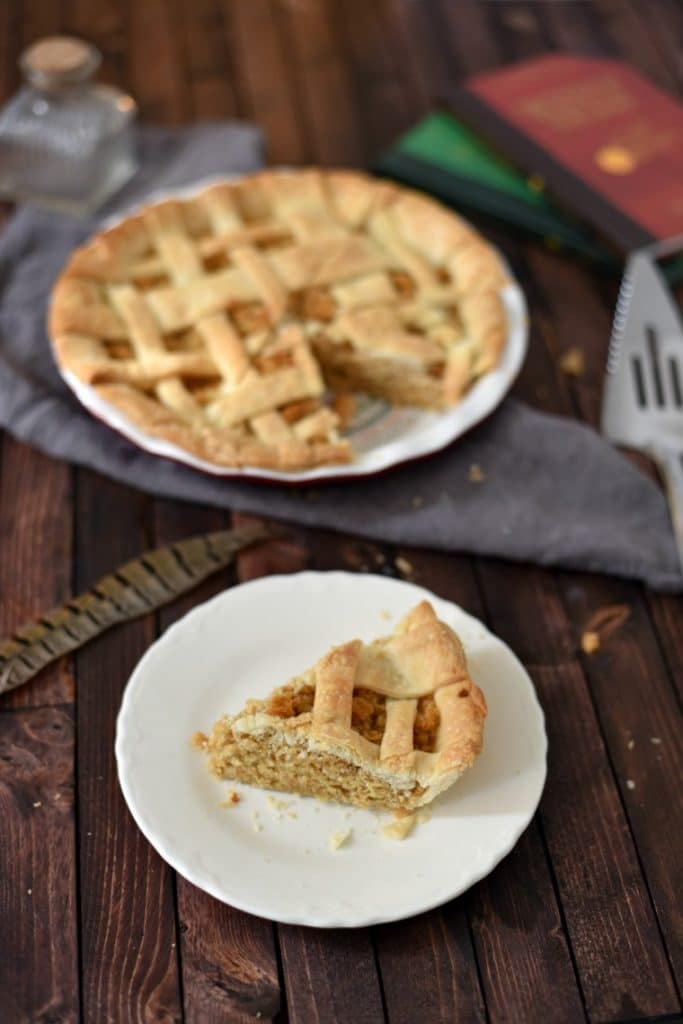 Hey friends! So… I am super excited today, and for two amazing reasons!
FIRST –
Long time readers will know that I am pretty much a huge nerd, and that Harry Potter is one of my all-time-favorites! I am so excited to be in leagues with the Fandom Foodies once again. Every month we pick a favorite show/movie/game/book/whatever and we invite fellow fans all over the internet to come and cook, bake, and eat along with us. And this time I am leading them in an entire month of Harry Potter deliciousness! I'm calling it the #PotterPotluck! Harry Potter just celebrated its 20th anniversary of its first publication date (how is that even possible?!) so its utterly perfect to devote an entire month to our favorite series.  From now until July 30, 2017 Fandom Foodie members will be creating and sharing various Harry Potter inspired recipes. And we would love for YOU to join us, too!
How can you participate?
Create a fun Harry Potter inspired recipe and post it on your blog, Instagram, Facebook, Tumblr, whatever you use.
Come back to this post and add a link that leads to your post. If you have an older Harry Potter recipe, you can add that as well, too! The more the merrier.
When you share your creation on social media, use the hashtags #PotterPotluck and #FandomFoodies so its easier for us to find your recipes and share your posts.
Check out some of the other entries and comment and share!
SECOND –
This month I am celebrating my NINTH year of blogging! I cannot even imagine that it has been this long. What I started as a hobby while my husband studied in med school has taken me on an incredible journey. This blog of mine has seen over 500 posts (this was my very first one! The pictures are pretty terrible, but the recipe is fantastic! ), different looks, and different purposes. It has survived two cross country moves, the birth of two babies, and sooo many changes. But, even after all this time I love this little place I have built here.
I wanted to celebrate this awesome achievement in a BIG BIG way! And I am sooo excited to share with you that this entire month I'm going to pretend to be Oprah and give gifts to YOU! Every Monday and Wednesday a new post will go up with a new recipe and an amazing giveaway that you can enter!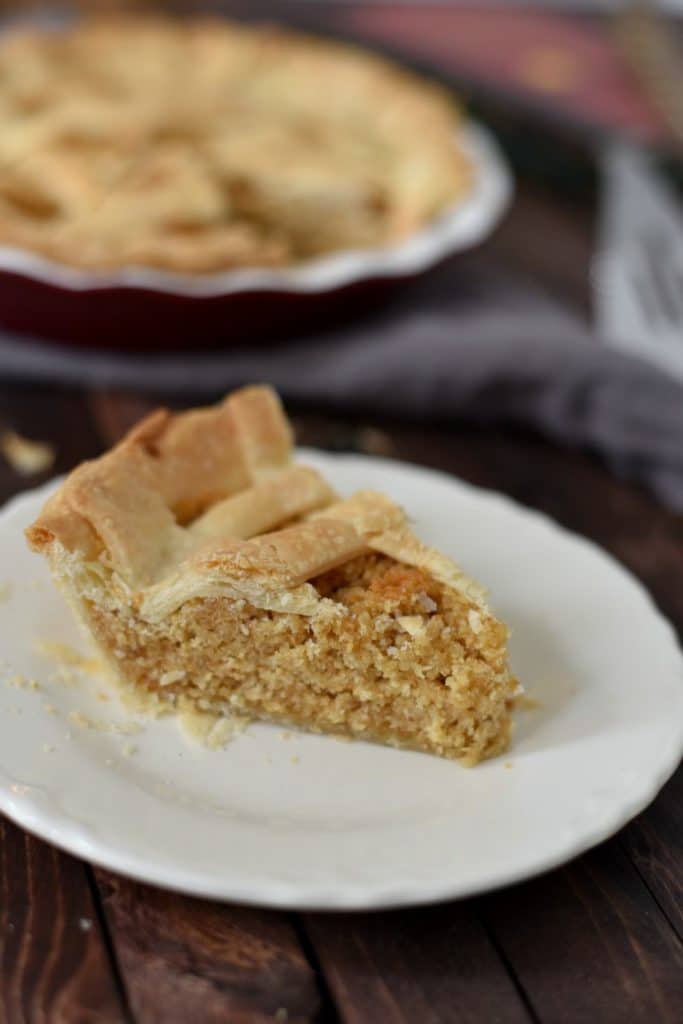 It is often mentioned in the Harry Potter books and movies that Treacle Tart is one of Harry's absolute favorite desserts. I have never had it, so it only made sense that I give it a try! And it turns out that this is one amazingly easy dessert. Only three ingredients make up the filling. Yup, three. I am actually kind of shocked at the ingredients, because it doesn't really seem like they would make a tasty treat – but in fact they do! Note: Make sure you use really fine breadcrumbs when making this recipe – panko won't work as well. I ended up having to use half panko and you can see in the photos have my filling has a rather grainy appearance. It doesn't affect the taste at all, but it doesn't feel or look as smooth as it should.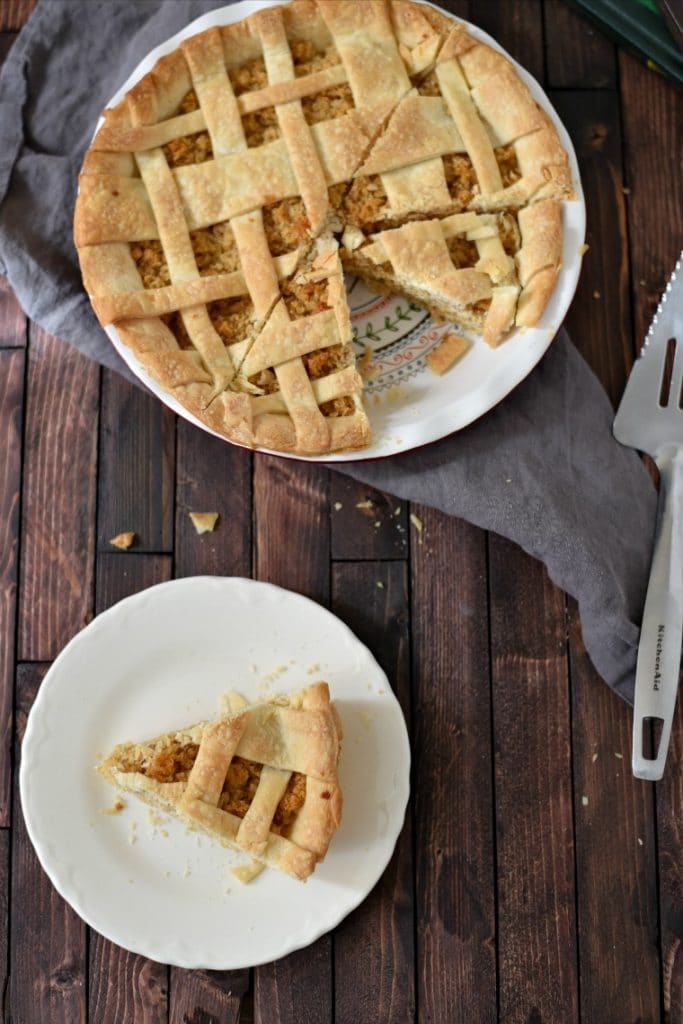 To start off my month of giveaways, I am starting with two fun books that all book lovers will enjoy! TWO lucky winners will receive a box from OwlCrate! If you have never heard of them, OwlCrate is a mostly subscription box made just for those who love to read. Each themed box includes a new hardcover YA novel and 3-5 other bookish items for yourself and home (often jewelry or home goods likes candles, coffee mugs, tote bags, etc). I have purchased two boxes (they are different from each other, and not Harry Potter themed, but still way fun!) and can't wait to find out who gets them! A winner will be announced on 7/9/17! United States residents only, please! Good luck!
Print
Treacle Tart
Author:

Prep Time:

10 Minutes

Cook Time:

30 Minutes

Total Time:

40 minutes

Yield:

8 servings

Category:

Dessert

Method:

Bake

Cuisine:

English
---
Description
This easy and delightful dessert is a favorite of Harry Potters – and sure to become one of yours, too!
---
Ingredients
2 pie crusts
1 cup golden syrup
2.5 cups of fine grated breadcrumbs
zest and juice of 1 lemon
---
Instructions
Preheat the oven to 375F.
Place one pie crust in the bottom of pie tin. Prick the bottom of the pie crust with a fork.
In a large saucepan over medium heat, heat the golden syrup until its thin and loose. It doesn't need to simmer or boil, just become nice and warm.
Remove from heat and stir in the bread crumbs, lemon juice, lemon zest.
Set aside for 5 minutes to let the breadcrumbs soak up the syrup.
Pour into the prepared pie crust.
Cut the remaining pie crust into strips with a pizza cutter and place onto the top of the tart (the top is entirely optional, so you can skip if you want).
Bake for 20- minutes, until set and the crust is golden.
Allow to cool and then enjoy!