Steak Sheet Pan Dinner – Whole Family Meal
This healthy herbed steak sheet pan is an easy family meal recipe that can feed your entire house. In just 40 minutes time, this home cooked dinner provides fresh made baby purees, finger food for baby led weaning and toddlers, and meals for adults to enjoy as well.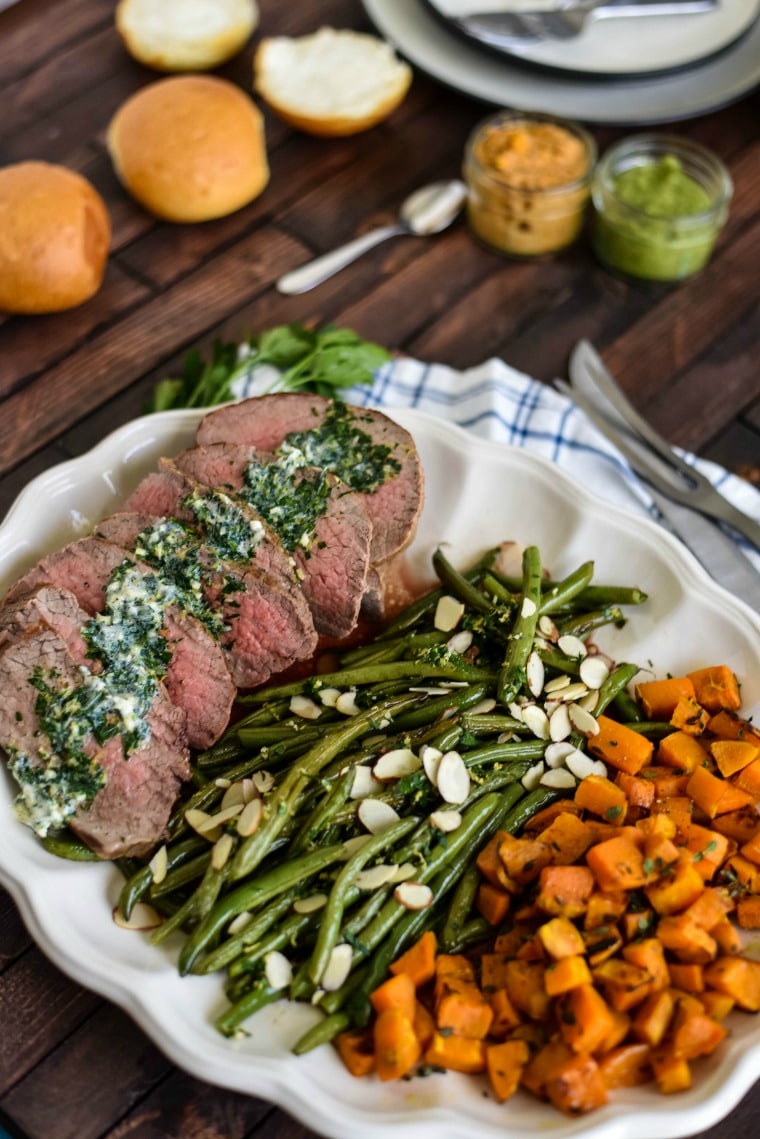 Foooooood.
Sometimes life would just be easier if you could snap your fingers and a healthy and delicious meal would appear on the table. And your little angels with clean fingers and faces would lovingly sit at the table and have pleasant conversation and actually eat the foods on their plates.
And then the dishes would do themselves.
Unfortunately, this isn't "I Dream of Jeannie". And often times it takes quite a bit of effort to just get a meal on the table, much less one that can feed all the kiddos in their various stages. And getting kids to sit at the table on their behinds, and not make fart noises and just eat their food? That's laughable some days (and by some, I mean moooooost). And yes, a house full of girls can make just as many ridiculous noises and conversation topics as a house of boys.
That's why a family meal recipe that is easy to make, packed with nutrients to full big and little bodies alike, includes all real ingredients, and that you can easily tailor to fit each member of your household is almost as good as having a genie on hand.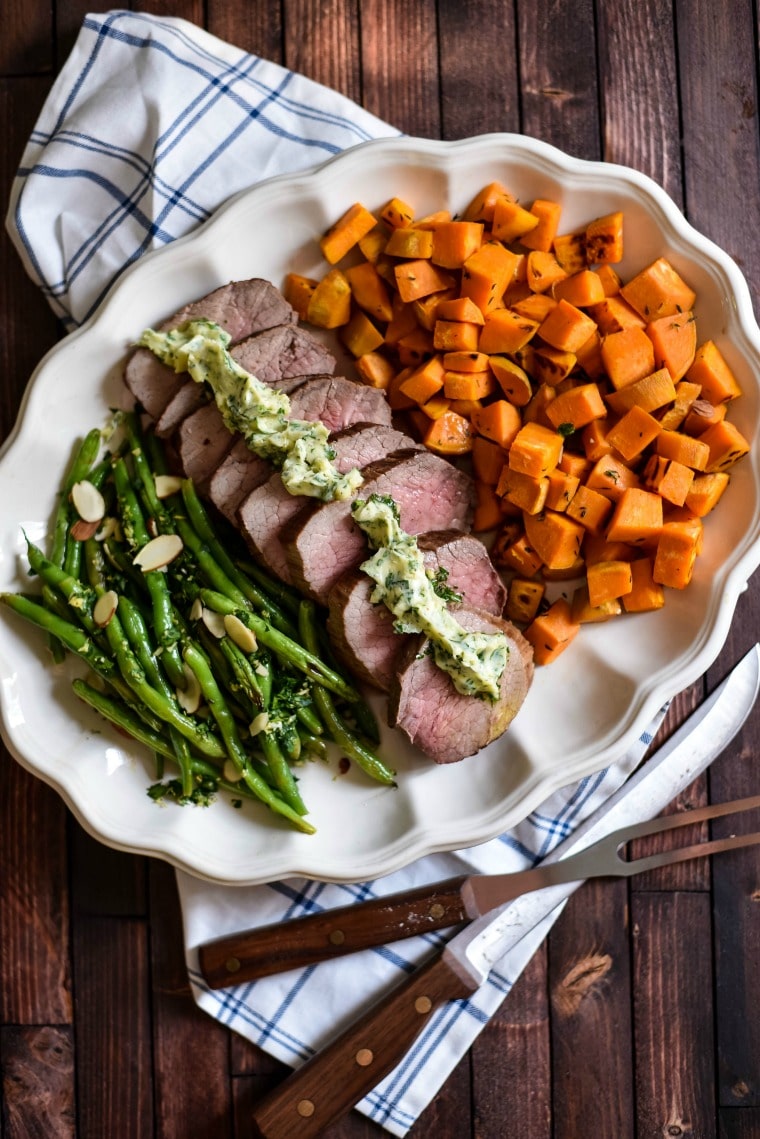 "Thank you to Iowa Beef Industry Council on behalf of the Iowa State Beef Checkoff Program for sponsoring this post. And Thank You for supporting the brands that support me and allow me to continue to grow my blog. All opinions, recipe and photographs are my own.
Herbed Steak Sheet Pan Roast Recipe with Roasted Sweet Potato Cubes and Easy Green Beans
This easy eye of round roast recipe is a perfect one pan meal that forms a fantastic family meal recipe.
Paired with thyme roasted sweet potato cubes, easy green beans with gremolata, and topped with herbed butter, this herbed steak recipe is ready in about 30-40 minutes and is perfectly suited to feed different aged people. 
Now this is an easy dinner idea for families to actually enjoy together!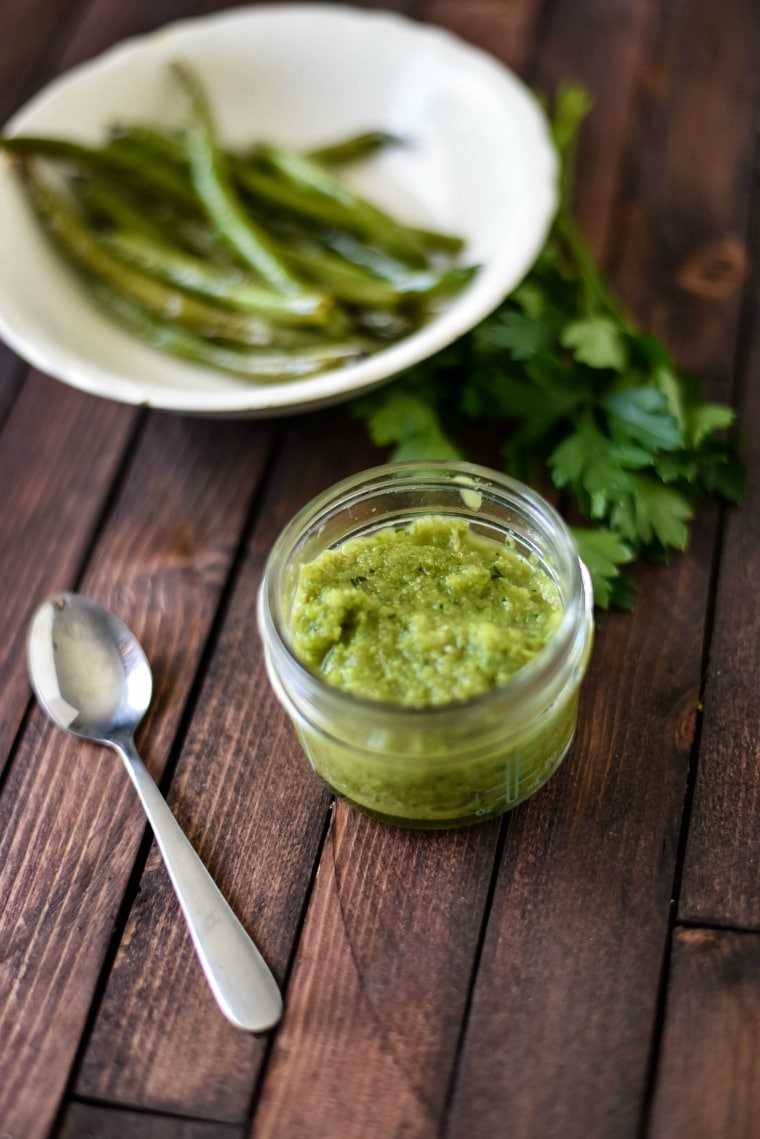 How to Plate Herbed Steak Family Meal Recipe
This family meal recipe is perfect to cook one dinner that feeds everyone! Read below to see how to tailor each serving:
Cooking for Baby
While babies do enjoy flavors in their purees, salt is one thing that is not needed (its actually bad for their little kidneys. Because they can't have salt the beef roast, sweet potatoes and green beans are all going into the oven without salt. I know, it sounds scary and I am sure there are chefs out there freaking out right now. But we will add that flavor back in later! This meal creates two unique baby puree blends – a green bean with parsley puree and also a sweet potato and beef puree with thyme. Both can be pureed and blended to the consistency needed.
Toddler Meals
When feeding toddlers or doing baby led weaning for older babies, this meal works great as well! The Thyme Roasted Sweet Potatoes, Green Beans and Herbed Steak can all be diced into smaller pieces or left in bigger chunks depending on which suits your needs better.
Kid Friendly Dinner
Older children will enjoy this meal as well! The green beans can be cut into smaller pieces if needed, and you can top with the gremolata and almonds if they would like it (My 8 year old enjoys hers with the extra topping but my 4 year old skips it). The Herbed Steak can also have the herb butter topping if they choose, which is a fun "grown up addition" that makes the kiddos feel special. Remember to cut the steak into smaller pieces to make it easier for little mouths to chew!
Plates for Grown Ups
This family meal recipe has a lot of "upsells" for adults. The green beans are topped with a gremolata and almond slices which gives them a fun pop of flavor, color, and texture beyond plain green beans. The sliced herbed steak gets topped with a herb butter that helps infuse extra flavor into the steak. Its an easy meal that feels like a special occasion meal, even on a Tuesday.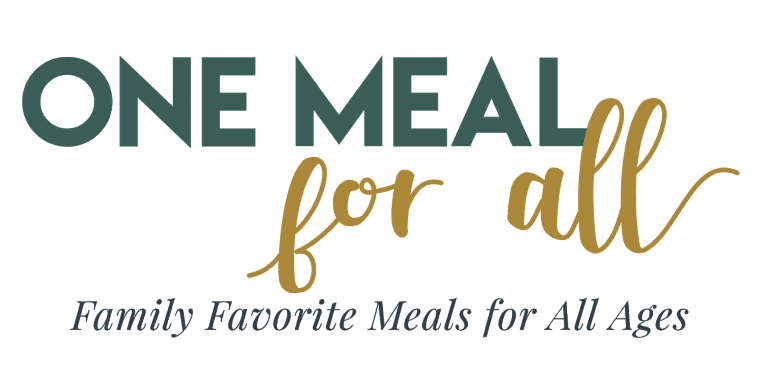 Other healthy beef recipes for families with babies:
Cooking With Your Kids
Getting your children involved in the meal greatly increases the likelihood that they will want to eat it! Here are some easy steps your kids can do to help cook this family meal recipe for herbed steak:
Kids aged 1-3 can help you pull the thyme leaves off the stems, measure all the ingredients and help you set the table.
Kids aged 4-6 can help you do all the above, plus help you season the sweet potato cubes and the green beans, mix the herbed butter and the gremolata.
Kids aged 7-10+ can help you do all the above, plus help you peel and cube the sweet potatoes.
*Please note that these recommendations are generalized, and to please use your personal discretion with your child's skill level. And always, always supervise! Read more about how to have your children help you in the kitchen.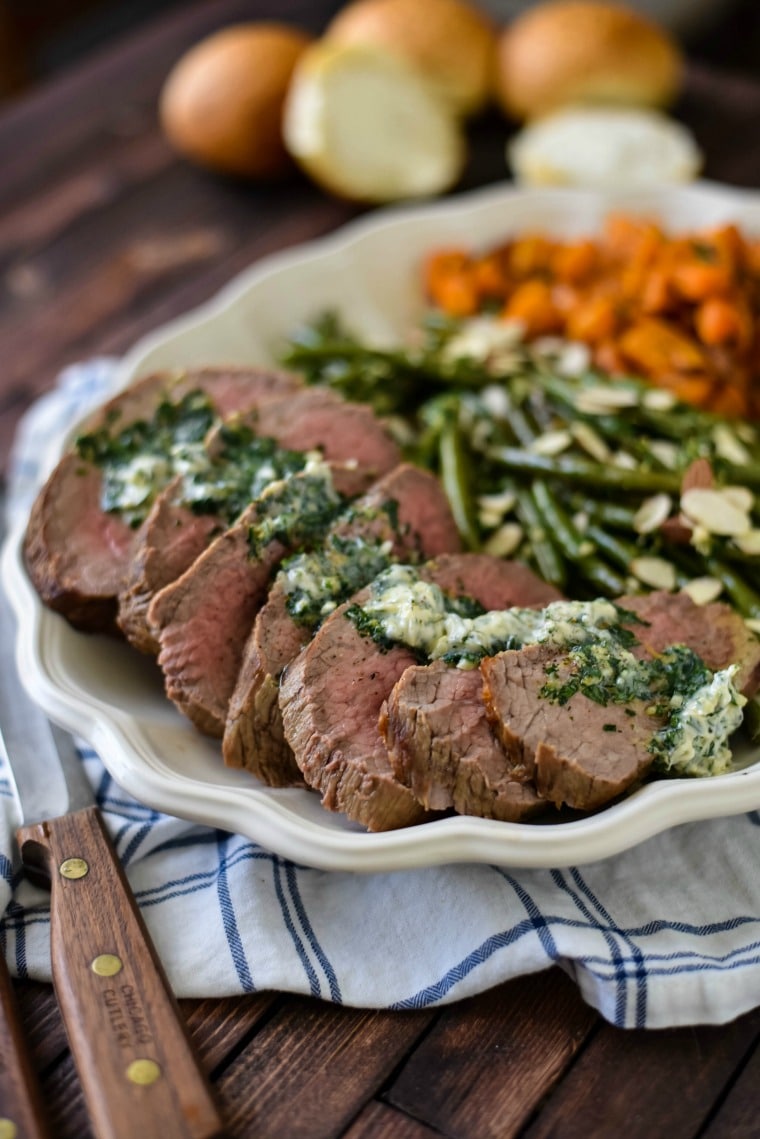 Food tastes better when its shared! If you try this recipe, let me know! Leave a comment and rate below! Love and links are always appreciated! If you'd like to share this post, please link to this post directly for the recipe, please do not copy and paste or screenshot. Thanks so much for supporting me! xoxo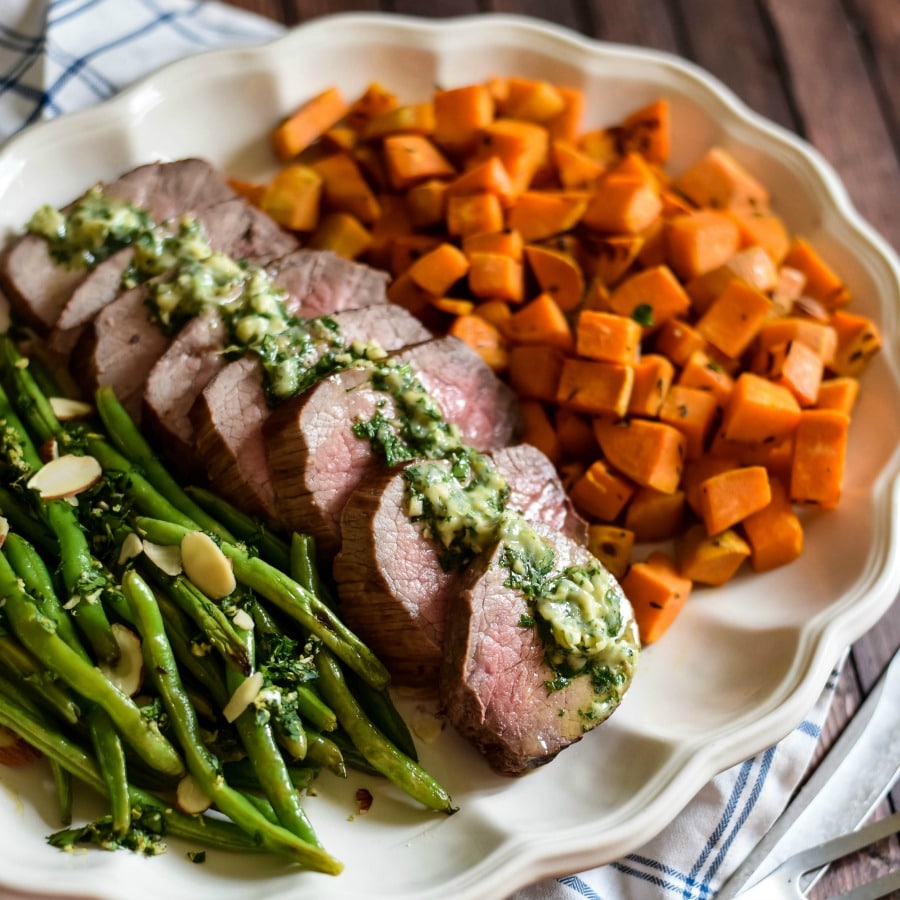 Herbed Steak Sheet Pan Dinner
This healthy sheet pan roast is an easy weeknight meal for the whole family. In just 40 minutes time, this home cooked family meal recipe  provides fresh made baby purees, finger food for baby led weaning and toddlers, and  meals for adults to enjoy as well. This meal serves 4-6 people, depending on the age of the ones you are feeding.
Print
Pin
Rate
Ingredients
2

Sweet Potatoes

peeled & cut into 1" cubes

2

TBSP

Olive Oil

divided

1

TBSP

fresh thyme

12

oz

Green Beans

ends trimmed

1.5 - 2

lb

Eye of Round Roast

½

cup

minced parsley

1

clove

garlic

minced finely

zest of 1 lemon

salt & pepper to taste

½

stick unsalted butter

soft

½

cup

sliced almonds
Instructions
Preheat oven to 425 F.

Line rimmed baking sheet with parchment paper.

In a bowl, toss the sweet potatoes, 1 T Olive Oil and thyme. Place on onto 1/2 of the baking sheet.

Place roast on other half of the baking sheet & roast in oven for 10 min.

Toss the green beans with remaining olive oil.

Remove sheet pan from oven.

Turn the sweet potatoes & move them to 1/3 of pan.

Turn the roast over.

Place green beans in the space created by the sweet potatoes, try to keep in a single layer, & return the pan to the oven for an additional 10 min.

Remove the veggies from pan & place on serving tray tented with foil. Reserve 1/4 cup potatoes & 1/4 cup beans for the baby food if needed.

Turn the roast over & return to the oven for 10 min, or until an internal temps is 130 degrees for medium done-ness.

Make gremolata by mixing the chopped parsley (reserve 1 T for later), garlic, lemon zest, + salt & pepper in a small bowl.

In a second small bowl, mix 2/3 of gremolata with butter for the steak and set aside.

Remove steak from oven, tent with foil, and rest 10 min while you prepare the baby purees.

In a food processor, make the purees by blending 1/2 cup sweet potatoes with 1 oz beef and 1/2 cup water until smooth and the desired consistency.

Wash out your baby food maker or food processor,  and prepare the second puree by blending 1/4 cup green beans with the reserved 1 T parsley and 1/4 cup water until smooth.

Slice steak into 1" slices against the grain.

To Serve:*Babies: Serve the two purees created.
*Toddlers: Dice food into bite sizes & serve (add fruit of choice to plate).
*Big Kids: Plate sweet potatoes, cut steak into bite sizes & top with compound butter, top green beans with almonds.
*Adults: Plate sweet potatoes, steak topped with compound butter, green beans with gremolata and almond slices
Notes
Nutrition
Serving:
1
g
|
Calories:
697
kcal
|
Carbohydrates:
17
g
|
Protein:
68
g
|
Fat:
39
g
|
Saturated Fat:
14
g
|
Polyunsaturated Fat:
21
g
|
Cholesterol:
211
mg
|
Sodium:
152
mg
|
Fiber:
5
g
|
Sugar:
6
g