This Slow Cooker Mongolian Beef cooks to melt-in-your-mouth tender! Studded with onions, green peppers and shredded carrots, this Asian weeknight meal takes only minutes to throw together and is a perfect healthy family recipe!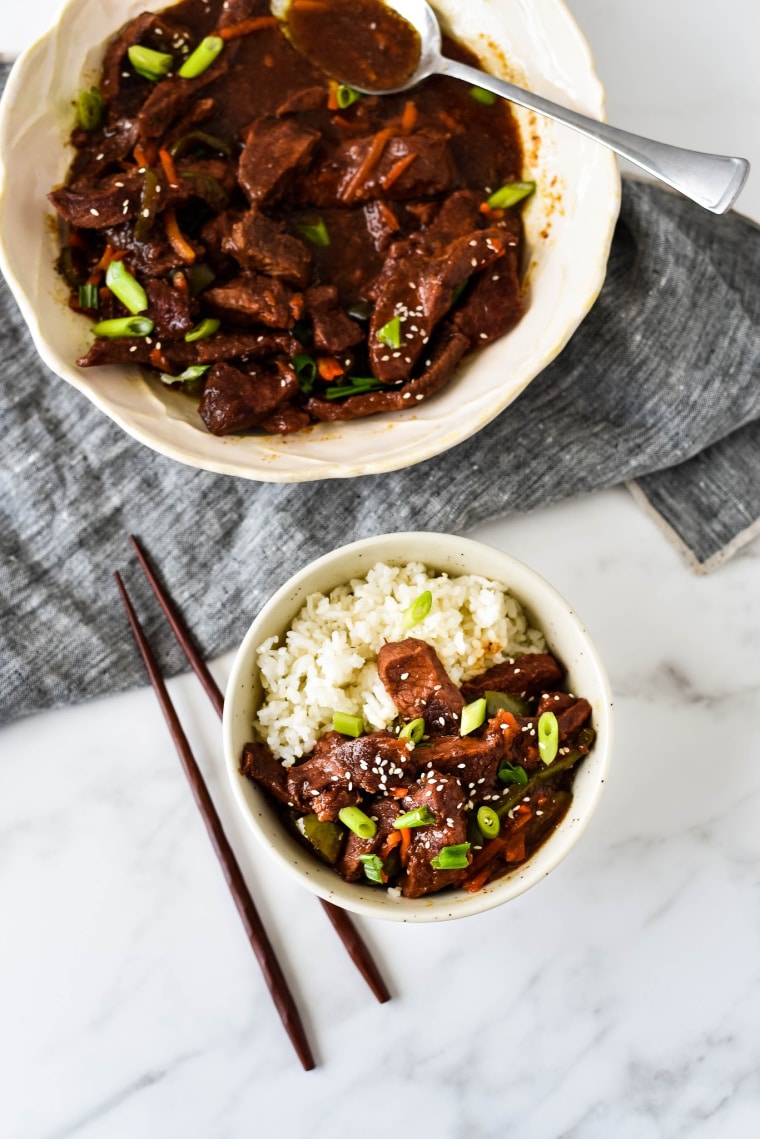 This Slow Cooker Mongolian Beef has a rich and dark sauce that is neither spicy or too tangy – just perfectly delicious. A big bowl of this is ultimate comfort food! The flavors here are subtle and perfect for small children as an introduction into Asian foods!
Thank you to Iowa Beef Industry Council on behalf of the Iowa State Beef Checkoff Program for sponsoring this post. And Thank You, dear reader, for supporting the brands that support me and allow me to continue to grow my blog. All opinions, recipe and photographs are my own.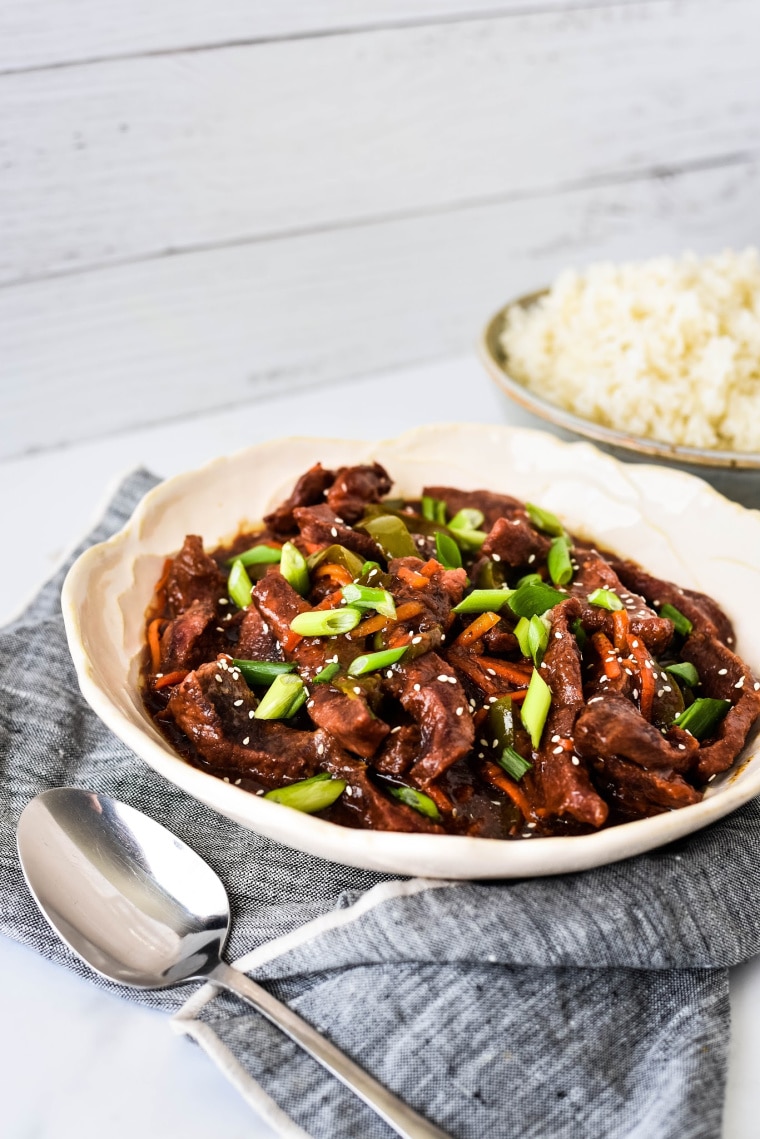 Easy Dinner for Families with Toddlers
Starting finger foods with babies is fun and exciting – I love being able to introduce tons of new flavors and ingredients to my children, and those first tastes are so very fun! But it can also be really overwhelming – because what do you feed your whole family?! Making a meal that is perfect for finger-food eating tots and older children and adults at the same time can seem like an impossibly tall order.
The Iowa Beef Industry Council and I have teamed up to make dinner a little easier for you with a collection of weeknight dinners that are perfect for families with littles in all ages and stages.
Packed with protein, iron, and zinc, Beef is a perfect choice when it comes to serving healthy and nutrient dense foods for your family. Iron and Zinc are necessary for proper growth and development and is important for your immune system, reasoning,
To learn more how beef is perfect for all ages, read this post!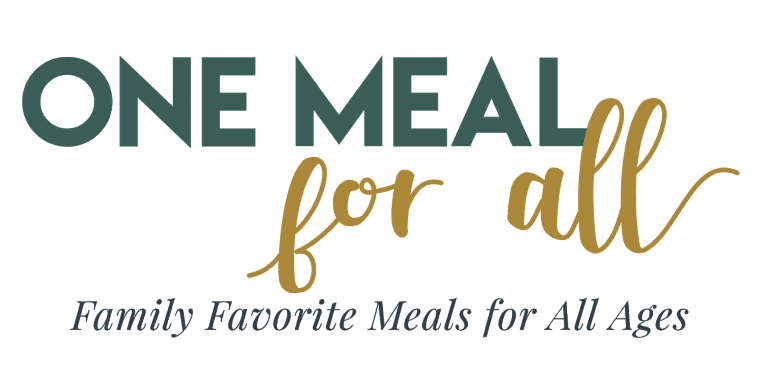 Other healthy beef recipes for families with babies: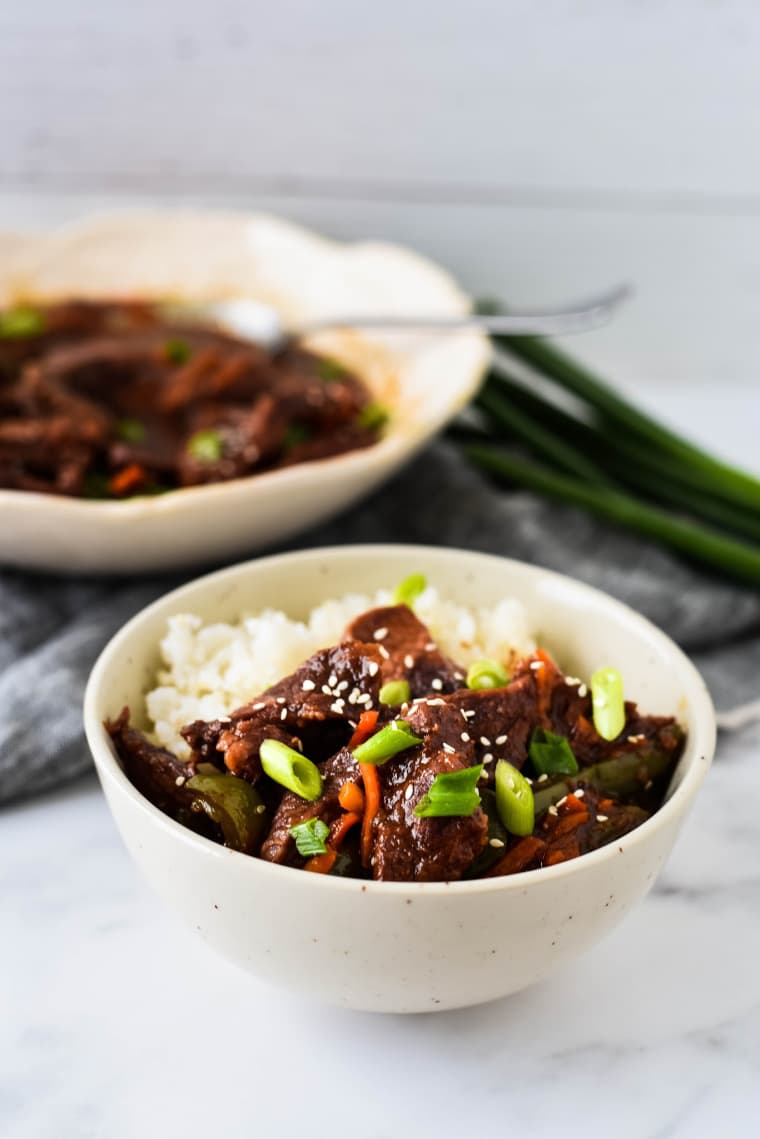 How do you make Slow Cooker Mongolian Beef
This easy family recipe could not be simpler to make! It only requires a few minutes of work (most of which you can do ahead of time), and a few simple ingredients!
Thinly slice your beef into strips and toss with cornstarch to coat.

Place the beef slices in the slow cooker with your slided onion and peppers. The onions and peppers can be sliced ahead of time and stored in a glass airtight container in the fridge for up to 1 day.

Mix up the sauce by whisking together the water, coconut aminos, brown sugar, garlic, ginger and sesame oil and pour into the slow cooker. The sauce can also be made ahead of time and stored in a glass airtight container in the fridge for up to 1 day.

Cook on low for 4-5 hours or on high for 2-3 hours.

During the last hour of cooking time, add in the shredded carrots.

Prepare your rice and veggie side dish.

Serve your Mongolian Beef with a generous sprinkling of sesame seeds and sliced green onions on top.
What kind of beef do you use in mongolian beef?
A lot of recipes you will find for Mongolian Beef will use flank steak but I choose to use chuck roast. Chuck roast has a rich and beefy flavor, and is PERFECT to use in a slow cooker because it gets so tender!
Flank steak is also a great choice but I prefer to use a chuck roast as it is usually cheaper per pound and it gets really melt in your mouth tender – and when you are feeding babies and little kids, you want beef to be as tender and as easy to eat as possible, right?
A Note About Soy Sauce vs Coconut Aminos:
The base of this sauce uses Soy Sauce, which is an awesome flavor additive here. But its super high in salt, which isn't good for little growing bodies. Even reduced/low sodium versions of Soy Sauce are super high in salt content! For this recipe I chose to substitute the soy sauce with coconut aminos. Coconut aminos is a sauce that is made out of sap from coconut flowers and salt. It is dark, rich, and has a salty-sweet flavor. It is a great gluten free, soy free alternative to soy sauce that is also packed with vitamins and minerals, so it adds nutritional value to the meal. You can find it in the health food section of most grocery stores or on Amazon.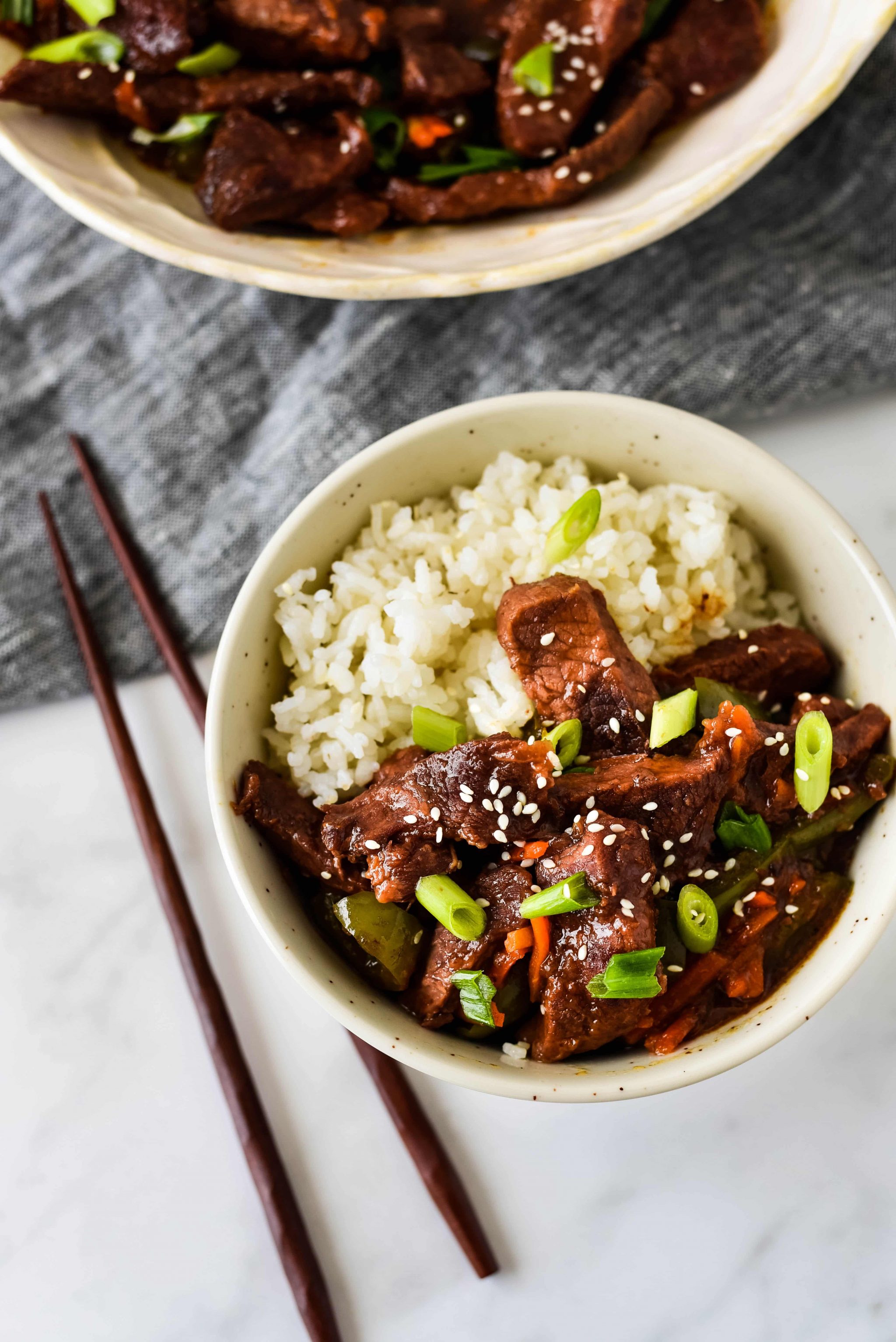 Tips and tricks for making this slow cooker mongolian beef
Slice your chuck roast against the grain. When you look at your roast, you will see lines that kind of resemble the grain on a piece of one. You want to slice perpendicular to these lines, not parallel to them. This will help ensure tender pieces of beef.

The shredded carrots are optional, but add fun color and texture to the meal. Totally go ahead and buy the pre-shredded matchstick bag of carrots in the produce section of your grocery store. Its worth it.

If you don't want your onions and peppers soft, you can toss them in only for the last hour. You can also sub out red, orange, or yellow sweet peppers, depending on what your family likes.

To make this a complete meal, serve this with steamed broccoli and rice.

Leftover of this are just as awesome as they are right when you make it!
How to serve this weeknight Asian meal to your family:
To serve to toddlers

– To serve this mongolian beef recipe as finger foods,

For children

– To serve to children, place the meat and rice in separate piles on their plate. Serve with a veggie and a fruit on the side, so they have 4 piles of different colored foods to choose from.

Plating for adults

– Serve over rice and with a veggie. Stir in some sriracha or gojuchang sauce or a pinch of red pepper flakes to spice things up a bit.
Interested in adding more Asian flavors to your weeknight meals but not sure how to make it actually doable? Check out my Beginner's Guide to Asian Cuisine for easy tips and recipes that are weeknight and kid-friendly and will help your weeknight meals be a win!
[mailerlite_form form_id=6]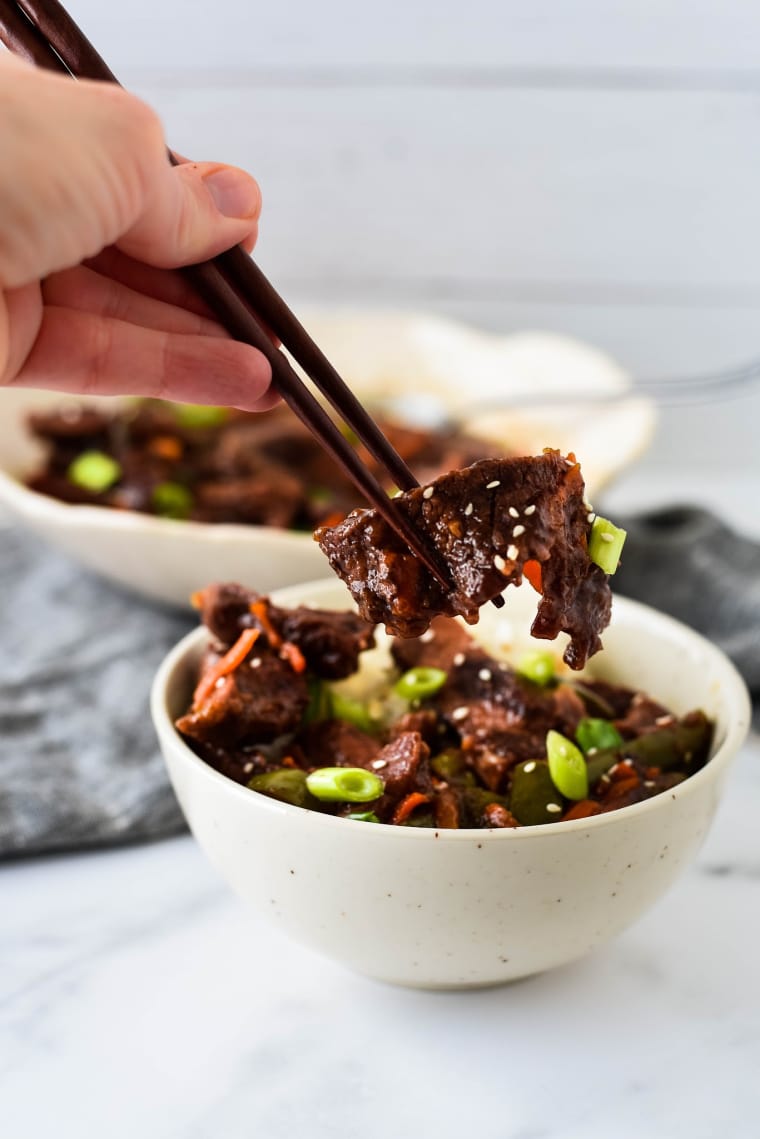 How Kids Can Help Make Slow Cooker Mongolian Beef
One of the best ways of getting kids interested in eating new foods is to have them help you make the meal! The more involved they are, the more likely they will want to try it. Here are some great age appropriate ways to get your kids in the kitchen with you:
Kids aged 1 to 3

can help you measure the sauce ingredients, and wash and dry the onions and peppers, and sprinkle the finished meal with sesame seeds and green onions.

Kids aged 4 to 6

can help do everything above, plus help you mix up the sauce, and slice the peppers and green onions.

Kids aged 7 to 10+

can help do everything above, plus help you slice the onion.
*Please note that these recommendations are generalized, and to please use your personal discretion with your child's skill level. And always, always supervise! Read more about how to have your children help you in the kitchen.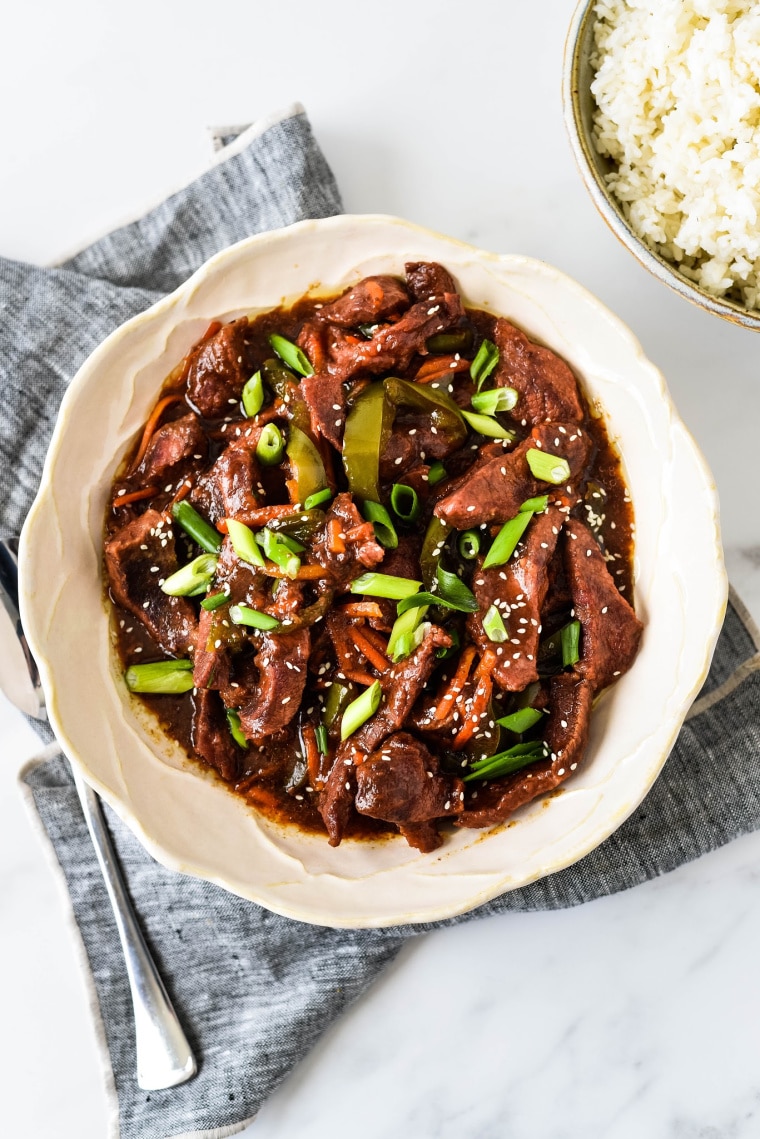 There's is nothing I love more than seeing you guys make my recipes! Tag @gingeredwhisk and use the hashtag #gingeredwhisk on social media when you make my recipes so that I can share them and maybe even feature you. And follow along to get the latest updates:
Want to save this for later? PIN THIS TO YOUR SLOW COOKER BOARD on Pinterest!
And don't forget to subscribe to the email list to get all the extra tips, tricks and bonuses!
Yield: 6 Servings
Slow Cooker Mongolian Beef
This Slow Cooker Mongolian Beef cooks to melt-in-your-mouth tender! Studded with onions, green peppers and shredded carrots, this Asian weeknight meal takes only minutes to throw together and is a perfect healthy family recipe!
Total Time
5 hours
10 minutes
Ingredients
Mongolian Beef
2 lb chuck roast
1/4 cup cornstarch
1 onion, sliced thin
1 green bell pepper, sliced thin
1/4 cup water
1/4 cup coconut aminos or low sodium soy sauce
1/8 cup brown sugar
1 Tablespoon minced garlic
2 teaspoons sesame oil
1 teaspoon minced ginger
1 cup shredded carrots
1/2 cup green onions
3 Tablespoons sesame seeds
For serving:
White or Brown rice, or Quinoa
Instructions
Thinly slice the chuck roast into small strips.
Toss the beef slices with cornstarch until mostly coated.
Place the beef in the slow cooker.
Slice the onion and pepper and place them in the slow cooker.
Whisk together the water, coconut aminos, brown sugar garlic, sesame oil and ginger.
Place the lid on the slow cooker and cook on low for 4-5 hours or on high for 2-3 hours.
During the last hour of cooking, add the shredded carrots.
When ready to serve, top with sliced green onions and sesame seeds.
Serve with rice or quinoa and a vegetable for a full meal.
Notes
** Coconut Aminos is a low sodium substitute for Soy Sauce, which makes it a great ingredient to use when cooking for babies who don't need the extra salt!
Nutrition Information:
Yield:

6
Serving Size:

1
Amount Per Serving:
Calories:

498
Total Fat:

27g
Saturated Fat:

10g
Trans Fat:

1g
Unsaturated Fat:

15g
Cholesterol:

125mg
Sodium:

397mg
Carbohydrates:

24g
Fiber:

3g
Sugar:

8g
Protein:

40g
Nutrition information is an estimate and is provided for informational purposes only. For the most accurate information, please calculate using your specific brands and exact measurements.