This Summer Dinner Salad with Grilled Chicken, Sweet Corn, Blueberry and Lemon Vinaigrette is the perfect weeknight meal for a hot summer evening!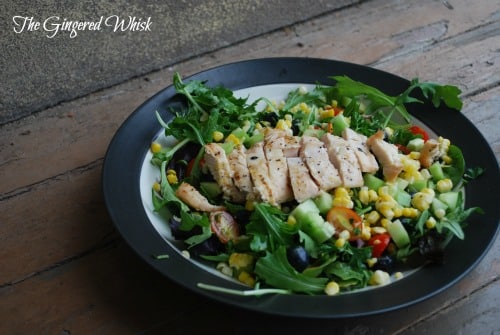 Ok, fine, it's official. I am now a salad freak. I am seriously loving them! A bunch of fun ingredients, awesome flavors, and seriously fast to throw together. And little to no cooking at all.
Yup. I'm definitely loving them.
I don't really know what to say about this salad other than "GAH! It's so delicious!" Someone should really give me a job as a food magazine editor because I am soo witty and descriptive. But really, this salad is great. Fresh, fast, and so flavorful. You'll love it!
Other Family Friendly Dinner Salads, including: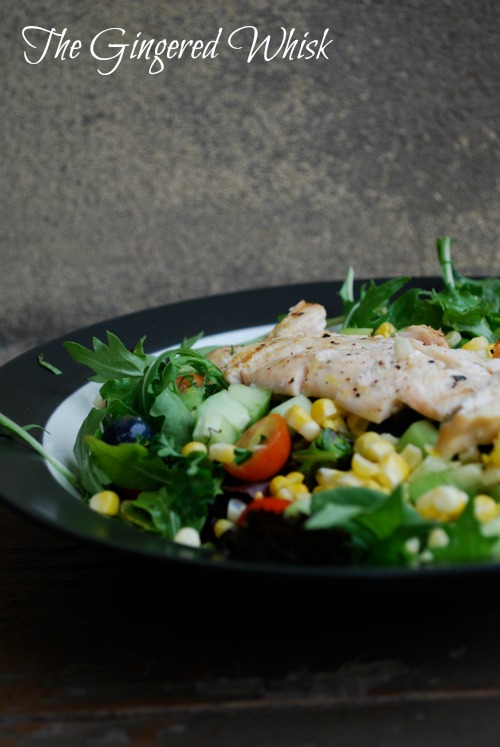 How to make this dinner salad recipe with grilled chicken
This salad is really simple to make. For the full set of directions, make sure you scroll down to the recipe card below, but here is a brief overview:
Preheat your grill. You can use charcoal or gas, it doesn't matter.
Lightly season your chicken breasts with salt and pepper and clean the corn cobs.
Grill the chicken and corn on the cobs. The chicken
Cut the chicken into slices, and cut the corn kernels off the cobs.
In a medium bowl, whisk together the ingredients for the dressing.
Take two large dinner plates and divide the lettuce in half between them.
Divide the grilled chicken slices between the two plates.
Top each salad evenly with the corn kernels, blueberries, cherry tomatoes, cucumber, parsley, basil, and jalapeño (if using).
Drizzle on the salad dressing.
Enjoy!
Tips for grilling chicken breasts:
Grill the chicken over medium heat. Lower temperatures and lowering cooking mean juicier chicken. A temperature of 400 F is perfect, if you have a temperature gauge on your grill.
Use a meat thermometer to test doneness of your chicken so you don't over cook it. You want to reach an internal temperature of 165 F.
Allow the chicken to rest for 5 minutes before slicing and serving.
How to serve this to your family
This salad is a great choice for families because its so easy to serve in different ways for all the family members:
For toddlers – Serve individual piles of all the ingredients cut up into appropriate sizes.
For younger kids – Serve the salad portion (lettuce tossed with some dressing) in one pile, and then serve the chicken, blueberries, corn, and tomatoes in their own individual piles.
For older kids – Serve the lettuce tossed with the dressing, but allow the child to choose which toppings they want on top of their salad and which items they want on the side.
For more tips on creating a family that loves salad, read "How to make kid friendly salad".
Food tastes better when its shared with the ones you love!
Your shares are how this site grows and I so appreciate it! Do you know someone who would love this recipe? I would love if you shared this on social media!
There's nothing I love more than seeing you make my recipes! If you enjoy this recipe, please do me a favor and give it a star rating! Thank you!
Subscribe to my email list to get all the extra tips, tricks and bonuses!
Yield: 2 servings
Grilled Chicken, Corn and Blueberry Salad with Lemon Vinaigrette
This Summer Dinner Salad with Grilled Chicken, Corn, Blueberry and Lemon Vinaigrette is the perfect weeknight meal for a hot summer evening!
Ingredients
Dressing:
1 tsp lemon zest
4 TBSP lemon juice (about 2 lemons worth)
3 TBSP extra virgin olive oil
1 TBSP honey
salt and pepper
Salad:
4 cups mixed greens
2 ears of sweet corn
1 cup blueberries
1 cup cherry tomatoes, cut in half
1/2 cup cucumber, seeded and diced
3 TBSP shipped parsley
3 TBSP chopped basil
1/2 jalapano, minced
2 chicken breast halves
salt and pepper
Instructions
Preheat the grill.
Lightly season chicken with salt and pepper, and clean the corn.
When grill is ready, grill chicken and corn until done.
Cut the kernels off the corn and slice the chicken into strips.
Meanwhile, combine the ingredients for the dressing in a bowl and whisk together.
Take two large plates and split the salad ingredients evenly between them.
Drizzle with the dressing.
Enjoy!
Nutrition Information:
Yield:

2
Serving Size:

1
Amount Per Serving:
Calories:

572
Total Fat:

27g
Saturated Fat:

4g
Trans Fat:

0g
Unsaturated Fat:

21g
Cholesterol:

102mg
Sodium:

431mg
Carbohydrates:

46g
Fiber:

7g
Sugar:

23g
Protein:

43g
(slightly adapted from Iowa Girl Eats)